Learning with Littles
October 1, 2010
In sharing our current household and learning routines I've received questions about what life was like with little children. So I've decided to take this trip down memory lane with you.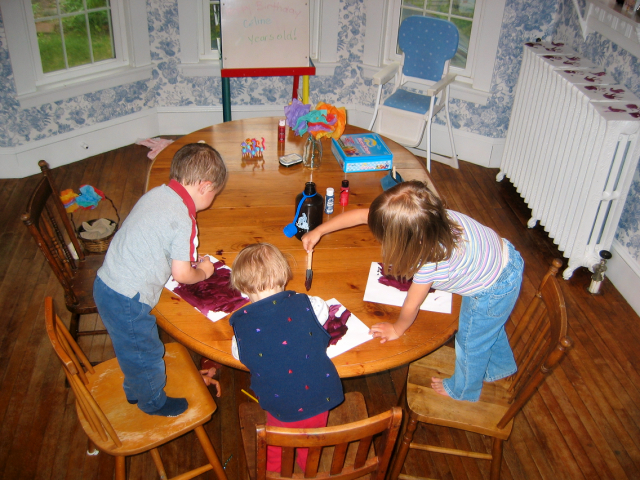 handprint painting with my littles
In particular, a reader wanted to know about interest-led learning at this stage so that's where I'll start.
Our Pre-School "Curriculum"
Interest-led learning when our children were little was very family and home based. Looking back, I focused predominantly on three main "subjects" all the way up till age 7 (this isn't a magic age, just happened to be when we started a teensy bit more formal stuff with our kids)*:
reading aloud to them
nature study and the outdoors
craft, coloring and working with our hands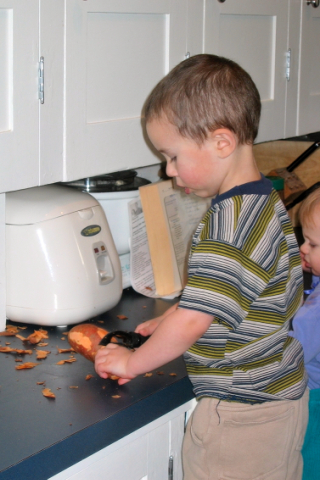 three year old Laurent peeling sweet potatoes
Those three things formed the core of their pre-homeschool curriculum. I never did flash cards, workbooks or any "schoolish" activities with them. That was boring for me and I had other stuff to do.
I wanted to enjoy my days with them so I did the things that I enjoyed as much as possible. Which is the same philosophy I still have. I taught them lots about nature and home making in our everyday comings and goings and we learned about the world-at-large through reading.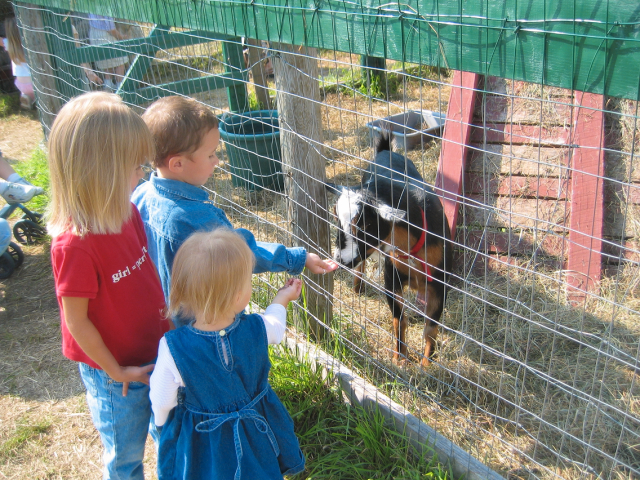 farm visits and field trips
What did it look like? It looked like a stay-at-home mom, working in the kitchen and taking care of our home, reading almost every day to her kids, going for walks around town and doing lots of crafty activities.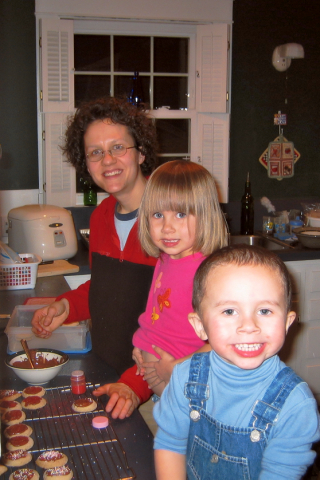 helping mom make valentines cookies
Simple and straightforward. Definitely home and nature based. This really was the time to stop and smell the roses, look at bugs, draw, color, bake with mommy and play at the park.
Making Time for Children's Interests
One particular question I have been asked is how I balanced interest-led learning during this stage with the need to manage my home and make time for myself.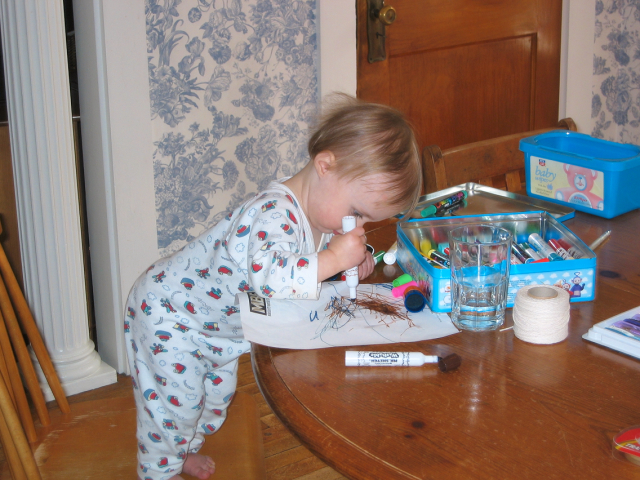 this one never did like crayons
(she also was my only child to write on the walls)
There is no way then or now that I can follow up on every interest my children have. I can't follow up on every interest I have! Then, just as now we choose the most important things, that are within our realm of doing and balance those with the realities of life; the constraints of time and finances.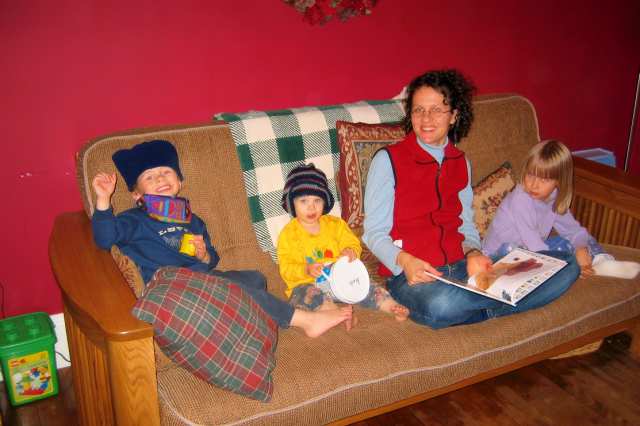 I'll be honest, I didn't have a lot of personal time with littles. I didn't blog though we did have a little website to keep in touch with family. To recharge, I scheduled a rest time each day (I trained my kids to all nap at the same time) during which I often napped, read a book or did something else quiet to feed my spirit. This break in the middle of the day saved my sanity.
Those early childhood days were physically and emotionally intense for me. These current years are more mentally demanding as I strive to meet my children's growing intellectual needs.
With young kiddos to care for and a home to manage my strategy for balancing my children's interests, ie: "mommy let's do...", with those of my own was to limit our commitments outside the home.

4 year old Celine folding her laundry
You are the mom and set the pace and feel for your home, your sanctuary. A young child is not capable of understanding the full ramifications of saying "yes" to every interest and whim. Sometimes, maybe often, you will need to say "no" (but "let's go for a nature walk together instead") and trust that your child will learn to understand. If you are joyful about your choices your kids will be enthusiastic also.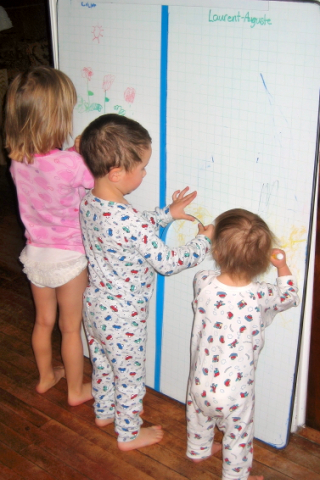 We give our children a lot of learning latitude to follow their interests and desires but it's within the boundaries that Damien and I set. For example: in our current life season we are not able to do traditional after-school activities (dance, art class) as we have in the past. We have explained the reasons for this to our children and we are all in agreement about the importance of that decision but ultimately it's Damien and I who need to hold the line on that. Our children are not capable of bearing either the responsibility or consequences of making that decision. 
In truth though, little ones mostly want to be with mommy anyway and over-scheduling the days, even if it is to do educational stuff, can lead to behavior issues and burn out for everyone.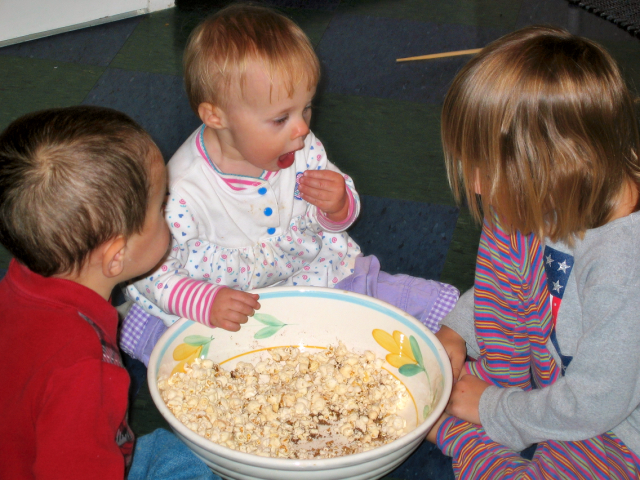 snacktime!
Practical Tips:
Balance meeting the children's needs with the house needs by juggling the two back and forth during the day. When my kiddos were little I would do something with/for them and then attend to my own thing for a short time. As they get older the length of time you'll have for your needs (cooking, creative or otherwise) will increase but when they are little it's rather a see-saw somedays! I address this idea of meeting everyone's needs in this post on making a family schedule.
Involve children as much as possible in the work of running a household so they spend time with you that way. Also, as they grow their efforts will actually help and you'll all have more time for creative and other pursuits. 
The judicious use of TV & DVDs can be helpful. We have been TV-less (we watch videos on our computer monitor) for years but I do remember letting the kids watch some morning PBS when they were toddlers and pre-schoolers. I can't speak for the programming on this station nor do I wholeheartedly recommend this approach but it is a strategy I did use.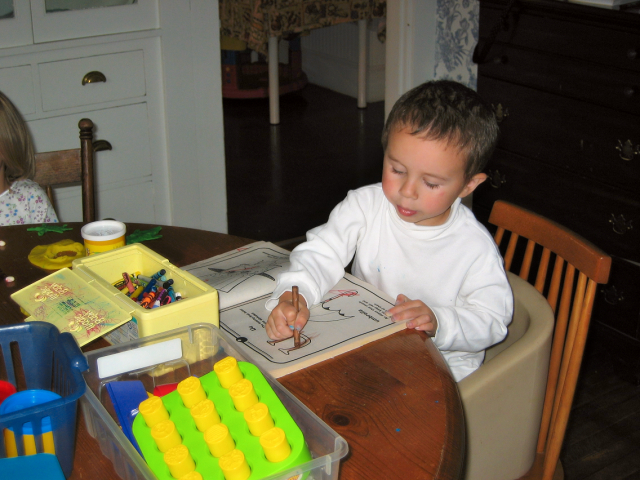 Want to read what a day was like for me five and a half years ago? Celine was 5, Laurent was almost 4 and Brienne was just 2. This might give you a little insight into what life was like with littles.
* Please note: I don't consider these slightly-academic minded subjects to be the learning and life goals of early childhood. I wrote about them because that is what you asked for. Instead, I consider building a foundation of love, trust, character building, and behavior training (to name a few) to be the focus of these earliest childhood years. We structured our home life and the children's learning around that core.
Filed Under
Resource Library
You can subscribe to comments on this article using this form.
If you have already commented on this article, you do not need to do this, as you were automatically subscribed.