Learning to Read Part 2
November 16, 2010
Wow, what awesome feedback I got on Learning to Read Part 1. Thank you very much for sharing the stories of your own children learning to read. I gained a lot from your experiences.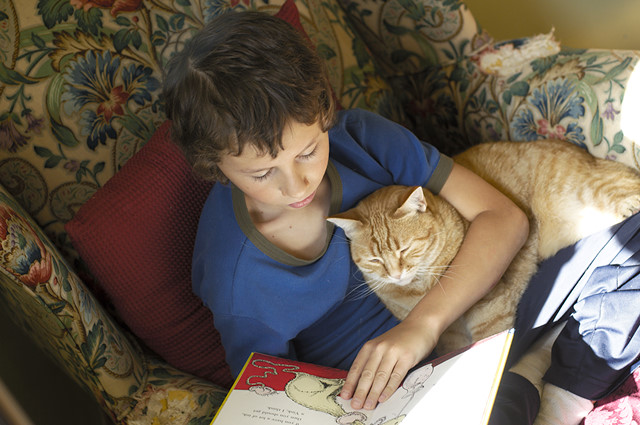 If you are just joining us, today's post is a follow up to Learning to Read Part 1 in which I summarized my teaching background and philosophy about reading.
In this post I will share our bumpy journey of teaching our children to read and list resources that might be helpful for your family. And don't look now, but there is a giveaway at the very end. 
(And the story continues: the real reason our son struggled so much learning to read.)
Our Experience:
Let me first say that our children are not particularly precocious in learning to read, in spite of me reading to them almost every day for years and years. And modeling a love of books and the written word (I read almost every spare minute, like while brushing my teeth).
They love books, we visit the library each week and they often spend hours a day reading (the words or pictures, depending on their skill level) but that has not translated to early-aged reading. They have other interests and talents and we have not pushed them to read but have waited for the right opportunities to teach them as they have shown readiness.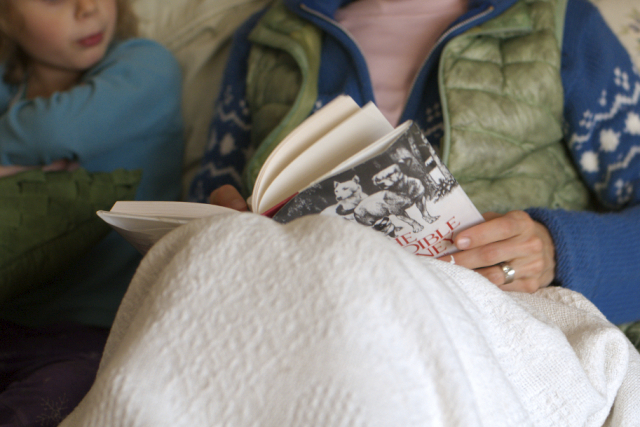 And yes, I do believe in teaching reading skills, at least in our family's case. Although I am a good reader myself and can "sound out" words I wanted to use an actual curriculum for our children. This is because I felt rather inadequate and freaked out about the process (you can read more of that in the first post) and wanted to make sure we were covering all the bases. With other areas of learning, like science for example, I don't feel the same inadequacy or need for guidance in these elementary years.  
Also, I have not set out as an educational goal that my children develop a love for reading. Our educational goals are rather broad on purpose, to give our children room to be who God created them to be. Developing a love for something is very personal and I'd hate to feel like I've failed as a homeschooler and parent if one my children doesn't love to read. There are other things more important to love (like each other) and those are the areas we work hard to cultivate. But secretly, in my deepest heart, I do hope they grow up loving to read. 
Teaching Celine to Read
Six years ago when I started to think about teaching Celine to read I honestly didn't know where to start. So I did what all homeschoolers do, I asked other homeschoolers.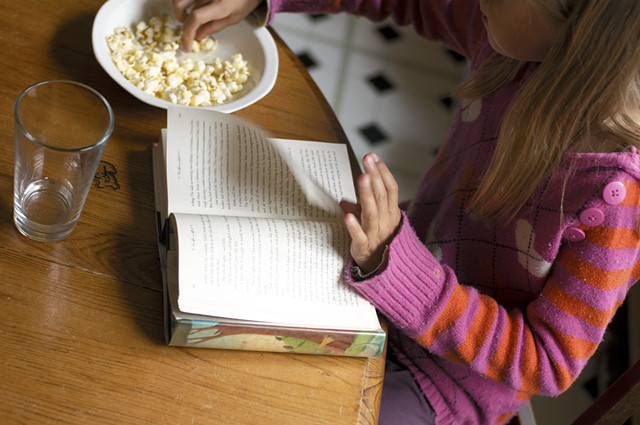 And this is what they recommended Teach Your Child to Read in 100 Easy Lessons. Problem was the program was so scripted, down to every detail, the thought of using it bored me to death. I do not like being told what to do and have a hard time "coloring in the lines" so to speak. 
Although the program was inexpensive and straight forward and fairly guaranteed to work I couldn't see myself sitting down and using it. So I asked Damien to do it. And he did. There, that's the story of Celine learning to read.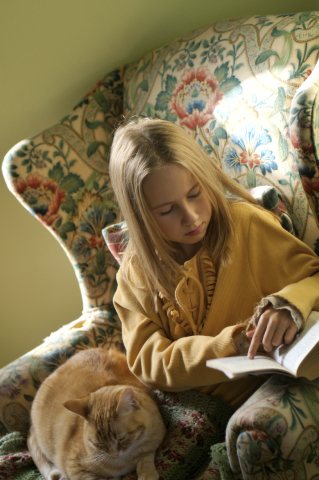 Well, there are a few more details. She was six at the time she started easily reading on her own (the lessons might have started when she was five, I can't recall). Celine was definitely ready to learn to read and might have been ready sooner though I wasn't (smile). She enjoyed this time with Damien and I loved watching my capable and steady (I'm a bit free-spirited shall we say) husband teach our daughter to read. They got to lesson 75, out of 100. Celine got bored with the lessons and was ready to fly on her own.
Celine has been a voracious reader ever since. I can barely keep up with sourcing good books for her to read. She especially loves certain kinds of fantasy and historical novels set in medieval Europe. On the subject of the middle ages in particular her knowledge vastly outshines my own. I supply a steady stream of living books on other topics to help round out her education a bit. See studying the world through reading and creative play for more details.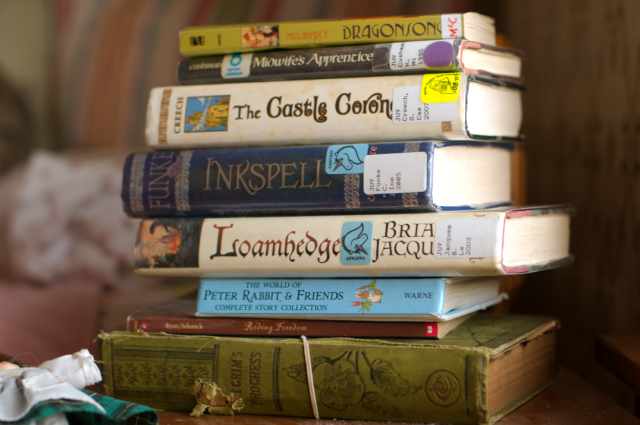 Celine's bedside table at 9 years old
Teaching Laurent and Brienne to Read
Laurent is a nature/adventure boy to the core and loves the graphic arts. Both his own pursuit of drawing and the appreciation of good illustrations. Therefore, although he is just now learning to read he has been immersed in books for a long time and has spent many hours "reading". His favorites are books with detailed graphics, books on nature and the outdoors, and whatever interests him at the time (castles, samuarai, swords, muskrats, ships, planes, cougars etc...)
Teaching him to actually read the words in these books is another matter entirely and hasn't been as straightforward as Celine's basic reading lessons.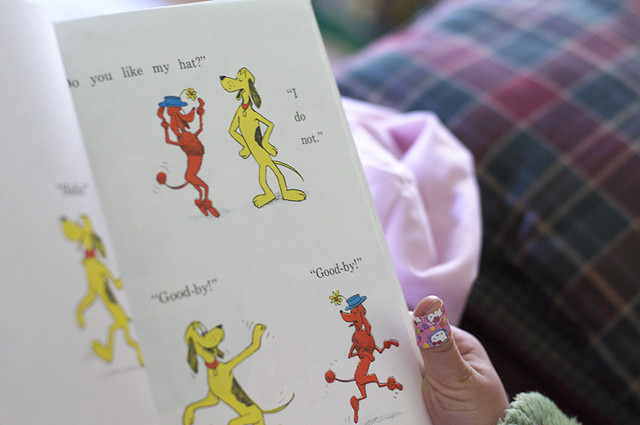 Brienne's learning-to-read experience tracks closely with Laurent's because we taught them both mostly at the same time. She seemed ready at a younger age than Laurent, as is often the case with little girls. She enjoys most anything I read to her but her own interest in books is fairly limited right now to princess, miniature creatures, and fairy stories.
First Attempt
We first started teaching Laurent to read when he was 6 1/2 with 100 Easy Lessons. Although he seemed ready, he's a bright, curious and intelligent kid, it was too soon. The draw for him of course was one-on-one time with Daddy. I'm not sure how far they got that go around but the lessons fizzled out after a couple months and Laurent's reading skills were very minimal and he still couldn't identify much of the alphabet. Those letters just could not stick in his brain.
Second Attempt
We let it rest till next fall when we started his grade 2 year. This time around Damien did the lessons with both Brienne and Laurent. Brienne was almost six years old, around the same age Celine learned to read. Long story short - the lessons weren't successful like they were with Celine. The kids appreciated that time with Daddy and but the skills they "learned" didn't translate into their everyday reading.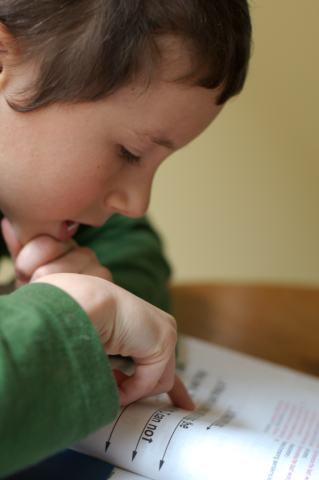 By Christmas the lessons had fizzled out with Daddy. I decided it was time to get over my aversion to the scripted program and give it a go in January. I did, for a month or so. The process wasn't too painful but once again, the lessons just weren't sticking. None of us were inspired nor was I very consistent with the lessons. We called it quits at about lesson 65 sometime around the arrival of spring.
And so it was last summer I shared about my reluctant readers. This is from a summary I wrote in Laurent's portfolio that month "Laurent... seems to lack the motivation to apply the reading skills he has learned". I'm not sure now if it was motivation, learning style, interest level or what. He just wasn't ready.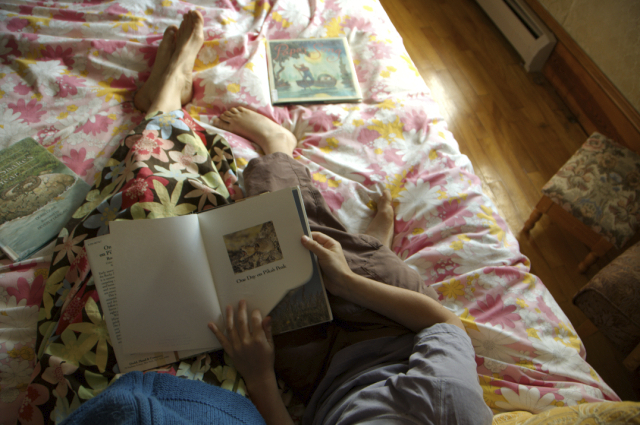 Third Attempt
I started last school year (Sept 2009-Aug 2010) gung-ho, as I usually am, to try again. This time I choose easy readers, no scripted lesson, and we'd sit down and practice together a couple times a week. The children would read one sentence, I'd read the next. I also printed off the list of dolch sight words from Jan Brett's site thinking that might help. By the end of September my new school year enthusiasm had worn off and I (book)shelved the very informal reading lessons, which none of us enjoyed very much anyway.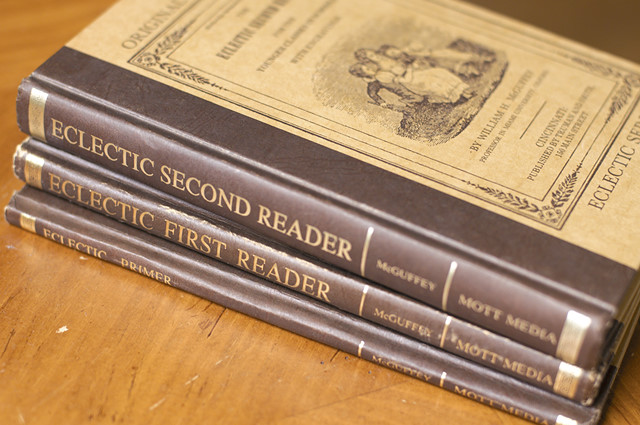 I picked it up again in January. Focusing my efforts on Laurent only we tried using McGuffey's Eclectic Readers. Although the readers progress logically from easy one word pages to multiple sentence stories, the old fashioned language was hard to make sense of and the lack of decent illustrations made it hard for my graphic artist child.
Finally, I let it all go and made the decision to wait until Laurent was really ready and asked us to teach him again.
The wonderful thing was that although we had tried reading instruction in fits and starts and I didn't feel very successful in that regard (yes, my kiddos had received hours of instruction but they still weren't reading independently) my children's love for books had not diminished.
We didn't push reading to the point of tears or frustration so though it seemed we hadn't gained much for our efforts we also hadn't lost anything and I felt we stayed true to my fundamental beliefs about reading.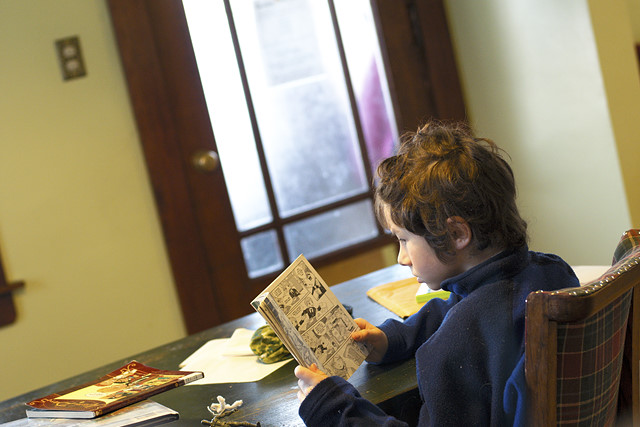 And so I waited. Occasionally, the younger two would read little bits here and there.
Then this past summer it happened. Laurent started to get frustrated about his lack of reading ability. There were words he wanted to read and couldn't and that motivated him. Sounding them out on his own was too difficult, he wanted my help with regular practice. I decided to wait till September, a month of new beginnings, to focus on reading instruction once again.
Fourth (& Current) Attempt
That brings the story to the present. This autumn I am focusing on reading practice with Laurent and Brienne. 
Brienne and Laurent are like puppies. They are best buds and sometimes sparing partners but they share most of life together. Although Laurent was the one asking for instruction I added Brienne also. Her reading abilities are on par with his and I want to make the most of our sit down instructional time.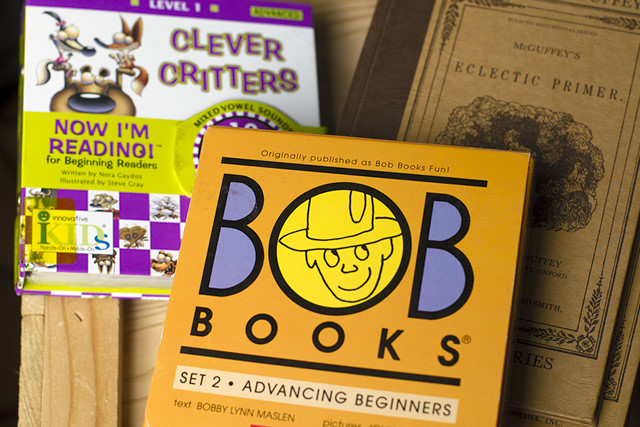 It's our top homeschool priority right now and we do it first thing after breakfast. You can read more about that strategy at Simple Homeschool.
They have had enough instruction in the past to know basic phonics rules. Now they just need to practice (and lots of reminders) to build their skill and sight word recognition.
We call it reading practice. They each take a turn with an easy reader and I keep it fairly short, 10 minutes each. After that, I read to them from our stack of library books.  It is very cuddly, there are no tears, there are quite a few laughs, and progress is being made.
Hallelujah! Maybe I can lay my homeschool mama fears to rest. My eight year old and almost ten year old are finally learning to read.
Is there a moral to this story? I don't know. Maybe it's "better late than early" or "if at first you don't succeed try waiting 3 years".
What I do know is that our younger two are inching their way to reading on their own, independent of our practice together. But it's a much slower process than it ever was with Celine. And that's ok.
(I should mention that we went to the eye doctor recently for the kid's first ever visits and their vision is near perfect. This is important to check with late readers, maybe they just can't see well). 
What we've used:
Here's the list of what we have used over the years. Both successfully and unsuccessfully.
What other people have to say:
Just one more. The Way They Learn is a book I just finished reading to help me better understand multiple learning styles. This is not a how-to-teach reading book per se but has given me much greater insight into my children's individual giftedness and why reading does not come as easy to Laurent as it does Celine. Highly recommend.
Giveaway:
Thanks for hanging in there with me on this post. It's one of the longest I've ever written.
Do you have children you are teaching to read? Want to try Teach Your Child to Read in 100 Easy Lessons? Like I said, it worked beautifully for Celine but not so much for my other two. The value of the book new is about $20 and I'm giving it away for free. If you'd like a chance to win it please leave a comment. Winner will be chosen randomly Sunday, November 21st.
Other comments and feedback also welcome. 
Filed Under
Resource Library
You can subscribe to comments on this article using this form.
If you have already commented on this article, you do not need to do this, as you were automatically subscribed.