Knitting ~ Together
October 5, 2011
Earlier this summer my mom and I celebrated her birthday with a mother-daughter outing. There was lunch in a touristy town (not hard to come by around here) and there was yarn. 
Mom and I both have a thing for nice yarn. We ohh and ahh, appreciating the beauty of dyed wool. And sometimes we even knit.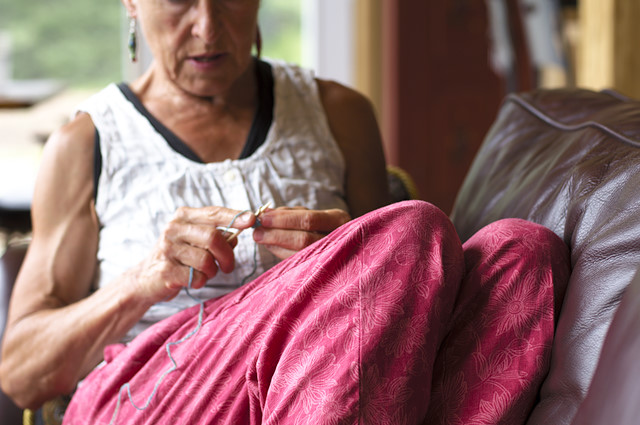 It was my idea to knit a shawl. Mom liked the idea so much she decided to join me. I think she just wanted an excuse to buy that gorgeous wool.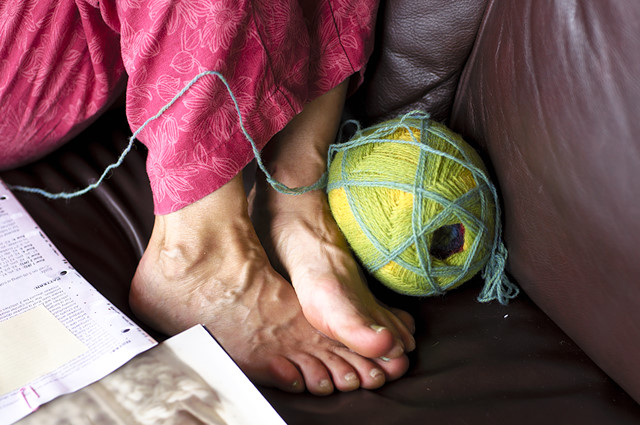 It was a slow start. It was the height of summer after all. The time for beaches and gardening - outdoor activities. Then there was a rainy August afternoon (the same day my mom taught Celine how to bake a blueberry pie) where we sat on the couch together and got serious about our projects. Or at least got some yarn on our needles.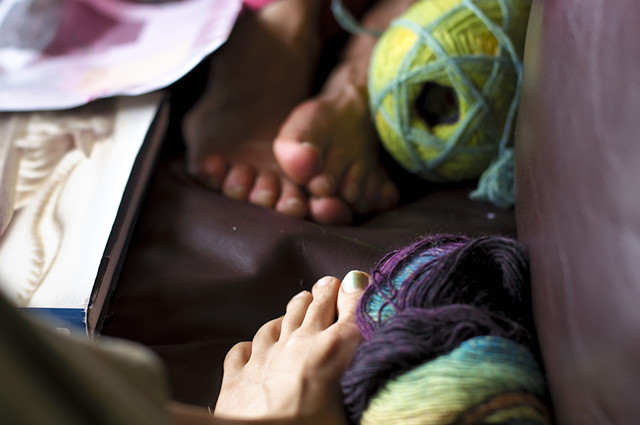 Near the end of summer came road trips and vacations. Open chunks of time to do some knitting, at least for my mom who can knit while riding in a car. Lucky duck. Doing anything but looking straight out the window while in a moving vehicle makes me ill. 
Mom is a master (or mistress?) of multitasking and on her frequent phone calls to family and friends out west she picks up her needles and knits. Ingenious.
I've been knitting in those in between spaces of my days.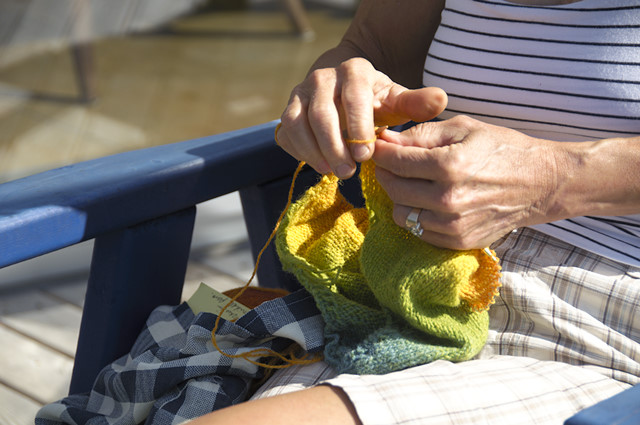 There has been some transitional turmoil in my life this past week. We're getting ready to move again and the routines that bring me comfort and peace of mind are once again up in the air.
So when the day's plan starts to go hay wire (which is happening with increasing frequency the closer we get to moving) or at the end of the day when I just want to chill with my family I've been reaching to my knitting project. Something to keep my hands busy and to give my mind a rest. Except, of course when I inevitably make some mistake and have to seriously concentrate to fix it. 
I love being able to knit and listen to Damien read to us. Or listen to my children read to me. Or knit and talk. Or knit and just sit, quiet. 
With all this knitting we're actually making progress on our shawls. Mine is the little dark one below. But as you can see on the ball of yarn (hidden behind Mom's orange yarn) the brighter colors are coming!
This knitting together, it's a good thing. And even when we move and I leave the sanctuary of my parent's home and don't have the privilege of sharing life with my mom each and every day (sniff...) we'll have this shared project. That's more beautiful than the yarn if you ask me.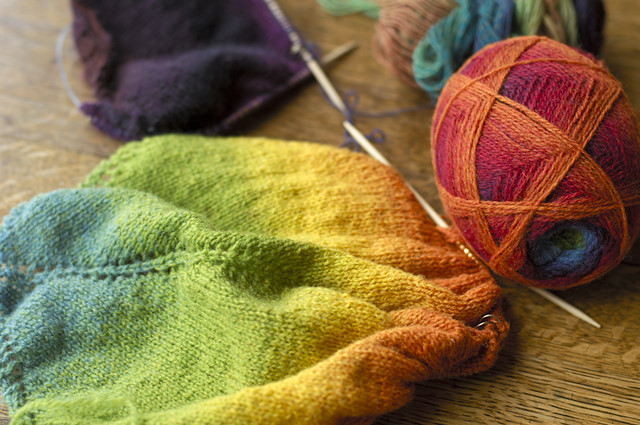 Find the pattern and my final project notes on Ravelry.
You can subscribe to comments on this article using this form.
If you have already commented on this article, you do not need to do this, as you were automatically subscribed.