Kid's Outdoor Gear Guide: Clothing Edition
December 23, 2013
The most frequent questions I get from blog readers, next to soap making, are those related to kids and the outdoors.
Damien and I have been fielding these questions for years and we do the best we can to answer them via individual e-mail but I thought it was time for a dedicated post.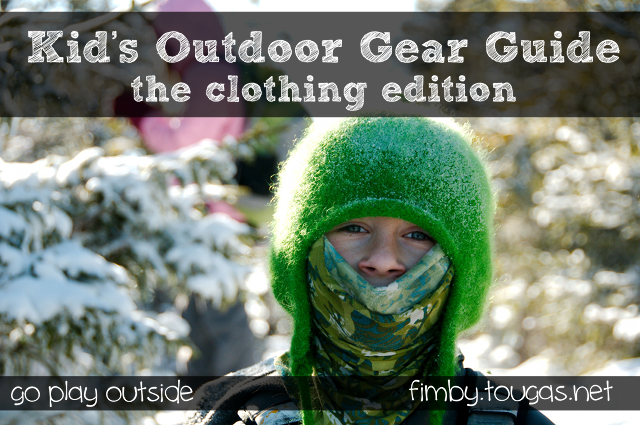 First, one of the most common questions we field is some variation of the theme "How do you get your kids interested in doing these activities with you? My child is slow, easily distracted, likes to doddle, unmotivated, etc."
Damien and I have used specific strategies for building our kids' stamina and maintaining enthusiasm for challenging activities, which I don't have the time or space to share in this post. (Check out that link for a few ideas.)
The thing to remember here is that our mindset about being outdoors as a family is the most important factor in determining our success at motivating and inspiring our children.
I love what Erin McKittrick has to say about this.
It's not the kids who are the limiting factor here, it's our willingness to adapt. They are perfectly capable of being out in the wilderness.
I agree. Getting kids to participate in more adventurous outdoor pursuits, beyond a short nature walk or building a snow fort in the backyard, is largely about setting the expectation for your family (it is possible!) and then adapting to your kid's needs.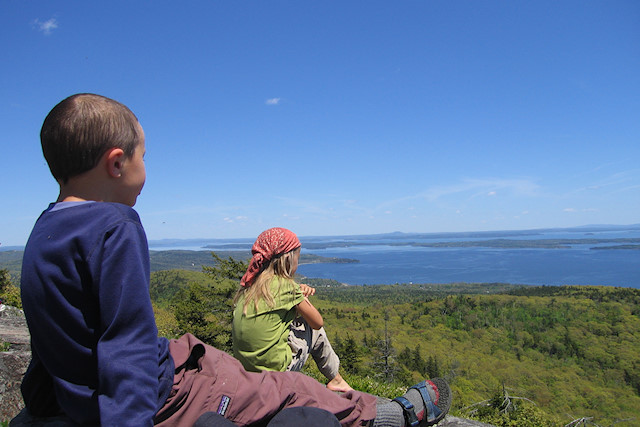 Getting Kids Outdoors in the First Place
We have one basic strategy for getting our kids interested in the outdoors, willing to join us on regular weekend hikes, willing to carry a backpack with gear for a weekend trip, willing to climb mountains, walk and ski for hours, etc.
That strategy is this: We are the Tougas family and this is what we do. It was not a question of if you want to hike with us, or "how do you feel about hiking?" In our family we hike, we ski, we backpack.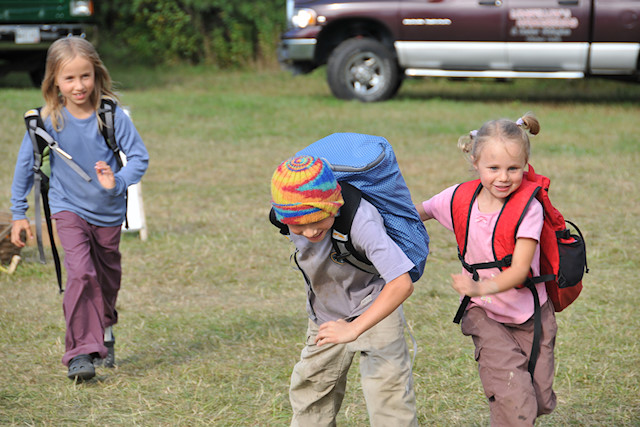 this is the gear we use for camping, adventuring and going to the fair
I think it's sad how modern parents have lost a lot of gumption when it comes to doing physically challenging things with their kids. Children have been doing physically challenging things for the ages. We're built for it.
Humans are built to move, sweat, explore, and discover. It's only in our modern age that sitting and inactivity have become the norm.
We respond to our kids' needs physical needs. We make sure they are dressed appropriately and fed well for the activity. We have done countless gear adjustments through the years to accommodate their growing bodies. When they complain about a concern we listen and address it.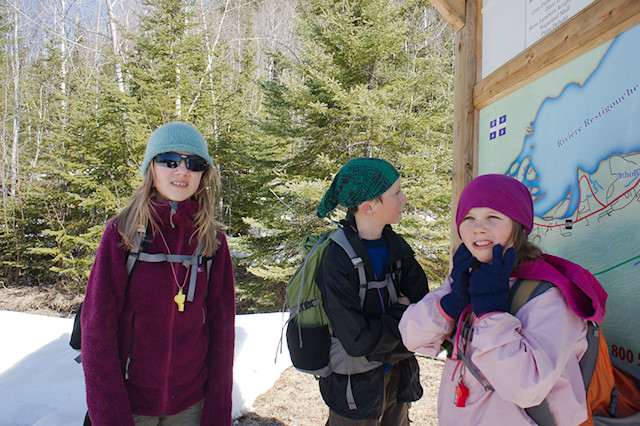 early April hiking
When they were little and unable to, we did the work of preparing all the gear, food, etc. Now that they are older they do all their own packing but we still take care of meeting their needs. We're the parents, we lead. They're the children, they follow. Except of course when we're on the actual trail, they lead and we follow.
The Natural Progression of Things
How it actually works to do "family outdoors".
When children are infants you you strap them to you. First in front, then in the back.
When they are toddling you have to seriously slow down your pace, alternated with times of pulling and carrying. At this age, children delight in the natural world and you want your remaining years in the outdoors together to build on that delight.
As they get a bit older, ages 4, 5 and 6 you increasingly pick up the pace. Their legs can do it. At the younger end of this spectrum you may want to use some method of pulling and carrying if you are serious about mileage.
After age six or so, it's onward and upward. A 6, 7, 8 & 9 year year old child cannot keep up with a full day adult pace. But a happy compromise can be reached. Each season the child will go farther and be able to carry more of their gear.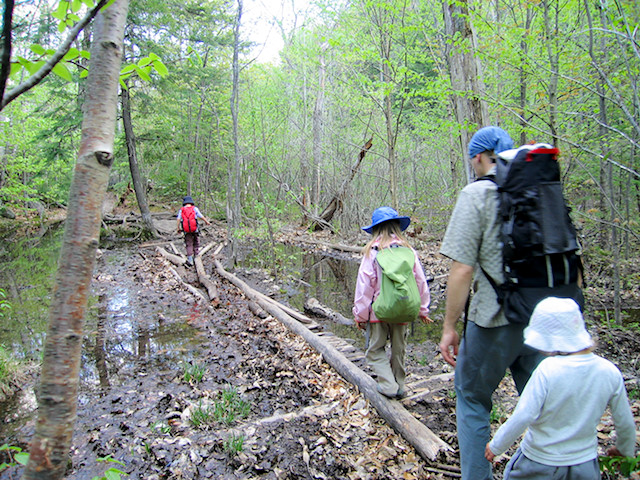 At some point, it hasn't happened yet for us but I think it might next year, the child's physical ability will surpass your own. What children lack at this age (13, 14, 15) is perhaps diligent attention to safety (so says the mother). But they catch on through trial and error, and parents can provide the safe margin of error for that learning to happen.
We started our family outdoors journey when our baby was three. We never did have to juggle a nursing infant, and doddling toddler, and a ready-to-roll five year old. Our experience has been limited to the "increasingly picking up the pace stage" and I should add that our youngest is also our most competitive child. We have used that to our advantage.
A Clothing System
Clothing for the outdoors is all about a layering system.
As the Scandinavians (they would know) have been credited with saying, we believe:
There is no such thing as bad weather, just the wrong clothing (or the wrong gear).
The right clothing used in a layering system, that regulates your child's body temperature keeping them warm or cool when needed, goes a long way to having happy kids on the trail.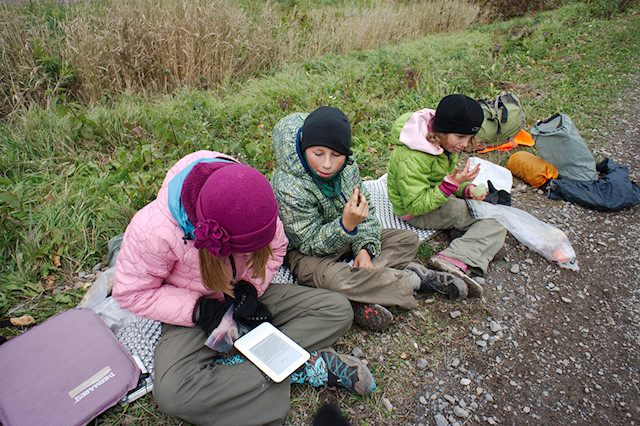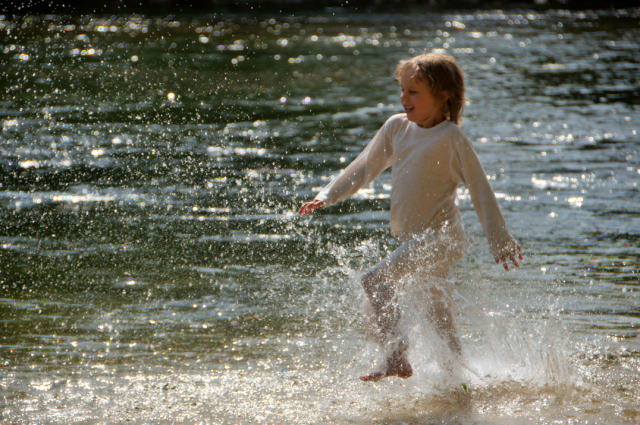 Our base layers include long underwear, a base t-shirt, and a long sleeve shirt. Our favorite brands over the years have been Patagonia Capilene, Icebreaker (for the adults), and since moving back to Canada we started purchasing the MEC brand. We choose a midweight for our base layer.
We also have base layer underwear for our children which serves a useful purpose in summer as a ready-to-wear swimsuit. The best brands for this have been Under Armour and Nike. As our girls get older we are transitioning them to modest sports bras as their top underwear layer, which can double as swim tops for backpacking.
Insulation
On top of the base layers goes your insulation. And how much insulation you wear totally depends on the conditions.
Most outdoor children's wear, that's intended for backyard play and to and from school use, combines the insulation with the outer layer. (I'm addressing outer layer next.)
This all-in-one approach is sufficient for the uses I mentioned but this type of clothing doesn't work well in a layering system and the key to being comfortable in all kinds of conditions is a good layering system.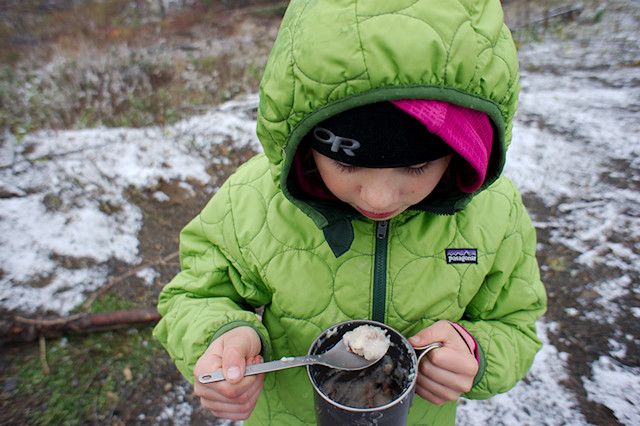 When you hike or cross-country ski (or do some other aerobic activity) your body generates a lot of heat so you wear less insulation. When you stop at the top of the mountain (in either winter or summer) or downhill ski or some other less aerobic activity, you are not generating the same heat so you need to add insulation.
Our insulation layers include:
Fleece hoodie. The hoodie part is important since it adds an extra layer for your head. For many years we made do with hood-less fleece. We made it work. We wear this in all four seasons.
Puffy jacket. Fall, winter, and spring hiking and summer backpacking (for keeping warm in camp).
Fleece pants or puffy pants. Fall, winter and early spring hiking and summer backpacking (for keeping warm in camp). As our kids get older, and can fit into xs women's pants, we are transitioning them to puffy pants instead of fleece. They are lighter weight. For basic hiking and outdoor activities though fleece pants are sufficient. The awesome thing about puffy pants is they go on overtop the hiking pants. For kids, we prefer polyester fill vs. down puffy layers.
I've written a thorough overview of the role of a puffy layer in this post.
For kid's puffy jackets, we've had the best luck with Patagonia brand for weight, warmth, and durability. Our kids are still using jackets we purchased three years ago. (We bought them big, on purpose.)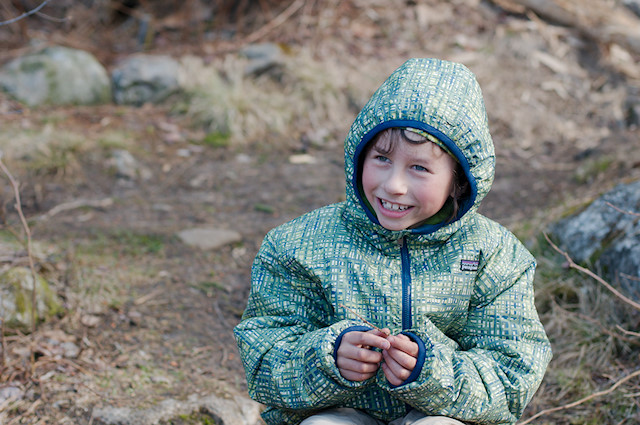 Laurent's Patagonia puffy, age 9, still the puffy he wears at nearly 13
As for fleece, we have no particular brands of fleece to recommend, just be aware not all fleece is created equal. Polartec is a popular material brand. We often sew our fleece pants, super easy to do so.
For summer hiking we won't necessarily wear the hoodie while hiking but we have it with us if necessary. We also have different weight fleeces for different people. Celine runs colder than her brother and sister so we buy her thicker fleece.
We've owned many brands of fleece hoodies and they are quite easy to find, both new and hand-me-downs.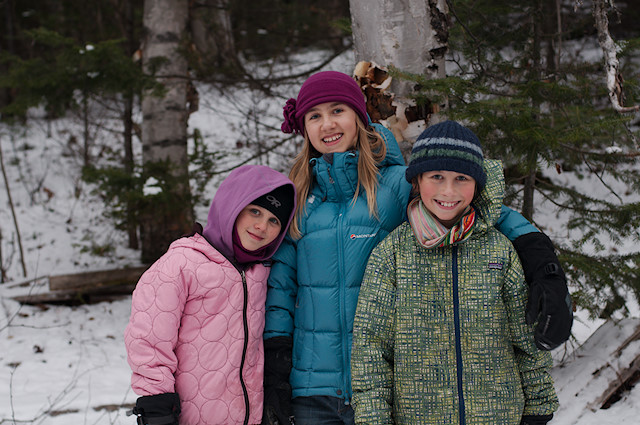 Outer layer
The role of this layer is protection from the elements. Separating it from your insulation makes the gear very versatile.
Here's the key pieces of our outer layer:
Convertible hiking pants. We prefer convertible pants for the kids (when available), they are easy to zip off the legs to make shorts and zip back on when you need more protection. Otherwise, pants and shorts. Spring, summer, fall. Our favorite brands have been Patagonia and MEC convertible kid's pants, though we've had button issues with the MEC brand sometimes.
Windbreaker. Of course we're huge into lightweight so we ours are really thin. Their purpose is just to break wind (ha, ha!!). Spring, summer and fall use. Lots of brands and models have worked for us over the years. These jackets tend to last well for us since they don't need to be waterproof.
Rain jacket. Spring, summer and fall. Good rain jackets are expensive and they are finicky. The waterproof coating doesn't last forever so we are vigilant in how the children treat these pieces. We've used a lot of brands including Patagonia. LL Bean served us well when the kids were little.
Soft Shell. A soft shell is a key piece of outdoor gear for us, especially useful in winter.
Soft Shells are pants and jackets made from stretchy fabric that fit like a glove without constricting, stretch fluidly with the body without resisting, and allow moisture to escape from inside without letting it penetrate from outside. They are good for all types of climbing, cross-country and backcountry skiing, hiking, and for any outdoor activity with an aerobic element where protection from rain and snow is important. Think of Soft Shells as one big efficient moisture management system. from Backcountry.com
Soft shells are worn by the whole family for winter aerobic activity. It's the outer layer we wear while going up. Anything warmer and we'd get too hot. When we're at the top or if we get cold we add a puffy layer.
Although soft shells are part of our "gear list" only for winter (i.e.: we don't hike with them in the other seasons) they are a go-to jacket for spring and fall everyday use.
Soft shells, as described by backcountry.com are not always easy to find for kids. True soft shells are a somewhat technical piece of clothing but we have made due with a variety of "soft shell"-like jackets for the kids.
We have used all types of brands with success, including homemade and sporting goods "store brand". We prefer hoods when possible.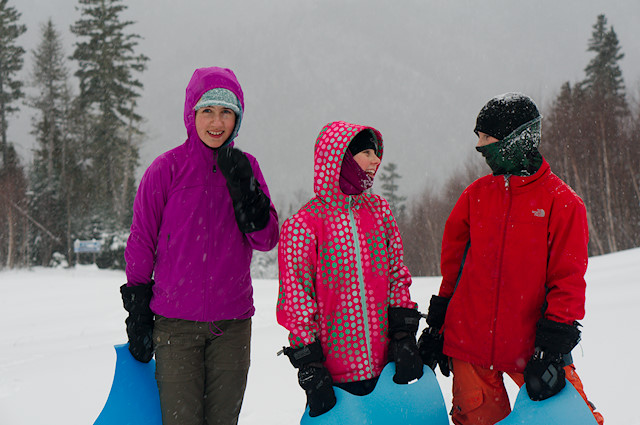 Sledding isn't exactly aerobic, but it's an aerobic activity when you hike up a ski hill to do it!
Basically, a windbreaker type fabric outer shell with a thin fleece liner does the job. These aren't as water resistant as a true soft shell but they don't need to be for the season we wear them for, which is winter.
Just remember, these are aerobic activity jackets. Once you slow down you will need more insulation.
This layering of jackets is the key to temperature regulation during cold weather activities.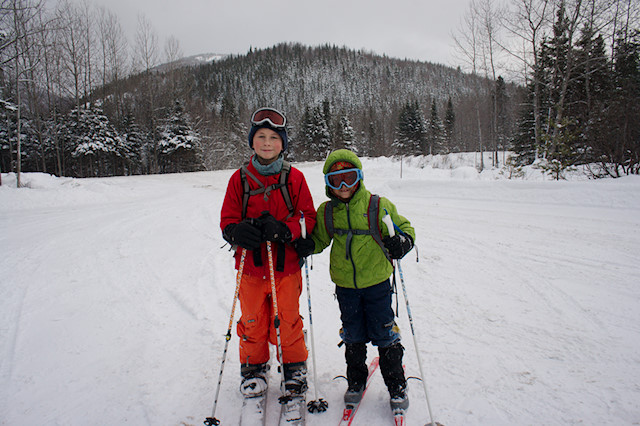 Clothing Layer system examples
So how does this layering system work. I'm going to give you a few examples.
Late spring/Early summer/Fall Layering Guide:
What you wear:
base layer undershirt and underwear (the underpants). Special synthetic underwear, like the kind we wrote about here is optional but excellent for swimming in a lake or stream as part of your hike, something our kids always want to do!
base layer t-shirt (if it's a nice summer's day you can get away with cotton if that's all you have)
convertible hiking pants or shorts and quick-dry pants (no denim!)
windbreaker
thin wool or synthetic socks
running shoes, minimalist if possible. In the height of summer water shoes even work.
Depending how warm the day is you may want to wear a windbreaker or if there is no wind but you need a bit more warmth for a chillier morning start, the base layer long sleeve shirt will work.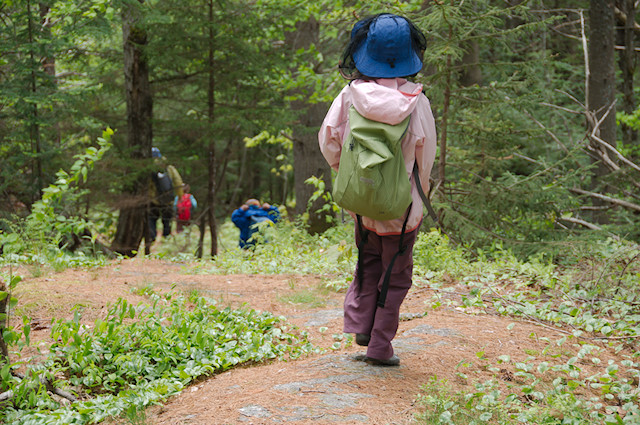 What you pack:
base layer long sleeve shirt
fleece hoodie
rain jacket, if there is rain in the forecast
gloves, buff, and hat
bugnet, sunglasses
I'm not talking about the other gear you need - first aid, water, food, whistle etc.
By the age of five or six, a child should be able to carry most of this on her own, along with a water bottle and snacks.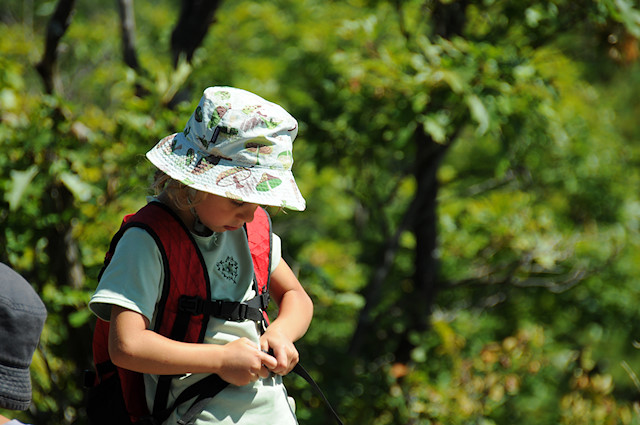 Footwear Basics
Hiking footwear for kids, or adults for that matter, is not that complicated. Running shoes will do the trick. The more minimalist the better. Our kids have never worn hiking boots. And we've logged hundreds of mountain miles with rocks and roots.
With short shoes we like to wear gaiters. Mostly because they keep debris out of the shoe. Also, if worn with pants they add extra protection from bugs. Dirty Girl Gaiters are our favorites.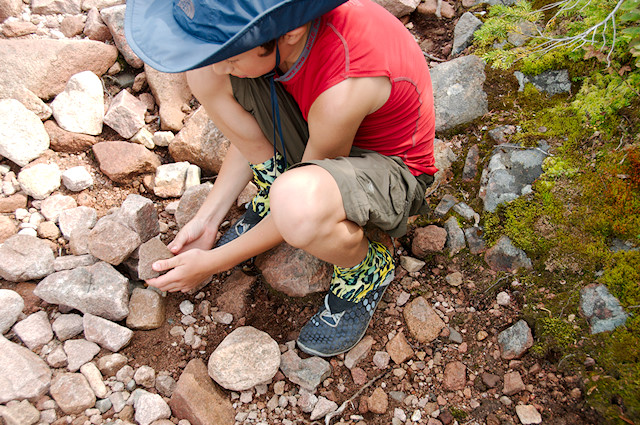 What about getting wet?
Wet feet are not a problem as long as the temperature is above freezing, you're wearing wool socks, and you keep moving. In the shoulder seasons of early spring and late fall is when things get tricky and that's when we employ a combination of shoe and waterproof socks or light winter boot.
Since our kids' feet are always growing and not worth huge investments for a one or two month time window each year we just make due as best we can during those times.
Our preferences are warmish rain or snow, freezing rain sucks and we don't hike in it if we can avoid it, i.e.: we stay home.
Late Fall/Early Winter/Early Spring Layering Guide:
This is assuming you're doing an aerobic exercise like hiking, snowshoeing (which we found to be tiresome with children), cross-country and uphill backcountry skiing.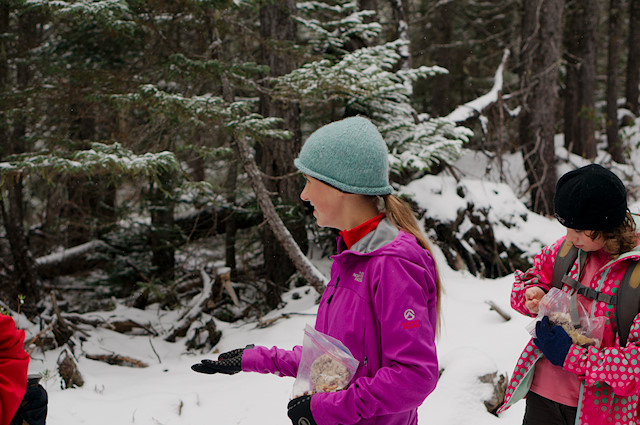 feeding our snack to the birds
What you wear:
base layers - t-shirt, long underwear pants, long sleeve shirt
fleece hoodie (optional depending on how warm the day is, if not wearing, pack it)
hiking pants
soft shell jacket (or wind breaker if warm)
thick wool socks with liner socks if needed
shoes or light winter boots
liner gloves and/or intermediate mitt
toque, buff (optional)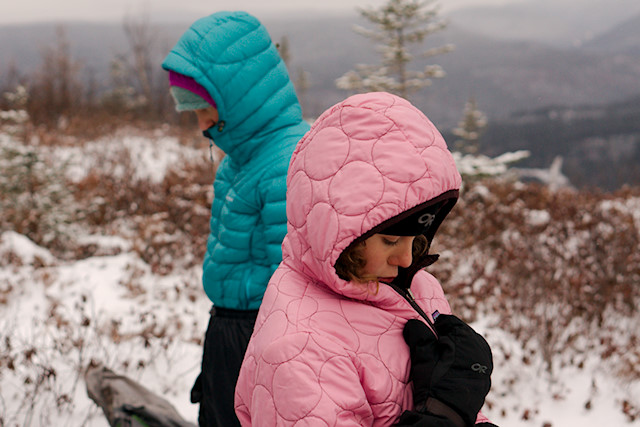 What you pack:
fleece or puffy pants (on colder days) - put these on when you stop for lunch
puffy or insulated jacket - put on right over top of the other jackets when you stop. Purchase jackets large enough to do this.
balaclava and ski mitts (if it's extra chilly)
Little ones will probably need help carrying their extra layers. Getting through the snow is hard enough work just wearing all those clothes.
For early winter hiking (and deep winter backcountry skiing) we like to have hand and foot warmers in our packs, sometimes extra wool socks, and we also bring a shelter in case of emergency.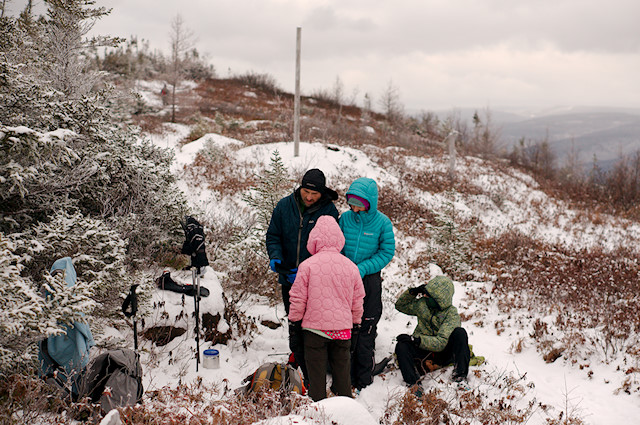 (The three photos in this section - feeding the birds, zipping up a puffy, and eating lunch at the top in our puffies - were taken on the same hike and illustrate the layering system.)
Did we have all these pieces the first season we started hiking? No. But we figured out a system and worked towards it with years of tweaking.
Do you need all these things the first time you go out with kids? No. But once you have a system in place it helps you prioritize your purchases and know what to look for in second hand shops, etc.
Winter wear
Winter considerations will be different depending where you live. Winter may be wet or really cold. In our case, winter is snowy and moderately cold. I say moderate because it's not Arctic circle cold or Alberta prairie cold.
The coldest conditions our family has been outdoors for the day, hiking or skiing, has been at -20C/-4F. And that's with a midday warm up around a stove. These recommendations are for that bottom temperature range.
Head & Hands
In the winter we use a combination of balaclava, buff, and toque (wool or fleece) on our heads. A buff and toque, with the addition of a fleece hoodie and jacket hood is usually sufficient. When it's colder or windy we add a balaclava as the base layer.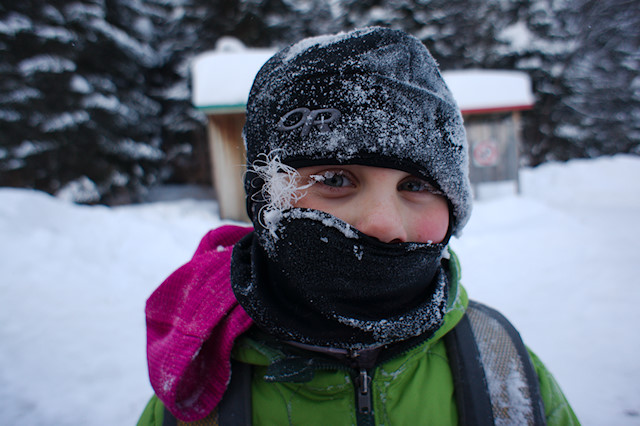 For our hands we use have three different pieces:
A light wool or fleece glove. We use these in all four seasons. Fall, winter (in case we need to do picky finger work), spring, and for summer backpacking and and chilly camping (ie: we don't take them on day hikes).
An intermediate mitt. Fleece or soft shell material. These can be layered with the light glove. This combination works well for warmish winter days and heavy exertion activities. This is what we wear going up.
Ski mitts. These are for downhill skiing and cold weather. We love these Black Diamond mitts. Another good brand is Outdoor Research. Again, we buy our kids womens xs as soon as we can, about age 8 or 9. Before that we did the best we could with kid's sizes. See Erin's contribution below for more mitten idea for littles.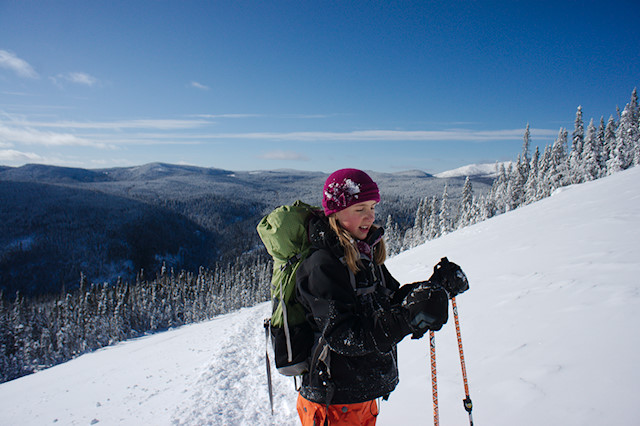 For young children who lose their mitts you might want to check out Smittens by January Baby. January Baby is a small Canadian family business that ships anywhere in Canada and the United States.
January Baby is offering FIMBY readers a special discount right now. 10% of your purchase, just use the code RT10 at checkout to receive that discount.
Jackets
If puffy jackets are hard to come, a well insulated jacket (either down or synthetic) works instead of a puffy layer. However, if you want to have your gear be light for backpacking and winter trekking you'll want to investigate puffy options (though they are sometimes more expensive).
Our kids wore insulated winter jackets for years till we could source puffy jackets for them.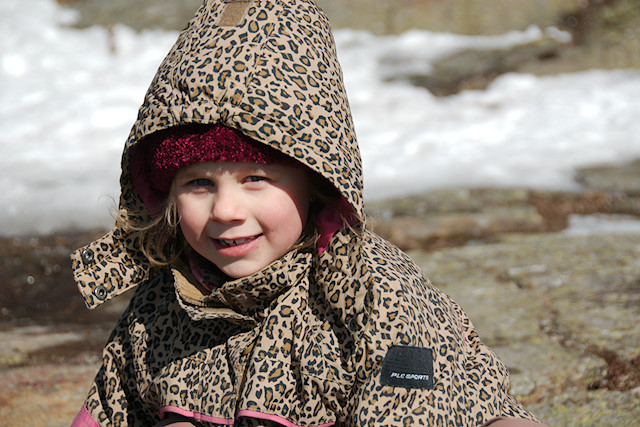 Snow & Winter Pants
Our kids wear snowpants, the usual kind you get in hand-me-downs, from the thrift store, etc. for basic outdoor play around the house. They also wear them for cold winter activity as their bottom insulation and outer layer.
Depending on the activity and temperature they will also wear long underwear and fleece pants underneath. For example, if we're downhill skiing or going to be standing around, say for a winter parade, they'll wear all those layers. If we're skinning up a trail for backcountry skiing they'll wear just the long underwear and snowpants so they don't over heat. They then regulate their body temperature by layering their upper body.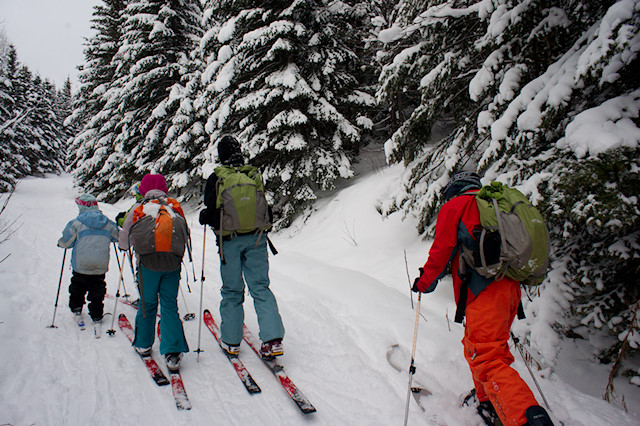 As our kids get older, about 13 or 14, we switch their winter bottoms to a long underwear, thermal or wool tights, puffy pants and winter shell layer. This system is more versatile. You can hike or skin up in underwear, tights and the shell and then add the puffy pants for breaks and for skiing down.
If you are doing a less aerobic activity, like downhill skiing (where you freeze your butt off in the chair on a regular basis) you would wear all four layers.
Boots
Winter footwear has been the hardest piece of the puzzle for us to solve. Here's the conundrum - you want your feet to be warm enough but very large and clunky footwear is heavy and all that extra weight makes it hard to move your legs, especially for children.
In addition, we are footwear minimalists. We believe less is best on feet. But this isn't practical in a northern winter, nor does it work for specialized winter sports like skiing.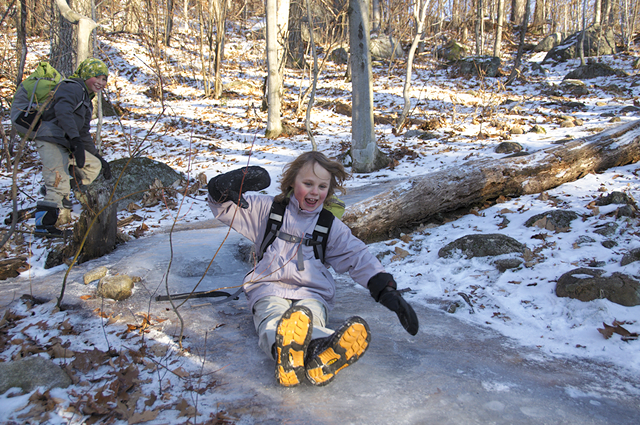 None of the solutions we've used are amazing or elegant, but they've worked (smile). No one has lost a toe yet to frostbite!
Here are some of the combinations we've used over the years.
Regular winter boots. The kind you get at LL Bean or some other similar outfitter.
Minimalist shoes in a larger size, paired with wool socks and waterproof socks.
Minimalist shoes in a size large enough to accomodate thick wool socks, covered with an overboot. Laurent is currently using this combination for non-skiing winter activity.
A women's extra-small minimalist boot paired with wool socks and gaiters. Brienne's in this combination this winter.
We only have so much money each year to outfit the kids. And we only spend money after we've shuffled all existing gear around and handed down from one child to the next.
For the past couple years we've invested in ski gear, including warm ski boots and we've "made-do" for the other outdoor activities. We are doing the same this year.
Three years ago Damien published a winter footwear article at Outsideways. We use much of the same strategies now except it is colder here than in Maine so we use boots more often than trail shoes for our short jaunts and ski boots all the rest of the time since we ski now, and we didn't then.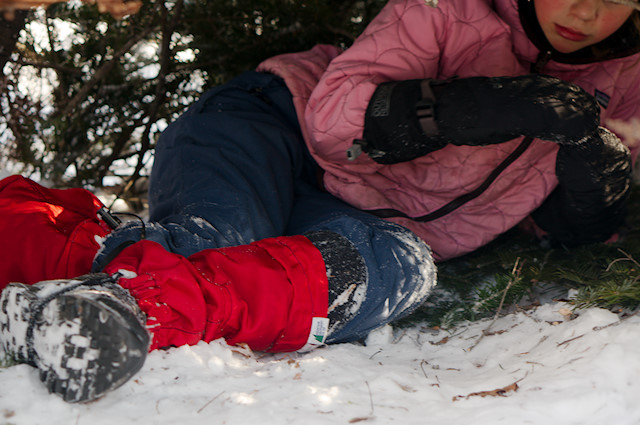 Backyard play in a winter "den". A minimalist boot paired with tall gaiters.
We have some very outdoorsy friends who swear by these boots, which work for a lot of outdoor conditions, though not serious hiking.
Where to buy?
People have asked us to recommend brands and retail outfitters where they can find those brands.
We have been Patagonia fans for years. We love pretty much everything about their business and production model. We used to live close to an outlet and would get their fabulous gear for deeply discounted prices.
Since moving back to Canada we've shopped a lot more at MEC. The MEC clothing brand is sufficient for kids but we haven't purchased many adult MEC clothing because we are quite picky about "fit and feel" and we find the MEC brand clothing often does not deliver adequately in this regard. MEC also sells other brands of gear and we often shop there online and on our trips to Halifax.
There are a lot more brands to choose from, some of which I've mentioned in this post, but where can you find these brands? and for the best price?
This is a response Damien sent to an e-mail asking us those questions.
We have always been happy with anything we bought from Patagonia. They usually have a pretty good selection of kids cold-weather clothing. When we lived in Maine we weren't far from an outlet, so we could usually find items at half-price, otherwise some of it can be kind of pricey. If you are able to buy stuff that you can pass down through all your kids, then give to other family members, that can sometimes help you with justifying the cost. A couple other good places to check-out (if you haven't already) is REI and Backcountry. Campmor can have some good stuff at reasonable prices, and if you know what you are looking for, you can sometimes get really good deals on quality stuff at Sierra Trading Post.
Winter Wear for Little Kids
Like I mentioned above, we didn't start any "serious" outdoor activities with our kids till the youngest was three. And that first winter things weren't all that serious.
Keeping infants and toddlers warm during winter and or rainy weather conditions presents unique challenges.
This is an area I have no expertise in so I called in the big guns, Erin McKittrick, mother of two pre-schoolers, Alaskan trekker, and author of the books A Long Trek Home: 4,000 Miles by Boot, Raft and Ski and Small Feet Big Land: Adventure, Home, and Family on the Edge of Alaska.
Here's what she has to say about keeping kids warm in winter.
Infants
I loved those one-piece fleece suits you can get for kids up to about 2 yrs old, with the fold-over mitts on the ends of the feet and sleeves. Often these were hand-me-downs, but I think a bunch of different companies make a version. Here's one example from Patagonia. They have a variety of zipper styles for diaper changes, but I found the ones with a zip all the way from the top to one leg to be the easiest.
For a little baby, I'd just bundle them in one or more of those (depending on temperature), and then tuck them into a wrap/carrier under my own over-large coat, they got a lot of their heat that way. I wouldn't bother with mittens or shoes, but would make sure hands and feet were tucked in.
For a slightly older baby (that doesn't fit under a coat), I'd put a snowsuit over the fleece suit(s), and choose a fleece suit where the feet can come through (allowing boots).
We usually made our own boots out of neoprene or felt to allow easier movement. It is pretty awkward sometimes, but our kids didn't do a whole lot of independent movement in the snow until age 2 or so.
Toddlers
Once a kid is out of diapers, I prefer 2-piece suits for all the layers. Fleece layers under puffy layers (sometimes with long underwear underneath).
Last winter, and on our last four month journey, I used the Patagonia toddler puff jackets and pants. These need raincoats/pants over them to be waterproof, but I like the flexibility of that if it's not super super cold.
For super cold, you can't beat something like this.
A real handmade Eskimo whaling parka with a wolverine fur ruff, plus snowpants and felt boots. He could nap in the snow in this!
If you expect windy below or near zero Fahrenheit cold, I think a ruff is pretty critical to prevent frostbite. The cheaper way is to go to a thrift store, pick up a cheap old fur coat of some sort, and cut a strip to sew around the hood of whatever snowsuit/coat.
I've never had great luck with keeping small kids in functional mittens. But these elbow-length ones are better than most.
Sometimes my kids have preferred to go bare-handed, then tuck hands in over-long sleeves when cold.
Like for most parents, those baby and toddlers years go by quickly enough that I didn't necessarily find a perfect solution before the kids got older. And I often tried to work with hand-me-downs rather than buy new, especially when my kids were littler.
---
Thank you so much Erin for sharing your experience and photos of your adventuresome family
If you want to see more photos of Erin's family in the outdoors check out their Family Life slideshow pages at Ground Truth Trekking. Or if you can't get enough of breathtaking Alaskan living and adventure photography (with kids!) see the slideshow catalog here.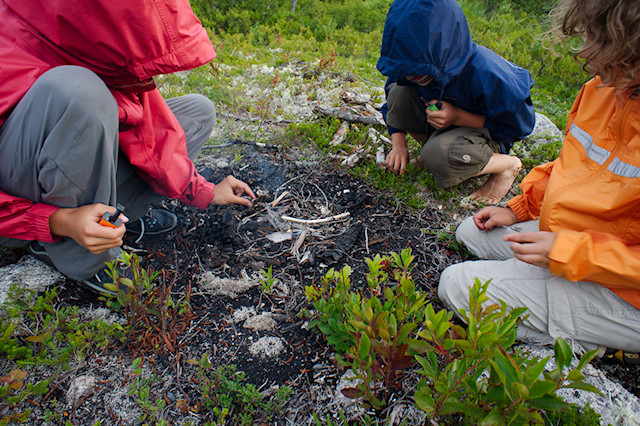 Get Your Kids Hiking ~ A Book Recommendation
If you are looking for a handy reference book for hiking with kids I recommend Get Your Kids Hiking: How to Start Them Young and Keep it Fun!
As the title suggests, the book is about hiking specifically.
The book talks about all the ages and stages of hiking with kids, from newborns to young adults. It covers many topics including keeping kids motivated on the trail, getting through difficult spots and situations, and even special needs.
It covers backpacking, food, what to do about bugs, safety and emergency situations. It has a short section that covers gear in general - backpacks, sleeping bags, etc.
There is nothing in the book, that I remember reading, about winter or shoulder seasons (early spring, late fall).
The most helpful section for many people would be the packing lists in the appendices which includes hiking and backpacking checklists for all ages.
All the clothing recommendations I make in this post are based on our family's own experience and years of Damien researching and experimenting with different gear. The packing lists in Get Your Kids Hiking are very similar to our own, though with less emphasis on four season activity.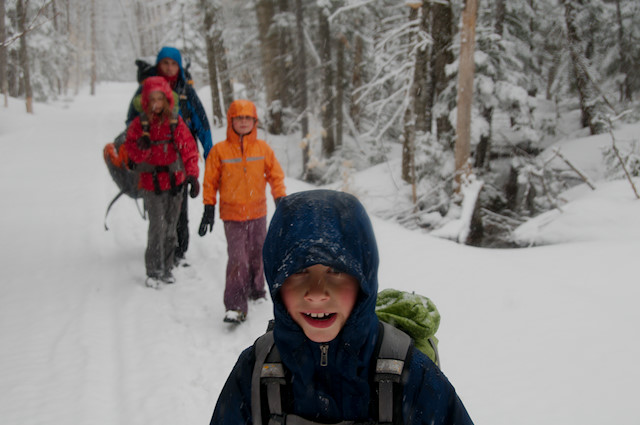 an early spring wet snowfall, wearing rain jackets
I was given this book for review by the author, all opinions are my own.
---
This post, already quite long (ahem), does not address all the other outdoor gear for children - sleeping bags, backpacks, and pack weights, etc. Our thru-hike gear list at Toe Salad includes detailed information on these.
Feel free to post questions you have related to backpacking gear. I might be able to work them into that post. Also, if you have questions about any of the clothing I talked about in this post, or specific brands to look for, just post a comment.
Renee Tougas participates in affiliate marketing, including the Amazon Services LLC Associates Program. Whenever you buy something on Amazon from a link you clicked here, I get a (very) small percentage of that sale. See disclosure for further explanation.
Filed Under
Resource Library
You can subscribe to comments on this article using this form.
If you have already commented on this article, you do not need to do this, as you were automatically subscribed.