Instagram and Interest-led learning
September 11, 2013
A while ago I wrote about our family's approach to technology use and acquisition, especially as related to the kids' education and learning.
When I published that post, our kids had not yet discovered social media.
How things change.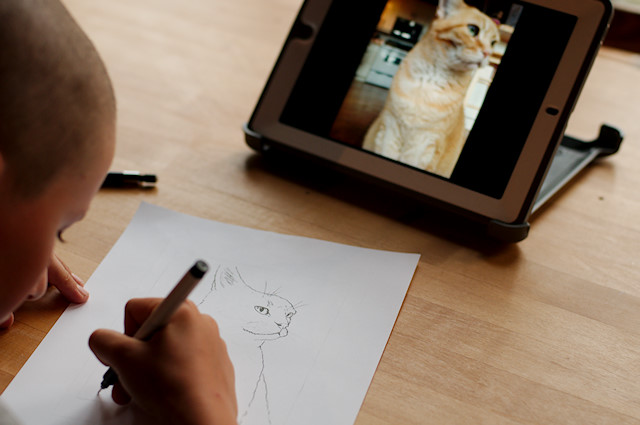 Last month Damien introduced Laurent to Instagram. Of course the kids know that I post to Instagram because of my frequent "wait, I just want to instagram this," moments of our family life.
We are always looking for ways in which technology can support our children's interests and learning. Technology is a tool. Damien is especially good at this - finding the right tool for the job.
It was Damien's idea for Laurent to start an Instagram account to share his artwork. It's a perfect fit for our visual, extroverted, and artistic boy with an iPad.
Once Laurent had an easy way to share his most recent art he launched a 30 day drawing project - 30 Days of Otters.
I bet you didn't know you can draw otters in 30 ways? Otters happen to be one of Laurent's passions and following through on a 30 day drawing project was perfect to push his boundaries, just a wee bit, on project conception through completion.
And then the delightfully unexpected happened, unexpected for Laurent at least, new as he is to social media. Things got social.
People started following his feed. Some of the names Damien and I recognize, others we don't. Laurent's followers commented on his photos and art. People "liked" his work. Laurent in turn followed, liked, and commented on other people's photos.
Most of Laurent's Instagram followers are parents and other grown ups who share similar interests with Laurent, such as art, animals and the outdoors.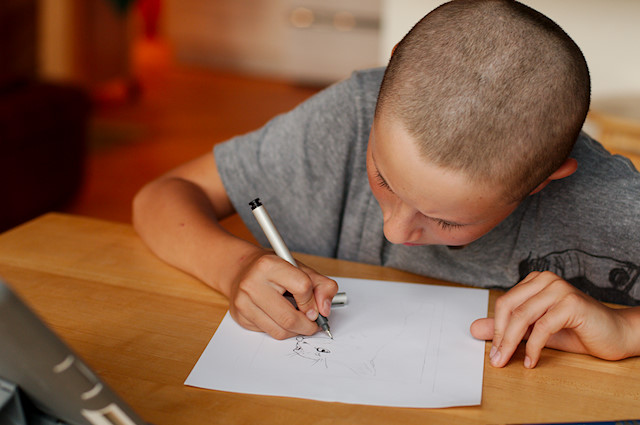 My world, as Laurent's mom (we're a sharing family, "mom, come see this!") now includes ohhing and ahhing at photos of stranger's cute kids, dogs, and restored axes. Yes, axes. Perhaps now's not the time to mention irrational fears of axe murderers stalking your children on the internet.
There's a lot of animal lovers in the world, even in Laurent's very small circle of followers. And within the wide circle of animal lovers there's the proud and devoted pet owners.
When we saw all the photos people share of their pets (wow, I just gotta say, people love their pets!), and considered how Laurent loves to draw animals, we proposed an idea to him.
What about advertising his services to sketch pets?
A brief aside about interest-led learning:
This post illustrates (no pun intended) how we do interest-led learning. But if you need a concrete summary of how we support interest-led, self-directed learning in our home, here it is:
We look at our children's interests, bring in tools and resources to support those interests, and regularly pitch ideas about how to further explore, develop, and share those interests. "Hey, have you thought about... something you might try is... have you checked into..."
If our kids have their own direction for projects and learning, that's great too, but sometimes they get stuck or don't have the life experience to see all the opportunity or even be aware of all the options. In those cases we brainstorm with our kids and throw out angles and ideas they might not have considered.
Finally, we support the projects that come out of those ideas. Offering our assistance but making sure the learning and/or project itself belongs to the learner, that it is directed by them. For more inspiration in this regard I recommend Project Based Homeschooling by Lori Pickert or her blog.
Laurent loved the pet sketch idea and ran with it.
"I need to make an ad," he said.
Since this was an Instagram project we replied with, "Let's see if there's an app that can help you do that." (There are apps for everything and we have found them to be very useful tools in our homeschool.)
We found a collage app that Laurent could use to make an ad. We downloaded it. Laurent taught himself to use it. And asked us for help spelling portrait.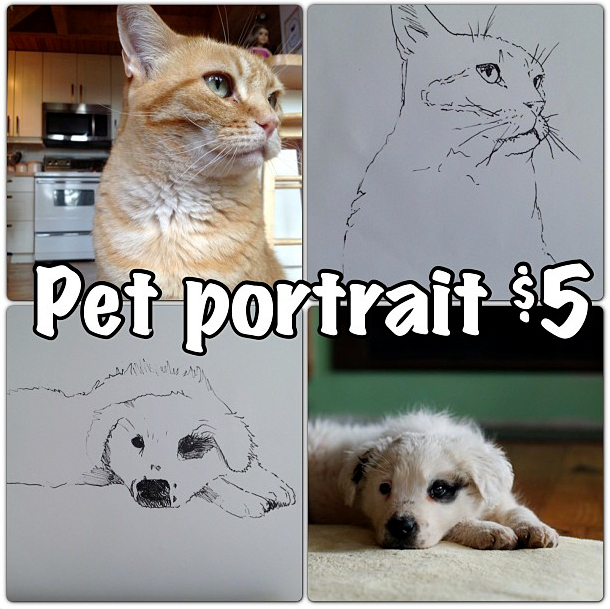 Then he advertised on his Instagram. And got commissions. And we supplied the contact e-mail address and paypal account.
Then his Instagram followers did some advertising for him. Thanks Brian!
When he posted the finished commissions he received what he loves most, appreciation for his art. Laurent's not motivated by money, but we are trying to teach him that his work has value and how he might make some money doing it.
In all of this, Laurent has been practicing and growing his reading and writing skills, because there is a very compelling reason for all of it.
You need these skills to communicate with people. And Laurent values communicating with people because he wants to share his art.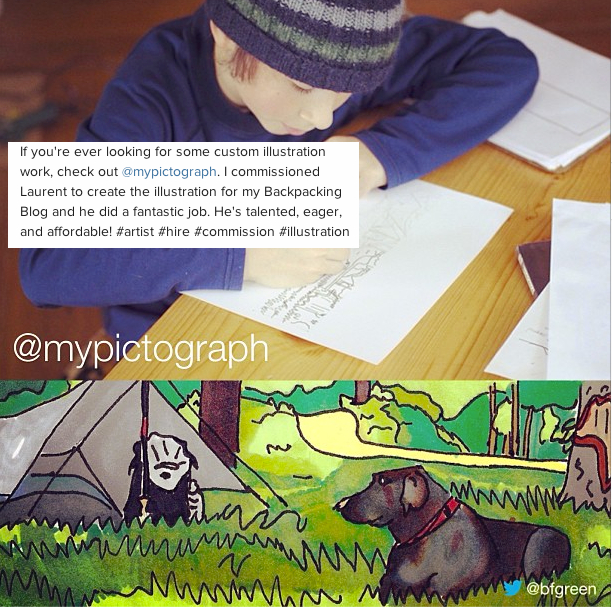 We use our kids' natural interests and talents as the springboard to teach the skills they need to know.
Some people wonder, how do interest-led learners learn what they "need to know?" By this, I assume people mean subjects taught in school that many children are forced to endure because it's something they "need to know". Or maybe people are referring to character traits like tenacity and follow-through or maybe people skills like communication and negotiation.
People, including children, learn what they "need to know" by doing things that interest and inspire them. And that's not to say interests can't be born of necessity, as is the case with my French studies.
Either way, in order to see your interests and inspiration through (and not every interest or inspiration becomes a project or area of study) you will have to overcome obstacles and you will learn new skills and knowledge you didn't know before.
You'll have to do hard stuff, and tedious stuff, to reach your goal.
You learn to apply yourself because you have to do the work to make your idea a reality.
That's how interest-led learners learn what they "need to know" - by doing the work that springs from following an interest, a passion, a need, an inspiration.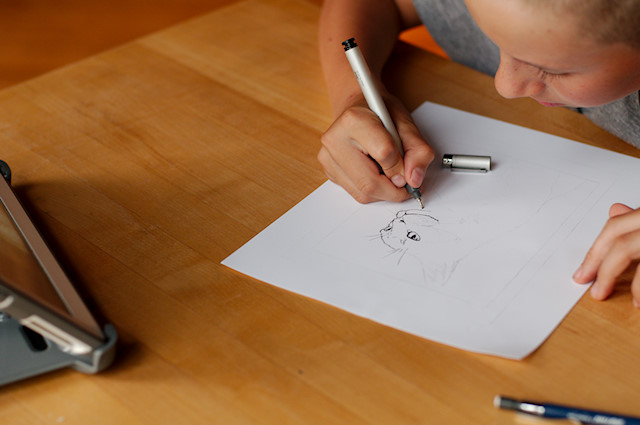 A last aside about interest-led learning:
I love using that 4-letter word "work" because some people think interest-led learning is a soft and cushy substitute for the "real work" of required and enforced studies. And that by educating children in freedom you raise lazy learners.
I've read many criticisms and "concerned citizen" observations of this kind in the comments of online articles and blog posts. I haven't been criticized myself, just for the record.
What inspires your children? How can you support that? What inspires you? How are you doing the work to make an idea a reality?
And if you want a pet portrait (hardcopy or digital), but aren't on Instagram, you can contact me directly and I'll give you the details you need to know.
You can subscribe to comments on this article using this form.
If you have already commented on this article, you do not need to do this, as you were automatically subscribed.