Imagination, Creativity & Dress-Up Live Here (still)
November 26, 2013
I keep wondering when Halloween will end in our home. (I know Halloween was almost one month ago but I was waiting for permission from folks before quoting them in this post.)
I wonder when I can be done with the guilt about sugar-overload (which I no longer fight but allow for a short period of time before returning to our normal dietary guidelines.)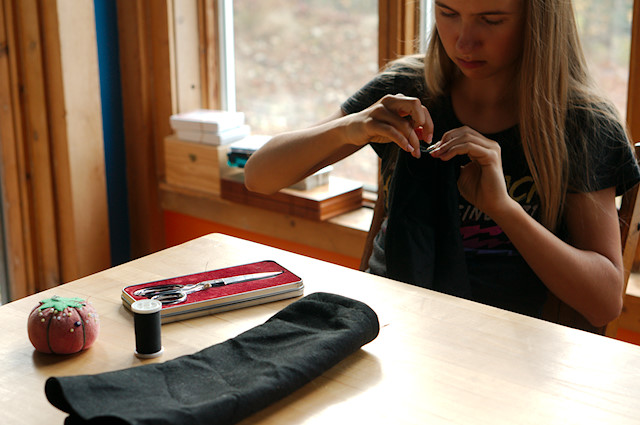 I wonder when the costume shoppe will be closed, and when the eager anticipation of walking darkened streets on the last day of October will pass.
It was going to be just Brienne this year. Dressing up and going out for treats. The other two weren't interested.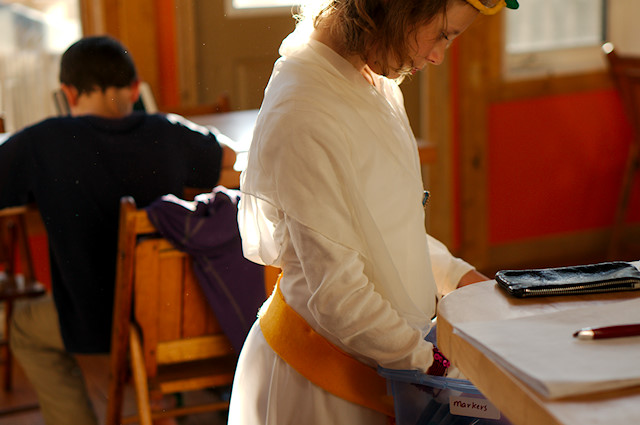 Then Celine was invited to an online Halloween party with friends on the 30th, and other friends (of the local variety) were trick or treating on the 31st. And what was going to be a quiet Halloween year became what we have come to know and love - an expression of imagination, creativity, and dress-up.
This summer I joined an unschooling Yahoo group. We're not unschoolers but Celine's high school education is almost completely self-directed and self-regulated (with parental oversight). I find the most support for this kind of education in the unschool crowd.
So anyway, I'm on an unschooling mailing list and last month an interesting thread was started with this question:
(This is related to Halloween, more specifically dress-up, so hang with me.)
...I have seen in many, many unschoolers how the younger children (ages 4, 5, 6) seem so much less mature than their schooled peers. They are not less mature, they are just maturing at a normal rate in safety as opposed to most schoolers who are pushed to handle more than the are ready to deal with and thus are forced to find ways to cope. However, they seem more mature, in the way our culture thinks of maturity. Then, by 9, 10, 11 they seem and actually are much more mature than their schooled peers. I have seen this again and again. My question is this: is there a similar dynamic happening for young teens? Does a, say, 13 year old unschooler often/sometimes seem less mature than his/her schooled peers and then gain that true maturity a few years later?? Have those with older unschooled children seen this dynamic in their kids and/or other unschooled teens you have known?

Heidi
The responses to this question were fascinating and I hope to delve into them more in future homeschool posts on the subjects of socialization, relationships, separation, attachment etc.
But what I want to share in this post are some of the responses to that question, as related to playfulness.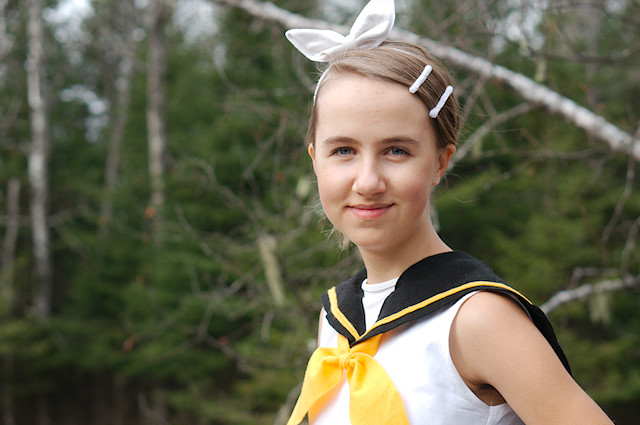 (My kids) are now 12-16, and are definitely more playful and imagination-based, even in the teen and preteen stages. Still into costumes, kooky movie-making, story-telling and "making funny stuff" with each other and close friends. So child-like in that way. But they've also operated the stove and knives for years, and can feed themselves, and have all been doing their own laundry and packing their own suitcases for a long time.

...I would say, as many of you will also notice in your kids, that in unschooled kids there is an emotional maturity or understanding that has been allowed to brew and develop outside a schooly template. All their friends like to hang out with them, because they are supportive, listen, empathize, and are into consensual play.

Cath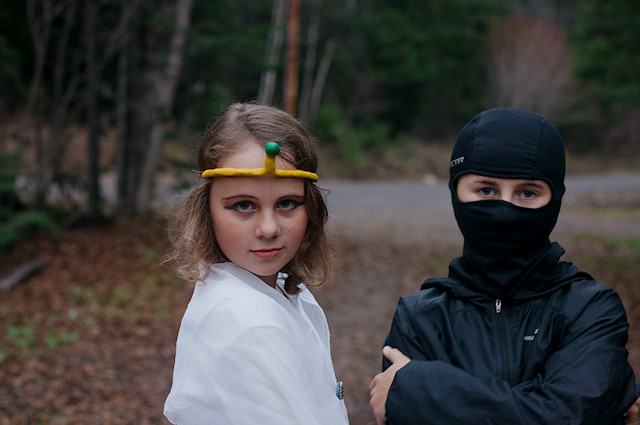 I certainly noticed a lack of crushing under peer pressure that their in-school friends seemed to really like being around... My kids played imagination games, and just a lot more play, than is 'normal' at 13-14 when most kids are pushing for rebellion, makeup, sex, drinking... and practically nothing else.

And, again, we also noticed that by 16-17 they were long past their in-school cohorts. Independent travel, working full time, friends in their 20s...

Linda
I would echo that they were like someone posted here - into more play than what schooled teens were into that were "too cool" to play. Even now, when they come home from university they still play with the 11 year old, at his level, with board games, lego, dress-up in the halloween costumes, art projects etc.

Of course, they are going to Overdose on League of Legends this weekend, but they still play with toys! I remember at that age, 13-14, my daughter parted with her best friend because the friend was into make-up, boys etc and my daughter wasn't. (She is certainly into that now). My daughter felt that birthday sleepovers were very boring because the other girls complained about boyfriends and their moms, and my daughter didn't. It got so that she didn't go anymore. Very different interests. Maybe that happens in unschooled kids too. They spent a lot of time reading and imaginary play at that age. It was so much fun. I really miss it.

Judy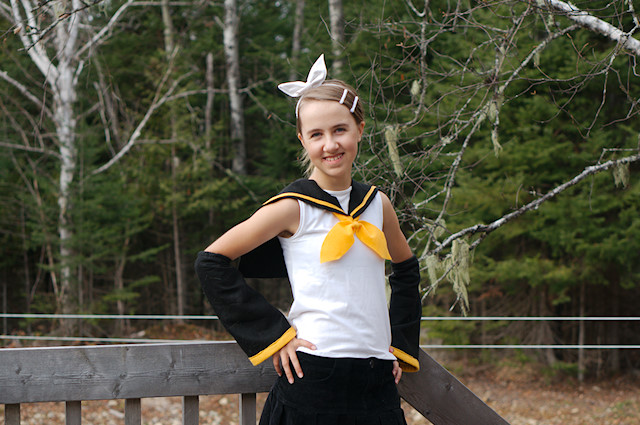 And another mother also shared how, in her experience, young adult unschoolers "hold both maturity and playfulness simultaneously - they aren't mutually exclusive."
My daughter, at 18, moved on her own to NYC, and has lived there for almost a year and a half (minus a couple months of US visa application). Very self-sufficient and mature. Yet she's also well-loved in her circle of photographers for her playfulness. In fact, her photography is all about seeing the world through a child's eyes. Her guiding quote is from Walt Disney: "Every child is born blessed with a vivid imagination. But just as a muscle grows flabby with disuse, so the bright imagination of a child pales in later years if he ceases to exercise it."
FIMBY is not a unschooling (or any specific educational philosophy, for that matter) blog. It's a family blog.
And in our family, our kids dress-up, often. They did when they were little and they do so now, when they're not so little. Though I know I will look back on these years and remember fondly "when they were little".
When friends with young children come over Laurent dons his Ninja outfit and stalks around the house ready to pounce - to the sheer delight of little boys.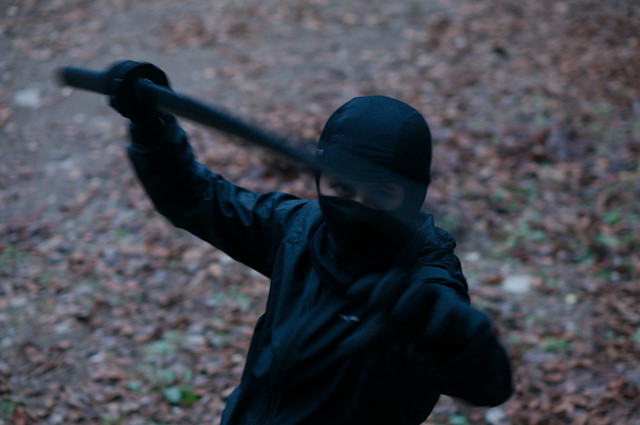 Out come the foam swords Damien made for the kids years ago. Almost 13 year old Laurent has been known to take quite a beating from his 3, 4 and 5 year old adversaries as they play "chevaliers" (French for knights).
Our 14 year old is less into "dress-up" but is fascinated by Cosplay, sewing her own costume, and spending time hanging out on blogs where geeky grown-ups sew and craft elaborate costumes of their favorite characters.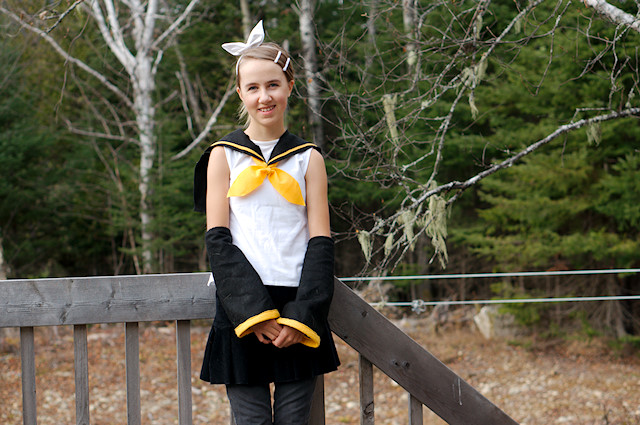 Interestingly, and not surprisingly, cosplay is a pop culture phenomenon in Asian cultures, such as Japan, which is a current study subject for Celine.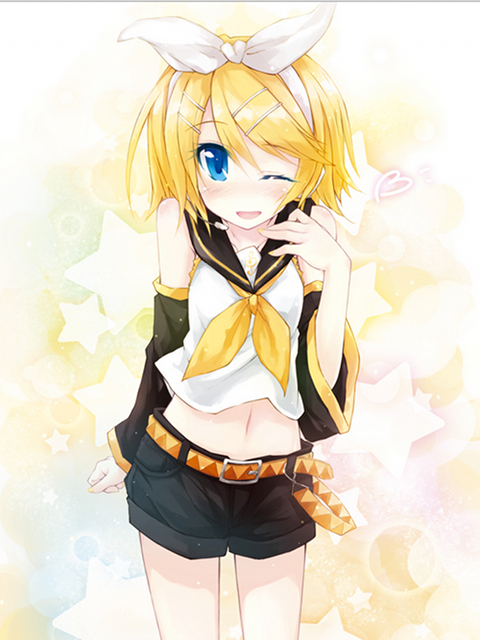 Eleven year old Brienne has a dress-up bin with which she outfits herself on a regular basis to become different characters. A girl who lives in a "manor-house" (and speaks with an affected British accent) or the daughter of a Menhir merchant.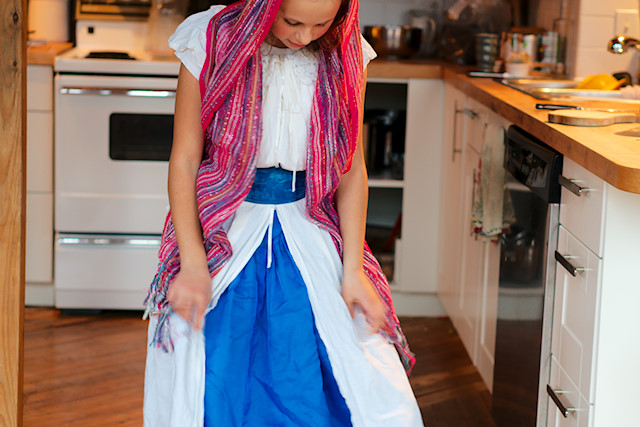 The Menhirs are a made-up people group, allies of the Domeheads, archenemies of the Squareheads and Spikas. They set up camps, fortresses, cities, and dwelling throughout our woods.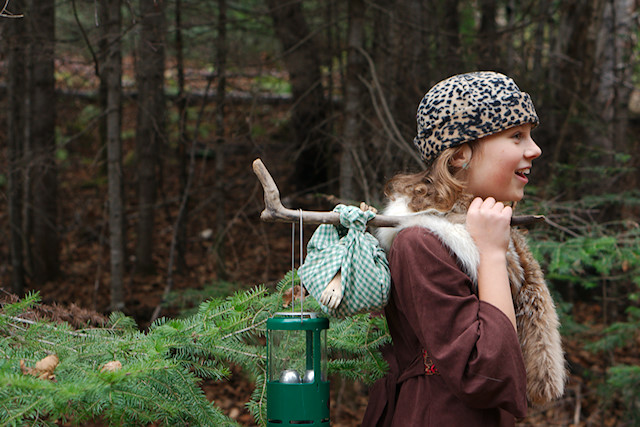 I don't think this is an unschool thing. Or even a homeschool thing. Pulling quotes from my unschool mailing list was not about setting up unschool as the example. For me, it was an affirmation. Because, as I share my own reply to that mailing list thread, imaginative play is alive and well in our home.
This is a fascinating discussion and I have observed the exact same things in my own children ages 14, 12 & 11. A slower start, very attached to me as young children, not sure what to make of large groups of kids etc. But as they grow they become confident and comfortable in their skin at the very age everyone around them is struggling with issues of identity etc. And yes, a slower teen maturation (thankfully!)

And what you all said about play - absolutely. My 14 year old loves cosplay... It's a very natural progression of her interests in sewing, design, fantasy fiction and overall geekery. She's a geek and proud of it.
I don't know if my kids would still have these interests if they were schooled. And I suppose it all depends on what type of school they would attend, if they attended. 
But I do doubt that they would have the time or opportunity to weave their imaginative dress-up play into their school day and actual academic study, unless they were drama majors.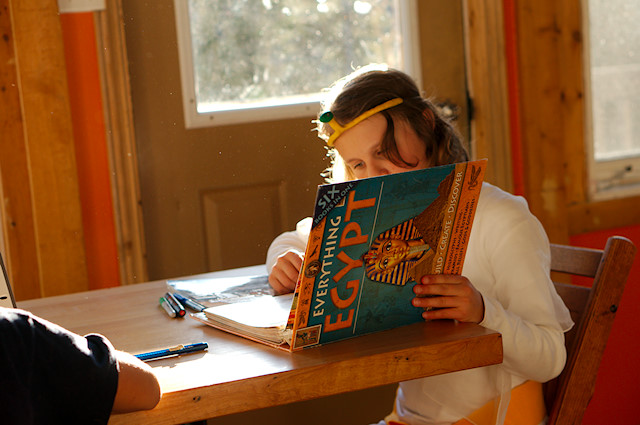 In our home, math is not more important than sewing and science is not more important than story telling. There's room for all of it. And it comes all together in the most unexpected and delightful ways.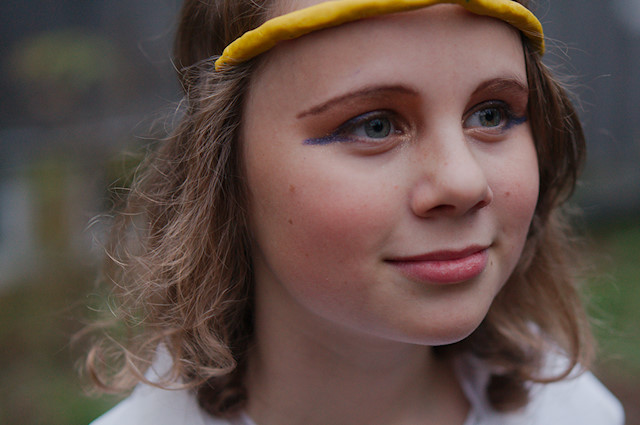 Brienne's studies seamlessly merge with her play as she researches Egypt to prepare for Halloween. (And what a great opportunity to wear a lot of eye make-up!)
Laurent can live his martial art fantasies of being a stealth Ninja, training with a daily exercise regime for gaining strength for his Taekwondo competition.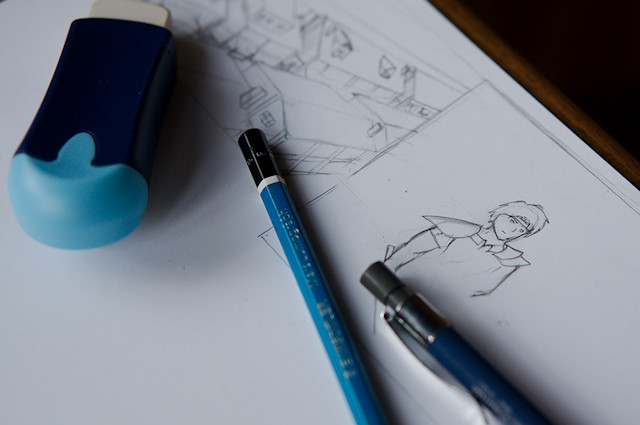 Celine can study and listen to vocaloid music (google it), learn to speak Japanese (and practice with said music), cosplay, read and draw manga, write character histories for game play and it's all learning. All the time. All connected by threads that can only be woven by her.
We all know the importance of play for young children. As my children get older their play changes but they still play.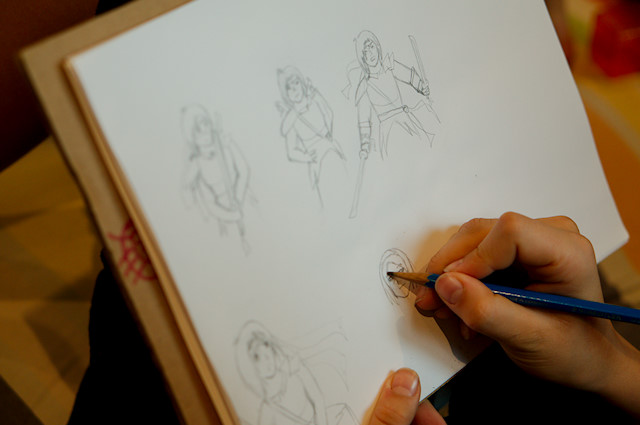 Maybe if more older children and young adults were still able to express themselves through creative play, and it was socially acceptable in their home and school environment to do so, they would seek less destructive expressions of individuality, those listed in one of the comments above as rebellion, sex, drinking.
I'm not an expert and the interplay of social behavior and self expression is a complicated business. It's not just about play, I realize that.
But freedom to play and express creativity through all stages of childhood, and adulthood, is so important. And I wonder how many destructive societal activities and social behaviors, especially those of teenagers, would be avoided all together, or could be better channeled, with a cultural and personal history of play and creative expression.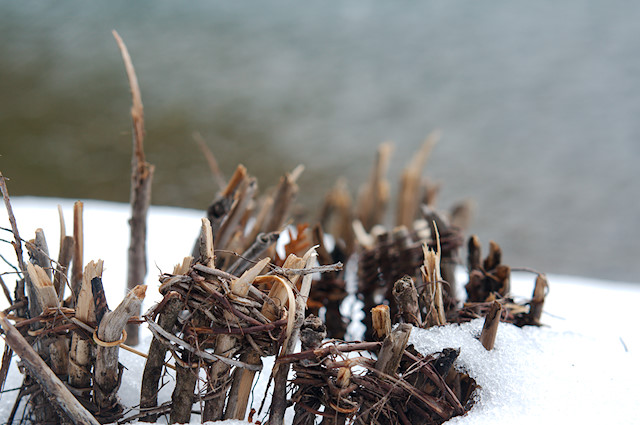 Teenagers want to be weird, wacky, and daring (and still be accepted and loved). Little kids want to inhabit a world of fairies, Menhirs, and Ninjas. They are expressions of the same thing - imagination, and creativity. Play.
Do we give our children and teens safe and easy access to this world? Do we give them time to explore it? Do we give ourselves access to creative expression and play?
You can subscribe to comments on this article using this form.
If you have already commented on this article, you do not need to do this, as you were automatically subscribed.