How to Start a Homeschool Hiking Group ~ An Interview
May 21, 2012
Today I'm happy to introduce you to my friend Louise Johnson. Louise lives in Maine, which is where we met. She's an adventurous mom to four boys, ages 8 through 18 months, with another adoptive son still in Haiti. 
Louise also homeschools and blogs at Just Us and chronicles their adoption journey here. 
Louise started a homeschool hiking group in their community and I asked her to share her experiences in an interview.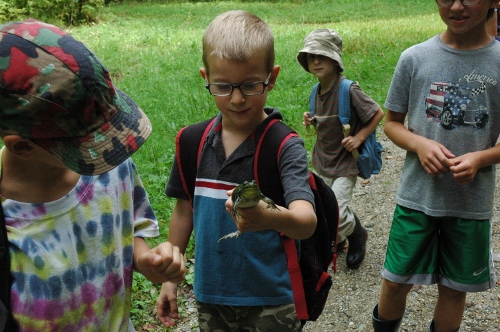 I love what she shares in this interview.
Our own family spends one day a week outdoors together, most often on Sunday, but I know this doesn't work for everyone. Some people go to religious services, or have conflicting family and work schedules. Or maybe spouses/partners who don't share the same love for nature hikes. A homeschool hiking group could help families incorporate hiking into their weekly routine. I love it!
Louise has young children and shares some great tips in this interview about hiking with babies and toddlers.
Let's get started.
1. Tell us the story of how your weekly homeschool hiking group started?
I decided to start a weekly hiking group specifically because our family could not get out hiking every weekend like I wanted. I also wanted to provide my children an opportunity to explore with their homeschooling friends...thus the birth of the group.
2. Is it hard to set aside one day from your homeschool routine for this?
Nope. And there are two reasons for that.
First, outdoor education is a priority for us and in conjunction with that, Friday has been put aside as our free day since we started. So, we made it our hiking day. We are flexible though - life happens, bad weather happens - so we postpone when we have to.
3. How did you find other interested families?
I have a pod of families that we hang with for individual play dates, field trips, holiday parties and mini school units (we get together and do a science experiments, etc.)
When I pitched it, I emailed them that I was really wanting to get more hiking done with my kids. I scheduled a bunch of easy to moderate local hikes (that I was familiar with) and told folks this is what I am doing - I will be there at 10 am. Come play if you want to. Folks who were interested just showed up (smile).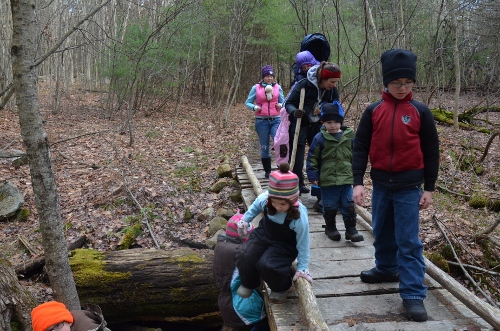 4. What is your average group size and age of kids?
This varied at every hike, but usually we had about 10 kids ranging in age from infant (our packers) to our oldest who was 9. Of course we had hikes where everybody showed up and that was close to 20 kids and others where only 5 kids showed up.
5. Do you have any "educational" goals in mind or is it "let's just go hiking"? Ie: Are you hoping the kids or yourself will learn certain things?
I do not plan any educational goals for the hikes BUT the educational opportunities do just fall in your lap. Most of these hikes are familiar to at least one person in the group. This works well as then that person is able to point out special "educational opportunities."
Many times our hiking explorations are inspired by a book. One hike we had just read Around One Log: Chipmunks, Spiders, and Creepy Insiders
. So the kids wanted to spend time turning over rotten logs. What they discovered - tons of red backed salamanders, worms, beetles and other tiny creatures - led to many more library trips and several lap books.
We have hiked one of our family's personal favorite locations so many times that they boys know many of the critter "hot spots". Now when we bring friends along the boys lead the expedition often teaching friends where to find cool critters and what they have learned in their studies about the critters.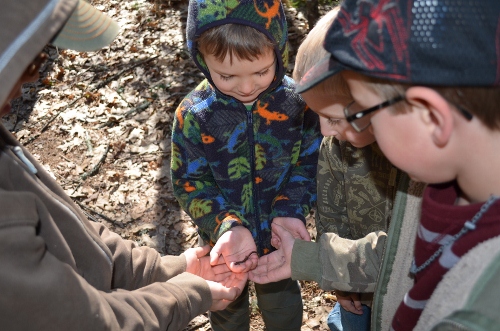 That being said, I do have physical goals for the younger two. My older two boys have developed their "hiking endurance" over the years. My little two are working on that. So I do have goals in that sense.
My goal for my four year old is for him to walk the hike on his own, in other words, me not carrying him. This means taking several breaks and bringing LOTS of snacks.
I know it sounds crazy but I have goals for the baby too. He is seventeen months old. He is now used to being in the pack and does not mind it. However, this last year (yes I mean this last year as he has been walking since he was 7 months old) I have worked diligently with him on building his endurance and hiking skills.
I usually let him "hike" right when we start off, during the period of his highest energy level. My goals for him include not only building his walking ability but his ability to walk along with a group and to stay on the trails. It is never too young to start is my philosophy. He loves it and gets the "I feel like a big kid" stride going. It is so cute.
Then when he starts to get tired he welcomes the break of getting in the pack and more often than not naps the rest of the hike. This avoids the cranky baby in the backpack scenario.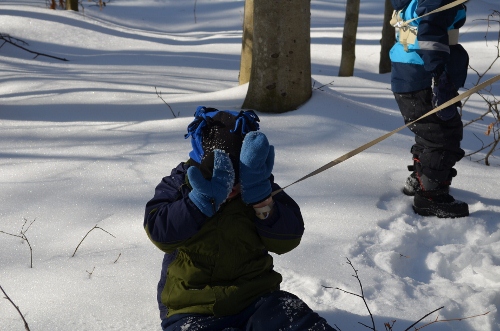 6. How do you determine where and how long to hike?
We only hike where at least one person in the group has already hiked. We do this so that the person who has hiked there before can give us a detailed description of what to expect in terms of foot wear, time, difficulty level, and trail directions.
The hiking group consists of moms and their many kids, all different ability levels (moms and kids alike). Knowing what's ahead makes life easier to plan, especially for those of us with infants. We pick local, nobody wants to spend tons of money on gas so we stay within 30-45 minutes of our community.
Keeping the hikes local also makes it easier for families to try the hike again later, maybe with dad too. Several of the hikes are very close to the homes of folks in the group. Often that person opens up their home for an after-hike lunch, bathroom breaks and downtime.
Our hikes vary in length of time. Really it depends on how many "discoveries" we make, how many snack times we need and how many breaks we need for little legs. I tell the moms to expect at least two hours, bring lots of snacks and in some cases we have brought lunches and picnicked on the trail.
As far as mileage goes, we have done trails that are as short as 1/4 mile, all the way up to some two mile loops. Sometimes the shortest trails have taken us the longest time because of all the exploration.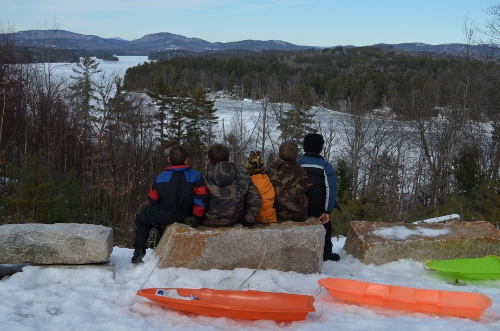 7. What do the kids love best about it? What about the parents?
Here's what one kid and two moms had to say:
Mud...and seeing my friends.

I like meeting/making new friends, being outdoors, challenging myself to try new things (think salamanders here). And, I'm discovering new places nearby that will be great to know about for family outings and homeschool adventures in the future.
I really like to visit the beautiful trails that we have so close to home. It is nice to get together with other families to learn about nature and to just spend time enjoying each other's company. My boys love to explore with the other children as well.
8. What do you do about winter and rainy days?
Rainy days we re-schedule. Winter is awesome hiking. We only hike if the temperature is at least 20 degrees. Kids dress warmly.
We BRING SLEDS. Little legs get worn out way faster with snow pants and snow to work through. Sleds give much needed breaks for littles and tons of fun for the bigs. They love sliding down hills and taking turns pulling each other. Sleds take the bite out of the difficulty of winter hiking.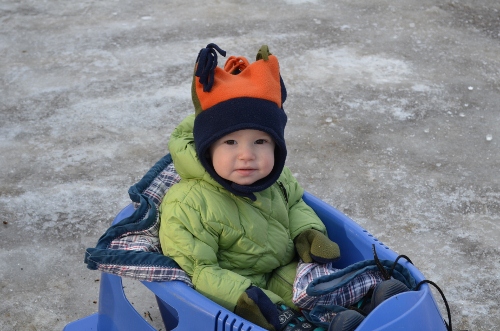 9. What is the most challenging part of organizing something like this? What is the most rewarding aspect?
Honestly, last fall and even this winter organizing the hikes was a breeze. We picked a hike. We went. The weather was great. The advent of spring has brought life interruptions galore. So the challenge has been to get back into our hiking rhythm.
10. Anything else you want to share?
Having a homeschool hiking group has been a lot of fun. My kids have benefited and I have loved sharing some of my favorite spots with some great women. I know the thought of going out sans dad in the woods with little kids can be daunting, especially when you have older kids who want to run ahead and little ones who want to run the other way or just want to lay in the trail and cry that they are too tired to go on. Having more hands on deck makes the load lighter.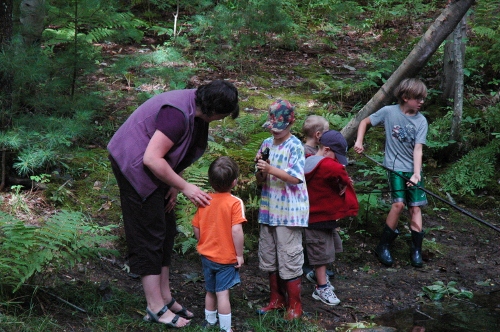 Some moms stay with the littles, some hike ahead with the bigs. All bases covered. We support each other and encourage one another. Many of the kids in the group have met challenges this year while hiking - hitting the "I'm too tired point" but somehow finding the strength to go on. This is amazing to see in a four year old!
I have seen kids who have never caught a frog or cradled a salamander, who were afraid to climb a tree or walk across a fallen log. I have seen them conquer these challenges with their own cheering squad. I have seen bigs come along side littles who are crying and tired of the hike, take a hand and help them on.
There's something to this hiking in the woods, the challenge of the trail and the beauty of the fresh air that brings out the best in all of us.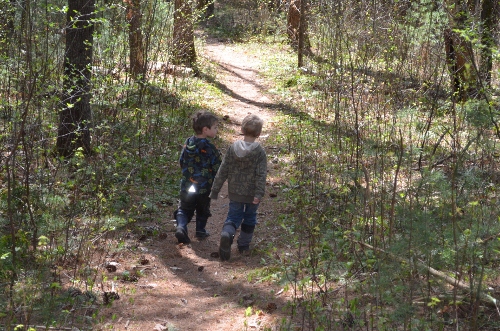 ~~~
What a great way to end! And I couldn't agree more. This last part was beautiful and I think really illustrates what being in the outdoors together offers us - beauty, hands-on learning, relationship and character building.
This kind of integrated living gets me really excited.
Thank you so much Louise for taking the time to answer these questions (and for supplying the photos!). I think there's a lot of great inspiration and practical ideas in here for families wanting to start their own homeschool hiking groups.
Any questions for Louise? Or a similar experience to share about group hiking?
Filed Under
Resource Library
You can subscribe to comments on this article using this form.
If you have already commented on this article, you do not need to do this, as you were automatically subscribed.