How to make an easy comfrey poultice
May 6, 2008
Last week during the kids one and only playdate of the month (too busy gardening this time of year, no time for play) Celine sprained/strained her knee on the trampoline. Bummer.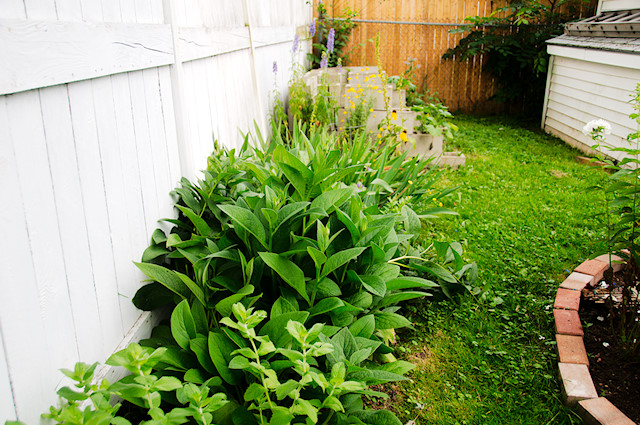 The nearest we can tell from the kids' fuzzy retelling is that she hyperextended her knee while standing on the trampoline. Apparently they weren't even jumping at the time. We took her to our family doctor and he wasn't overly concerned but since she can't walk on it he scheduled us to see an ortho-something specialist this week.
We are blessed that this was our first "emergency" trip to the doctor in our almost 9 years of having children. In the meantime I've been applying comfrey poultices everyday, trying to work some herbal magic on her ligaments.
Can't be certain to the extent it's working however she's had very little pain and almost no swelling. But she still can't put much weight on it and since we hike so vigorously I want to make sure everything's ok, so we're off to specialist regardless.
Since it's so early in the growing season I cleaned out my comfrey patch in one day treating her knee. Thankfully a friend, who I got the transplants from last year, has a lot so I cleaned out her patch next. I washed and dehydrated the leaves to have an easy supply. Fresh is best but not always easy to access.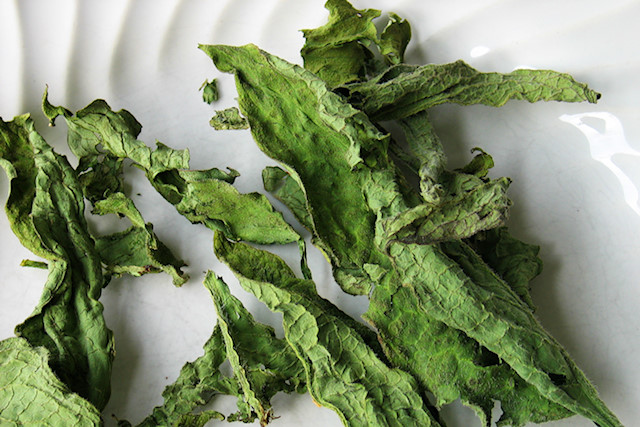 Comfrey is SO easy to grow. I recommend it as one of the first things to grow in your yard, especially if you have little kids who can be prone to injuries. Comfrey, together with plantain which is no doubt growing like a weed in your lawn already, are a good start to an herbal first aid garden.
Preparing Comfrey Poultice
I would use this recipe for muscle or joint injury or soreness.
Ingredients
4 or 5 fresh leaves or more good quality dried comfrey leaves
small handful dried arnica flowers, optional
Directions
Finely chop fresh leaves with large knife. Chop well to release the juices and healing properties from the leaves.
- OR - Crumble dried leaves with hands into medium sized bowl. Add dried arnica flowers, if available. Pour boiling water over herbs, just enough to moisten. Mash with fork, let cool and strain herbs.
Wrap herbs (made with either dried or fresh herbs as described above) in cheesecloth or thin cotton rag. Don't wrap in too many layers since you want the plant matter to be close to the skin.
Place poultice onto skin and warp with elastic bandage if necessary to secure in place. Change poultice every few hours or so.
Looking to buy dried herbs to prepare your own remedies?
I recommend either Mountain Rose Herbs or the Bulk Herb Store. I am an affiliate for both.
Post Script: This post is part of the Home Remedies Carnival at Keeper of the Home.
Filed Under
Resource Library
You can subscribe to comments on this article using this form.
If you have already commented on this article, you do not need to do this, as you were automatically subscribed.