How our family of five lives (happily) ever after with no dryer
January 8, 2009
A friend's clothes dryer recently died and she casually mentioned to me in an e-mail "I don't know how you do this everyday!". By "this", she means hang drying all our laundry. Well, my simple to answer to that is, "I don't do it everyday, the kiddos do!"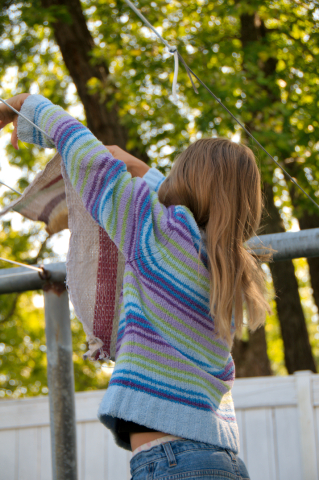 But seriously, our family of five doesn't own a dryer and I think it's totally manageable. Keep in mind I live in Maine where it is winter half the year. Not only is it doable but I think it's pleasant to be dryer-free. 
The Story
When we bought our house almost 4 years ago it didn't have a dryer and at that point we decided we wouldn't buy one. Partly because the small laundry area of the kitchen had room for only 2 appliances and I valued having a little upright freezer more than a clothes dryer. Freezing and storing food is big priority around here, fluffy hot-air dried clothes are not.
The other reason to drop the dryer was because we wanted to be more earth-friendly and going without a dryer seemed a fairly easy next step. Lucky for us our house came with a clothesline in the back, neglected but still usable. I swear that clothesline was a selling feature for me. I had wanted to hang my laundry for years and here was my opportunity! So that was three and half years ago and we've never looked back and have never (honestly) considered buying a dryer since.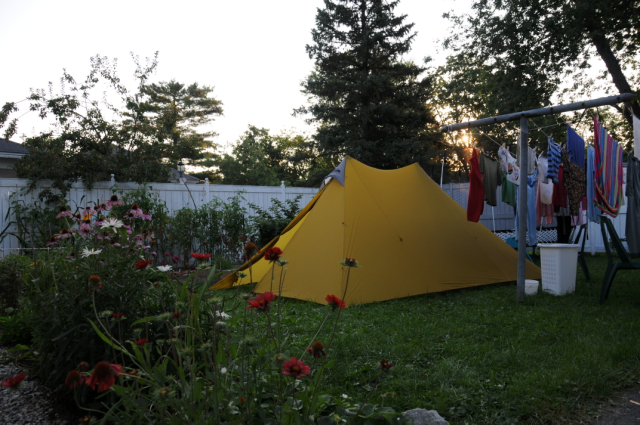 The Tools
Going without a dryer requires a few tools, although olden day folk would lay laundry on the grass to dry. We're not so hard core, here's what we use.
Summertime:
Backyard T-style, imagine 2 T's in the yard 9 feet apart with 7 lines strung between them. Not working? I can't visualize very well either so I just drew this for you.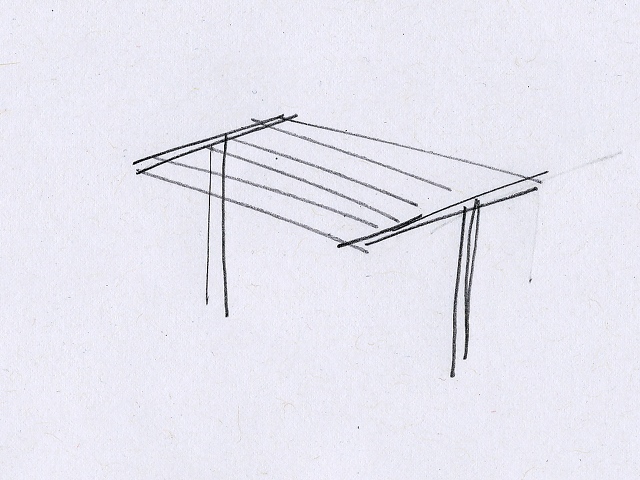 There are a lot of options available for purchase or to self construct. If you're lucky and have a porch (I've always wanted an wrap-around porch, sigh) you could hang lines on that.
Wintertime (& long spells of rainy weather):
This is when we get creative. Firstly, we have 2 large wooden racks. These are big and take up 9 sq ft of floor space each when fully opened. However they adjust in size and squish up real small to fit along a wall when not in use.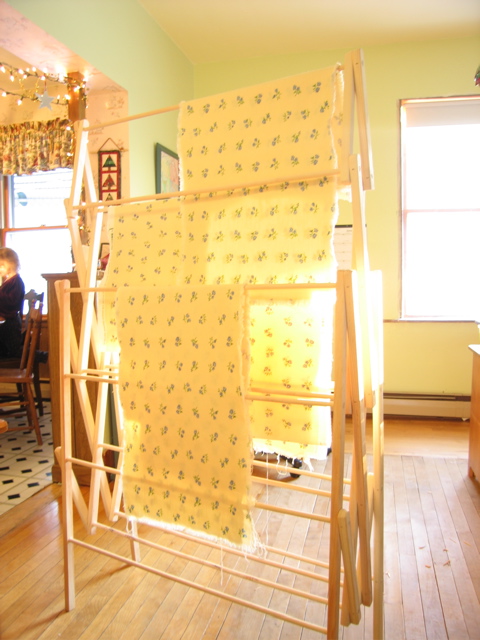 We have a room in our house that is the designated workout, camping gear, indoor laundry hanging area. My husband works out at home, a decision made long ago to save money on gym fees, travel and to spend more time with the family. As such we own a large workout thing that he uses for weight lifting (that husband of mine he just gets finer and fitter with age *wink*). This structure serves double duty as laundry rack for hanger items, like shirts.  
We no longer have this. Damien simplified his weight lifting to club bells which take up 1 sq ft of floor space so we now have a guest room instead of a workout room! We use the 2 wooden rods between kitchen chairs like the diagram below.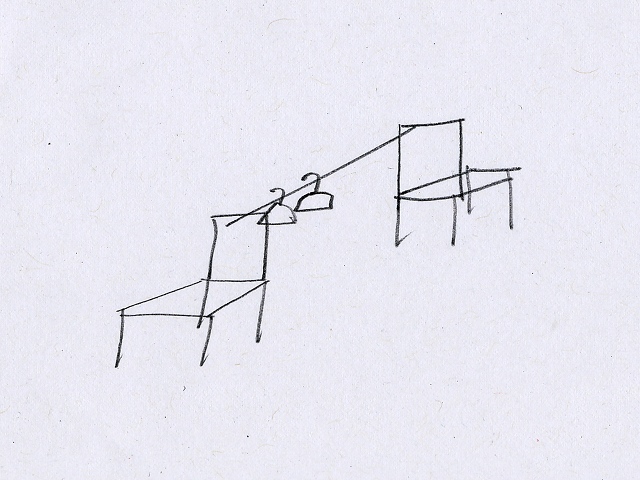 For our family, one full load will take up one drying rack with the addition of shirts hanging on the rod/chair system above. The second rack is used when we run two loads of wash on the same day.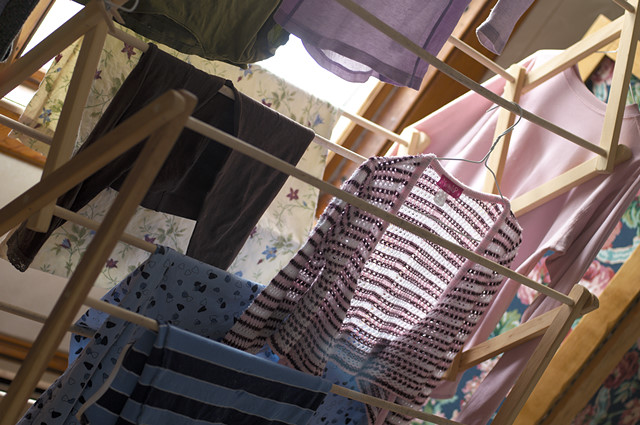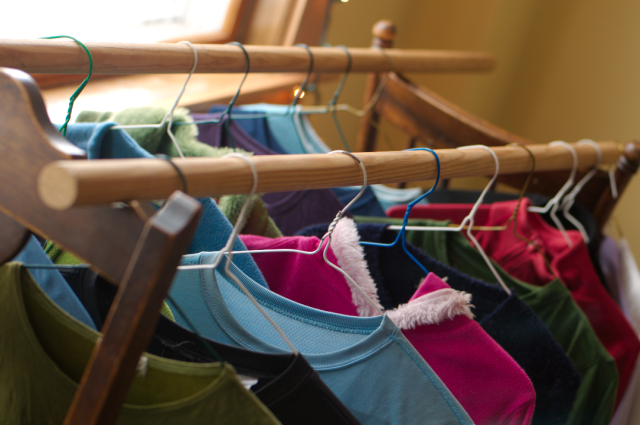 Which leads to the next point... the laundry routine.
The Routine
Summertime (or any weather warmer than winter):
I throw a load in the washer, I use my own laundry soap, in the morning while preparing breakfast.
Then during morning chores (9-10 am) the kids and I will hang the load outside. The key in the summer is to get it washed and up on the line in the morning before the afternoon when thunderstorms are more likely.
We take the laundry off the line mid afternoon or before supper. If I do it alone I will fold it on the spot, kids can't manage to fold laundry in their arms yet, they need a floor space.
Otherwise, we'll take it down, shove it in the basket and it will be folded and put away the next morning during chore time.
Wintertime:
Kind of similar. Wash and hang the clothes in the morning but they dry all day and night.
The next morning during chores the kids take laundry off the racks, fold and and put away. Although I love summer time laundry outdoors I love the winter routine because the kids do it all, except the actual washing.
I sort, wash and take it out of the machine. The kids hang, take off the next day, fold and put away - even my clothes get put in their drawers. I've got it good! (oh yeah, and that training happened all by itself, ha!)
Regardless of the season we do an average of one full load of laundry everyday. We've lowered this amount to 4-5 loads/week. I think that's very manageable, especially considering the kids basically do the laundry in our house. I wonder if that's the reason my son only changes his clothes once a week. Don't laugh, it's true.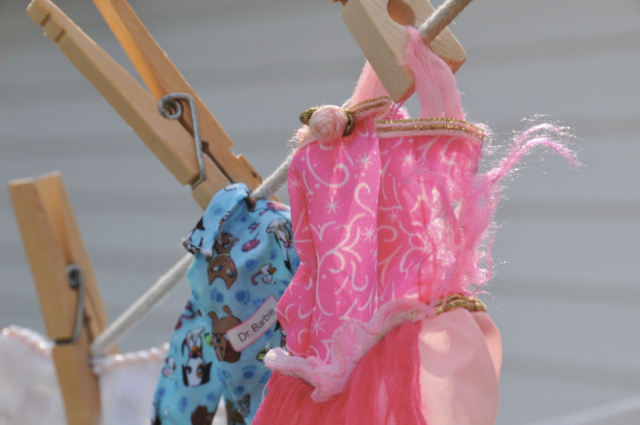 The Benefits of Hanging Laundry
Good for the environment and lowers your utility costs.
Good for our family. It teaches the kids responsibility and is a chore that even young children can do.
Enables me to get out and breathe. Obviously not in the winter, shoveling snow takes care of that. But those spring, summer and fall mornings when I step outside I feel refreshed, even if it's just 10 minutes outdoors. Of course being out there I'm usually drawn to my garden and will pick a few weeds, and then the kids will start jumping on the trampoline...
Forces us to slow down. We can't run a ragged pace and be gone day in, day out and hope to "catch up" on the laundry on the weekend. Just like choosing to eat healthy, seasonal, home cooked meals requires that you're home to prepare them, hanging laundry required you to be home to... hang it. In fact, our family doesn't get behind on the laundry because if we did we'd be in a real pickle. Laundry is done everyday, takes a 1/2 hour at most including putting away, and never reaches the unsightly mound stage. Good thing, since the washer is in my kitchen and mounds of dirty clothes on the kitchen floor would look yucky.
Good for clothes. I think I've read somewhere that the sun kills germs and I know clothes last longer when not heat dried, and we never shrink clothes. On that note, hanging laundry can stretch some cotton clothing but most of our stuff is outdoorsy, quick dry clothes that meet the rigors of hiking, camping and backpacking.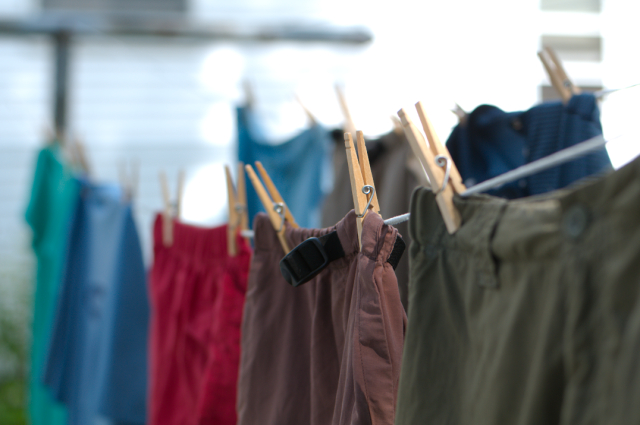 Any one else hang their laundry? Please feel free to share any tips for better drying or managing the family laundry.
Filed Under
Resource Library
You can subscribe to comments on this article using this form.
If you have already commented on this article, you do not need to do this, as you were automatically subscribed.