House Renovations Tour ~ The Bedrooms
May 2, 2011
This is the third post in a series of home renovation posts. Here are the rest: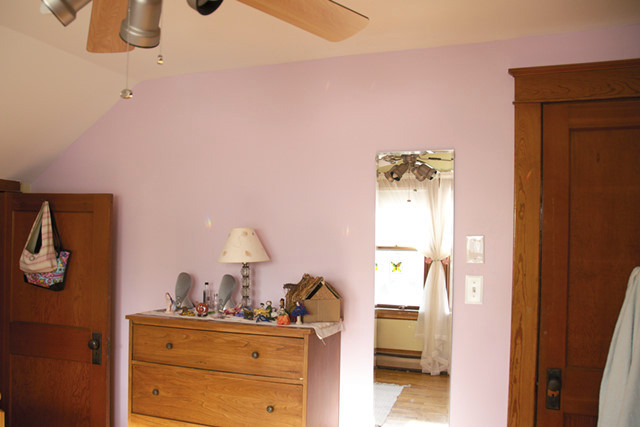 When we bought this house the thing we loved most about the bedrooms was all the original wood.
The downstairs living area had been stripped of its original window trim and replaced with pure ugliness. But we could overlook this when we saw the beautiful wood in the upstairs bedrooms. We also liked the unique sloped ceilings and clever under eaves closet and storage spaces.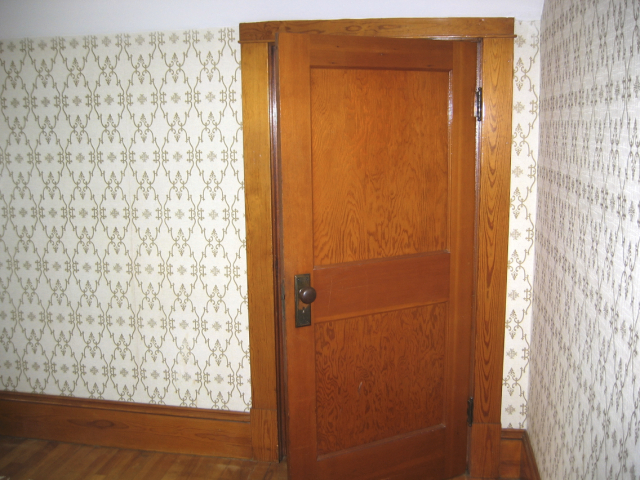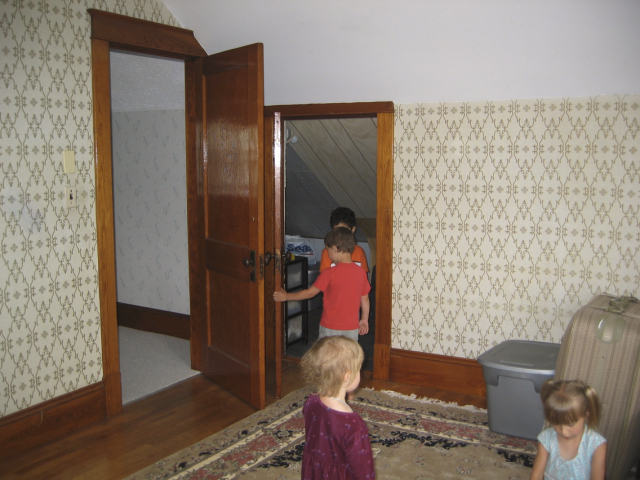 Our house technically has four bedrooms but we only use three of them for our family sleeping space. The fourth bedroom, off the mainfloor kitchen and right next to the bathroom (see this post if you'd like a visual) was used as a workout room until Damien simplified his work out routine.
At which point the room became a sewing/crafting/guest space. That "bedroom" is currently being stripped of wallpaper in preparation for painting.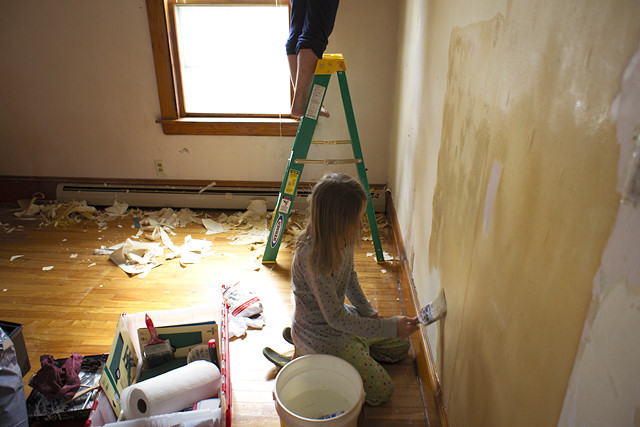 Of the other three bedrooms we only updated the kids' rooms. Our bedroom was in good shape, though I've never liked the flocked wallpaper, too stuffy for my tastes. If we had remained in this house painting that room would have been our last home reno project.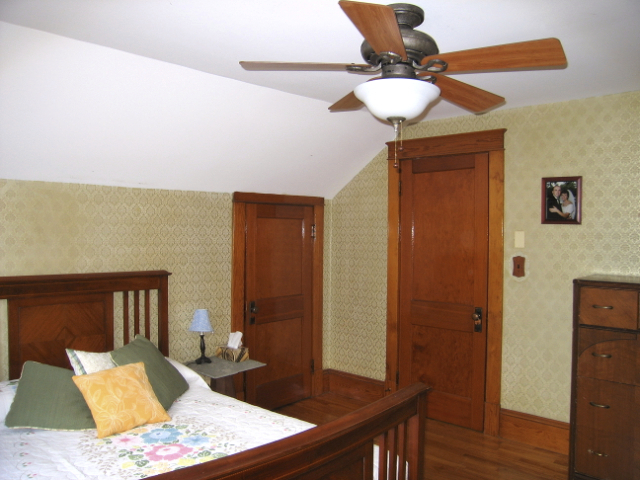 Our bedroom July 2007
Still looks pretty much the same
I've written about our bedroom a few times before in regards to de-cluttering spaces and simple decorating. You can find those posts here:
My Dad helped a lot in painting the kids' rooms. The projects were fairly straightforward. Strip the original wallpaper (came off incredibly easy, not so with our current project), patch the plaster, prime and paint. Even so, with three young children and other house renovation priorities it took us five years after moving here to finish those two bedrooms. 
Laurent's room was done first because it was also our guest room for a few years.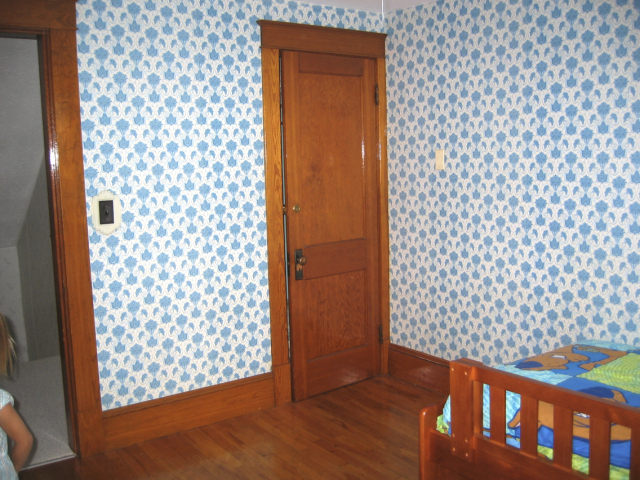 Laurent's bedroom door and closet July 2005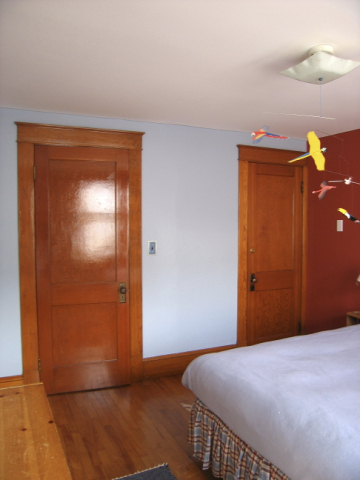 Laurent's bedroom door and closet November 2007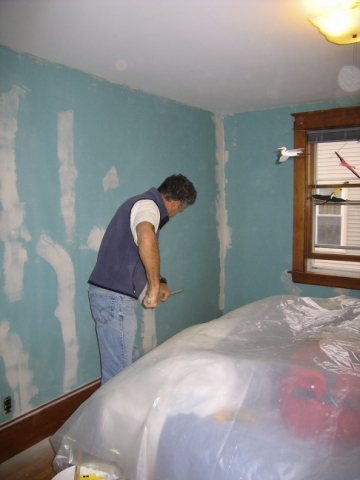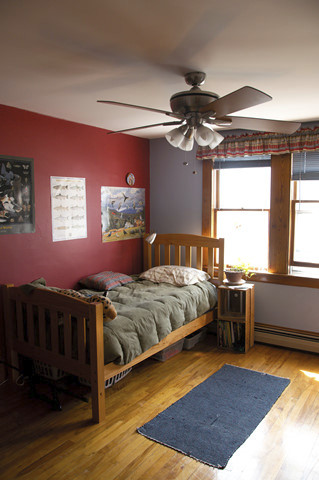 Dad painting November 2007, Downsized to a twin bed 2009
The girls' room was finished last winter after another visit from Nana & Papa. I've written about that reno project and all the decluttering that went along with that.
The second year we lived here I sewed curtains and matching bed covers for the girls.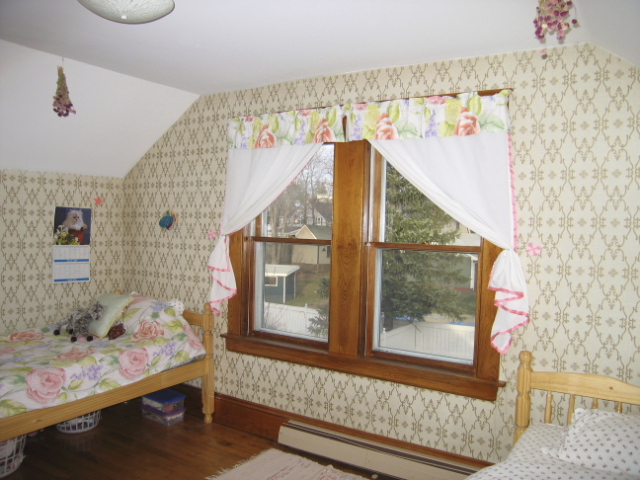 This is what it looked like after Papa came to paint and with updated curtains.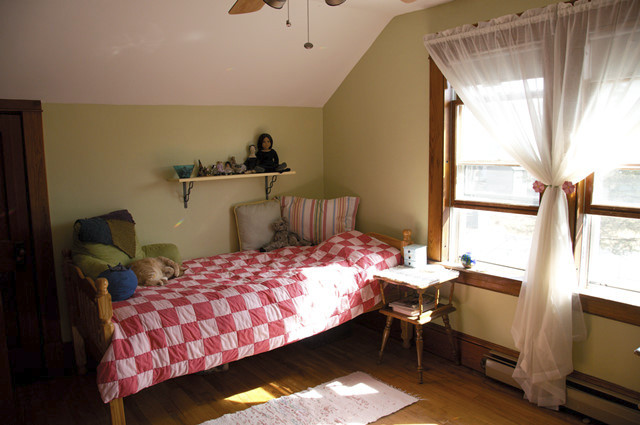 And the girls closet, used mostly for dress up and created projects.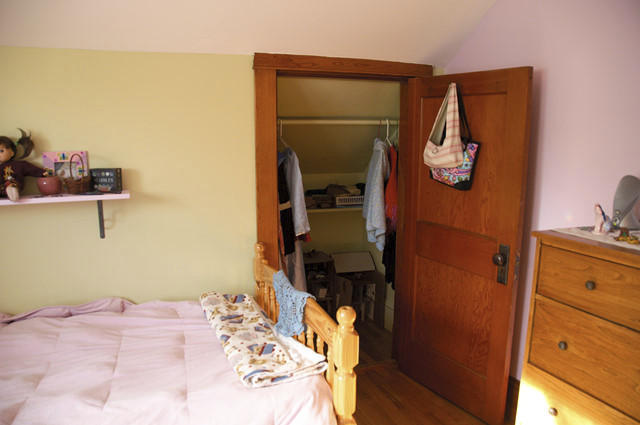 And those are the bedrooms. You can see the wood is beautiful and the walls just needed some TLC to give the rooms the look and feel we wanted.
Up next is the living room. 
Filed Under
Resource Library
You can subscribe to comments on this article using this form.
If you have already commented on this article, you do not need to do this, as you were automatically subscribed.