Homebase in Livingston, MT
July 24, 2016
This winter as Damien and I discussed the idea to travel west this summer we considered, briefly, several different options. We definitely wanted to visit Montana and maybe California. Yellowstone, Glacier, The Grand Tetons, all called to us.
But what felt best for me, an increasingly self-aware traveler and adventurer, was to have a place I could call home for three weeks. Instead of trying to cram the time with several destinations I wanted just one.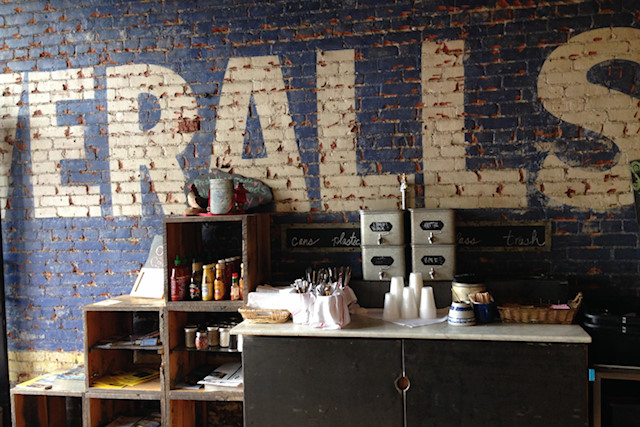 A few years ago we took another working vacation road trip with the kids. We stayed east that year. We went to a large Christian music festival in Pennsylvania, introduced the kids to New York city, backpacked with friends in Maine and visited other friends in New Hampshire. It was a good trip but there was a lot of driving, a lot of transitions. It was fun, but it was also stressful.
This time, we drove 35 hours in three days, and then we stayed put.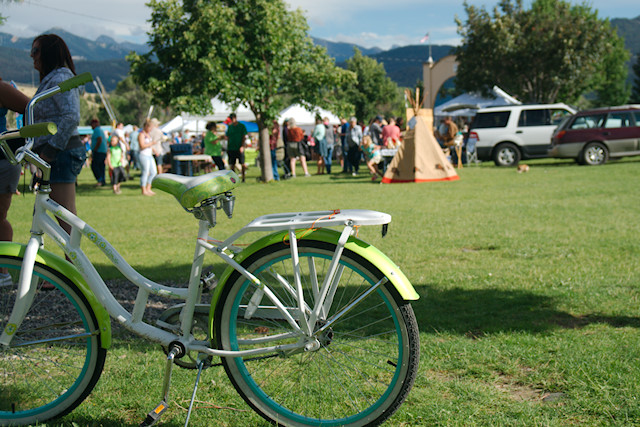 My happy place is to create home. To create order, routines and spaces that support my people. When too many unknown variables are introduced into this mix I lose my footing.
Even when I am away from home, having an adventure, I want to create home and routines around that space. I want to organize, keep tidy, and putter in a physical space.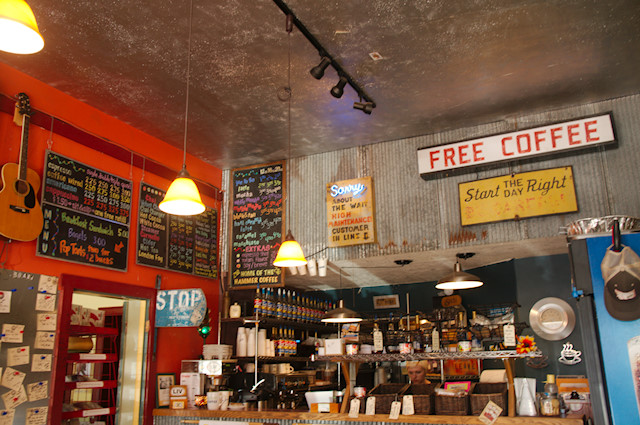 So this winter we put the word out to our friends Martin and Katie that we were thinking of coming west and could we use part of their Airbnb space as our homebase? Could they host us?
They invited us with open arms and open hearts (and open minds) and so for the past three weeks we made their Airbnb property our homebase.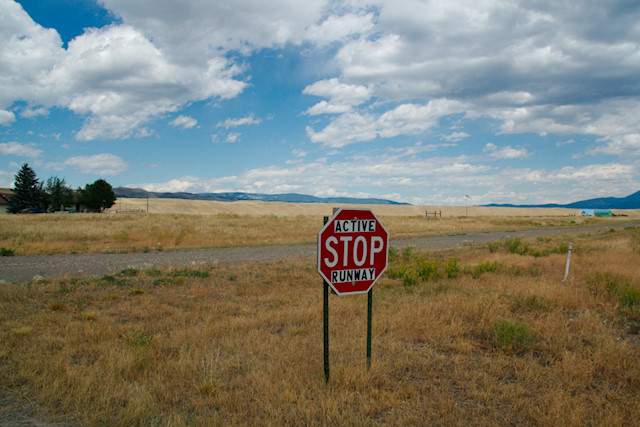 Martin and Katie own a airport in Paradise Valley, it's a small airport, used mostly by local ranchers and residents with little planes. (There is probably a technical term for this type of plane.) They have a sweet apartment in the hangar and on the property is the 3 bedroom house where the previous owner lived.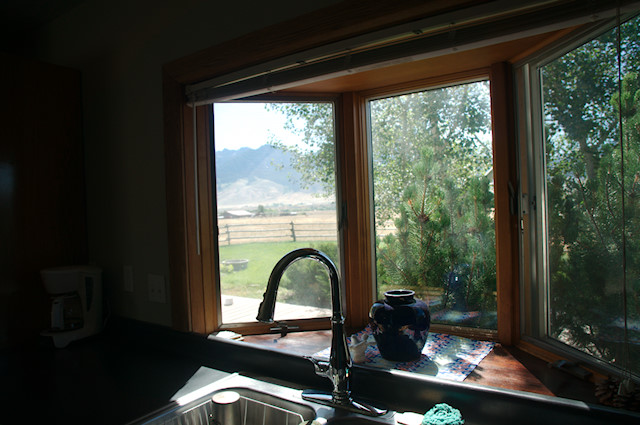 The house is recently renovated, has a complete kitchen, wifi, and all the basic amenities we needed. Our family used the "spare" bedroom in the house to store our stuff and the three kids slept there. Damien and I pitched a tent for sleeping, which we prefer to a bedroom in a beautiful natural place like this. The other two rooms were rented out most nights of our visit, as this is the high season for travel to this area.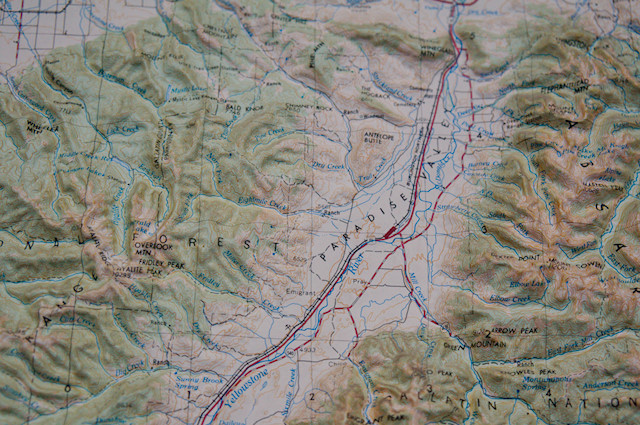 I had my homebase. I was happy.
I could figure out the best places to shop and take my time doing stuff with the kids. And if we missed out on something one week I could catch it the next. I could get into a groove. (And I got to hold baby pigs!)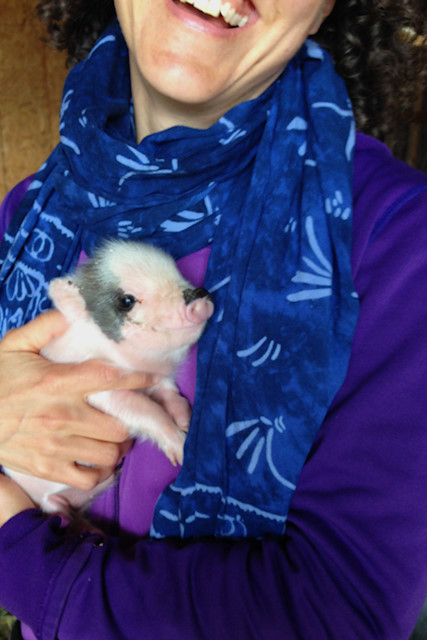 I had a place to create order and routines, a space to support not just my people, but the guests of the Airbnb. Every few days I was happy to clean bathrooms, vacuum floors, run the laundry, and make up beds with fresh linens and lay out the towels.
We visited with people from different parts of the world and the United States; we shared outdoor suppers, chores, and friendship-deepening talks with Martin & Katie.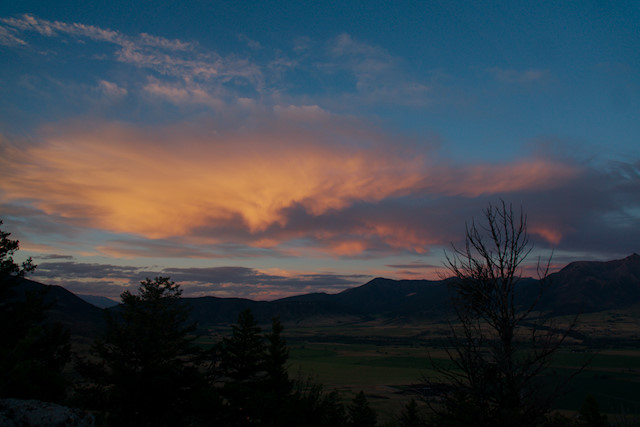 And every night I walked out to the tent, usually under the stars (a couple times in the rain) a faint blue glow still showing on the western horizon. And I tucked into my home-away-from home sleeping bag. And I'd often wake early in the morning (to go pee) and with sleepy-eyed amazement watch the eastern sky smudge pink at 4:30am behind the Absaroka mountains. (And then I'd crawl back into my sleeping bag nature-contented and sleep for a couple more hours till sunlight flooded the tent.)
It was the best of both worlds for me. A functional kitchen, a tent under the stars. Making home while having an working vacation adventure. It was a perfect fit for our needs.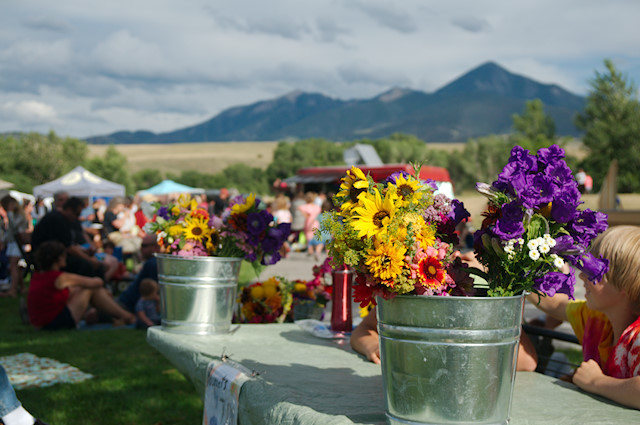 So too was Livingston a perfect fit. I can't say enough about Livingston, MT and the Paradise Valley. On our last trip to this area it was Bozeman we fell in love with. (I'm still in love with Bozeman.) Bozeman is a place I could live. It's cold in winter but there are mountains and ski hills and culture (a beautiful library and the Co-op) and everything you need.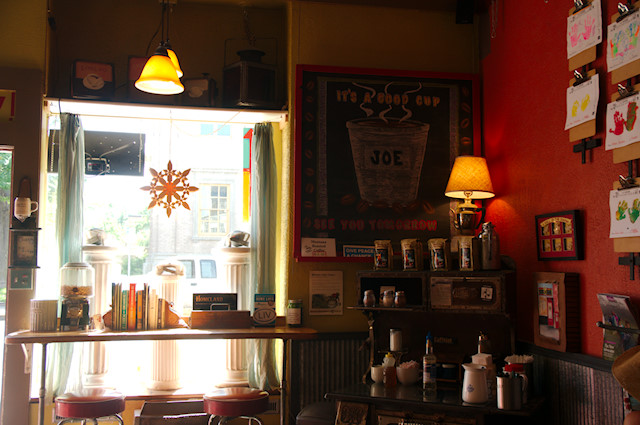 But this trip was all about the Paradise Valley and making trips to Livingston every few days for groceries, to visit the farmers market, to go swimming in the Yellowstone, to go for coffee, to visit the outdoor store for topographical maps and bear spray.
Paradise Valley and Livingston, MT offered everything we needed, within a 20 mile stretch of highway. Some of the most beautiful highway I've had the privilege to drive.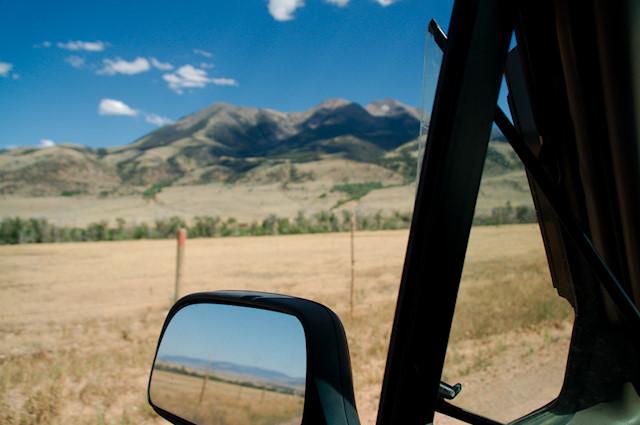 From this homebase we drove a few miles west into the National Forest of the Absaroka mountains for our weekend hikes. I drove even less miles to the nearby hot springs and little lake to take the kids swimming. We drove south to Yellowstone National Park. We walked to the nearby ranch. And whenever our travels took us past the Emigrant General Store (often), we'd stop for $1 Wilcoxson's ice cream bars.
---
If you go:
Gil's Goods is the place to eat.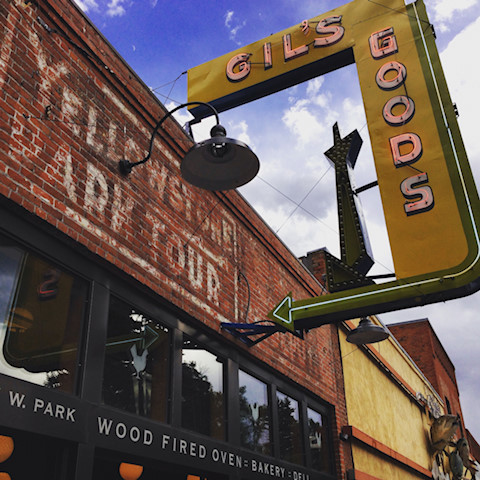 Historic Downtown Livingston has great coffee shops, bakeries, bookstores, galleries and other eclectic shops. My favorite is Sax & Fryer, Montana's oldest stationary shop, chock full of great books and art supplies.
The Farmers Market is the place to be every Wednesday afternoon and is more like a festival than a "farmer's" market. There were very little vegetables for example, but lots of jewelry & knitware, handmade goods, and food trucks. Ah.. the food trucks. As tasty as Montreal, but better priced.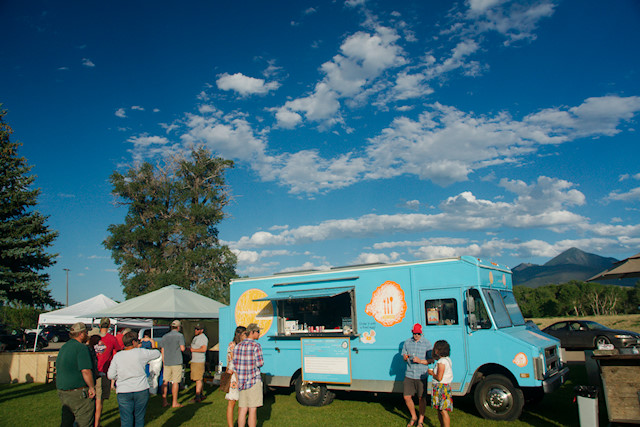 I used to be a house vegan (eating vegan at home). That's changed and I'm not telling that story right now but since I cook meat now (a couple times a week) I was delighted to buy my grass-fed beef at half the price I pay in Montreal, directly from the cowgirls who raise it at the Livingston Farmers Market.
The Yellowstone River is one of the main attractions in the valley, for beauty, fishing, rafting and overall enjoyment.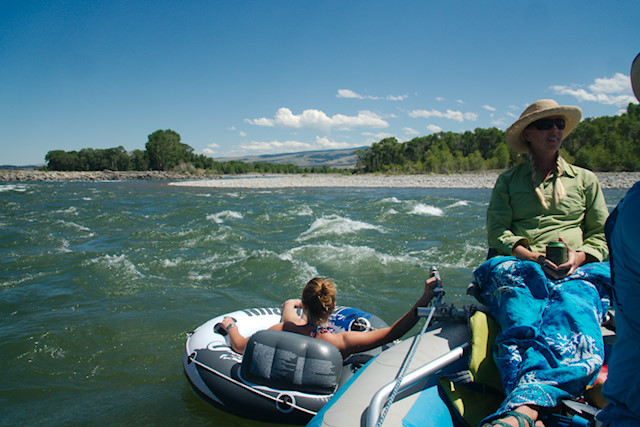 You can access the river at many places, there are fishing access points all along 89 down through the Paradise Valley. The kids and I found it kind of tricky to swim in the river, a lot of floating was involved. But our favorite river activity was our rafting trip with our friends Mel & Henry. I've known Mel for probably eight years online and this was the first time we've met in person. She let Damien and I stay at her empty house when we came through five years ago.
TravelingMel is very familiar with this area and has a lot of videos on her YouTube channel that share many adventures from Montana and elsewhere.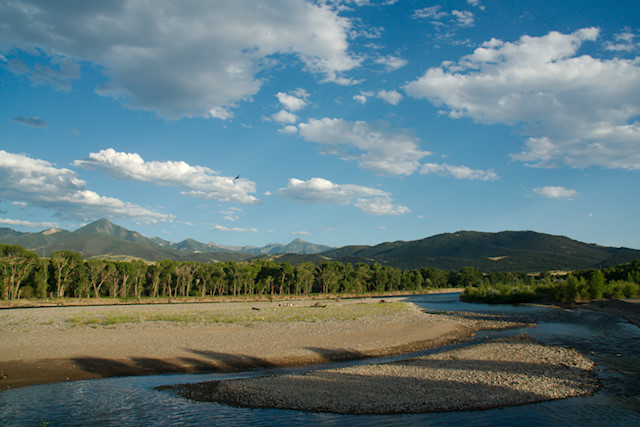 Unfortunately, we didn't make it over to Pine Creek Lodge, a mere 10 minutes from the Airbnb. But that is the place for live music in the valley. Next time.
Chico Hot Springs is worth the entry fee, especially if you stay and soak for a couple hours. Although I also really enjoyed the free "hot springs" experience at the Gardner/Boiling River in Yellowstone (it's free with your park entry fee).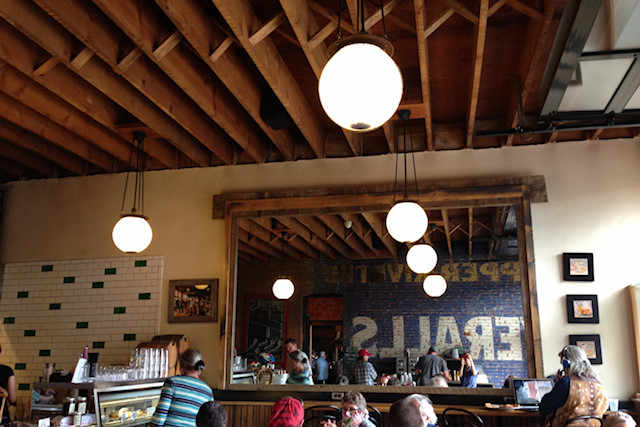 If you're into camping there is inexpensive camping all down the valley, right along the Yellowstone, and numerous campgrounds in the Gallatin National Forest.
This area offers just so much. You can explore for days.
This was a great trip. All good things must come to an end, this part of our trip too must end.
But I learned something to take with me for next time. I love having adventures in beautiful places when I can create a sense of home.
Filed Under
Resource Library
You can subscribe to comments on this article using this form.
If you have already commented on this article, you do not need to do this, as you were automatically subscribed.