Have tent will travel
October 30, 2009
If you had told me years ago I'd one day be extolling the virtues of tenting I would be incredulous.
I didn't grow up tenting. Vacationing with my family, yes. Staying in cabins and B&B;'s; but sleeping in tents - no. That was for hard core type folks. Or as I have found later in life, folks with kids who want to go places but don't have a lot of money to do so.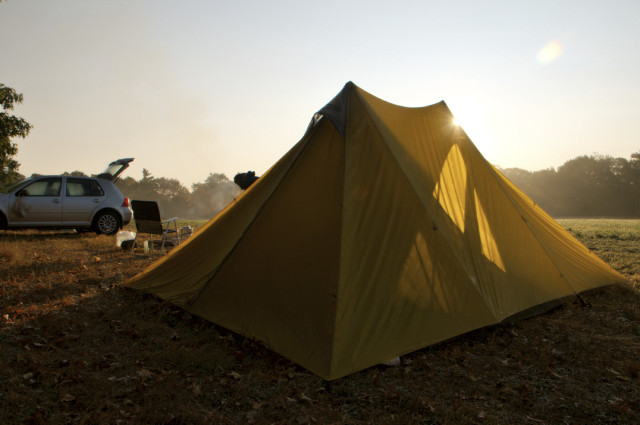 Although our tent travels haven't yet taken us farther than our region; the northeastern US and Canadian maritimes, the amount we have done has convinced us over and over again how great an option tenting is for families. And not just for getting away into the woods.
The photos on this post were taken on our last summer trip to an Common Ground fair. We weren't tenting for the outdoors experience so much as an inexpensive place to stay for the three nights of our trip.
I think whether you're in the woods or in a farmer's field tenting is a great way to go and here's why:
1. Tenting is cheap
We are not cheap-skates but the truth is we have 3 growing children and one modest income. If the choices are an over-the-top vacation every five years or monthly tenting excursions I'll take the latter.
We've discovered you don't need much to have time away as a family. Time to reconnect, time to be together and make memories. All you need is a good tent, a desirable location to visit (we prefer natural beauty over human-made constructs hands down), food, clothes and you've got the makings of a vacation.
To make the experience as pleasant as possible (let's face it, it rains) you'll want to buy the best tent you can afford. But remember you're saving thousands of dollars by not going to Disney - you can afford the better tent.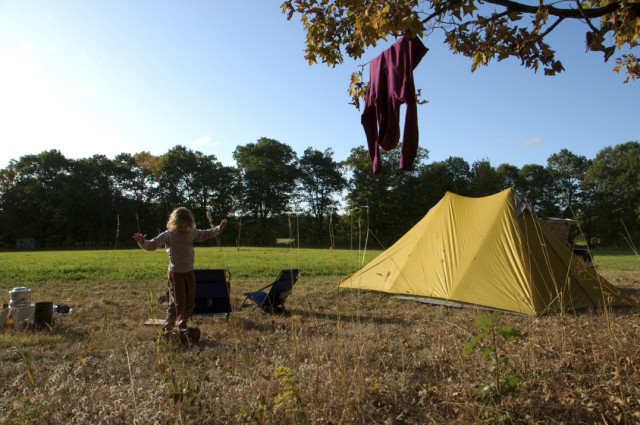 2. Tenting is portable and versatile.
Our family decided to invest in gear that would serve us well for both campgrounds and the backcountry. I don't care what those RV advertisements claim, you can't experience true "away from it all" outdoors anywhere you can drive an RV.
The upside of choosing a tent over other options is that you don't need to upgrade your vehicle, go into debt, or spend a large sum of money just to get your family outdoors. And if you do it right, ie: invest in a quality tent, you'll actually enjoy it. (Just ask my dad, the "you'll never get me tenting man" whose mug & tent is featured in the below photo).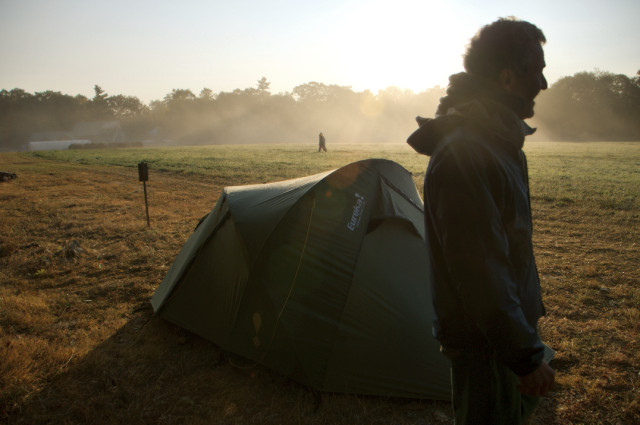 3. Tenting is fun.
Any way you go involves a certain amount of work and set up, tenting included. But I personally think tenting is a lot of fun.
Keep in mind I don't actually pitch the tent, nor deal with the clean up at home - but my husband who does all that thinks tenting is a lot more fun than a hauling trailers, storing a large vacation vehicle all year round, and going into debt.
Tenting is as close as you can get to nature.
Our children's fondest memories, and some of my own, are of nights in the tent together - listening to the rain, hearing the wind sweep through the tree tops and watching the sun's glow warm our breath in the morning. Or more recently hearing the farm horse "plop, plop" next to the tent in the middle of the night. Can't get more nature than that!
Renee Tougas participates in affiliate marketing, including the Amazon Services LLC Associates Program. Whenever you buy something on Amazon from a link you clicked here, I get a (very) small percentage of that sale. See disclosure for further explanation.
You can subscribe to comments on this article using this form.
If you have already commented on this article, you do not need to do this, as you were automatically subscribed.