Fridge Pickles
July 26, 2008
I don't can, except dilly beans (pickled green beans, so delicious) when we get inundated mid-summer from the farm. Should be any week now I guess.
But I do make refrigerator pickles. No bubbling, boiling water and finicky sterilizing needed. Well, the jar should be clean of course... I dare you NOT to make these. They're my kiddos favorite cucumber treat, trust me that's a lot of white sugar in this house!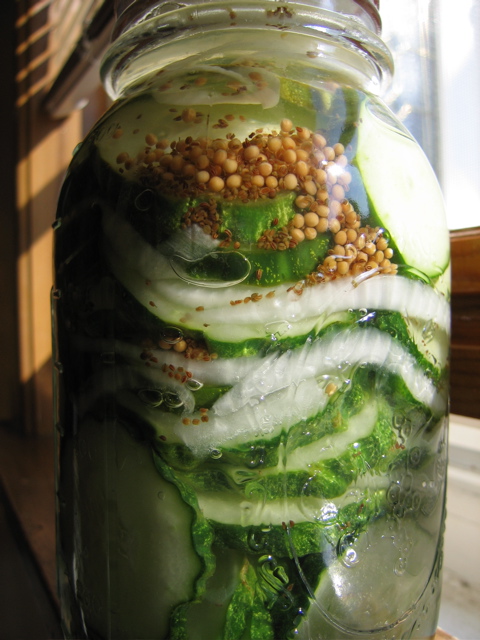 Refrigerator Pickles
Ingredients:
8 c thickly sliced cucumbers
2 small onions, sliced
2 tbsp pickling salt (I use less)
2 c white vinegar
1 c sugar (more or less depending on taste for sweet pickles)
1 tsp mustard seed
1 tsp celery seed
Directions:
Combine cukes, onions, and salt in large bowl. Mix well.
Combine vinegar, sugar, celery seed and mustard seed in saucepan.
Cook over medium heat, stirring frequently until sugar is dissolved.
Pack cukes & onion mixture fairly tightly into jars (to minimize floating in liquid as much as possible).
While still hot, pour vinegar mixture over vegetables.
Let cool to room temperature. Screw on lid and put in fridge.
Let pickles age 7-10 days in fridge for best flavor. Will keep for several months under refrigeration. Ha, like that ever happens! Picture shown is a half batch, fits in a quart Mason jar.
Filed Under
Resource Library
You can subscribe to comments on this article using this form.
If you have already commented on this article, you do not need to do this, as you were automatically subscribed.