For the birds (but mostly for me)
December 10, 2012
I didn't ask him to make me bird feeder. What I said was, "all I want for my birthday is a bird feeder". I didn't specify a beautiful handmade bird feeder.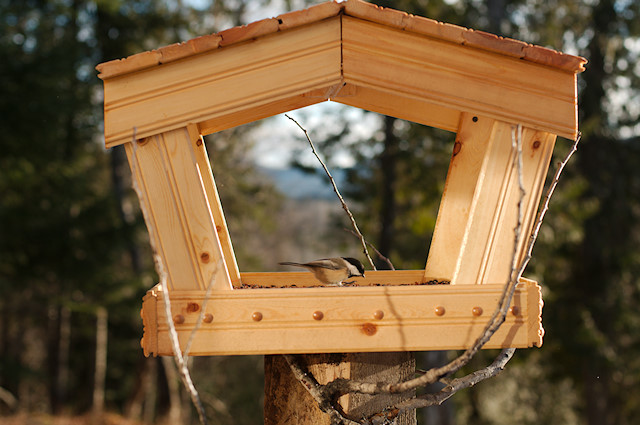 We live in the woods. There is a small clearing around our house but otherwise we are surrounded by trees, deciduous and evergreens. And of course the river down in the valley which we can hear from our yard, rushing to the sea. 
There is a lot of wildlife in these woods, birds being the one species we see and hear the most of.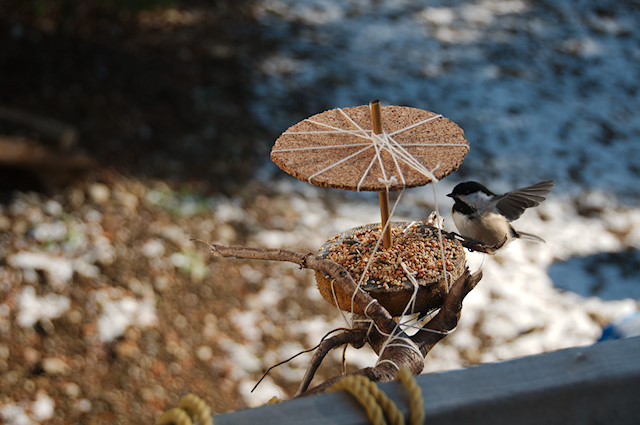 I have always wanted a bird feeder. When we lived in Maine I worked hard to create an urban oasis. I wanted to add a bird feeder but but there was no easy place to do so that was visible from our main living windows. I don't just want to feed the birds, I want to watch them come and go. I wanted the antics of birds to be a part of my life.
When we moved to our house this summer I knew this was the place for a bird feeder. There is a plethora of wildlife in our neighborhood. Why not invite them nearer?
Our dining, kitchen and living room windows look out onto the yard and the valley below and the small mountains on the other side of the river. Right off this main living area there is a deck (another thing I've always wanted) where a bird feeder could easily be installed.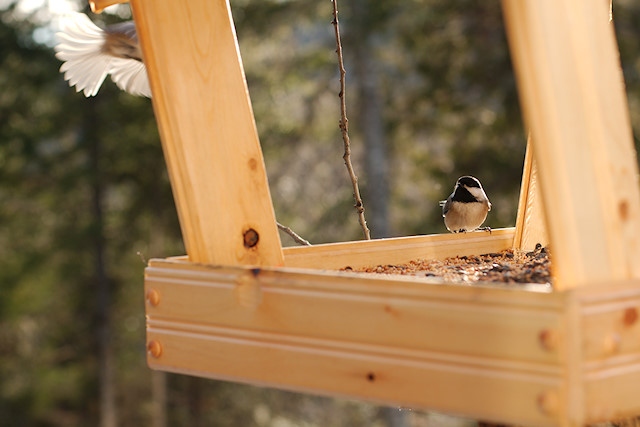 I am watching the birds as I type this. Watching them land, sometimes three or four at a time, to eat the black sunflower seeds they love best. They are beautiful and sweet all at the same time. They make me smile every time I watch them, which is often these days.
This is what I wanted for my birthday. More nature in my life. And he gave it to me. He made it for me.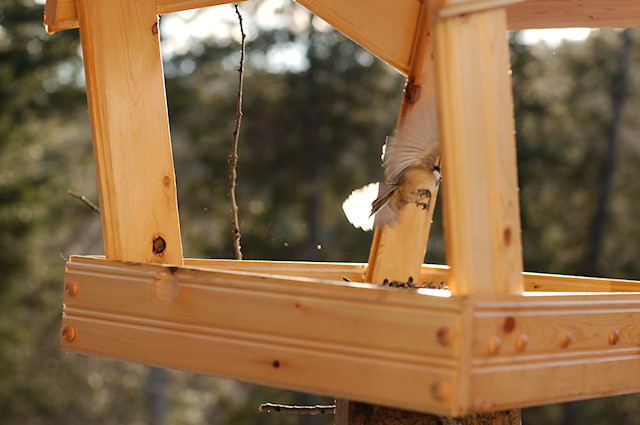 He looked for a feeder at the local hardware store. There were no nice feeders to be found. In doing more research he realized nice bird feeders were out of our very tight November budget. But wood, he could get some of that for free.
So he did. And instead of spending money we didn't have, he spent his time, which is just as precious in our household economy.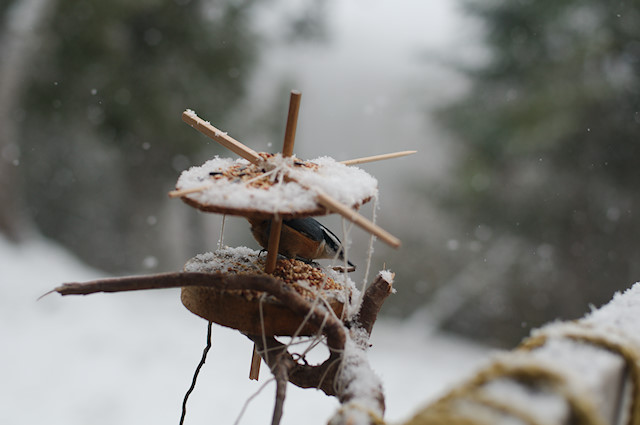 He had one type of wood to use. Free finds are like that - you take what you get. Using his engineer's brain and a hand miter saw he designed and constructed my birthday present. A couple miscellaneous hardware pieces were purchased and the kids helped varnish it.
I knew what we was doing. I don't like surprises so it wasn't like he was keeping the project a secret. (Don't even ask about the time, in our first or second year of marriage, when he planned a surprise birthday party for me. Let's just say he won't ever do that again.) But the feeder itself I didn't see till my birthday morning.
This feeder is an upgrade from the temporary structure Laurent built earlier this fall when he heard my birthday request. Around that time a few birds had started landing on our deck railing. His little improvised feeder fed those few birds and more.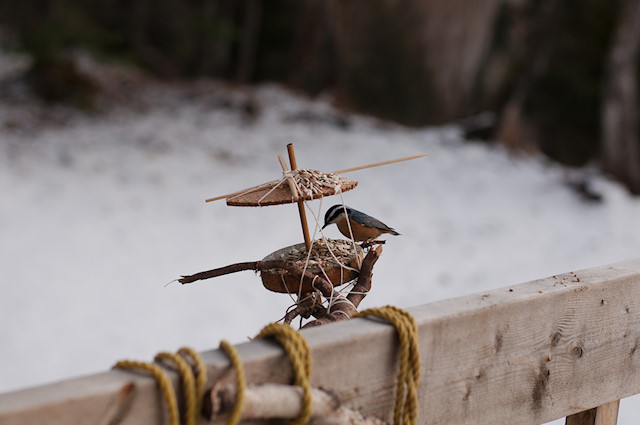 I can't bear to take down his handiwork. Roped as it is to the railings, complete with chopstick supports and craft string construction.
Damien is an engineer, Laurent is an artist and naturalist. Laurent added the branches to Damien's bird feeder because the chickadees and nuthatches who feed here are perching birds and Laurent knew the branches would make them feel more comfortable. Not to mention add aesthetic appeal and visual contrast to the straight lines of the well engineered feeder.
They made this for me. For my birthday.
I am a blessed woman, living where I do with these people I love so dearly. My family who brings me the most joy in my life. And of course the birds.
Renee Tougas participates in affiliate marketing, including the Amazon Services LLC Associates Program. Whenever you buy something on Amazon from a link you clicked here, I get a (very) small percentage of that sale. See disclosure for further explanation.
You can subscribe to comments on this article using this form.
If you have already commented on this article, you do not need to do this, as you were automatically subscribed.