Fall Intentions ~ The Nitty Gritty
January 6, 2012
I loved reading every single one of your intentions for this new year. Thank you for sharing them. You're an inspiring and ambitious bunch!
I will be announcing the three winners of the One Bite at a Time giveaway tomorrow, so stay tuned.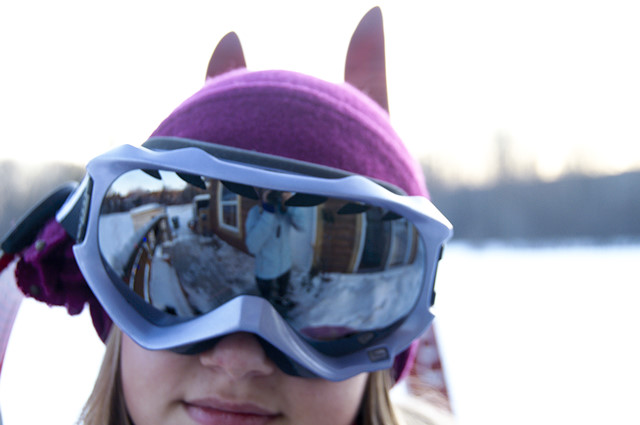 In my giveaway post I promised to share with you some of my seasonal intentions, a look back at my fall intentions and a look ahead to my winter intentions.
I'd like to start with my biggest personal fall accomplishment. Establishing a solid morning and evening routine.
Bookending My Days
Two of my fall projects from One Bite at a Time were:
3. Establish a morning routine
4. Establish an evening routine
I'm pretty good with organizing the bulk of my days - school routines, mealtimes, home management (just so you know, when push comes to shove I focus on the home part more than the schooling, one of the reasons I call myself a relaxed homeschooler). But morning and evenings were a point that needed work. Especially considering two factors:
I need time to write, and I prefer to do that in the morning. The days are busy with school and taking care of our home, and actually "living" what I like to write about (smile).
My kids are growing. Their own sleep schedules are shifting, ie: my "babies" do not go to bed at 7pm and then a block of time opens for me. I need to be available for my kids in the evening, to connect with reading and talking, before we all go to bed. I am not facebooking, pinning, tweating, pinging or whatever the latest thing is before bed. I am "facetiming" with my kids.
A side note about blogging and social media.
Excuse me if I sound a little preachy. You can turn away now if you like.
I don't spend a lot of time in social media or other similar blog building endeavors. I don't have time for these pursuits in my day (and certainly not time in my morning or evening) and these activities drain me in the end more than they fill my well.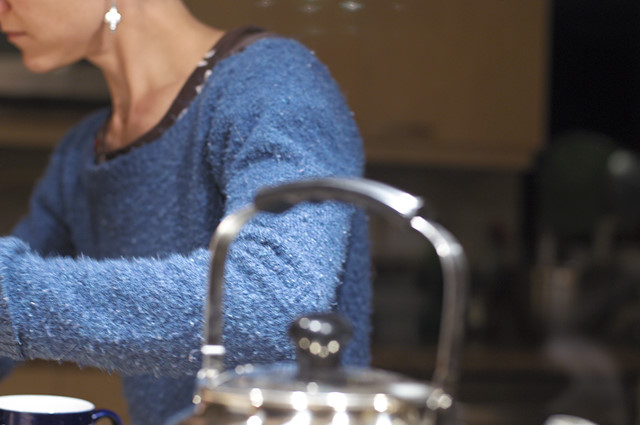 I will not compromise my sleep, relationships and overall well-being to build a blog (or anything else, for that matter). I haven't done that in the past and I'm not not going to change directions now.
I feel at a disadvantage sometimes to those willing to pull all nighters (I can't stay up past 10:30), or rise at 4:00am, drinking pots of coffee to get through the day. I'm just not going to do that, or a bunch of other stuff, and I feel this limits my professional growth somehow.
I want to "be good" at so many things and truth be told, I'd like to join the ranks of mama bloggers with several thousand readers. But mostly I want to be a good mom. A present mom. A tuned-in mom. And for me, tuning into the heartbeat of my home means tuning out other things. Regularly.
I'm saying this for my benefit more than yours. I like the accountability of publicly drawing my line in the sand.
Stepping off my "turn off the damn computer Renee" soapbox. Packing up my blogging insecurities and moving right along then...
In September I prepared two index cards, listing potential points to an evening and morning routine, taking inspiration from One Bite at a Time. Having established the routine now, I don't even have those cards anymore but that was a good first step to get me going.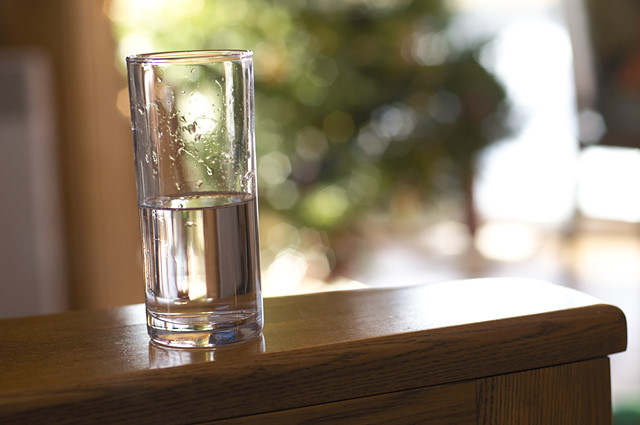 Morning
First thing when I get up is to drink water. And keep drinking throughout the day. I check e-mail, turn that off, then read something inspirational - might be web based, more often in a book. I often journal.
I usually sketch out the day on my daily planner. I pray - nothing major, just remembering people who are in need and asking for guidance, wisdom and help for my day. 
That's the early morning routine. What happens before the house comes alive.
Then I write for two hours, while Damien and the kids get started on their day. My desk is in the middle of the living area and I wear earplugs. I still hear everything, I'm learning to tune it out.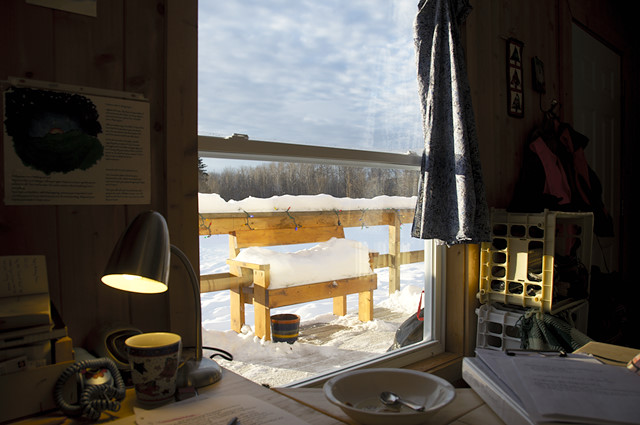 I enter the domestic fray at 9:30 to clean up the kitchen, get kids going with school, and so begins our day in earnest.
Evening
My evening routine includes shutting down my computer applications after supper clean up. Over the holidays this line fudged a bit, that's what holidays are for. But I'm back on track with this now.
At the end of the day we read for about an hour together. The kids read to me and I read to them. I have my shower and go to bed around 9:30. Sometimes I read in bed till 10pm.
My morning routine is about filling my well. My evening routine is about ending well. The hours in between can get messy and chaotic but I love the rhythm of these early morning and evening bookends.
Becoming a Morning Person
This was my big personal accomplishment of the fall. And I can't even take much credit for it. It just kind of happened. I had intended throughout the summer to get up at 6:30, though with 10:30 or 11:00pm bedtimes it usually was more like 6:45.
But when we moved a funny thing happened. A good funny thing.
We shifted one whole time zone but didn't actually move that far geographically west. So the afternoons got darker sooner but mornings were noticably lighter earlier.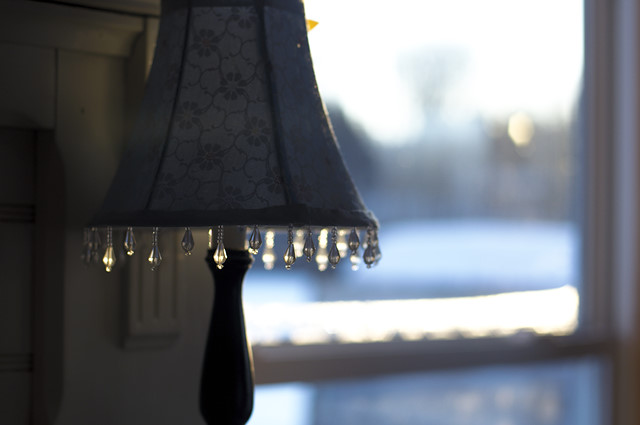 Also, I got sick and felt so worn out by 8pm. I longed to crawl into bed right after, or even before, tucking in the kids. These three changes - moving, being sick, the time change - meant I was going to bed at 9pm, or shortly thereafter, for that last half of November.
And like clockwork my body was waking up between 5:30 and 6:00, with no alarm.
Amazing.
That unlikely combination of events set the pattern and I am officially a morning person now. Something I've wanted to be, but could never quite accomplish, for the last few years.
I've never been one to compromise my sleep (when I was a kid I actually went to sleep at sleep-overs). My babies & toddlers interrupted my sleep - for years. That is the way of it with young children. So in those days I slept in till they did, hoping for 8:00am!
But after those years of my life I didn't have a good reason, except staying up too late, to prevent me from rising early.
I find these morning hours to be my favorite time of day. I love getting out of bed to have this time.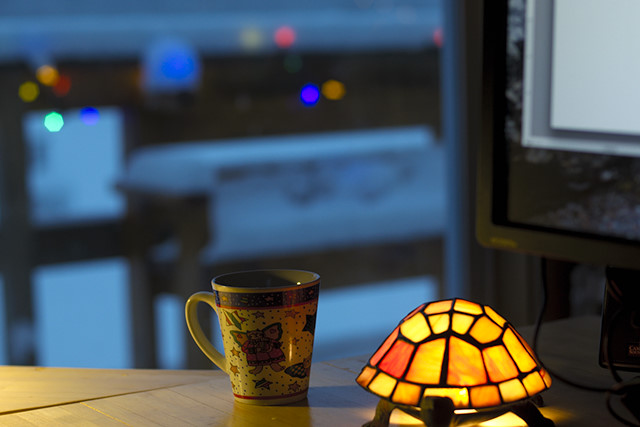 Other Fall Intentions
1. Move to the Gaspe. Check. This was the whole focus of our fall really.
2. Exercise three days a week (in addition to our family's One Day A Week). Check. Unbelievable!
Like many people, I am not motivated to exercise.
Years ago, I dropped this from my to-do list. I was tired of beating myself up for not following through, so I stopped expecting it. I do a lot of hiking, backpacking and general life activity. I'm at my ideal weight, eat well, sleep well and generally feel great. I figured that was good enough.
Now that I'm exercising more regularly I feel better than good. Like Tiger says, "I feel gggrreat!" (I watched TV growing up).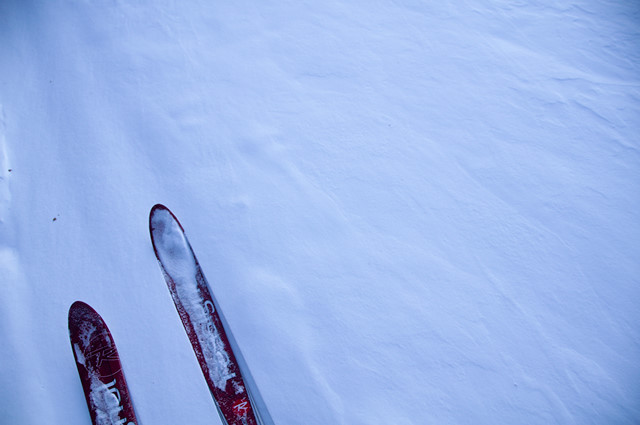 So what changed?
I have a destination to walk to. We don't have mail delivered, we need to pick it up at the post office box. Thankfully, the post office is a 15 minute walk from our house. I've always known that purpose-driven exercise works for me - having a real need to get out and move. Now I have one, everyday if I want.
I live in beauty. Not surprisingly it's very motivating to exercise in beauty. I long to get into the woods and this helps me to bundle up and get out the door.
We got skis and skiing is fun! Exercise has to either have a real life purpose (like running an errand) or be fun for me. Owning skis has been a long time dream of ours. We live in winter snow land and I love skiing here.
Damien's home. Honestly, this is huge for accomplishing a lot of these intentions. Life is just easier shared, especially when you're raising kids. There is just more "give" in our schedule when we're both home. And it doesn't hurt that the kids are getting older also and they don't have to come with me when I exercise if they don't want to.
3. Green smoothies every day. Nope. Not even close! I love drinking them, I know how to make them. But it breaks down there. I'm carrying this one into the new year but aiming for three days a week to start.
I look at this list and I'm kind of amazed at how much was accomplished in this past season, most of it related to our move. Many of these intentions were possible because of that.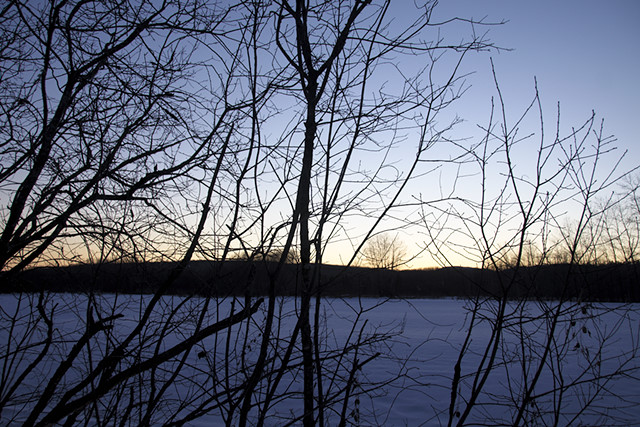 I pinch myself every day (am I allowed this much joy?) about where I live and how this move has made so many dreams come true, even my desire to get more exercise.
I feel full to brim with gratitude for this and have serious intentions to make the most of this blessing - to help others in their journey to making their dreams come true. Which brings me to my winter intentions... and to the end of this post.
I cannot believe how verbose I am these days. So much to tell. Anyway, I intended to share my winter intentions here also but this just too long. Those will have to wait.
At this time of year do you evaluate your progress on last year's intentions or are you just moving forward with new ones?
Renee Tougas participates in affiliate marketing, including the Amazon Services LLC Associates Program. Whenever you buy something on Amazon from a link you clicked here, I get a (very) small percentage of that sale. See disclosure for further explanation.
You can subscribe to comments on this article using this form.
If you have already commented on this article, you do not need to do this, as you were automatically subscribed.