Exercise While You Work & Life is Hard (but oh so beautiful too)
February 4, 2012
When I gave you a tour of the chalet where we are living for the winter, I left out one part - Damien's "workspace".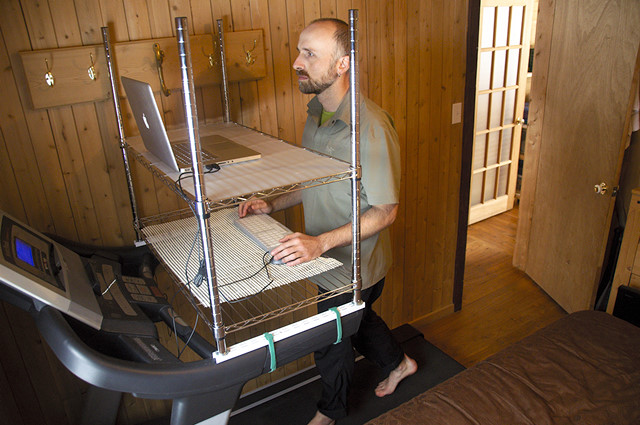 That was his story to tell because it's not your typical desk, as you can see. Damien recently shared his Treadmill Desk story and set up on our minimalist footwear community site (say that fast five times) - Toe Salad.
Since I write about home stuff, my take on this is to say Damien's treadmill desk resides in our bedroom. Smack dab at the foot of our bed. The room is small, the bed is big (a king sized bed came with the chalet, we've never owned anything bigger than a double bed and a bed this big is just overkill). The rest of the room looks like this, notice how I cleverly excluded the treadmill to make the room look pretty.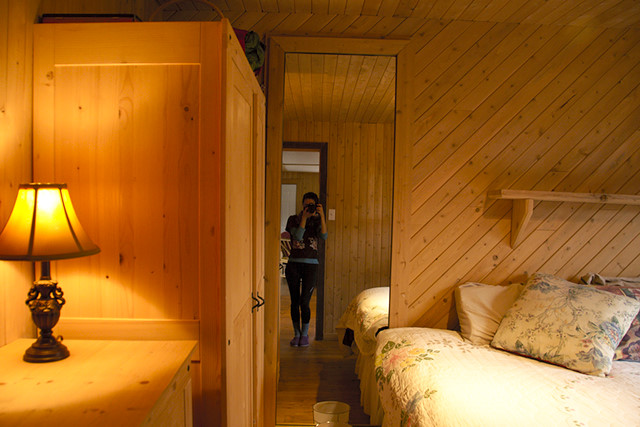 So here's the whole scoop on using a treadmill while working on a computer.
The Treadmill Desk - Part 1: Why? (featuring Laurent's Lego illustrations) The post in which Damien reveals my initial reluctance to the idea (I am slow to warm up to all new ideas).
The Treadmill Desk Video With little glimpses of a messy bedroom and my husband's muscular feet. You can stop your oggling now, those feet are all mine.  
Do I use a treadmill desk for writing? Nope. I don't spend nearly the amount of time on the computer as Damien does. And I simply can't imagine being able to concentrate and move my body at the same time.
Maybe someday but for right now I still park my butt in this chair to type. I do however use a keyboard similar to Damien's and I think it's better for my hand health with all the typing I do. You can find out all about that the video post.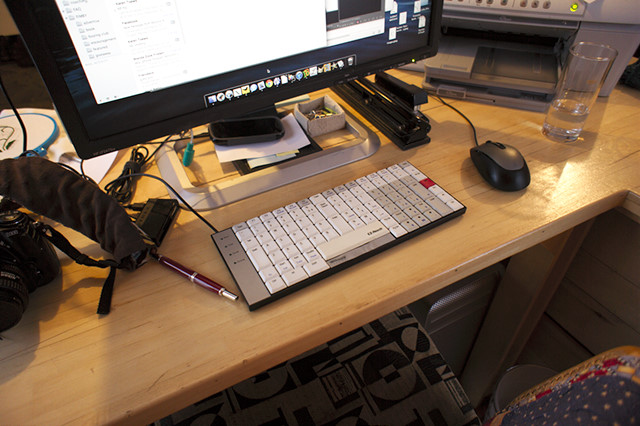 Follow Up to Moving Challenges post yesterday...
Wow, you people are so awesome. I felt like I was sitting around a table over tea and you were all chiming in your 2 cents about where to shop, how to reduce my grocery bill, Kindle vs. Kobo, and everything in between. Community. I honestly feel I'm building some of that here and it blows my mind a little. 
You know, it's difficult for me to share honestly the challenges I face because I do not like people pitying me. For goodness sakes, I am so blessed I feel kind of guilty talking about the challenges because I am not whining, honest. I spend my days hanging out with my husband and kids (our kids get access to their dad - all day), reading, skiing in the afternoons, making new friends, sharing meals cooked with love. I feel so blessed. 
This morning I read this post by my friend Emily and she really hit the nail on the head about one of the reasons I hold back in sharing the difficult parts of my life. Not because I want to project having it all together. But because I'm afraid I'll hear this, "That must be so haarrd."
But like my friend Emily says, hearing that is not very helpful. Though I know people mean well and I do it all the time myself, without even thinking!
Yes, life is hard. But making good things happen is hard work. Living with intention, going against the flow, is hard. Homeschooling is hard.
Taking your family backpacking is hard. Cooking and eating well is hard. Adopting a child is hard (can't speak from experience but this seems to be true). Raising children, period, is hard. Heck, using a treadmill while you type is hard (not that I'd know much about that).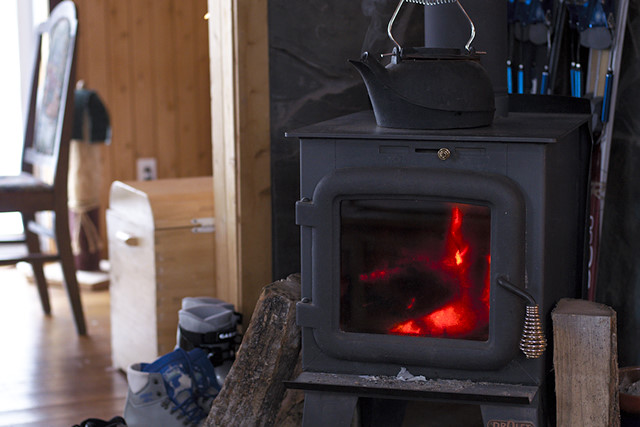 But it's worth it. I don't know why we think life should be easy. It's not. But it is beautiful, and joy filled. And there is meaning in both the joy and the struggle. And moving a little farther, every day (sometimes two steps forward and one back) on the path you want to live - it's worth it.
So, I'm going to try to stop myself from saying (with good intentions), "that must be so hard". Especially in situations where people have made a conscious choice to go that route. There must be something else to say in response. I just don't know what it is. 
PS. That wasn't the feel of yesterday's responses, it felt like a coffee klatch of the best kind. Helpful, kind and chatty. Not "I feel so sorry for you, I can't imagine not having great English library service", because really there is nothing to feel sorry about. So thank you.
Filed Under
Resource Library
You can subscribe to comments on this article using this form.
If you have already commented on this article, you do not need to do this, as you were automatically subscribed.