Empty fridge pasta recipe
June 1, 2009
Around here Monday is the start of the weekly "food cycle" - if that's the right name to call it. First, I plan the menu. I have always done a weekly menu and would be quite lost every day at 4pm if I didn't. As it is, I'm kind of cranky late afternoon so I can't imagine if I added what-am-I-going-to-cook-for-supper stress to that already difficult time of day.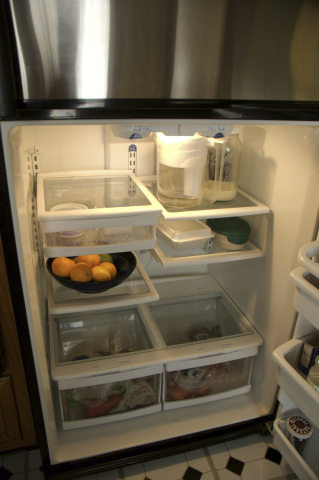 Once my menu is done I put together my weekly produce & health food store list from my master grocery shopping list. At some point on Tuesday the kids & I do an errand and produce run (to fill in the gaps from our weekly farm pick up during the summer months) and we're set for the next week.
But I tell you, some Monday nights when the week's produce is all gone I feel like I'm scraping the bottom of the barrel to put together a meal. And even more so when we return from a camping trip. This is my recipe for empty fridge nights. Often Monday is pasta supper, served with beans and whatever greens might be left in the fridge. But when there isn't fresh greens I've learned that frozen broccoli will suffice. Not gourmet but it works.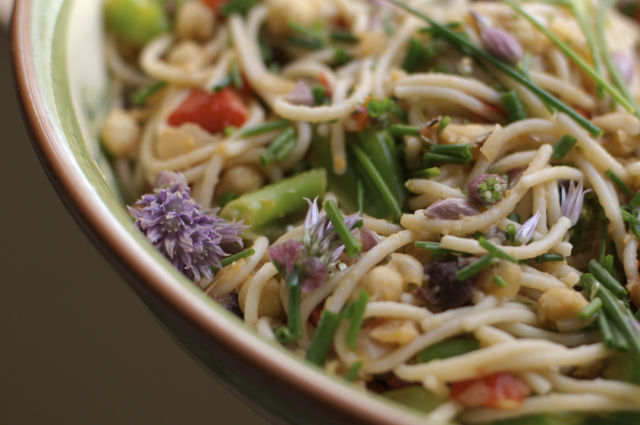 Pasta Recipe
I call this recipe Empty Fridge Pasta Delight - not really. I call it Pasta with Beans and Broccoli. Sounds blah but I always have the basic ingredients on hand and with a few savory additions that I keep stocked in the fridge & pantry it's actually very tasty.
Ingredients:
2 onions, chopped
3 garlic cloves, minced
1 red pepper, chopped (optional)
1/3 cup kalamata olives, pitted and chopped
2 tsp dried rosemary
splash or more of white cooking wine
1 tsp miso paste
3 or 4 medium tomatoes or canned
2 - 3 cups chickpeas/garbanzo beans, or 1 can drained & rinsed
1.25 lbs of pasta, we use brown rice pasta
4 cups of frozen broccoli
Directions:
Boil water for pasta.
In a small amount of water saute onions, garlic till onion starts getting soft. Add red pepper. Saute for a minute or so.
Add olives, rosemary, cooking wine, miso paste, tomatoes and beans.
Stir well to mix miso throughout the vegetables. By this point you are probably adding the pasta to the water.
While the pasta cooks let the vegetables simmer to distribute the flavors but don't cook them to death - the olives will lose some of their flavor if overcooked.
When the pasta is about 2 minutes from being done, you just gotta know your pasta to recognize this point, add the frozen broccoli (this saves having to thaw and heat the broccoli in a separate pot).
Give the pasta and broccoli another 2 minutes or so till pasta is al dente, your broccoli hopefully isn't thawed to a mush, drain and rinse (if you're using brown rice pasta).
In a large serving bowl mix the pasta with the vegetable bean sauce. Enjoy.
Notes:
This recipe feeds our family of 5 - 3 adult portions, 2 kid servings. I have found it's just a wise practice to stock frozen green vegetables in the freezer. And we always have beans, pasta and grains since we buy these in 10 & 25 lb bags. Keep a few tasty ingredients like olives (just don't snack on them or you won't have them when you need them!) and miso in the fridge and it's not hard to pull together a healthy and delicious meal with a mostly empty fridge.
I prepare all our beans from scratch in our pressure cooker, so I can get beans ready to eat, from start to finish, in a couple hours. Alternately, beans can be cooked in big batches and frozen or you can buy canned beans to stock your pantry. I make this recipe a little different each time depending on what's handy. There is a lot that could be easily added to this dish, experiment with what you have. I lucked out last week with the fresh chives - tasty and pretty.
If you have a better name for this recipe I'd love to hear it.
Renee Tougas participates in affiliate marketing, including the Amazon Services LLC Associates Program. Whenever you buy something on Amazon from a link you clicked here, I get a (very) small percentage of that sale. See disclosure for further explanation.
Filed Under
Resource Library
You can subscribe to comments on this article using this form.
If you have already commented on this article, you do not need to do this, as you were automatically subscribed.