Creative Living ~ A Review of A Field Guide to Now
November 7, 2012
Months ago, when spring was still just a promise at the end of a very snowy winter, I published my first e-book - Nurturing Creativity.
Nurturing Creativity is a wee little book I wrote to share my thoughts about making time for creativity in our lives as busy moms. I wrote it from the perspective of someone who came to creativity because of motherhood. I wrote it to encourage other moms and to tell my story.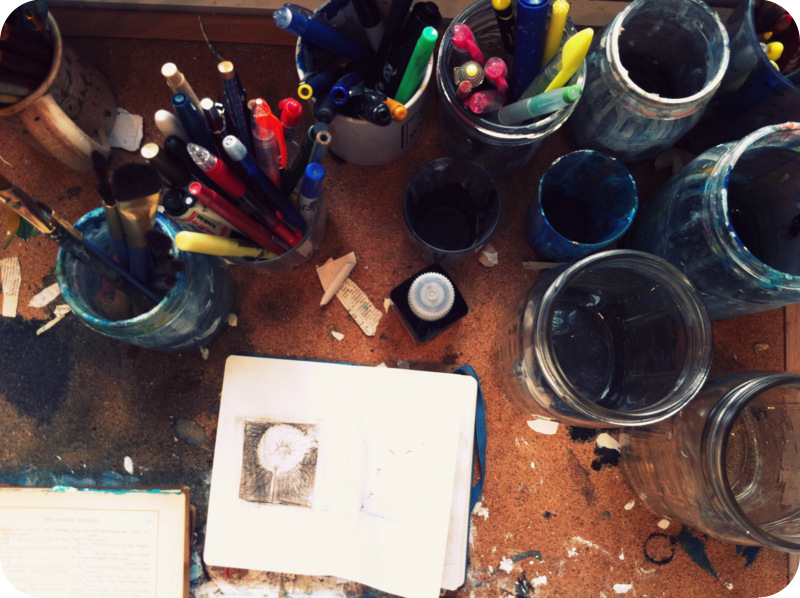 Creativity is near and dear to my heart. Since making the realization in my late twenties that creative living was within the realm of possibility for my life - I didn't have to be a painter, a potter, or published writer to claim creativity as my own - I've been drawn to the principles and practices of creative living.
Beauty, mess, gratitude, presence, courage, observation, self discipline, nature, reflection, contemplation, movement, fear, intuition, prayer and patience. (To name a few.)
These creative principles and practices, these life principles and practices, have changed me.
Journaling that grew into blogging that grew into e-book publishing. A once tentative desire to capture beauty and light with a camera - photography, to draw with light - has now become an extension of who I am and how I view and relate to the world. Having the imagination to dream, and then the courage to create the life I now live with my family.
Creative living, all of it.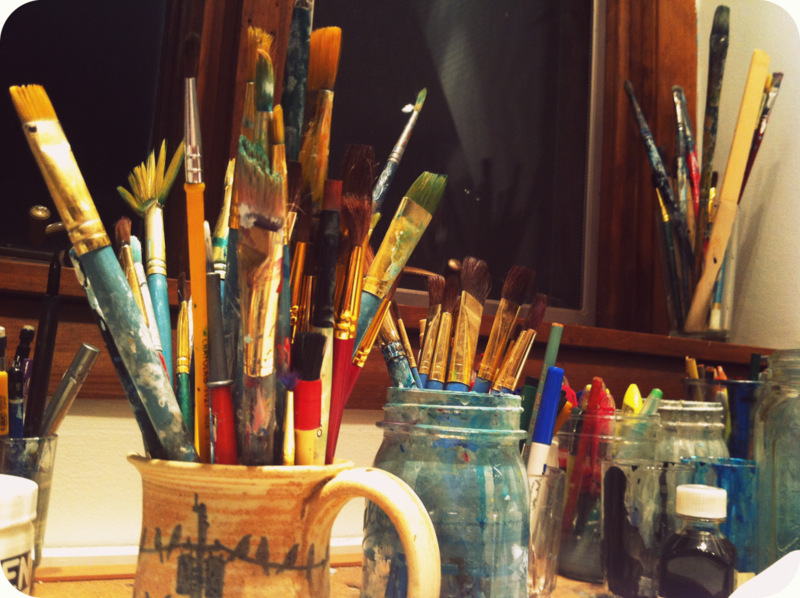 Nurturing Creativity was my attempt at sharing that with the world, mothers specifically, in a down-to-earth, accessible way. There is so much more I wish I could share on creativity and creating the life you want to live but I am but one mama, one writer, one photographer. 
And so I am always on the lookout for others. Mothers who live creatively and will encourage you do likewise.
This is why I'm so happy to introduce you to Christina Rosalie and her new book A Field Guide to Now: Notes on Mindfulness and Life in the Present Tense
.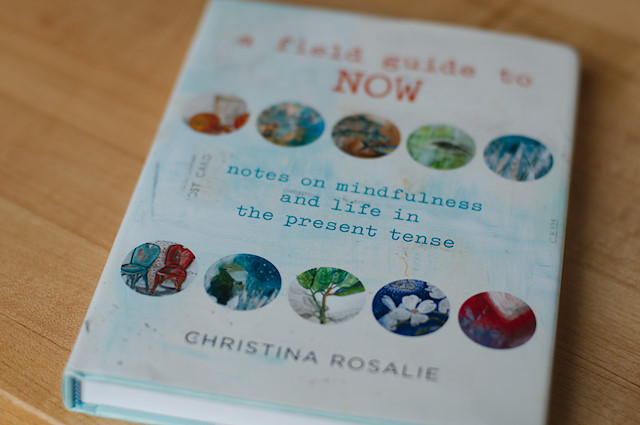 Why do I value the words of mothers, especially, on the subject of creativity? (Or any other subject for that matter?)
Because mothers know what it's like to live with the constant tension of not quite enough time. They understand the beauty (and frustration) of messy children underfoot. They know sleep deprivation and bone-tired. Make art? I just want to get some sleep, thank you very much!
I feel worn thin like the fabric of a blanket too used, too loved, too folded and unfolded to meet the needs of other people's daily lives.
And in spite of those realities and others, which always seem to involve not enough or too much, mothers also long for significance in their work of raising children and to see the beauty in the daily grind. And every mother I know longs to live fully present in the now of her life even though she is always looking ahead to and planning for the future. What is raising children if not an act of faith for a hopeful future?
My days feel endlessly trivial, yet endlessly full. I end up doing one thing, to do the next, to do the thing after that, to end with bedtime. Only then does the small reel of my own life finally begin to unwind and play. Yet all of it is important. Everything I'm doing needs to be done. Yet nothing can wait or be dropped just yet.
So how?
How do we discover our creative selves? How do we make time for our creative selves? How do we stay faithful to the work we're called to do, the relationships we're committed to and still grow into who we want to be become? How do we live, right here, right now, and move forward into the life we want?
What matters is simply this: your intent to claim the day with gusto and bravery and longing. What matters is waking up and asking, What can I be today?, and then devoting a small handful of moments to this task of wonderment. That is all.
Christina's book helps you discover the answer to these questions. Your answers.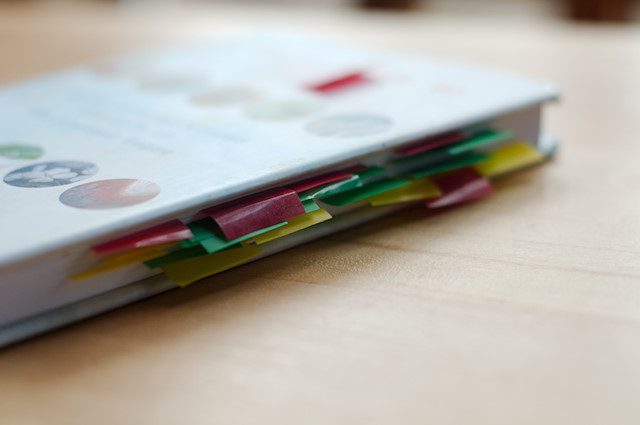 Her book is visually beautiful, a sharing of her own creativity. It is written as a field guide to creative, mindful living grounded in the present moment.
Stop thinking in terms of what you think is possible. The odds are just numbers. The best things happen if you let them. Begin with saying yes. All creative work is conceived this way-with saying yes, and then persevering until the amazing and terrifying moment when you must trust the universe to reach out and accept with open palms whatever you've brought forth.
Each chapter of the book starts with a beautiful and intimate essay revolving around Christina's inner journey in the context of family life. A life firmly rooted in relationship, the natural world, and the turning of the seasons. You can understand why I loved these essays so much. 
The chapter then ends with an observation, an assignment, a writing or reflective prompt. Something to help you apply her words to your own life.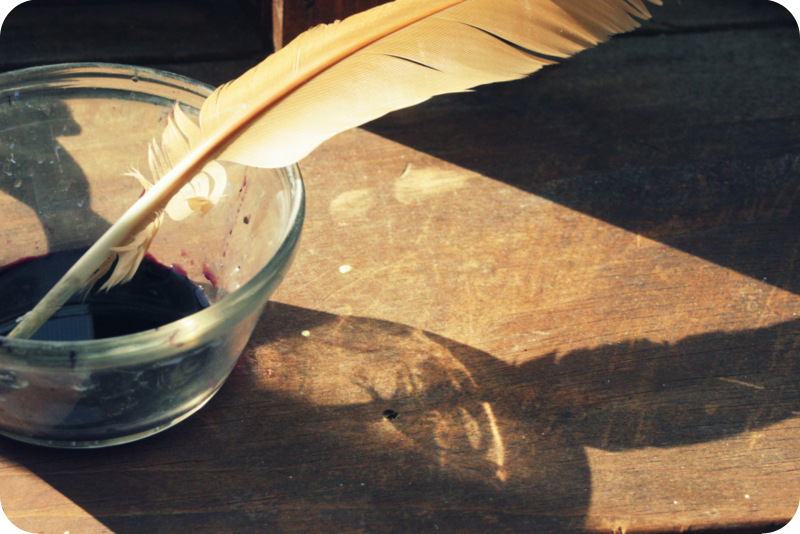 These applications at the end of each chapter would be a great personal growth study if you used them that way. Or simply use them as points of reflection.
Whatever the work is that you long to do, do it today without excuses. Involve your children if that is the only way. My studio is always a riot of snippets, their paintings always strewn about my floor. Begin with pouring yourself wholly into whatever you are doing, and trust that momentum will gather, that resources will arrive.

Opportunity will find you.
Christina's book is poetic, but not obtuse. It never left me scratching my head. It's part inspiration and part application (if you choose to use it that way) but it's wholly understandable for us literal types.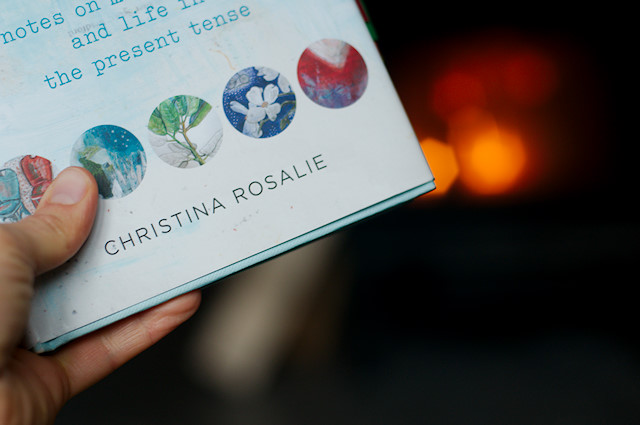 And like I mentioned already, it's beautiful. Even the paper feels nice. I think it would make a great gift for yourself or a woman you love. You don't have to be a mother to appreciate her words, but as a mother I appreciate them all the more.
The very fact that I am not always at the center of my own life is what spurs me to acknowledge the only Someday I'll ever have is right now, and to dig in. Having children forces me to consider my life through the urgent lens of the present, and under that intense regard my creative work continues to surface, as persistent and indisputable as my need to breathe.
My own copy of A Field Guide to Now
is liberally tagged at my many favorite passages. Some of which I've shared here.
Christina's book is beautiful and soul nourishing. It's all here. The inspiration to dream, the challenge to be present in your everyday life, to have the courage to create and the bravery to take action: right now.
Thank you Christina for this gorgeous book for women and mothers; for those of us longing for creativity, meaning and mindfulness in our lives.
Christina is graciously giving one lucky FIMBY reader a set of 12 art cards featuring her own mixed media art. Lucky you!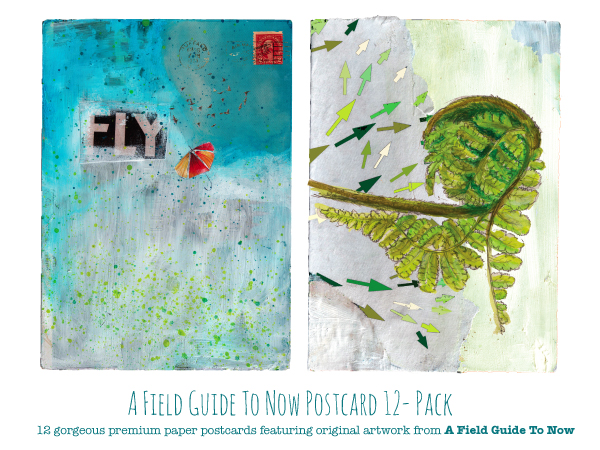 To enter the giveaway for these cards please leave a comment, and if you feel comfortable doing so, share one thing you feel holds you back from living creatively, right now. (PS. I bet Christina's book addresses that very thing.) I'll close the giveaway Monday, November 12th.
Embarrassed to add after the fact (post-publishing) that Christina has a beautiful website and if you want to learn more about her book and follow her blog you should check it out. Sorry Christina that I forgot that originally.
You can subscribe to comments on this article using this form.
If you have already commented on this article, you do not need to do this, as you were automatically subscribed.