Beautiful hair care, chem-free
June 15, 2009
The Story
Sometime last fall we finished our bottle of conditioner and I was determined to figure out a natural, homemade alternative to care for our family's hair. It's taken me 6 months of trial and error to figure out what works. I hope it might be of some help to others who 1) are frugal and want a cheap, homemade solution that works and/or 2) don't want to be putting chemicals on their scalps or their children's skin.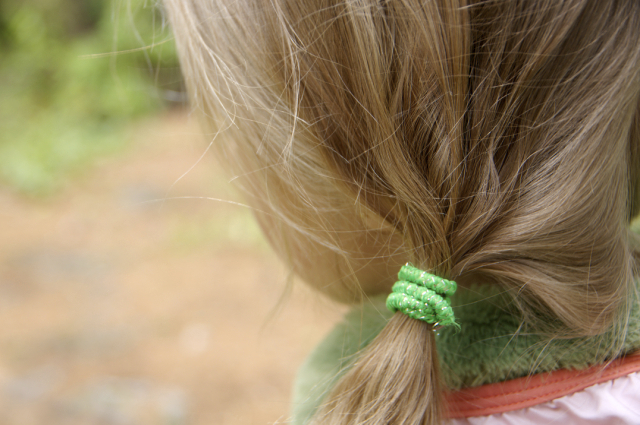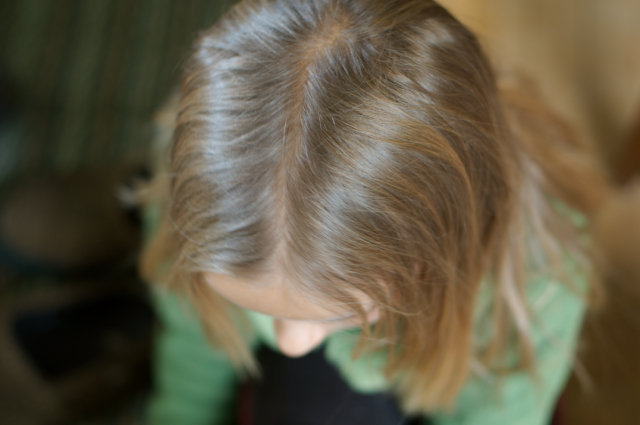 Then I thought to read the ingredients. They've actually gotten worse since I ditched using the product. I'm not sure how "behentrimonium methosulfate, cetearyl alcohol, ceteareth 20 (vegetable derived emulsifier), caprylic acid (coconut derived emollient), panthenol, potassium sorbate" qualify as organic? Chemicals grown in an organic petri dish? It's entirely possible that I'm just really ignorant and these are plant derived goodies that you could serve up for supper with your greens. But I know for a fact potassium sorbate is a preservative and since I'm trying to eliminate eating preservatives I don't want them on my skin either, especially on my children's skin.
And that's what lead me to investigate making my own conditioner.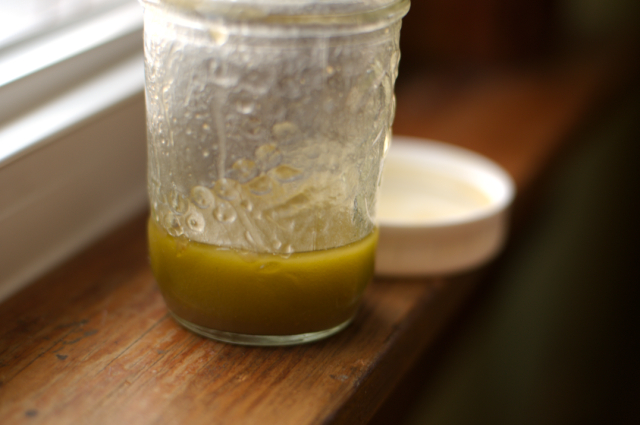 hair oil: an honest, if not effective, first attempt at making conditioner
Let's just say my foray into making conditioner, as in a cream or oil you apply to hair, failed.
Poor Celine and all I've put her through - greasy hair, knotted/tangled hair, painful hair brushing... Celine you're a trooper! Thanks for putting up with me on this discovery. I hope you know you'll be healthier in the long run because of it. (I love you and that is why I torture you so).
The Routine
But now we've settled on a routine that works and Celine's hair is healthy and lovely (most days). Just a note, this is what works for long, fine, straight hair. If you have curly hair, frizzy hair, afro hair you'll probably need to discovery your own natural routine. 
1. Wash
I wash Celine's hair with our homemade bar soap (whatever I have on hand) once every 5 days or so (since hitting pre-puberty this has changed to once every 3 days). I make all my own soaps and we use the same bar for everything - body, face & hair. I wash my scalp each time I shower, most every day. My soaps have natural skin friendly oils and essential plant oils that help moisturize while cleaning. Real simple, real clean.
Because Celine's hair is long, past her shoulder blades down her back, I need to be careful not to twirl her hair around too much when washing, if this makes sense. Otherwise it gets knotted up pretty quick. Instead I massage the soap into her scalp with my finger tips and works the suds down the length of her hair.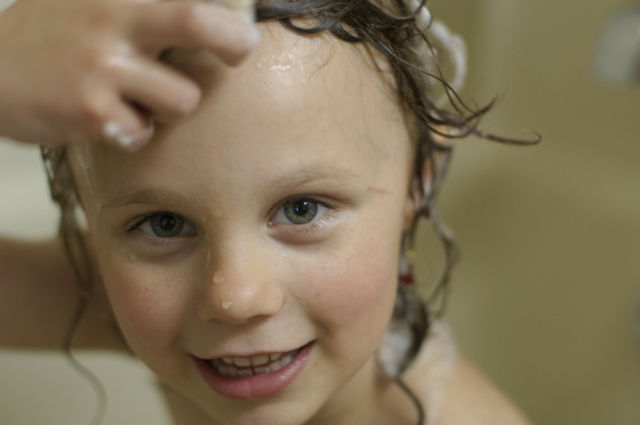 Brienne's short hair is much easier to care for!
2. Rinse
After I thoroughly wash the soap out of Celine's hair I squirt it all over with a rinse of 1 part apple cider vinegar mixed with 4 parts water. Then I rinse her hair again with water. I store this mix in the shower in a re-purposed conditioner bottle - oh the sweet irony.
One time we tried an conditioning egg wash instead of the usual soap followed by vinegar rinse. The results were not any better than soap and vinegar and Celine's hair smelled like egg for a week even though we added lavender essential oil. This experiment was fun (minus the bits of egg white that "cooked" in the shower and got stuck in her hair) but seems like a lot of extra work for no real benefit.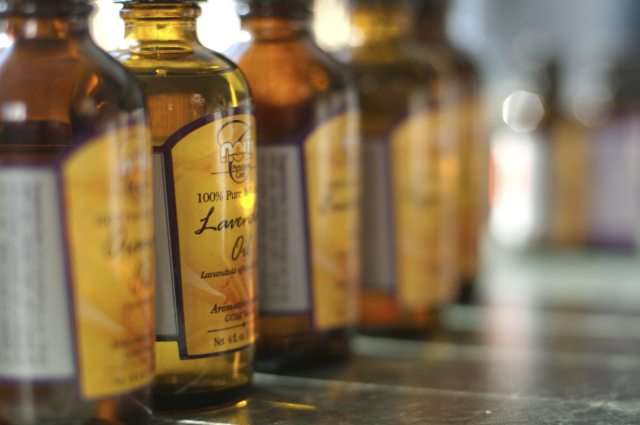 3. Brush
Brush, brush and brush some more. Does anyone remember reading in the "Little House on the Prairie" series how Laura would brush 100 strokes in her hair before bed? (Or I am remembering a different book I've read). Turns out there's a reason for all that brushing and it's not just to get rid of the tangles. Thorough brushing, with a boar bristle hairbrush, distributes the body's own oils down the length of the hair - which is the purpose of conditioner in the first place.
Tangles seem to be an inevitable fact of long straight hair, which I'm just learning since I've had curly hair from the get-go. Celine especially gets tangles next to her neck. Every morning and night (on a good day) we brush and brush. And when we're done her hair is luxurious and I'm a teensy bit envious.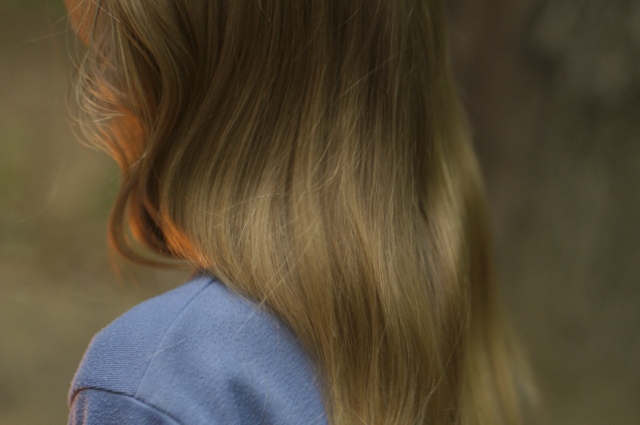 Want to know what I love best about this natural hair care routine? It's not all the money I'm saving or the satisfaction I get "making my own" and being free from the hair industry. It's the time I'm now "forced" to spend brushing Celine's hair. Technically she can do it herself but I enjoy that bedtime hair brushing as much as she does. The rhythm of the brush in her hair, her sleepy conversation with me sitting on the couch or maybe her bed. Time with just her, treasured.
Update: Since originally posting this last year Celine has taken over most of the brushing herself, but I still enjoy the times I sit and brush her silky strands.
At age 13 (three years after I originally wrote this post), Celine has now switched to a store-bought natural shampoo. It's a locally made product, I can't recommend a brand. As her hair got longer she found a bar soap difficult to lather in her hair. Also, her scalp is very sensitive and to get the lather she needs requires quite vigorous scrubbing that is uncomfortable for her head.
Celine was not thrilled with all the patient brushing required by natural conditioner (especially since vigorous lathering with a soap bar resulted in lots of tangles) and I wasn't able to do it for her so we switched to less-than-100% natural Avalon conditioner.
I'm still wondering if I might figure out the perfect natural solution for her hair, but thinking that now she's a young adult my window of opportunity is closed. 
The rest of our family continues to use a soap bar to wash our hair.
Thanks for visiting FIMBY and reading one of my most popular posts. You might also like these related posts:
You can subscribe to comments on this article using this form.
If you have already commented on this article, you do not need to do this, as you were automatically subscribed.