A Winter Schedule for Life & Learning
January 31, 2013
Homeschoolers love to share their schedules and routines. We love to swap notes about what works and what doesn't in terms of managing and directing our days. But of course schedules/routines/rhythms, whatever you want to call them - are so unique to each person and family.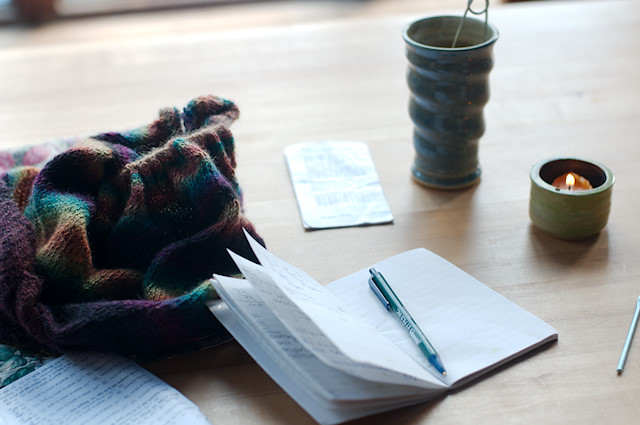 I look at some people's schedules and I get immediately anxious about the amount of activity they are able to pack into their days. I feel anxiety for them trying to rush through all that and I feel my own anxiety about not being that productive.
Our schedule is fairly busy, our days are absolutely full but part of that full is sheduled downtime. Reading, resting, exercising, etc.
I honor my need and my family's need for these activities by planning for them. Making space for them in our lives. Scheduling not just the activity but the apparent "inactivity".
I love the direction and discipline a schedule provides to actually implement ideas - homeschooling, earning an income, healthy eating, exercise, outdoors, reading, play, projects, etc. They all have a place in our days and on the schedule.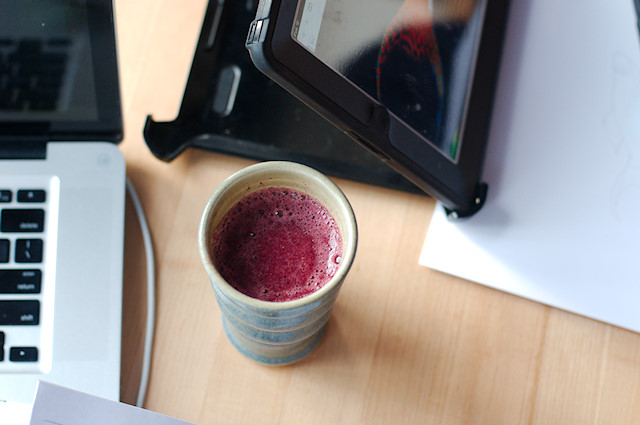 But as much as I love a good schedule - a routine for our days that meets our family needs - I tire of them and need flexibility in my life. If I feel bound by a schedule I get cranky and uninspired. Humans after all are wired for novel and challenging experiences, even those of us who love routine.
I go back and forth between these two realities - my love for structure and my need to break out of it to keep things fresh. My next post on schedules is full of practical ways I've learned to balance these two realities to foster joy and freedom in our home, while still getting things done.
But first, our usually, not always winter schedule.
What I love about this winter so far is that our days are really varied. Monday through Wednesday has one groove and Thursday through Sunday has an entirely different feel. So by the time you get to Thursday morning and you're ready for a change - ba-bing! you get one.
My whole family seems to really like this variety to our days.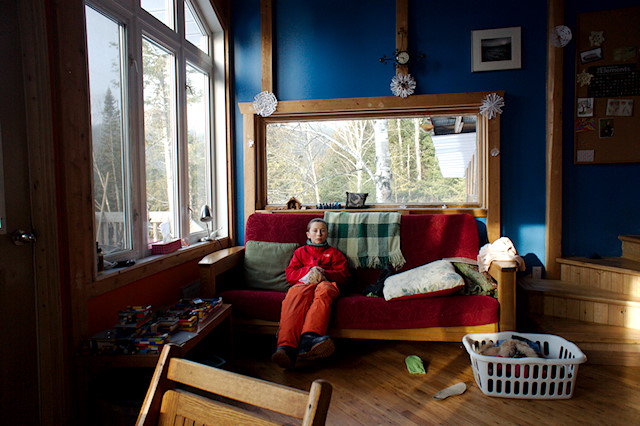 For explanations of blocks see this post.
Monday through Wednesday:
Early Morning Block
I usually wake up around 6am. I don't use an alarm clock. I get up when my body tells me to do so. Once I wake up I do the following in no particular order: a bit of housekeeping, personal care, e-mail, make breakfast, Bible reading, poetry, prayer, and making plans for the day. I recently joined an online spiritual accountability and support group of four women - real life friends of mine from Maine - and we connect in the morning and encourage each other throughout the day. I love this.
Writing. This is when I do almost all my blog writing. I fit in other blog work at different points in the day. I aim for 2 hours of writing but usually do a bit less with interruptions, breakfast eating, etc.
8:00 am (ish) I wake the kids up, they eat breakfast and do their chores.
Damien does his own thing in the early morning - e-mail, writing, and tending the fire. Technically he's on parental duty when I'm writing but the kids rarely need our help anymore during this time and we both can be fairly focused in our work while they do their morning routine.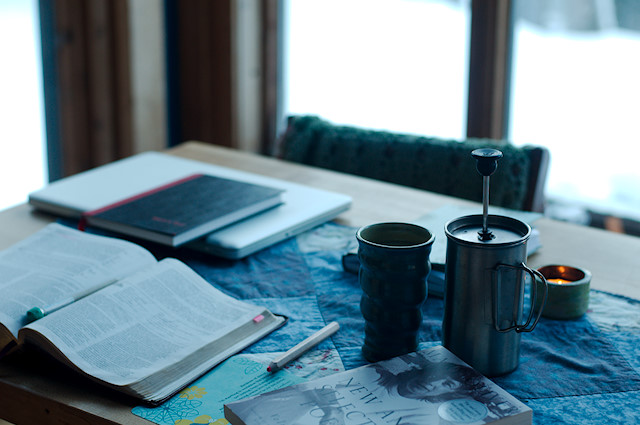 Morning Block - School
Starts around 9:30. Céline does her own thing with supervision from Damien or me. I connect with Céline as needed but mostly I oversee and engage with the younger two around their needs and interests. Next week (or the next) I plan to publish a post about their current homeschool curriculum. I do easy house tidy and kitchen clean up during this time also.
Damien is available during this block for questions and interaction while he does his own thing - writing, webwork for our sites, and never ending e-mail with clients. He also exercises during this time, right now that means skiing.
Lunch Block
Starts at 12:00pm. I tend to e-mail or other computer stuff and then the kids and I make lunch together.
While we eat, and sometimes while we're cooking together, we listen to stories. In the past we've listened to the Bible while eating, currently we're listening to The Hobbit and Erak's Ransom (all my kids have loved the whole Ranger's Apprentice series - to read and to listen to). Our lunch time activities are currently in flux as we try to find time in our days for family Bible education and discussion and regular meetings for Céline's learning.
Afternoon Block
Starts around 2:00pm. The dishes get done at some point, either kids alone or with my help, depends on the day. Right after lunch is a time of quiet and rest from our other activities. I might read, knit, or nap. The kids might play a video game. This is a definite breathe in time of our day, before the afternoon activities get underway.
Damien starts his billable computer work during this time. I don't plan his schedule. We plan our own schedules around our personal, familial and work responsibilities, scheduling as much as possible according to our own body rhythms. It's learn-as-we go, always figuring out how to work together to earn an income and raise our family.
My afternoons still look a lot like this with a few changes. No taekwondo for the kids this season (skiing instead) and I don't try to exercise every day. Instead I ski Friday morning, all day Sunday and do something outdoors Tuesday afternoons.
The kids direct their own afternoons. Céline and Damien go to town once a week to work (for a change of scenery). They do the bulk of the week's grocery shopping on their way home.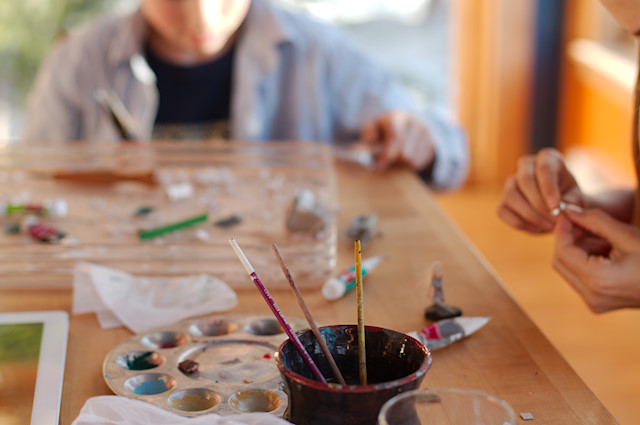 Supper Block
Sometime around 5:00 or 5:30 (6:00 or 6:30 if I'm not as disciplined that day) supper is started and the kids clean up the day's messes - mostly.
We eat, we talk, and after supper the kids and Damien clean up. We try to have this all wrapped up by 7:30 but some days clean up isn't done till 8pm or later if I didn't make supper on time.
Céline makes supper on Wednesdays which frees up my time for home or work related tasks. I also try to work on Wednesday evenings.
Evening Block
Around 8pm we shift to our evening routine. Damien works during this time. My brain is done for the day and I start my slow and delicious descent to bed.
I read to Brienne and Laurent. Shower if I need to, tuck Brienne into bed and go to bed myself around 9:30 and I usually read before going to sleep.
The other members of our family all go to bed on their own accord. Laurent and Céline set their own bedtimes, sometime after I'm in bed.
Thursday through Sunday
This where things get interesting. On Thursday and Friday we still have similar blocks in terms of time but what we do is different.
Thursday
In the morning my family goes skiing. I work. The kids and I have a modified school schedule in the afternoon. I'm experimenting with this. I'm thinking this is a good time for family freewrite and history with Brienne and Laurent. Library visits (to pick up our fill of graphic novels) are a possibility also for this time.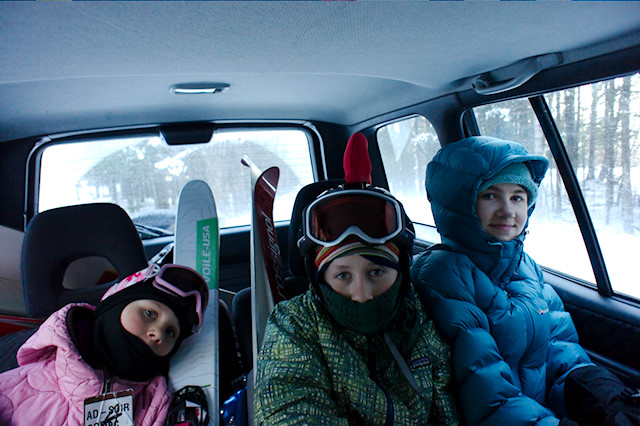 Thursday night is family RPG night.
Friday
Friday morning we all go skiing together. Lunch time is made easier with pre-washed salad mixes and then all we need to do is make a dressing.
Friday afternoon is totally unscheduled. It may look like project time, along the lines of Project-Based Homeschooling but I also like to leave this block unscheduled and go with whatever is happening in the week. I need that margin in my life.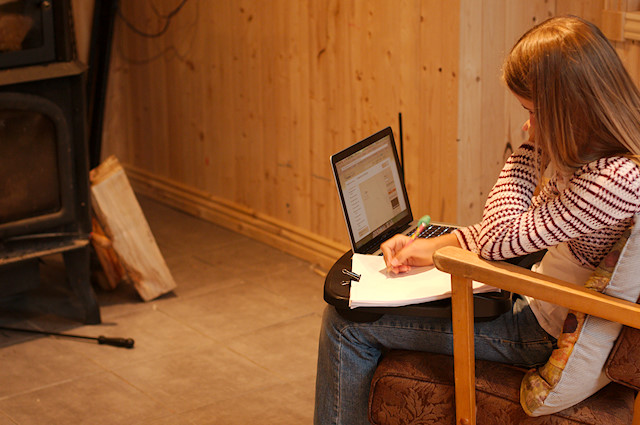 Friday afternoon, right before supper, we might clean the house. It takes the kids and I one hour, if that, all working together to vacuum, clean toilets and wash the floors if and where needed. Friday night is easy supper and family movie or gaming night.
Saturday & Sunday
Saturday morning we sometimes have individual ski lessons. The new piece this winter is French lessons all afternoon for myself and maybe Céline (she's still uncommitted at this point).
We're currently taking a break from scheduled hospitality on Saturday nights. Five hours of French lessons and driving on Saturday afternoon knocks it out of me.
Sunday is our family day outdoors, as always. We aim to ski in the mountains but somedays we only make it as far as the ski hill in our backyard. And this last week we didn't even make it that far as Damien was resting from a knee injury earlier in the week.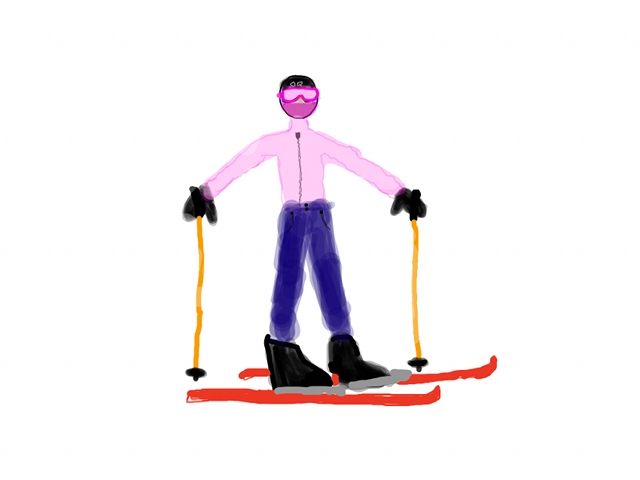 Sharing my schedule is not about saying "here, this is how to homeschool, or this is how to work from home together".
The beauty of homeschooling and working at home is finding your own routines that work for you. And after a year and half of blending the two, each season we find a new groove that fits for where are right now. And often the new routines seems better than the last.
Our kids are at the age when they need more out-of-home activity and engagement. The good news is that they are also at the age when they can help with a significant amount of food and home care responsibilities. Not to mention that Damien is very engaged with family life and homeschooling. And so life feels full and active, but generally not stressed or hurried. And this is good.
That's it (ha, ha!) for today. Next up in my mini-scheduling series this winter are specifics tips to help you make your own schedule for learning and life.
Filed Under
Resource Library
You can subscribe to comments on this article using this form.
If you have already commented on this article, you do not need to do this, as you were automatically subscribed.