A Perfect Storm ~ Our Weekend Move
November 16, 2011
I'm not heavy on complaining. Sometimes I rant and sometimes I whine but out and out complain about how miserable I am is not something I regularly do (I'm not usually all that miserable to be honest).
And even when life isn't going my way, someone, somewhere always has it worse than me, so who am I to complain? Who wants to hear that stuff anyway?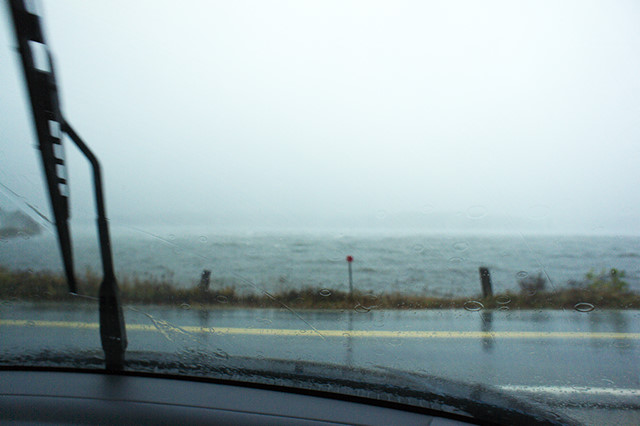 So this will not be a complaining post. Oh no it will not. I am merely going to present the pertinent facts of the preceding four days. My miso soup and frosty morning posts were scheduled ahead of time (because I knew I wouldn't be writing during our move) which is why none of the actual living in the moment was expressed in those posts. Even so, you wouldn't have wanted to hear the moment. Trust me. It's bad enough in retrospect.
So here's the facts of the last few days (and a few lessons):
We moved this weekend to the chalet. Moving, no matter how you slice it is a stressful event.
The day we pulled out of Nova Scotia was a record breaking storm. That morning, during torrential downpour, the power went out at my parents and many other places. It was the eeriest experience ever to pull into a gas station to go pee, buy water and snacks, and be in the dark with only emergency generator power.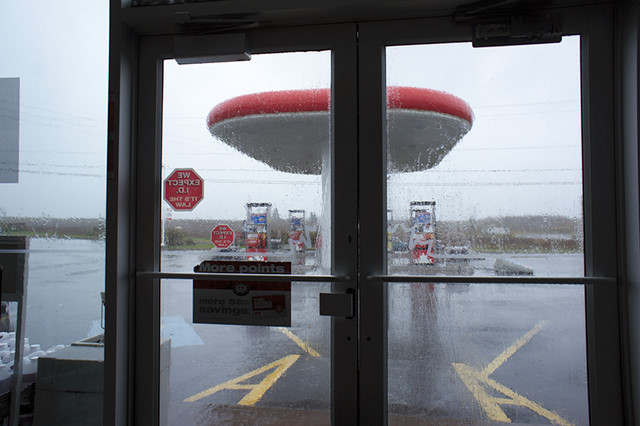 The storm produced heavy rain and high velocity winds making it a challenge for my dad to pull our moving trailer.
The past four days I have been down for the count with the worst cold I can recall in recent and not-so-recent memory. I simply cannot remember the last time I have suffered like this.
Not only was I sick, all three kids were sick. Celine and Laurent with sore throats and achy ears and Brienne is still fighting her cold, which I thought was brought on by a Halloween sugar fest. My cold cannot be blamed on that, must just be a nasty virus that our immunity wasn't up for it. That's just the way life rolls.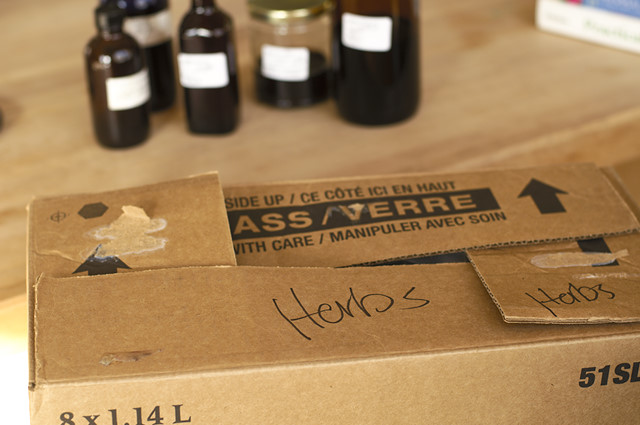 I am the kind of person who tries to right wrongs through intentional actions and is vigilant about preventing "bad stuff" with good decision making. I'm a bit of rule follower (only if they make sense). My faulty thinking sometimes goes that if I follow all the rules everything will turn out all right. Of course, I cannot prevent all bad things (like a nasty virus on moving weekend) from happening to me and my loved ones. This I know and I learned this lesson (again) the hard way.
When you move you pack up all your comforts - your favorite teas, your box of herbal remedies, tissues. If I had known we were all going to be so sick I would have kept stuff handy. I didn't see this coming. So we were left with Vicks VapoDrops from the gas station on the way out of town. I am not making this stuff up.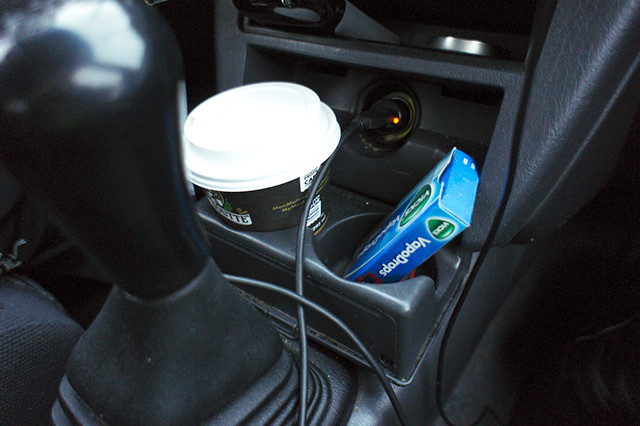 During the worst of this sickness there wasn't any familiar place "to cave" or seek rest. A strange bed, in a new room - shared for the night with my sick kids as my parents were in our room. Not even familiar linens on the bed. In many situations these things don't matter to me. But when I'm feeling the lowest I've been for ages these small things speak "comfort". The lack of them was not the end of the world, just the icing on the cake.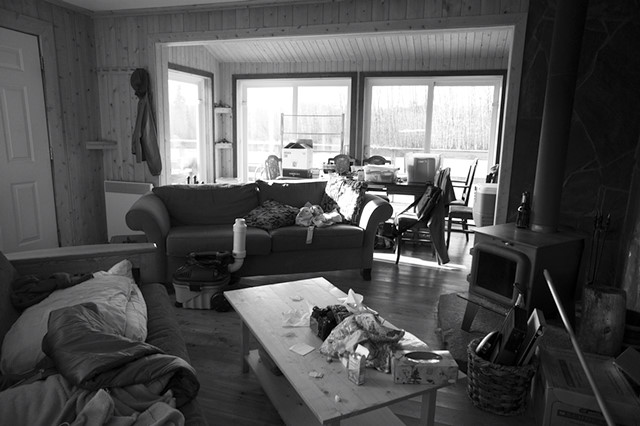 The chalet is small. Blessedly small. Excitingly small. We are so psyched about downsizing ourselves to this space. Arriving to this challenge (for it is one) when feeling ill with seven people in tow instead of the usual five is well, extra challenging - in an "ignore the tornado like mess" kind of way.
Here's the blessings:
Like I said earlier, someone, somewhere always has it worse than me. On that most difficult night, when I lay in the strange bed, barely swallowing for the pain it caused, surrounded by coughing, whimpering children - who's needs I honestly couldn't attend to myself (Mom & Damien picked up the slack here) I thought to count my blessings as well I could.
That night I got as far as "thank God I'm not a homeless refugee" (ie: I actually have a safe bed to rest, even if it is strange to me) before I nodded off into a fitful sleep. But there were many more real, tangible blessings.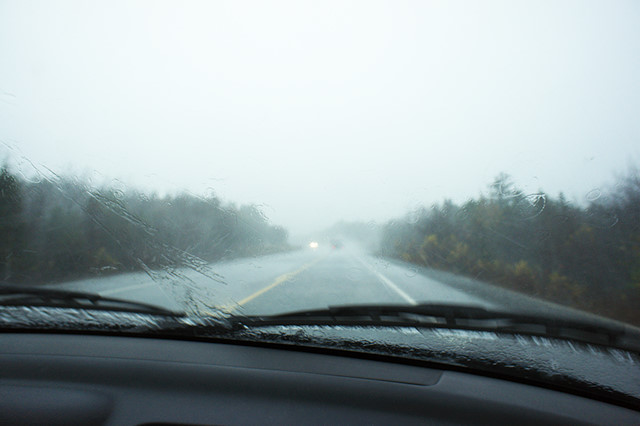 In spite of the heavy rain there were clear breaks to finish loading the trailer. The only thing wet in the end was the clothes we were wearing.
We found places with power to buy gas.
My dad drove the big truck with the trailer through the storm without incident (and a lot of prayer). Traveling mercies of the truest kind.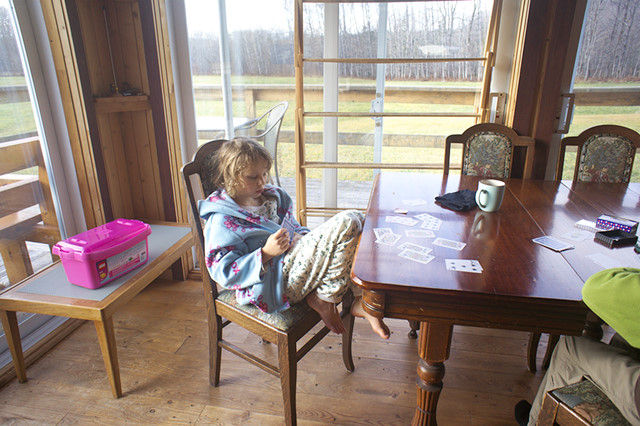 a moment of relative tidy before bringing boxes in
My parents helped us move our stuff, yet again. And Damien's cousin lent us their truck, again. Supportive family means so much to us.
While we were setting up the bare minimum of housekeeping and getting Damien's work space prepared for Monday morning my parents my parents picked up groceries, paper towel and herbal lozenges.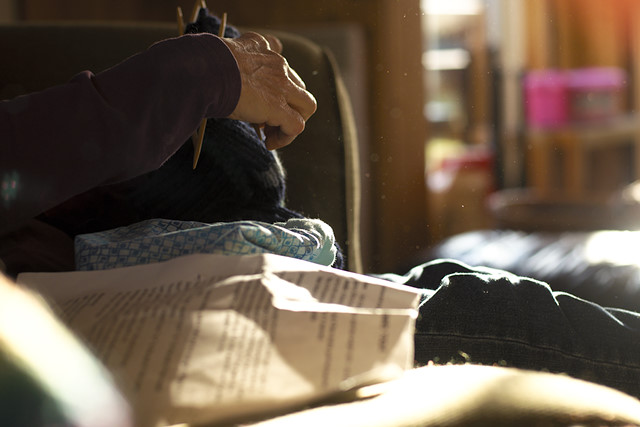 The click of my mom's knitting needles, taking rest on the couch together, in the late afternoon sun. She finished the hat she was working on for Laurent, to replace his other favorite lost toque, also knit by Nana.
Damien and my parents are (so far) healthy. I pray they remain that way after a weekend surrounded by sickies.
We weren't throwing up. And no emergency room trips were necessary.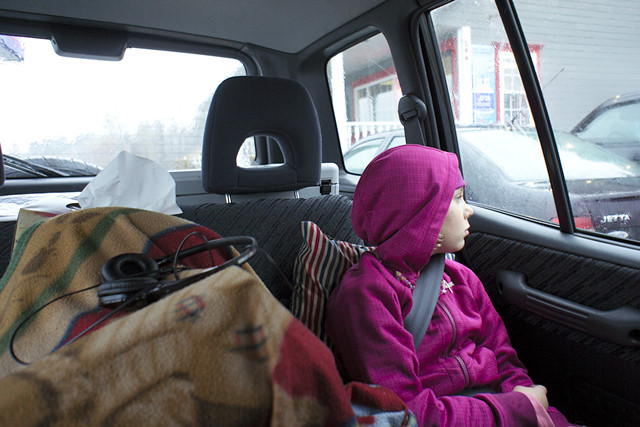 We still feel that good vibe we initially felt when visiting Gaspesie. From the moment we crossed over the bridge at Campbellton, NB we thought, "ah, this feels right".
We may not have TV but we have the Internet and computer DVD capabilities. During times like this, these modern amenities and the entertainment/distraction they provide are a godsend.
The simple comfort of honey lemon tea, many times a day.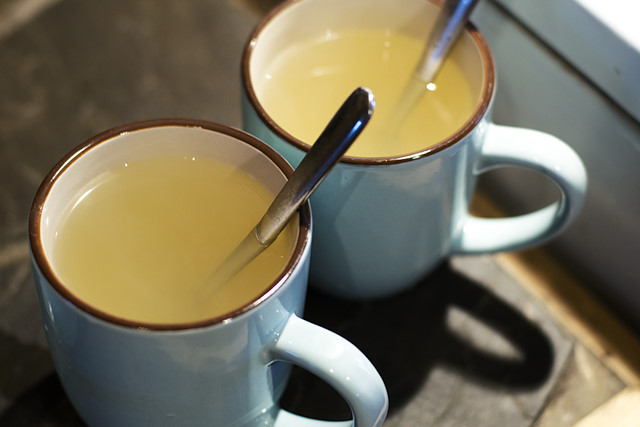 There are, no doubt, more blessings but my writing time is running out and there is so much unpacking around me to do (and so much rest my body needs).
I'm a little bit overwhelmed right now, to say the least. I'm living by three of my mantras - this too shall pass, it could be worse, and one day at a time.  
You can subscribe to comments on this article using this form.
If you have already commented on this article, you do not need to do this, as you were automatically subscribed.