A Moving Philosophy
April 4, 2011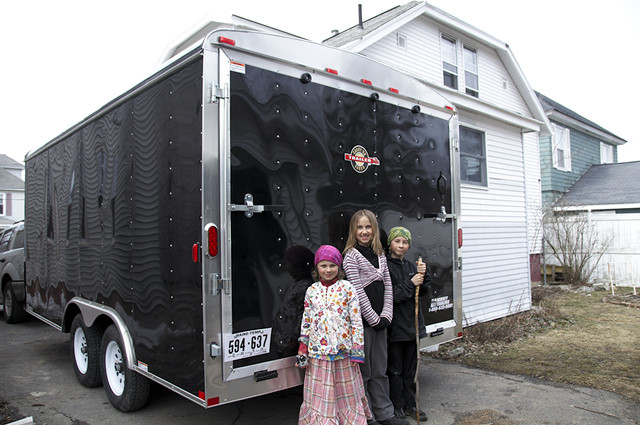 Did you know we're moving twice this year?
Next month we leave Maine and go to my parent's place in Nova Scotia where we will spend the summer. We're not moving to a job and because we'll be earning a living from home it doesn't matter where we live. But for the first little part of this grand adventure where we live has to be cheap (actually we're looking at that for a lifelong housing philosophy but that is a whole different post in the works).
Enter wonderfully supportive parents who are letting us spend the summer on their property. Home for us will either be the 30 foot trailer they lived in last summer. Or we'll actually get to "camp out" (ie: set up beds) in their brand new home that my Dad built .
The goal of spending the summer in Nova Scota is to start earning a somewhat reliable income, while keeping our costs low, before venturing on to our actual destination - the Gaspé Peninsula of Quebec.
Of course the opportunity to spend all that time with parents and grandparents on a beautiful piece of property along a river that leads to the ocean with woods for a backyard simply sweetens the deal.
What this means though is that we're moving twice. First to Nova Scotia and then again in the fall to Quebec.
The logistics of renting a moving truck, going across the border, unloading, returning the rental truck to the United States, storing our household possessions all summer, packing it up again in a truck, driving it to Quebec and unloading once more was a discouraging idea to say the least.
Instead we opted to buy a trailer that we will pull with a truck my Dad is able to borrow on our behalf. What would we do without parents?
The trailer, like all moving vehicles, has a fixed volume. To determine what size to buy we used U-Haul's estimate for a 3-4 bedroom house and then scaled down a bit. We want to downsize in this move because we honestly intend that this house we are leaving is the largest house we will ever live in as a family of five.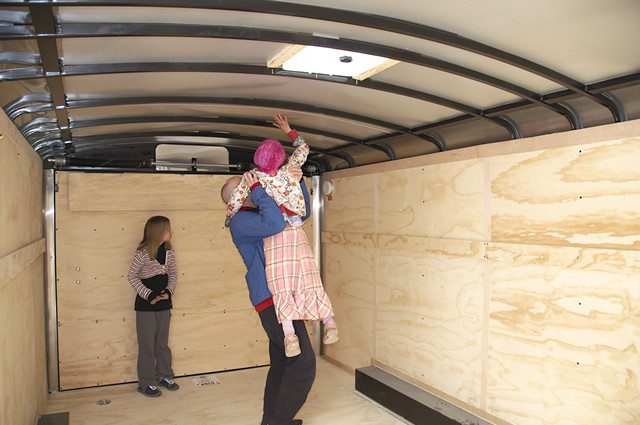 I am not good at visualizing cubic feet and I honestly have no idea how our stuff will or won't all fit in our trailer. Which, by the way, "is the shiniest, newest thing we've ever owned" according to the kids and as far as vehicles go, they're right.
But I trust Damien's research and measurements, he's good at that kind of thing. And when it comes right down to it what we can't fit we don't take.
Doesn't that sound liberating?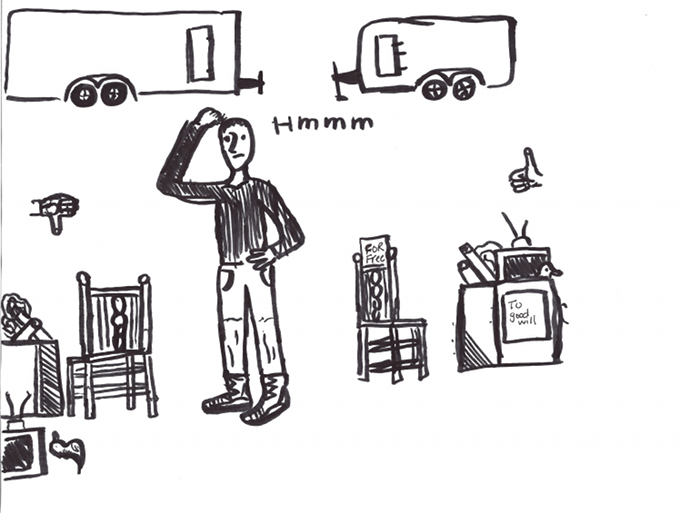 This sketch is Laurent's way of graphically explaining the work going on as we sort through stuff.  I'd be embarrassed for you to see my front porch which pretty much looks like a multiplying heap of Goodwill and freebie donations.
And that folks is our moving philosophy.
Big trailer. Thumbs down.
Smaller trailer. Thumbs up.
You can subscribe to comments on this article using this form.
If you have already commented on this article, you do not need to do this, as you were automatically subscribed.