A Cardinal in an Evergreen ~ The Boy's Got a Gift
January 13, 2011
Last month as Laurent was busy creating Christmas gifts for other members of the family I dropped a not-so-subtle hint that mommy also would appreciate some art for Christmas.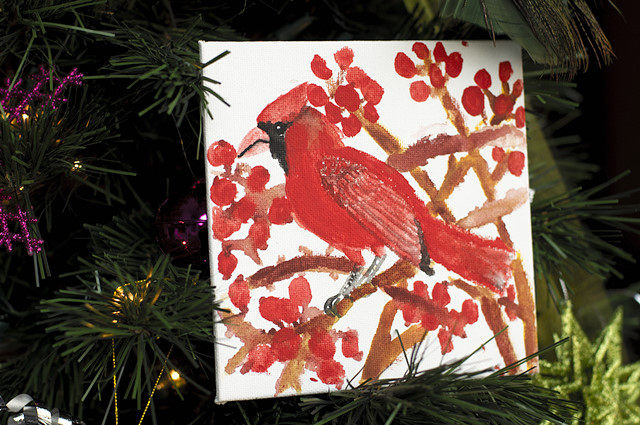 I'm happy being his number one fan (and the person who budgets for and buys art supplies) but it was nice to be the recipient of his burgeoning skill. This cardinal (my favorite winter bird) is painted on a 6 inch square canvas and as soon as I put some kind of mount on it I will hang it on our wall.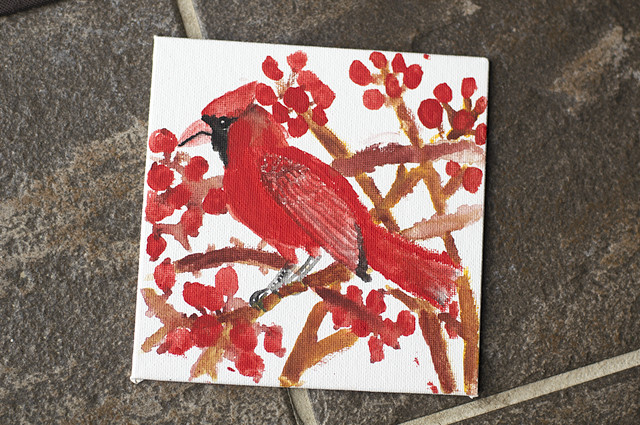 Laurent has gifted other people with his art these past couple months. First it was this mural for Brienne's birthday.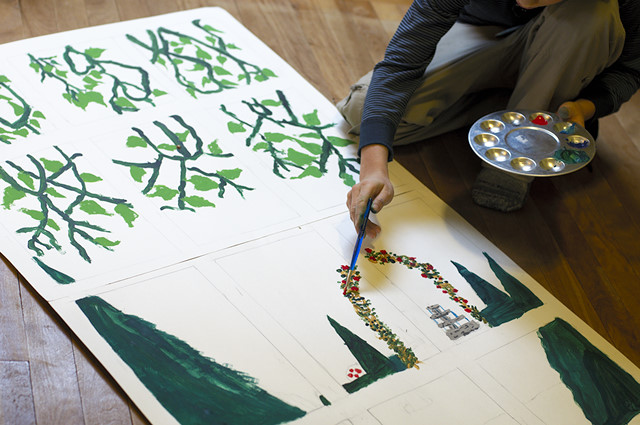 Then he created this artist's easel, clay paints, pencils and brushes for Celine's doll Isabella for Christmas. (Celine still loves and cherishes this first doll she made and continues to make outfits for her).
He packaged it all up in a box that he and I made together with his handmade paper.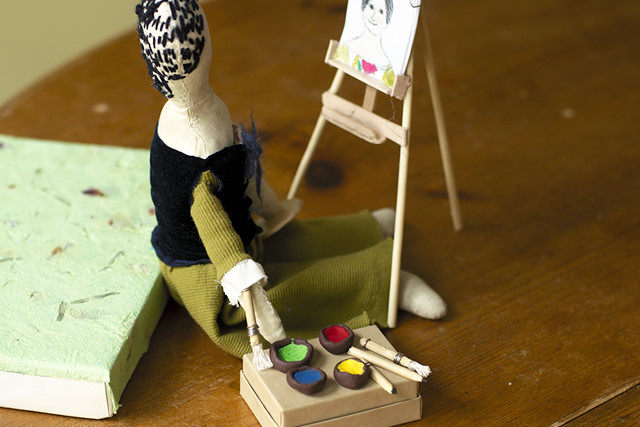 This is a print of a watercolor Laurent painted specifically for his Papa, who loves herons. Which is why the heron beaks form a heart. Papa "hearts" herons.
We framed it and I must say it looks much better as the actual painting and not this print I scanned.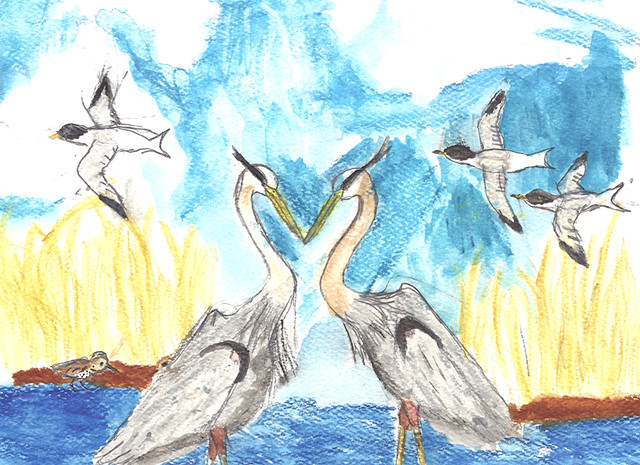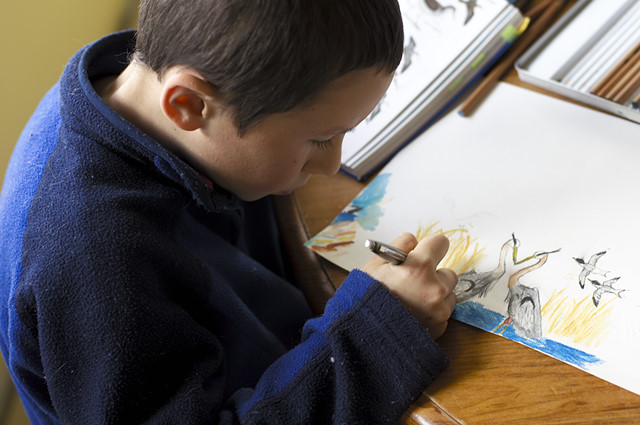 Watching this boy grow and develop his God given talent and passion is pure joy. This boy wants to draw nearly all the time.
The boy's got a gift and what has been given is to be fed, watered and shared with the world. My part as the mother is the feeding and watering (quite literally of course) but also the encouraging and providing a home life that enables my children to grow into who God meant them to be.
One way I do this is to give my children time. Time to play, time to draw, time to read, time to do meaningful work, time to discover who they are. 
I feel very strongly about giving my children time. Which is one reason we don't do a lot of "school work", nor have many commitments outside the home. If I demanded hours each day of my children to write, do sums, read (I read to them if they don't read themselves) and otherwise jump through academic hoops they wouldn't have the time they need to invest quality effort into who they are becoming. They wouldn't have quality time to invest into who they are.
From what I've published here, here and here you can see our days at home together are not wishy-washy, free for all. I structure our days for work, play, learning, and creating. We do have a bit of school we do each week in an amount that I feel builds basic skills but leaves my children lots of time for exploration, play and personal development. 
Time for family life, time for growing, time for creating, and time for gifts. 
You can subscribe to comments on this article using this form.
If you have already commented on this article, you do not need to do this, as you were automatically subscribed.