winter is for reading
December 17, 2009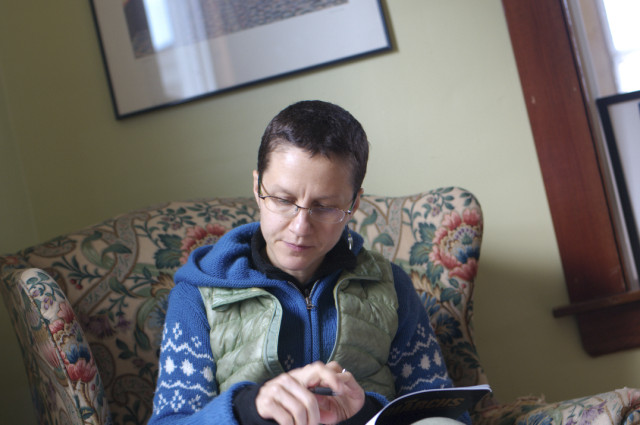 photo by Brienne

</center>

You know me, I can't stay away from this space too long. I had a lovely, exciting surprise (which I will be sharing more of in the new year) that energized me today. The creative juices started to flow again and amazingly I didn't feel like going to bed at 9pm, which has been a regular occurrence these days. A nice occurrence mind you, but one that doesn't leave much time for my usual hour of creative downtime after the kids are in bed.
Anyway, here I am using this last half hour of Wednesday night to share a few photos from the past couple days and a some book links. I've been reading a lot, which seems to ebb and flow with my creative pursuits. If I'm taking lots of photos, I'm not reading much. If I'm reading lots, I'm not sewing or knitting. There's a give and take to my activities; in the same way there is to my mothering/homemaking - days that I'm a great mother I feel like a lousy housekeeper. You know that story.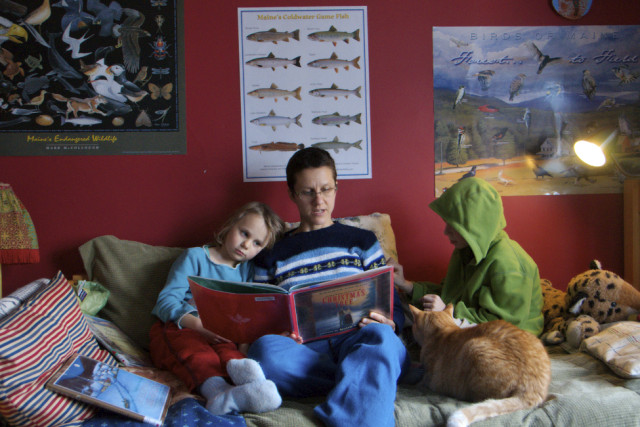 photo by Celine

</center>

Our days have looked like this; in between getting packed up for our Christmas trip and putting the finishing touches on gifts, cards and soap. The kids and I have been reading Christmas and winter stories and we just finished the classic My Side of the Mountain, which left Laurent literally hopping up and down with excitement; that boy loves the woods.
My personal reading has been quite eclectic. During breakfast and lunch this week I've been laughing my way through Pilgrims: A Wobegon Romance. I started (and was greatly inspired by) reading Leadership Education: The Phases of Learning during a hot bath this past weekend. A couple weeks ago I enjoyed the pat on the back I received from In Praise of Stay-at-Home Moms and before bed I've been listening as Damien's been reading to us all Zero Days: The Real Life Adventure of Captain Bligh, Nellie Bly, and 10-year-old Scrambler on the Pacific Crest Trail.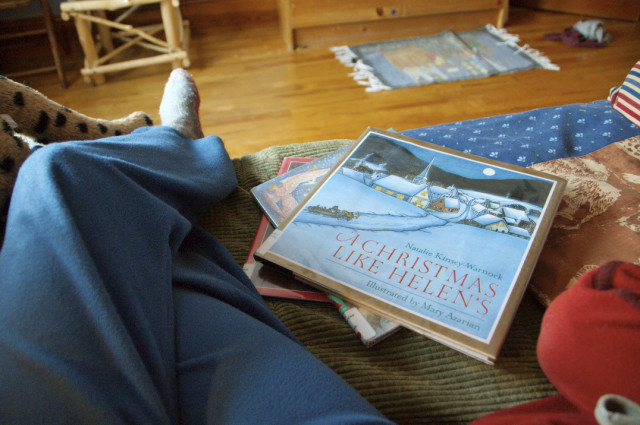 I've been kind of missing the usual love affair with my camera (though I have to say the waning light makes it tricky) but reading has been nice and just perfect for these dark and wintry days.
Renee Tougas participates in affiliate marketing, including the Amazon Services LLC Associates Program. Whenever you buy something on Amazon from a link you clicked here, I get a (very) small percentage of that sale. See disclosure for further explanation.
You can subscribe to comments on this article using this form.
If you have already commented on this article, you do not need to do this, as you were automatically subscribed.