Where are all the homeschooled high schoolers?
March 9, 2015
The last time I wrote anything substantial about our high school homeschool experience was over one year ago, and I promised at the end of that post to spell out more of our high school plans and practice in future posts.
I'm finally getting around to doing that.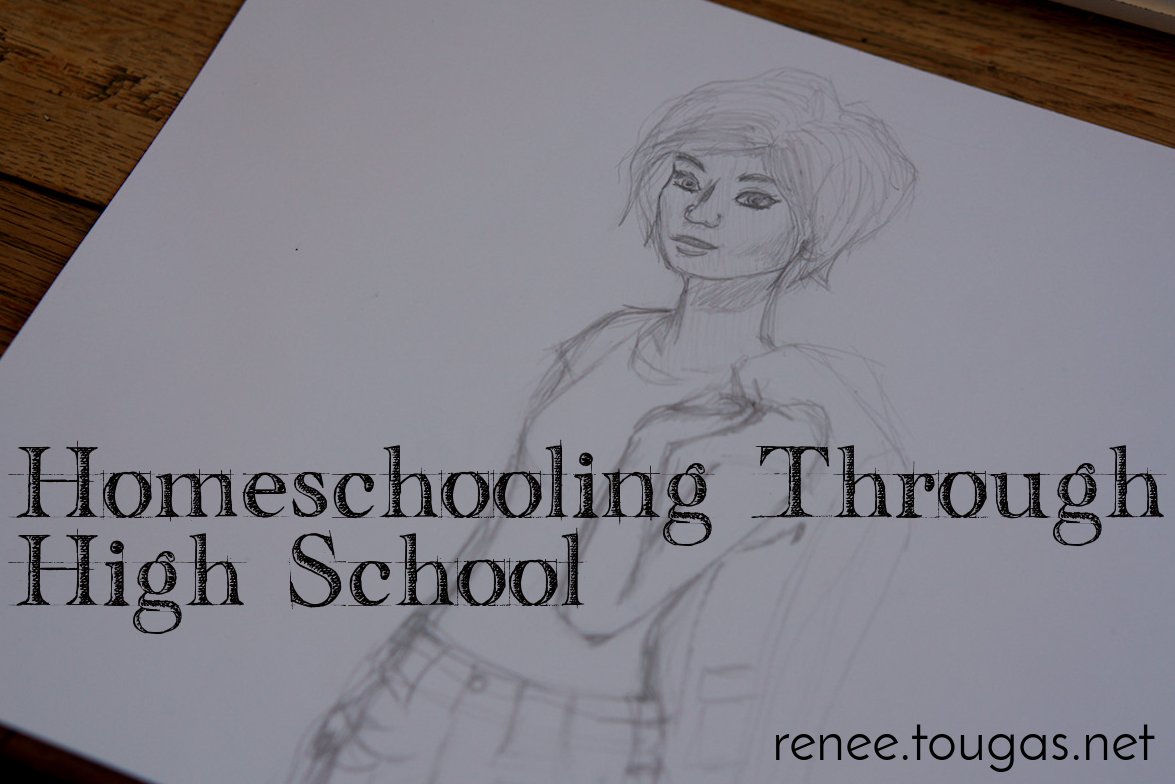 First, I'd like to answer a question I've asked myself for years.
Why don't more homeschool bloggers write about the high school years?
Specifically, why don't more unschooling, interest-led, project-based, experiential, learner-directed homeschooling families write and share their "curriculum" (simply course of study), hopes, dreams, methods, progress, assessment methods, successes and setbacks of homeschooling their high schoolers?
There is a lot written about the interest-led, relaxed, early years homeschooling experience. For good reason, it's pretty easy at that stage. Once a parent has the courage to buck the system and follow their heart and family values for their child's education it's not that complicated when kids are elementary aged.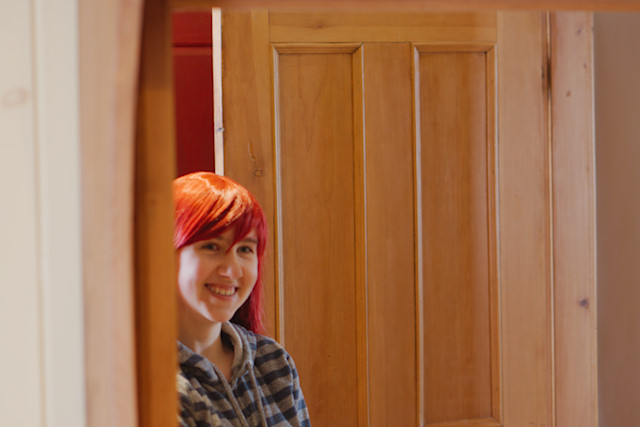 As children grow into themselves and their unique interests really start to steer their ship (for us around age 13), the choices and the curriculum get more complicated. It becomes harder to write about because the curriculum is specific to the child and it seems almost a waste of energy to share a bunch of ideas and resources that may not apply to many other people.
And I know for me, after I've spent hours and hours pulling together resources and sifting through options that I think will work best for my learners, in the context of our home life, I sometimes just don't have the mental energy to share it all here.
In addition, as my children grow, I have an increasing desire to protect their privacy. To give them space in their young adult years to try things out, to experiment with new ideas, new looks.
More and more, Céline's education, and her life really, is becoming her story to tell. A story I need to ask permission to share publicly.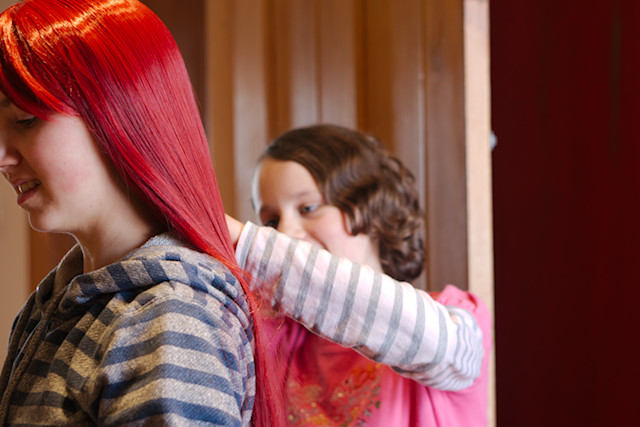 Specificity and privacy are two reasons for sure that less is written about homeschooling through high school. Then there's attrition - homeschooled kids choosing, or parents choosing for them, to finish their K-12 schooling years in public or private school.
I don't know the actual numbers, I just know by simple observation that more little kids are homeschooled than older kids. There are many reasons for this.
Some kids want a school experience, if only for the sports and social opportunities. Not to mention accessing music, theatre, and other group learning structures that may not be available to them any other way. Not everyone has access to good homeschool co-ops or community groups that offer these programs outside of school.
Some kids want to test themselves in an academic context. Others feel they need the courses offered by their local or private high school to build transcripts for their post-secondary education plans. In other families, parents are just done by this stage, and who can blame them really. Homeschooling is a lot of work.
I think these are all possible reasons why it's hard to find posts about homeschooled teens circulating the web, and even harder to find posts about "non-schooly" homeschooled young adults.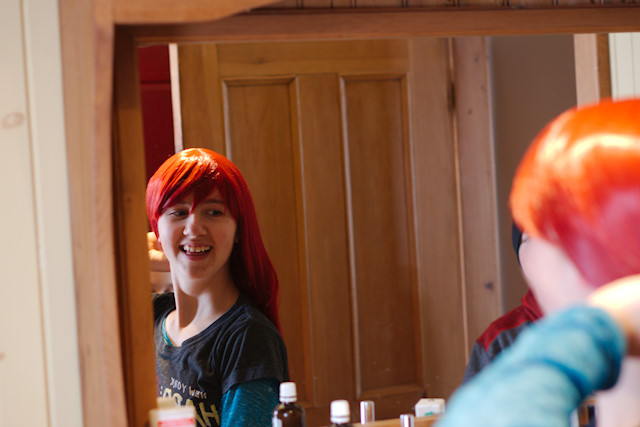 This is unfortunate because these are the blog posts I wished I could read when my kids were younger.
The kind of posts I went searching for, for reassurance, that it would be ok to let my children mostly play during their childhood. (It is.) That it would be ok if they didn't read till they were 8, 9, 10, 12. (It is.) That it would be ok if they didn't participate in many extra-curricular activities for "socialization". (It is.) That it would be ok if we choose to study subjects at our own pace and if we didn't call them subjects at all, but "life". (It is.)
We all want the reassurance it will be ok. I am the same way. I've learned that you can't depend on that from someone else so I can't make you any promises, but I can share what the high school years look like in our home and you can read my organized archives to see the foundation we laid in the early and elementary years - high on enjoyment and low on stress - for both me and the kids.
You can also listen to my audio teaching Learning in Love for the Preschool Years, and Homeschooling from the Heart, for learners ages 5 through 8. It appears I need to bring these teachings up-to-date with late elementary (10-12) and the middle years (11-14). And eventually, when we've actually graduated one of our kids, I can do high school (15-18).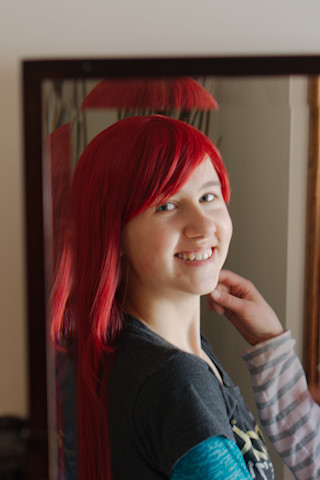 ...getting ahead of myself. Here's a sampling of our early years:
Back to the present.
The archives are there for you to read about the foundation of how we got where we are. And now it's time to tell the story of where we are, which is high school.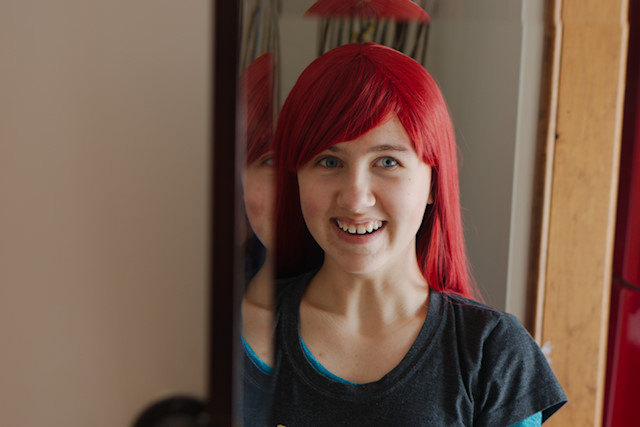 PS. If you're curious about the red wig be sure to read A goal driven curriculum.
Filed Under
Resource Library
You can subscribe to comments on this article using this form.
If you have already commented on this article, you do not need to do this, as you were automatically subscribed.