We bought a house!
June 19, 2005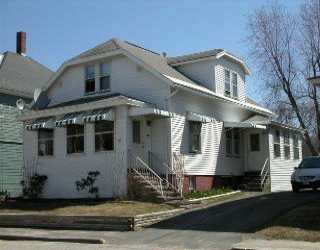 We bought a house today! Wow, it's all a little unreal. Just 2 weeks ago we didn't know if we could even stay in Maine, and today we're in a contract to buy a house. This is photo of our new house, taken earlier in the spring. We close in 30 days, so move in date is July 20.
Here's the particulars: It's a 4 bedroom house built in the 1930's, approximately 1550 sq. feet. It has a 2 bedroom rented basement suite (another 900 sq ft). It has a decent sized yard and a nice one car garage. It is in excellent, move in condition. Doesn't need any major work or improvements (we'll get an inspection next week and know for sure). It does need some redecorating - has some nasty panelling in the living room area. The main floor has a kitchen with laundry, bathroom, dining room, living room and a bedroom (which we'll use as office/work out space). The upstairs has 3 bedrooms and storage space. The house has lots of hardwood floors and beautiful wood trim, so I guess that makes up for some of the strange wallpaper! Next week during our inspection we'll take more photos and post them.
We're pretty excited and now have a lot of work to do getting ready to move - Lauren & Amanda know all about that. So pleased that we have a destination. The looking is over, we know where we are moving and can plan for that particular house.
You can subscribe to comments on this article using this form.
If you have already commented on this article, you do not need to do this, as you were automatically subscribed.