This is Me in Grade Nine ~ Being a Keeper of Family Memories
August 2, 2010
The first part of this post's title is a nod to that Bare Naked Ladies song by the same name.
My parents have moved a couple times in the last three years. Over the course of those transitions most of the remaining few tokens of my childhood have come into my possession. The grandchildren still play with my toddler teddy but I'm happy to let mom keep that shaggy furball.
In the most recent bag of goods was my grade nine grad dress.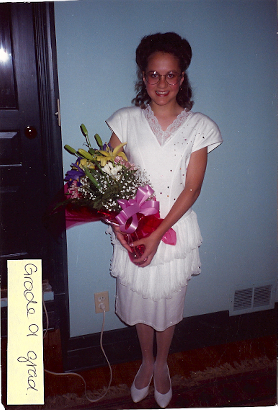 Grade 9 Graduation, circa 1990
Where I grew up and went to school junior high was grades 7 through 9, after which you "graduated" to high school. Grade nine graduation was a pretty big deal in my world at the time and necessitated a fancy dress, shoes and flowers. What girl doesn't love that?
I had totally forgotten about that dress till my mom passed it on to me. And now that it's in my home I'm having a hard time getting rid of it. (thanks mom!)
My only reason for saving it all those years ago was that maybe one day in the far future (now) my as-of-yet unborn children might find it interesting. Yes, I did think about my unborn children when I was fourteen. Needless to say, the girls have no interest in it. It's an unique style, shall we say, and doesn't have any princess dress-up appeal. My daughter's have little regard for my super shoulder padded sequined white dress.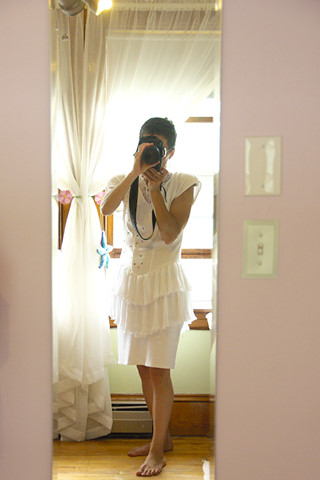 That dress I wore 20 years ago as a fourteen year old still fits me. I thought if I took a photo of myself in it now I might feel better about getting rid of it. It's just a dress.
But, it's more than just a dress. It holds memories of the end of my childhood and the beginning of becoming a woman. So the dress remains in my little closet... for now.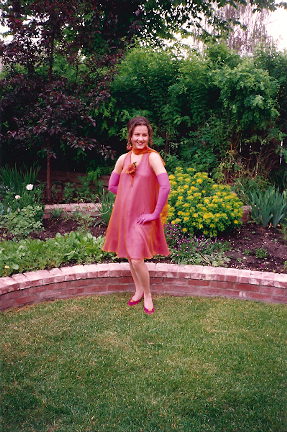 Grade 12 Graduation, circa 1993
What is it about being a woman and holding onto and preserving memories of childhood?
Damien is not obsessed with this same desire to record, capture and hold on to personal things from the past. I know few men who are. Doesn't mean they don't exist, they just don't exist in my world.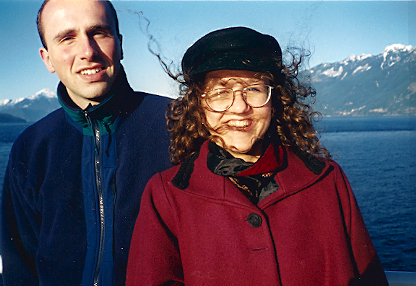 Young Love, circa 1995
When we got married I put together four, yes four, wedding albums - formal portraits, honeymoon photos, casual wedding ceremony photos and an old fashioned wedding book. The type where you write all the gifts you received, save the wedding invite and so on. As you can see, it was hopeless right from the start.
In those early years we took few photos but those we did went into albums with little notes about where we were and what we were doing at the time. The humble beginnings of the yearly family photo album. Then along came a baby, followed in short order by two more. And with the babies came photos. Lots of photos.
Photos for albums, photos to send to grandparents and photos for their baby books, which I diligently completed for all three of my children. What didn't fit in the baby books went into memory boxes - an outfit from their infancy, a favorite toy, birthday cards and "most precious" crafted items from over the years.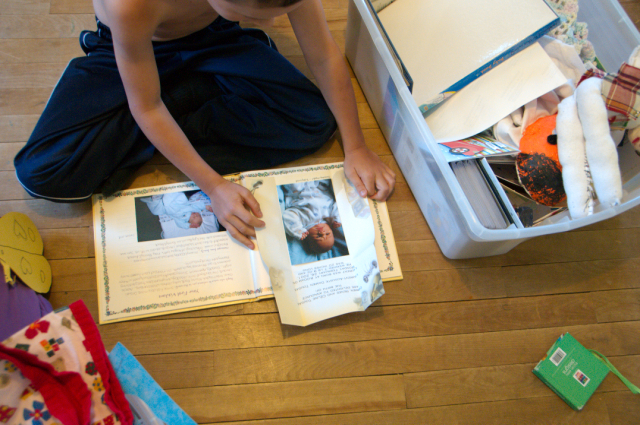 After the baby books came binders of artwork, anecdotes and quotes from my toddler and pre-school children while still keeping yearly family photos albums up to date. My children love to pour over their personal binders from "when they were little". They laugh hysterically at their misprouncations and the little sayings of theirs that I recorded.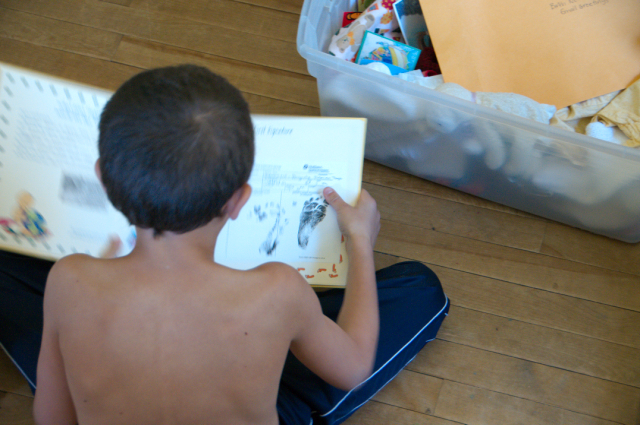 During these years scrapbooking became all the rage and though I dabbled in that for a while I found it was just more manageable to maintain a yearly album with photos and notes. I "scrapped" the scrapbooking.
Once my kids started homeschool years, after age seven, I switched from personal memory albums for each child (I was still doing yearly family albums of photos) to portfolios. These now double as their yearly school records and memories of their childhood.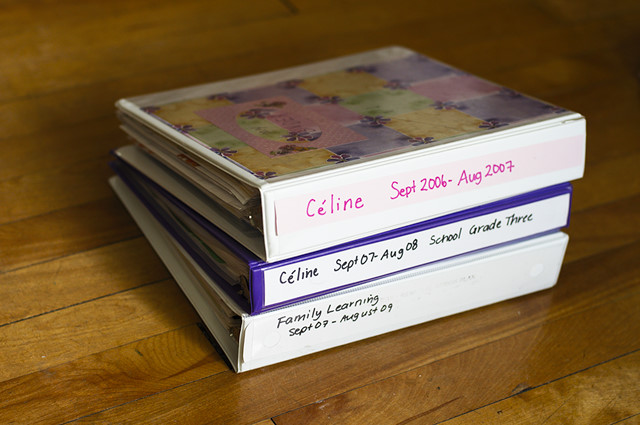 Why am I telling you all this?
Because I'm letting go of building yearly family photos albums and with that comes great relief but a bit of loss.
Since the blogging bug hit me a couple years ago I simply don't have time to stay on top of photo albums. I've wrestled with this for 2 years now, getting progressively behind in my record keeping.
I am right now working on finishing 2009. Specifically choosing the best photos from the thousands I took last year and getting them developed. Now that I care what my photos look like this is the hardest part, to get them printed the way they look on the screen.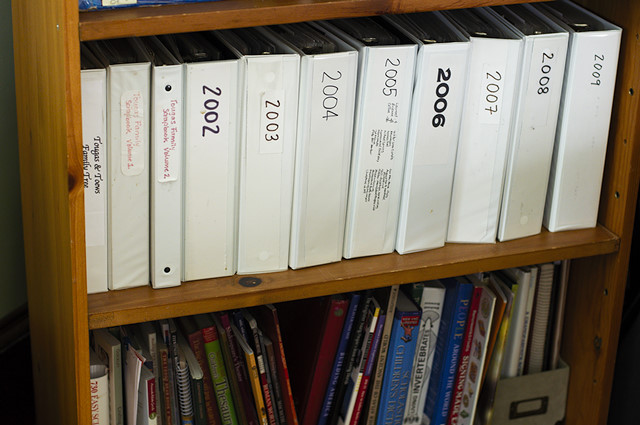 After that I'm done. No more albums. This blog has become where I record our family's history. I have written here for almost five years and many of those early posts are printed and in the yearly photo albums.
Our family photos from the past six years or so (thousands upon thousands since getting my D-SLR camera) are on the computer. Cataloged by date and since January 2010 keyworded. But most importantly backed-up.
And yet... I'm not totally comfortable with this decision, though I see no other solution. The fact is I love to write for FIMBY and the writing and other blog work consumes my "extra" time. Time I used to spend making family photo albums. I've always been a keeper of our family story, only now it's gone digital.
I have some honest questions for you family memory keepers and would love your feedback.
How do you keep your family's memories? Are you happy with that solution?
Does your family value the work you put into that? Do they ever look at or enjoy the fruits of your labor? (Our yearly photo albums are least looked at, the kids gravitate to their personal memory boxs and binders).
What is your long term goal for keeping family memories?
How do you mesh the digital with the something-you-can-hold-in-your-hands world?
Can you still fit into your grade nine grad dress? (wink)
I'm hoping to gain from your feedback. We do intend to someday publish what we've written on our blogs in some form. Right now my big hang up is cost and getting my photos to look right when printed from the web.
Would love to hear from some of you to see how you manage family memories.
Renee Tougas participates in affiliate marketing, including the Amazon Services LLC Associates Program. Whenever you buy something on Amazon from a link you clicked here, I get a (very) small percentage of that sale. See disclosure for further explanation.
Filed Under
Resource Library
You can subscribe to comments on this article using this form.
If you have already commented on this article, you do not need to do this, as you were automatically subscribed.