The uninspired garden update
June 23, 2009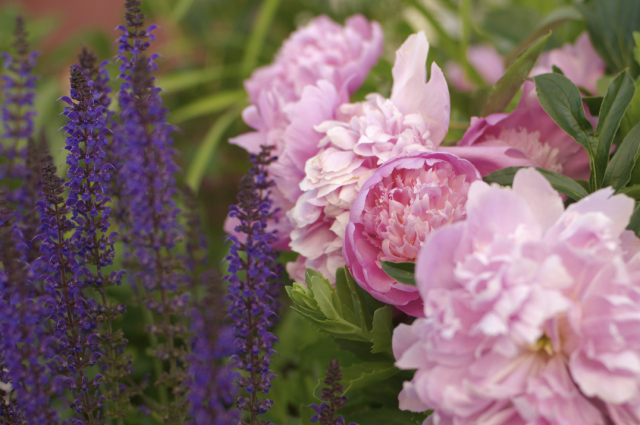 Homemaking blogs these days are all about gardens and what's growing. I've been so uninspired in that regard, what with the 40 days and 40 nights of rain we've had. I exaggerate of course but you get the idea of how I feel. But... I don't want to be left behind while everyone else is talking about their gardens so here's what I have to say about mine: it's wet.
Vegetables and Fruits: Enough for Snacking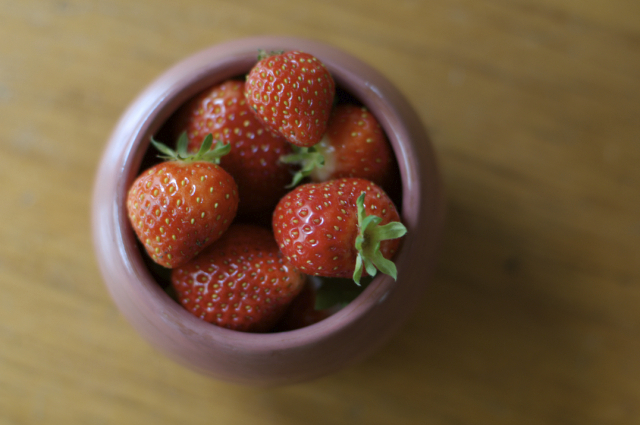 After having delusions of grandeur in past years that I should work towards growing enough food to feed our family (I blame Animal, Vegetable, Miracle for that) I've finally reached a point where I'm happy saying I grow a snacking garden. Berries by the handful, not buckets. Peas by the pints not pecks. You get the idea.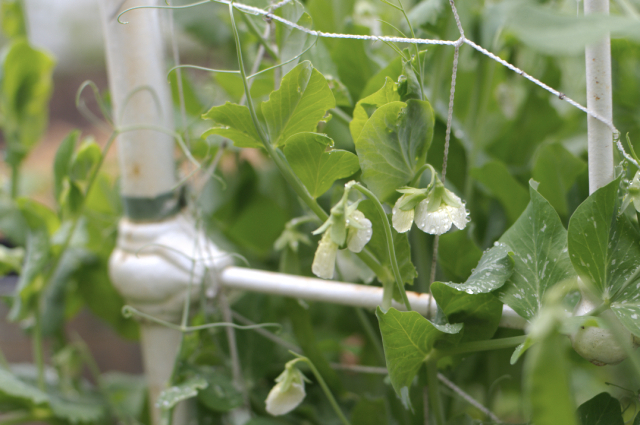 Except for tomatoes. This year I've planted 14 plants of 6 or so varieties. Some heirlooms and some not after last year's failed attempts at the growing the "purples" - they all rotted on the vine. But this year's tomatoes are in a different location and I wonder at the harvest after all this rain and I think, as much as I tried to choose a sunny site, they might get less sunlight in their new bed.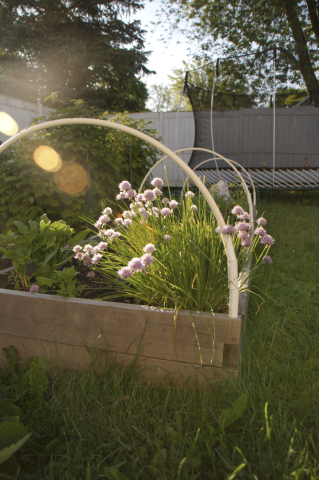 The greens bed is quite... green and going to seed in fact. Time to rip out the Tatsoi and plant those St. Valery Carrots. The first seeding of Bright Lights Swiss Chard never did "take" so I planted more and filled in the rest of that 9 sq ft space with Mokum Carrots. We've eaten a few meals with the Arugula & Tatsoi but I still think it's more work that it's worth for how much I'm able to grow. Our family eats a lot of greens! But I'll continue to grow greens in this bed because it's fun and it helps me appreciate how much effort goes into every head of lettuce and 2 lb bag of spinach we get from our farm share.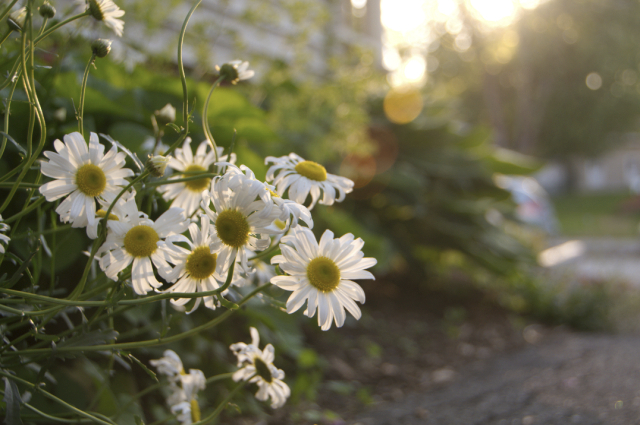 Flowers: the Joy of Gardening
I grow more perennials than I care to name and have enough blooms to grace our table with continuous bouquets throughout the summer. After years of planning I have a non-stop show of color in 6 perennial beds from April through November. With plans to expand, always wanting to expand.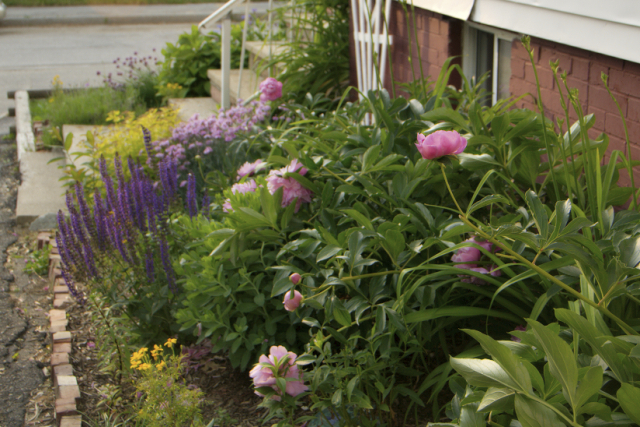 Flower gardening makes me happier than I am able to properly communicate. Because some days are just down right dreary but when there's a pretty bouquet on your table or the spicy, sweet scent of Dianthus greets you as you walk up your front steps, and there's a plant of lavender to run your hands through and breath deeply life just doesn't seem quite so bad. How people manage to live without flowers in their lives puzzles me.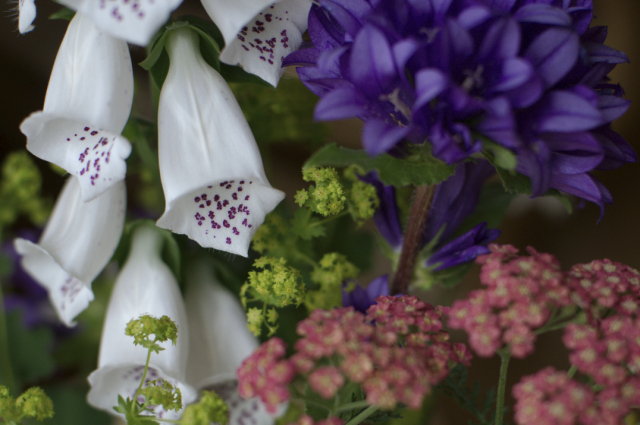 I'm sure you've noticed my FIMBY logo is a blossom and most header pictures are flowers and there is a very good reason for that!
Kiddo gardens: Building and Planting
Someday I might actually post a tutorial (my least favorite kind of posts to be honest) on how to build a backyard pond - because this spring Laurent & I built one for him. It's small and not very photogenic right now so I don't have any pretty pictures to show. But it is sustaining life; tadpoles, lots of mosquito larvae, a bunch of slimy amphibian(?) eggs, a pond lily, pickerel weed, fairy moss and hundreds of microscopic creatures. A
dream
come true for my son.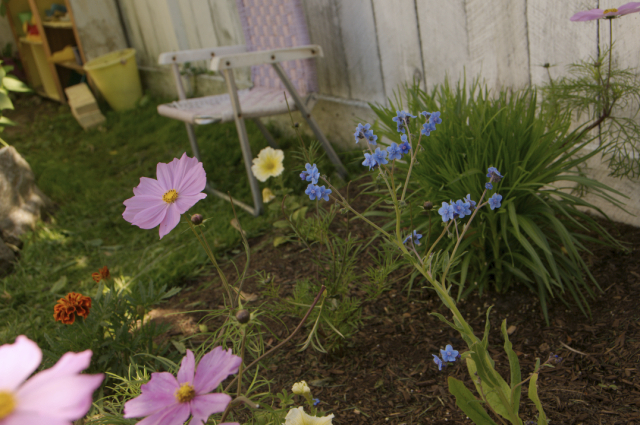 The girls each built a flower bed. Brienne's is little and has mostly annuals, chosen purely for how showy they are - this is Brienne we're talking about here. She meticulously weeds and dead heads her cosmos and petunias. She makes my heart glad.
Celine's bed is more mature, just like her. Since each child was given a set amount of money to invest in their project Celine decided to purchase a few perennials for longevity. She choose plants based on their height; she wants to create a secret sitting spot, and different bloom times; so her garden is always colorful. That girl's a born gardener!
Her budget didn't include enough for a rose bush, the object of her heart's affection, but grandma came to rescue on that one. That rose bush is all her baby though. Roses are not my thing, way to finicky, prone to mildew and need pruning. But Celine's armed with library books and recipes for homemade sprays - I wish her well!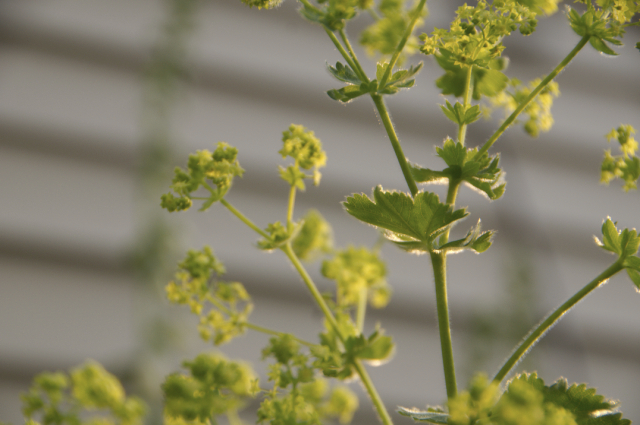 So I think that's the quick version of what's happening in the garden this spring and early summer. It's blooming, it's growing, it feeds us a little. Our gardens are a place of learning, enjoyment and work. They don't provide a lot of bodily nourishment (it will be months before those tomatoes are ready) but they feed our growing minds and our spirits.
Now if only it would stop raining so we could be outside to enjoy it more!
Renee Tougas participates in affiliate marketing, including the Amazon Services LLC Associates Program. Whenever you buy something on Amazon from a link you clicked here, I get a (very) small percentage of that sale. See disclosure for further explanation.
You can subscribe to comments on this article using this form.
If you have already commented on this article, you do not need to do this, as you were automatically subscribed.