(the ultimate) Healthy Homemaker Series ~ in the kitchen
November 4, 2013
This week I'm writing about what healthy-living looks like in our home and bringing you the best of the
Ultimate Healthy Living Bundle
. An amazing resource packed with 86 ebooks, an online conference, and bonus products to help you in your healthy living journey.
Family life is always changing and we are in a completely different stage of life than when I wrote this post about spending all my time in the kitchen.
I work now. It's been a slow evolution and my work will always shift around family life, but the truth is that I spend less time in the kitchen because I spend more time writing. And I love that.
My kids are big. They are competent in the kitchen. They can plan, find recipes, cook and clean up.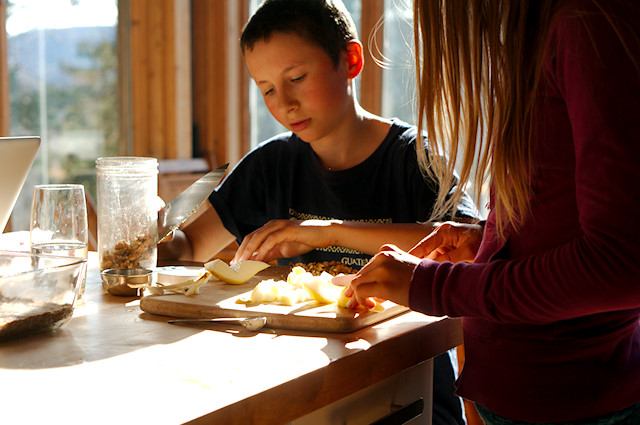 Damien is home. All day, every day. Except when he makes runs to town to buy the groceries and chauffeur the kids to Tae Kwon Do and pick up the cashews I forgot to buy at the health food store.
As it is now, I don't want to be in the kitchen all the time.
Something shifted in me in recent years. Maybe it's the knowledge that I don't have to be the only one working in the kitchen any longer, since so much more of our work is shared these days. After years of being responsible for almost all the cooking, I'm tired of kitchen work and since more hands are now available to help, I am thrilled to share the load. Thrilled.
Life is busy with kids this age, a good and bustling energy busy. When the kids were little I didn't know there could be good busy.
Busy was bad, at least it was bad for me because I couldn't run the show at home and be a whole foods cook and be a chauffeur for a myriad of activities.
But at this stage, with Damien at home and helping to drive, and kids that can cook (insert: the hallelujah chorus), busy does not mean un-healthy.
To kick off my week of healthy homemaker posts I'm sharing some tips from what works in our kitchen these days. What works for getting healthy plant-based meals and regular snacks on the table, or ready for the car (as is often the case during the week).
Tip One: Follow a Pattern
When the kids were little I used to menu plan with specific recipes but in recent years I've switched to a pattern and then I just fill in recipes as I go through the week.
This works well because after years of eating this way I have built a large mental repertoire of recipes so even if I don't plan for specific recipe in advance I can pull something off pretty easily.
Here's our current menu plan pattern.
---
Monday - Whatever strikes my fancy. Usually is something that takes a bit more effort, since this is the one weekday I have the time for that.
Tuesday - Chili
Wednesday - A potato, quinoa or rice base with veggies, and beans or tofu topping or sauce.
Thursday - Celine cooks. She often makes an Asian inspired rice or pasta dish but can also pull off a hearty stew.
Friday - Potatoes, kale & tofu.
Saturday - Pizza or hospitality.
Sunday - Leftovers or Damien's Asian noodle soup.
You can find more menu planning inspiration and ideas in this post.
(Just as a reminder for new readers, I am a one pot wonder cook. I make one main dish for the meal, which we usually eat in a bowl.)
Tip Two: Repeat Recipes
Two meals are an absolute given each week:
Tuesday night chili and Friday night roasted potatoes, kale and tofu.
Tuesday chili - I use this recipe from Good & Easy Eats. Same recipe every week. Often I make cornbread or corn muffins with this recipe. Again same recipe every time. (I'm experimenting with substituting almond flour for the whole wheat flour to make them more nutritionally dense.)
Friday potato, kale & tofu melangé - Friday night is youth group and half our family eats in the car on the hour long drive to church. I want to make something portable and easy for me to cook. I don't like fussing in the kitchen on Fridays.
Here's my "recipe":
Roast 2 pans of cubed potatoes in the oven with a splash of oil, salt and pepper.
Sautée marinated or seasoned tofu in a skillet. This is where I use convenience foods, buying tofu burgers that are already marinated.
Wilt/steam a bunch of kale in large saucepan with garlic, just enough water and lemon juice to taste. I will switch to broccoli soon as our farm share (and steady kale source) is done :(
Mix it all up when everything is cooked.
Laurent told me this week a light vinaigrette sauce would be good with this. I told him, "yes, feel free to make one!"
Lunch
---
Lunch is always a repeat recipe. Damien and the kids are responsible for lunch and the default is salad.
If everyone is tired of salad Damien will make his signature cruciferous veggie skillet rice dish. (You'll have to ask him for the recipe). Only he makes this, when I try it just doesn't taste as good. The third option is leftovers, which is a once a week option, at most, since my kids are hearty supper eaters.
Something new this season is a standard Saturday lunch also.
Heather's last Whole Food Kitchen course had some amazing dips and sauces recipes that are now a part of my regular repertoire. Her nacho sauce is one of my most requested recipes.
Saturdays I make two or three dips for lunch (usually bean, cashew or tofu based) and serve with whole food crackers. I make the same thing every Saturday, unless Damien cooks lunch because I'm cooking a hospitality supper for friends.
Tip Three: Kitchen "work sessions"
Last spring I shifted the parent directed portion of our homeschool routine to the afternoons. This means our afternoons are quite focused and there isn't time for snack prep and kitchen work to interrupt these lessons.
So lunch time is a kitchen work session. It is focused and intense. Damien is in charge since I'm working during this time. The family makes lunch, the kids prepare an afternoon snack (they have a rotation), and everyone cleans up.
Then we eat lunch, have some personal downtime, and "hit the books" so to speak.
Tuesday and Thursday evenings is Tae Kwon Do, right at our usual suppertime. So on Tuesdays, I make the chili during our kitchen work session and get it in the crockpot for an early supper. Five of us, in the kitchen at one time is intense and bit chaotic but we make it work.
On Thursdays, Celine makes supper during the kitchen work session. This way, supper is ready by 5:30 and she still has a full afternoon for her studies.
The point is we concentrate for a set period of time on working hard to get food ready for the rest of the day. Food that will keep us healthy and sustain our physical and mental activity.
---
Get the Bundle
The Ultimate Healthy Living Bundle has some great recipe and menu planning resources for keeping a healthy kitchen.
Here's the complete shelf of cookbooks and menu planning resources:
And here are the allergy and special diet specific books:
And the real and whole food education resources:
I've chosen to highlight mostly plant-based and allergen friendly ebooks in the Five FIMBY Favorites. However, I know most FIMBY readers are not plant-based eaters.
I can say, with confidence, that the rest of the recipe books in this bundle, (which I've skimmed through) will appeal to your kitchens. The recipes in these ebooks feature real foods, are family-friendly, with budget and time constraints in mind.
These recipes and kitchen management ideas are written by moms and homemakers and homeschoolers for moms, homemakers and homeschoolers, like yourselves.
The recipe books above are valued at $46.80. The whole bundle, including 80 more ebooks, an online conference, and real product bonuses is available this week for only $29.97.
---
A Bundle Tip & Bonus
Part of this bundle includes free access to 12 weeks of Coffee Table Conversations.
I am a featured author for week 9: Eating Well on a Tight Budget. (I'm also hoping this doesn't conflict with our trail departure but we'll work that our when the time comes.)
This online conference will be sold separately, at a later date, but if you buy the bundle now (this week only) you get it for free.
So, if you want to participate in a live (or recorded for your convenience) discussion of how to apply what you've read in these ebooks, or ask specific questions to someone with experience in these areas - you can - in these Coffee Table Conversations.
When I heard about this part of the bundle I jumped at the chance to participate. This is what I love to do!
A special bonus for you if you buy the bundle through my website:
You probably are familiar enough with bundles to know that the sites you purchase through (ie: my blog or someone else's) get a cut of that sale. This is called affiliate marketing. For this reason, I would be super pleased if you are considering purchasing this bundle that you do so through the links on my blog.
To thank you for purchasing the bundle through my blog I will be giving anyone who purchases the bundle through my site my ebook How To Start a Food Buying Club 101. Being a part of a food buying club is a key piece of my advice for Eating Well on a Tight Budget.
After you purchase the bundle just send me an e-mail and I'll send you the ebook.
Click here to get the low-down on the complete bundle.
Renee Tougas participates in affiliate marketing, including the Amazon Services LLC Associates Program. Whenever you buy something on Amazon from a link you clicked here, I get a (very) small percentage of that sale. See disclosure for further explanation.
Filed Under
Resource Library
You can subscribe to comments on this article using this form.
If you have already commented on this article, you do not need to do this, as you were automatically subscribed.