The moving report
June 14, 2015
Two posts in as many days, I know, crazy. I post to the blog as often as I have something ready to publish. And it just so happens that this weekend I have two posts ready back to back.
We are almost done our move, which we staged in a few parts.
First, we packed up and moved all our belongings to our apartment in Montreal. (Actually, the real first part of the move was our trip in April when we found our apartment.)
This transfer of our belongings happened last weekend in a whirlwind three day trip. Two full days of driving (it's about nine hours to Montreal, without food breaks) with a day sandwiched in-between for unloading, setting up what furniture we have (not much), and picking up what appliances we could. Apartments in Montreal generally do not come with appliances, unless you buy from the previous tenant, which we couldn't since the apartment had been completely renovated and there was no previous tenant.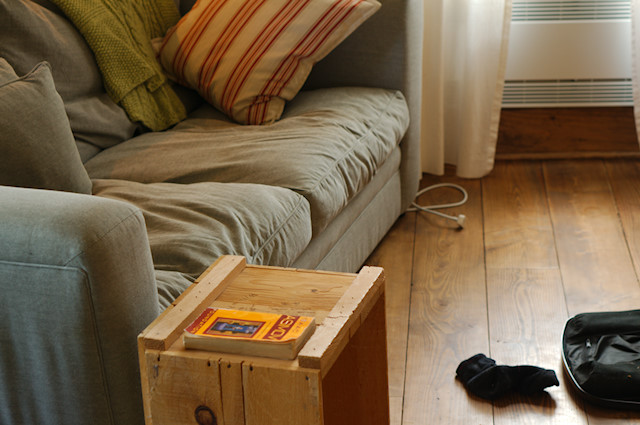 My brother took the bus from Guelph, Ontario to help us unload and do anything else we needed doing. My brother Brad is rock-star. Being closer to his family is just one of the perks of moving to Montreal.
All of that unloading, putting the kids' beds together, a trip to IKEA to buy us a bed, building that bed, unpacking and organizing the kitchen, picking up a used washer and dryer found via Craigslist (which including moving said appliances down three flights of stairs, without a dolly), and installing the washer/dryer happened on Sunday. We crammed as much work as we possibly could into that day.
We are still without a fridge, stove, couch, comfy sitting chairs, dining room table, window coverings, and other household sundries. All in due time.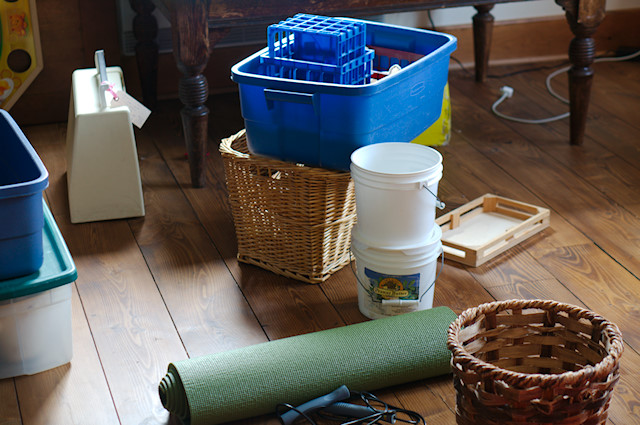 In Montreal, most leases run from July 1st to June 30th. This means July 1st is Moving Day in the city. I am hoping to score a lot of what we need in this annual moving melee.
Before moving all our stuff to Montreal I had to pack it. Some of it was still in boxes from our last move, when we left the chalet and stored our stuff in the basement of Tony and Julie's house during our hike. Most of our belongings though were unpacked while living here - clothing, craft supplies, homeschool stuff and books.
During the course of the last nine months, and especially the last couple months as we prepared to move again, I have once again gone through all our belongings.
Sorting, organizing, cleaning, and purging, yet again, the extraneous stuff from our lives. Most of those extras we got rid of here but I had to move some of them with us to Montreal since I'm at a loss for where to hand-down English homeschooling resources and books where we live. There is no community of people here to use and appreciate those resources, which is a big reason for our move.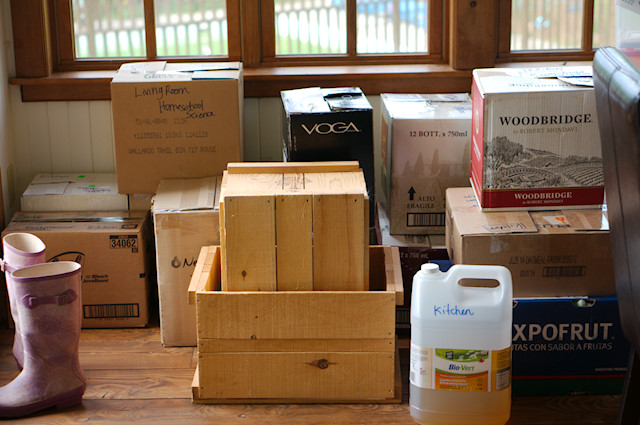 Our belongings are now as downsized as they are going to get while still raising children. When we left Maine in the Big Move four years ago, we got rid of a lot of stuff. In the past four years we've lived pretty much in furnished places so a lot of furniture went. And now that our kids have grown out of childhood a lot of the toys, etc. have left the house.
There are no groaning garage shelves. No basement with boxes of junk. No basement.
All this moving has been hard on me. But one of the gifts that has come out of it is this: everything that's left has a place and purpose in our life. And I'm excited to start our life in Montreal with this clean slate.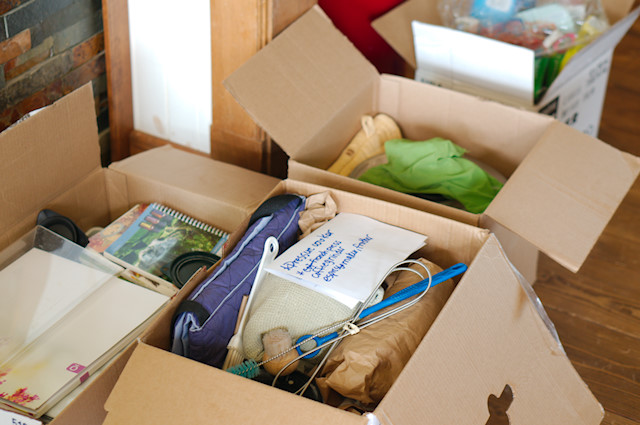 The only "things" I am still trying to figure out how to deal with are photo albums from the first thirteen years or so of married life. I quit making these albums six years ago and I'd like to digitize them but that seems like a monumental task, so we keep putting it off. These albums have a purpose in our life. They are a visual and written record of our family history, from the years before I did a lot of blogging. But they don't have a "place".
We're not a "sit down and look through photo albums" family and so they have sat, for years, on bookshelves and more recently in boxes. There is no bookshelf for them in Montreal, nor do I plan to get one. They are the loose end in our downsizing process.
I have touched our belongings so many times over the past five years. Sorted, purged, and packed. And done it again six or nine months later. I am tired of this process now. And I am done with it. Our belongings are pretty spare, unloading a moving truck with two adult men, and three teenagers took about one hour.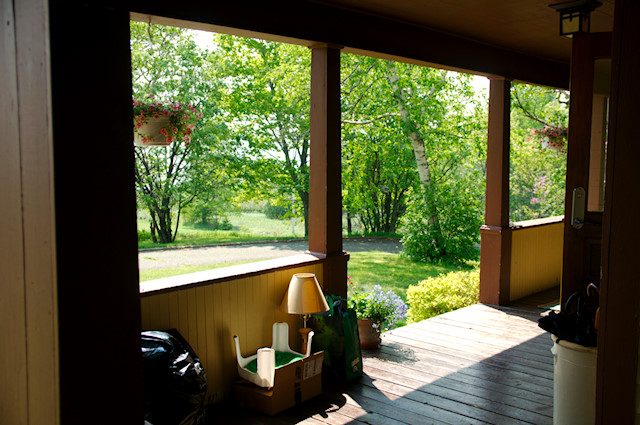 I'm beyond ready to settle now with what we have, buy the furniture we need (IKEA, Craigslist, and the yard sales that abound with the July 1st Moving Day) and live in a clean and creative space.
The kids will all be getting their own desk space with this house. Damien's raising the girls' beds, the ones he built three years ago, and building them desks below. He's working on that while we he has access to a well-equipped workshop.
I am really pleased about each person in our family having their own workspace.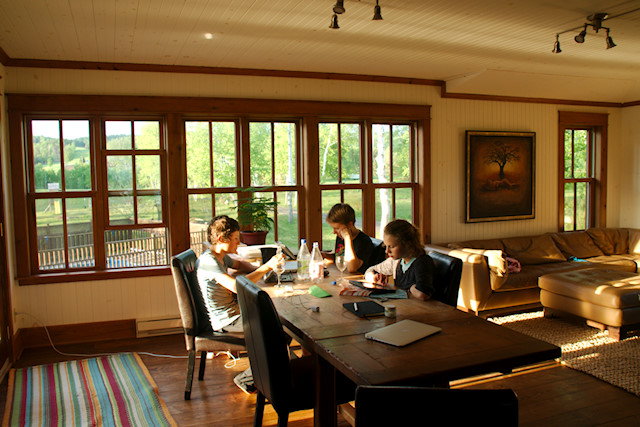 Well, that took quite the turn. I started this narrative by telling you about the stages of this move. Back to the present. After we unloaded and worked our butts off for one day in Montreal to get as much installed and set up as possible, we came back to the peninsula to finish our work here.
Every place we've lived I've left cleaner than it was when I found it. I don't spring clean I just move a lot.
This house was pretty clean when we arrived, so I don't know that I got it clean-er but I sure tried. And there are the large yard, flower beds, pool, etc. all of which I wanted ready for the home-owners return. Or as ready as we could possibly make it.
That's been life this past week.
I am so thankful for three very able-bodied young adults in the house. These kids can work and with gaming/TV time as the reward everyone's desires are met in the arrangement.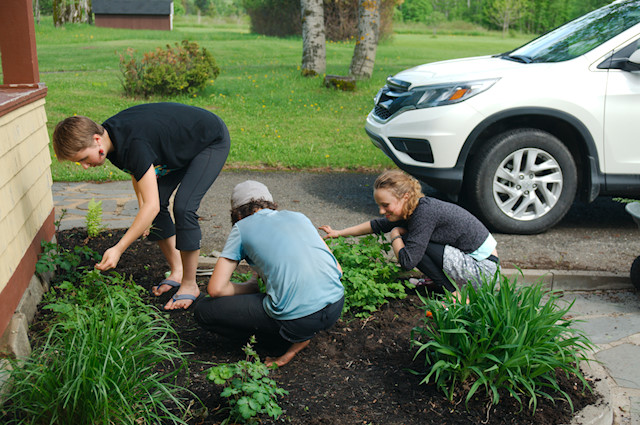 Julie and Tony and their boys arrived on Friday afternoon. It's been a great weekend with them. I was a bit nervous about the transition period of giving them back their space. I struggle with people-pleasing tendencies and I didn't want to disappoint them in how we took care of their home, which we loved and lived in as it were our own.
This house was a gift to us and we felt immeasurably blessed by Tony and Julie's generosity to us. We had some good times in this house, it has become a part of our family story. However, I've gone through a very difficult personal period while living here (which had nothing to do with the house). This home was a safe refuge for me. Like I said, a gift.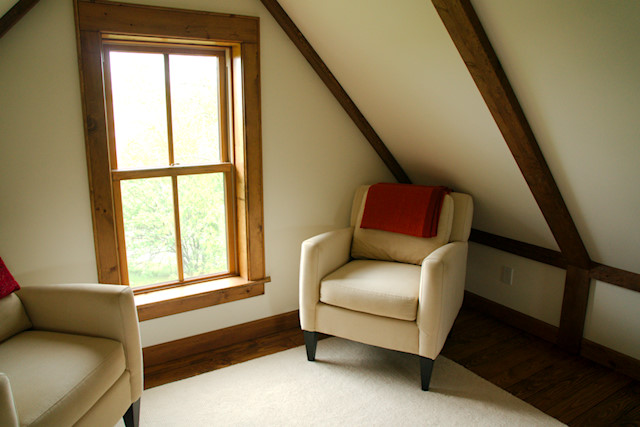 With the return of our friends and the end of my work in preparing the house for their arrival it's time to shift into another gear. It's time to shift into summer.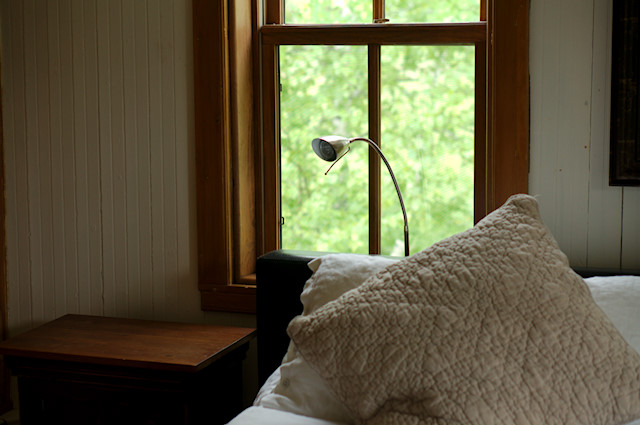 We'll be moving permanently to Montreal later this wek.
We're living in the guesthouse right now and I am enjoying the "vacation-like" feel of this space. I have paperwork stuff to do before we leave but I also want to relax and play tourist a wee bit.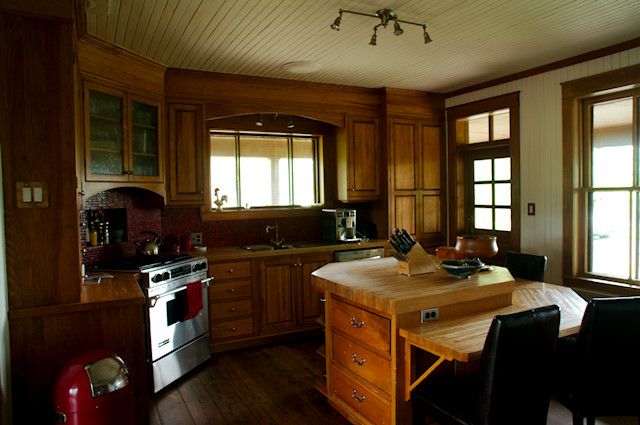 I've said most of my goodbyes here but there are a few more I need to make.
And then it's time to go, time for the next chapter.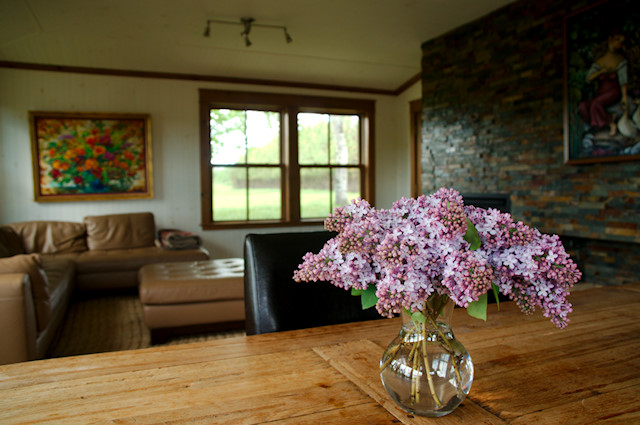 A time of making home, somewhat permanently. A time for finding a church community that we connect with. A time for enjoying the relatively clean slate of a new living space, our belongings pared down to those things which have a place and purpose in our lives. A time for making new friends, which I love to do. A time for discovering a beautiful city. A time for connecting our kids with the resources and community they need. A time for Damien and I to find new interests and loves together while carrying over those from our past that still fit.
Time for a new season of life.
You can subscribe to comments on this article using this form.
If you have already commented on this article, you do not need to do this, as you were automatically subscribed.