The Door That Damien Built ~ A Change in Housing Priorities
April 17, 2011
This post is the first in a series of home renovation posts. These are the follow-up posts in this series:
Weekends are busy. Friday and Saturday are dedicated "getting ready to move" days for our family. Easy meals (pre-washed salad mix, canned beans, tortilla chips, salsa, store bought dressing) and a big home renovation project are always in the works.
Sorting, organizing, decluttering, packing. Kids playing, crafting and participating in household tasks.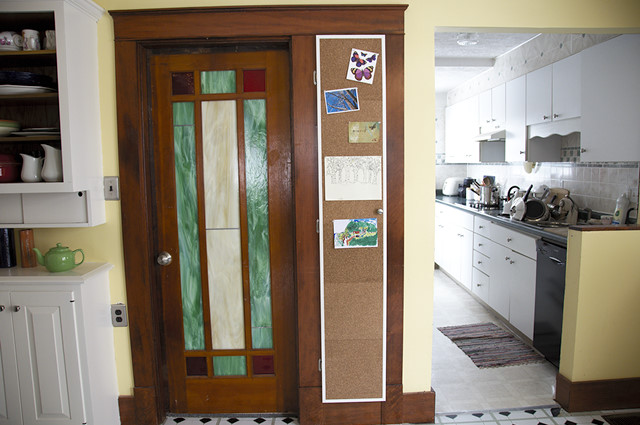 the bathroom door that Damien built
Damien takes Friday off from his job to have an extra day to work on the house projects. On Sunday we hike.
Lather, rinse, repeat. The routine is getting old. And tiring.
Especially when you're doing all this work for a house you won't even be living in.  
A little history about our house
We bought this house six years ago. Before buying it we had paid off all our other debts and determined to remain consumer debt-free (not including a mortgage) for the remainder of our days. We also didn't want to be house poor - paying so much for our mortgage we couldn't afford to save money, eat good food and take modest vacations.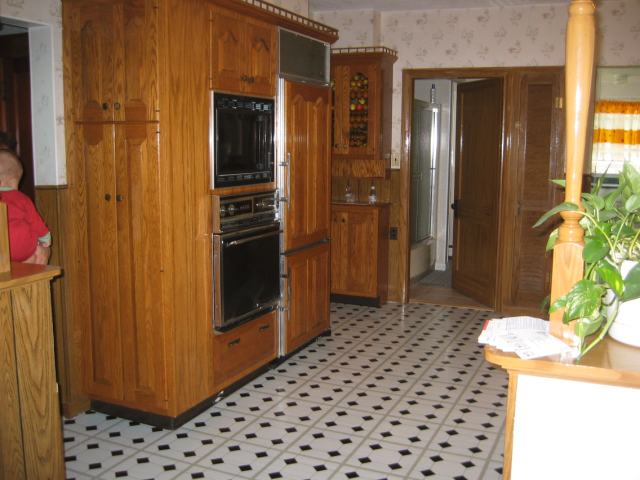 kitchen appliances in "dining room"
We wanted to be in the city, close to shopping and remain a one car family. We didn't want a cookie cutter suburban house (not like we could have afforded one anyway and Maine has few of those to begin with). We wanted a yard and enough space for family of five and frequent guests. 
Having determined our priorities and our budget (much less than the bank was willing to loan us) we went looking for a house.
The prospects were dim. When we found our house we placed an offer that same day, this was when houses were snapped up off the market pretty quickly. Ah.. the good old days.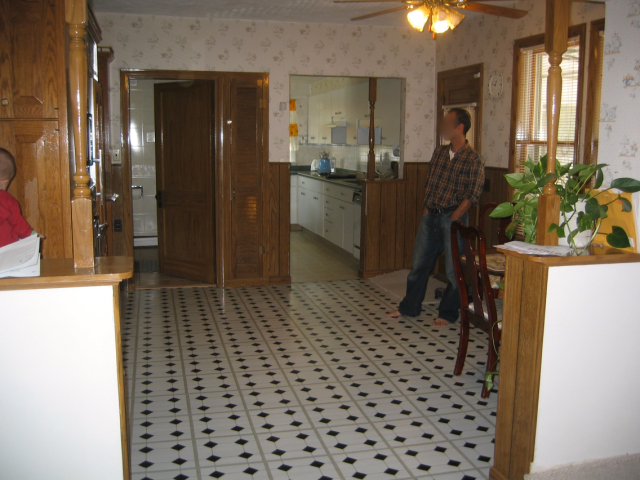 dining room, looking into kitchen and bathroom
Our house had good bones. It was in an good urban neighborhood. All the major things - roof, foundation, and overall structure were solid .
The house had character. Gorgeous original wood trim and wood floors throughout the whole upstairs and the promise of wood underneath (newly laid?) living room carpet.
It had enough space and a decent yard for an urban lot. And we could afford it because it had a tenant apartment which would help pay the mortgage and utilities. 
And in timing that we can only credit to God, Damien got a job at the college three blocks from our house three months after we moved in. 
Because of all this we could look past the very dated decor. The fake wood paneling, carpet that covered the original 8.5 inch baseboards, '70s ballroom chandeliers, wallpaper. The works.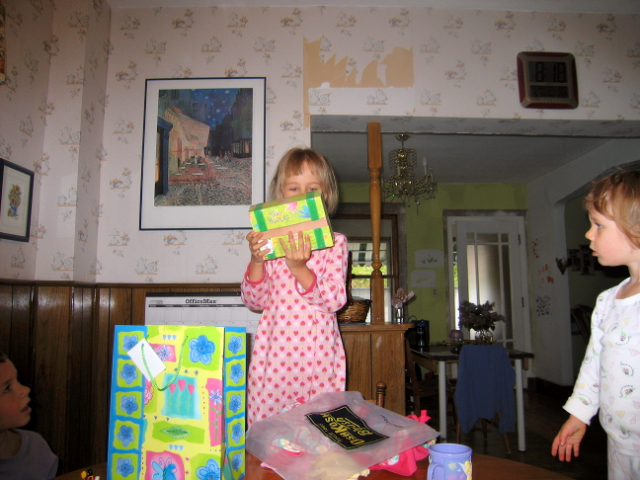 birthday morning, dining room, May 2006
The house had a lot of potential. It wasn't perfect but it was fairly charming once you got past its façade.
Plus, we planned on living here for many years and knew eventually we'd have the time and finances to fix it up to our liking.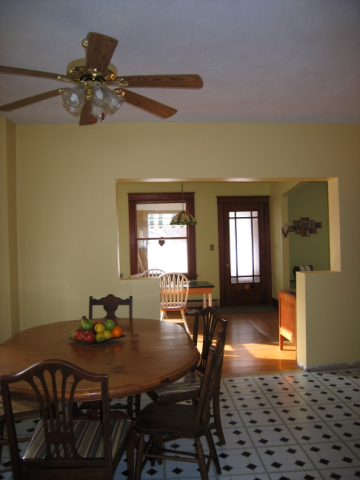 dining room - first stage done, looking into living room, 2008
Over the years we have spent much of both - time and money - maintaining and renovating our house. We started in the apartment since we wanted to attract and keep good tenants. But there was always something preventing us from speedy progress on house renovations.
First it was having little children and little cash. And then when we'd have some savings we'd have to spend it elsewhere, like fixing the tenant's apartment or for an emergency. We did make progress, but slowly because we had other priorities.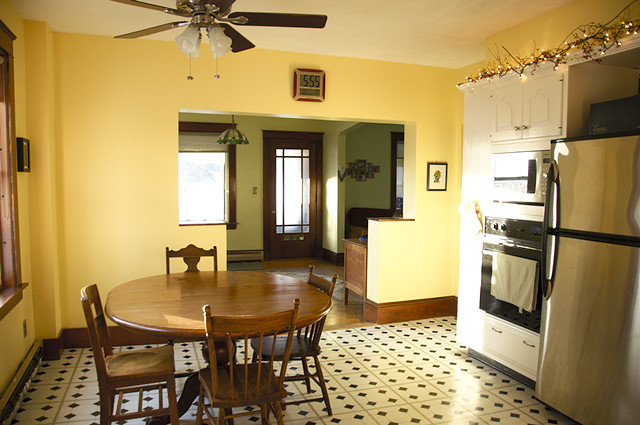 dining room (finished!) March 2011
A change in priorities
Realizing that you only get to raise kids once we decided to invest more in building family than renovating a house. Especially since carpentry is not Damien's trade nor my area of expertise.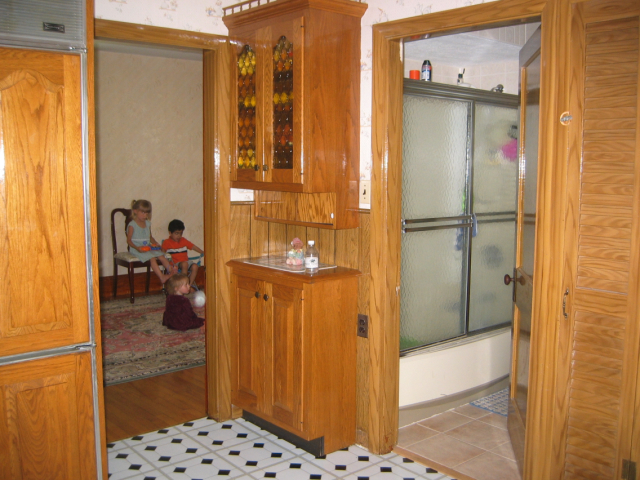 original bathroom corner
Specifically, we made a decision to spend a significant amount of time outdoors together. Through the years we also discovered other interests, like writing and photography, that took time away from working on our house. So although we were always working on some house project or another the home renovations were a slow go.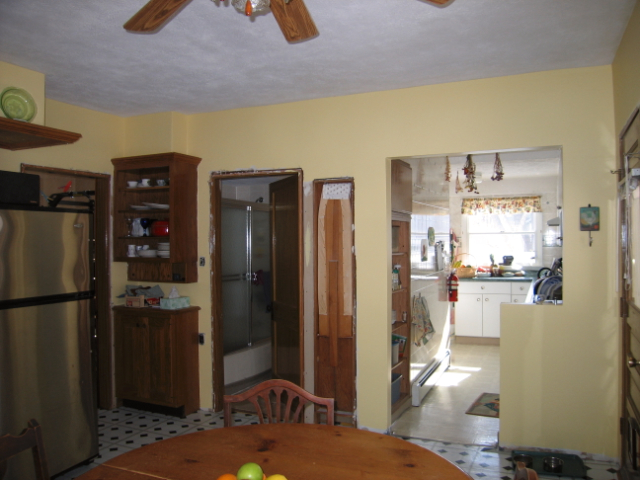 bathroom corner in progress
We've grown as individuals and as a couple in the past six years and learned more about our passions and what excites us - and it isn't home renovations.
Coming to this conclusion was difficult for me. My father is a professional builder. Building is in his blood and it's his passion. I grew up in beautifully built and exquistely decorated homes. That was my father's business and it's what he loves.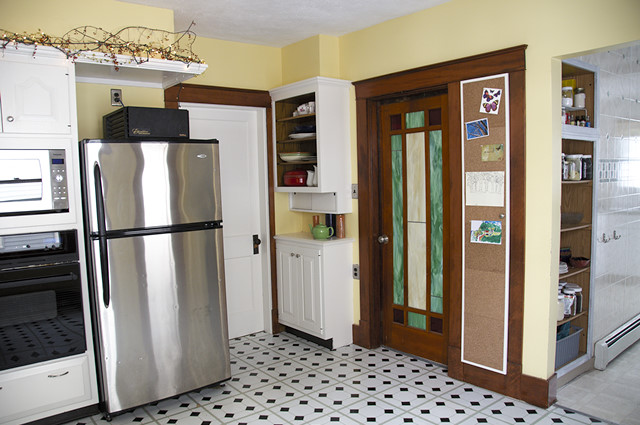 bathroom corner done! March 2011
Letting go of that expectation for my adult life - to live in a beautifully constructed and finished to perfection house - has been hard. I have shed many tears (yes tears, I am recovering perfectionist) but I'm learning to accept who I am and who we are. And what is realistic given our life goals and mission.
So what about the door that Damien built? 
Realizing we are not home renovators by passion but by necessity did not change our situation. We still lived in a house that needed upgrading. And once we decided to move we needed to fast track those renovations.
Projects we thought we'd have years to finish we now realized needed to be done in just a few months. So of course some ideas were scrapped altogether. There is only so much humanly possible (within a budget) in such a short time.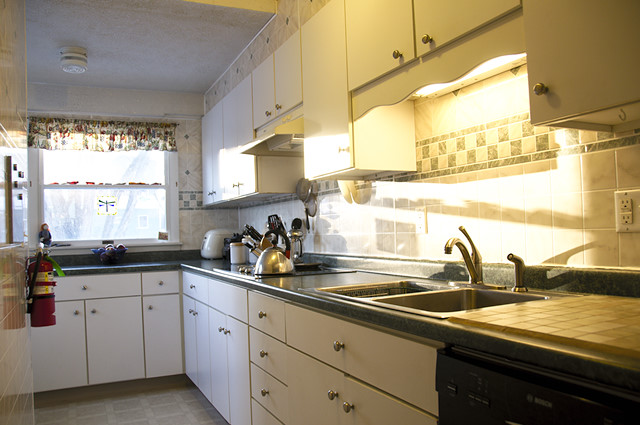 our galley kitchen
Those ideas that were actually doable have been consuming a large chunk of our time. Time we are sacrificing from other areas to meet the goal of moving in one month.
Damien's been working with such diligence and I'm so impressed with his committed and steady progress. I'm not a home renovator so my role is to balance the budget, manage the apartment, and be overall support crew.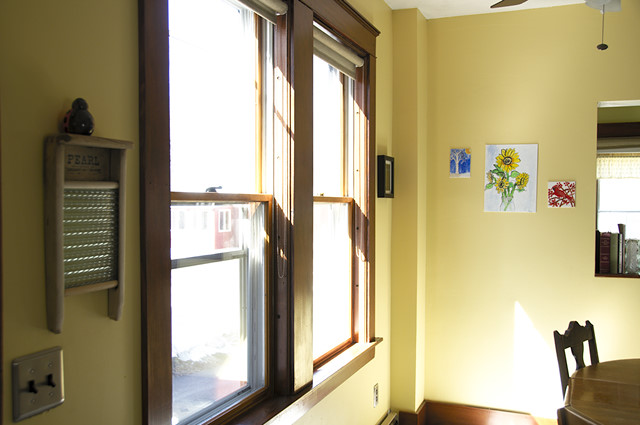 window trim that Damien built
Over the years Damien has done some amazing work in our house and the photos you see throughout this post are a testament to that. All this beautiful woodwork around the windows - he built that (my Dad did the wall repair and painting).
The original wood around the kitchen and living room windows was removed and replaced with ugliness, you don't even want to know. So Damien painstakingly designed and built replacement trim to match the gorgeous wood upstairs that first wooed us to buy this house. 
And the bathroom door - he did that too. Including the glasswork. The trim he made from new wood to match an old door we found in another location in the house. Behind the corkboard is the original 1930's built-in ironing board.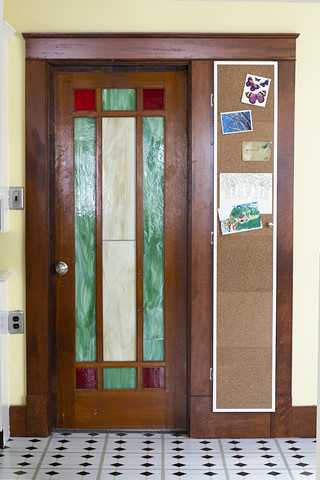 That is just one example. There are touches of his talent and sheer hard work and determination throughout our whole house.
From now until we move I will be sharing before and after photos of all our home renovations and upgrades. 
I hope you'll enjoy this little diversion into "home renovation" blog. Enjoy it while it lasts because we don't plan on doing this again anytime in the near future.  
Filed Under
Resource Library
You can subscribe to comments on this article using this form.
If you have already commented on this article, you do not need to do this, as you were automatically subscribed.