The best way to love winter is to live it
February 19, 2014
We live in a northern climate, it's winter for about five months where we live, so we've decided to maximize our enjoyment of winter.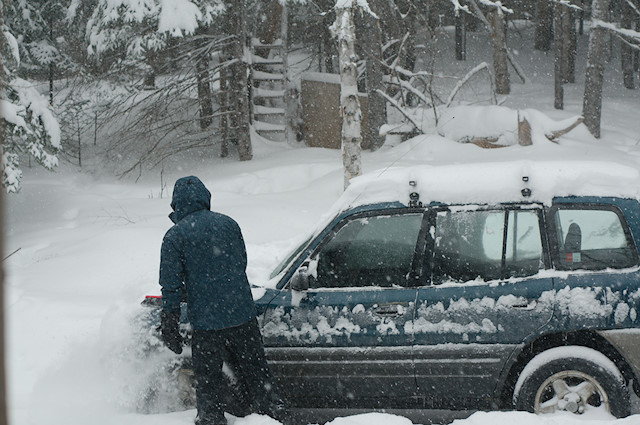 We do this by engaging in winter sports, specifically skiing, and getting out in all four seasons in general. In winter we fight against the pull to stay indoors (it's cold!), the tendency to withdraw and retreat. Because if you do that too much you'll get depressed. Ask me how I know.
This past Sunday we had the pleasure of spending the better part of the day with another outdoors-loving family. We had a huge dump of snow Saturday night and early Sunday morning. After a big snow we greet the day with so much joy - a day for playing in the snow!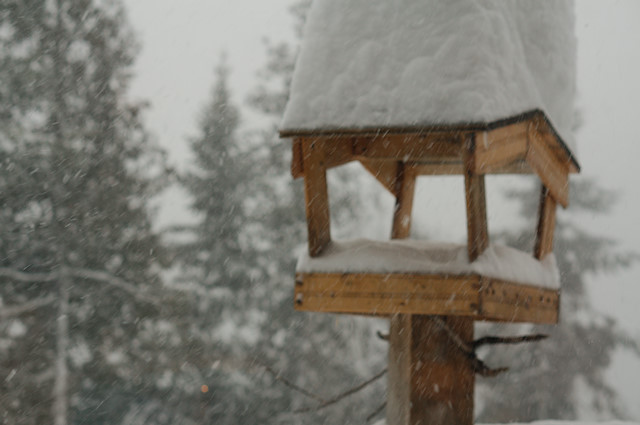 Our friends' children are small so instead of a big ski on a snow day we went sledding at the nearby school. They invited us for lunch and cappuccinos at their house. After hours of talking about adventures, travel, and the beauty of the Gaspé we were reluctant to leave.
During the course of our conversation I asked our friends about cabin fever, if they experience it. They don't. The best way to live winter, in their estimation, is to get out in it.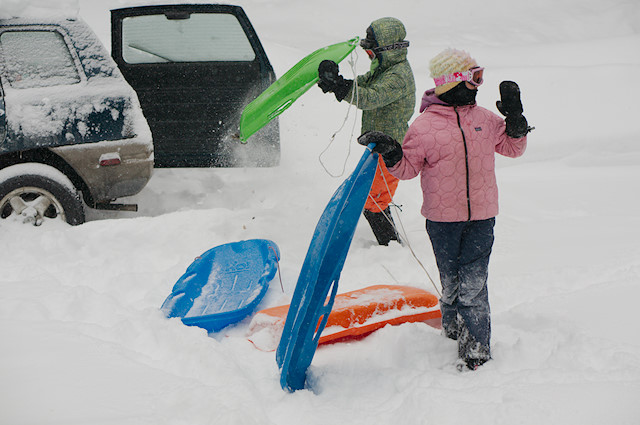 These friends love winter, they don't think it's long enough!
Do you know how wonderful it is to share a pot of lentil soup and baked tofu, after a morning of sledding, with friends who love winter? Friends who love life.
How do you love winter? Why you ski, skate and sled of course. And if you can do it from your door, all the better.
This family has three young children. They have built a life where they have time to zip up the snowsuits. Because like all things that demand our attention, learning to love winter and engage in it will take time.
Our friends have the time, make the time. They are cool people to hang out with. They love to travel and have outdoor adventures, they live life to the full with their young children. They love where they live, and so do we.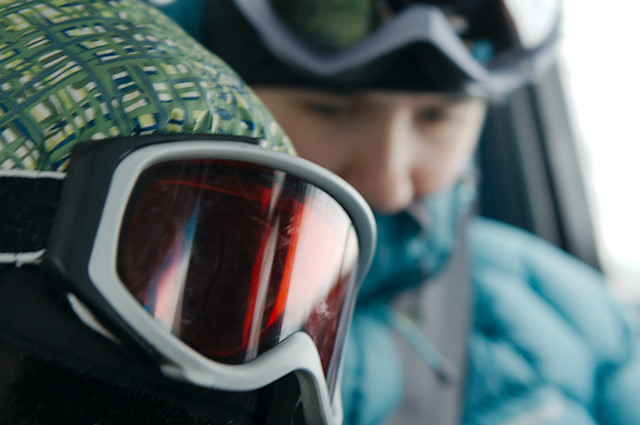 Enjoying winter is about attitude and opportunity. Having the right attitude and providing yourself with the most opportunity to enjoy it.
Every morning I stop my work, all the things that must be done, and get outside for some exercise, usually with the kids. (They have to spend time outside everyday, most often they choose to exercise with us during that time.) My minimum is one hour of fairly vigorous activity but if we have time for a 2 hour ski, oh heaven, that's lovely.
The daily exercise outdoors is a non-negotiable part of my winter wellness plan.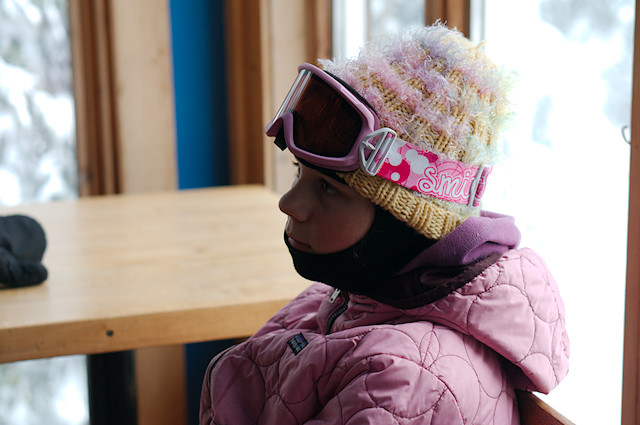 Other key components of my winter wellness are daily supplements (2000 IU of D3, and omega-3's) and a happy light.
Many of you have asked how that's working. Wonderfully!
I have not yet experienced the winter blues (my January overwhelm was a case of something different called "OMG we're hiking the AT in 3 months") nor do I have cabin fever, yet.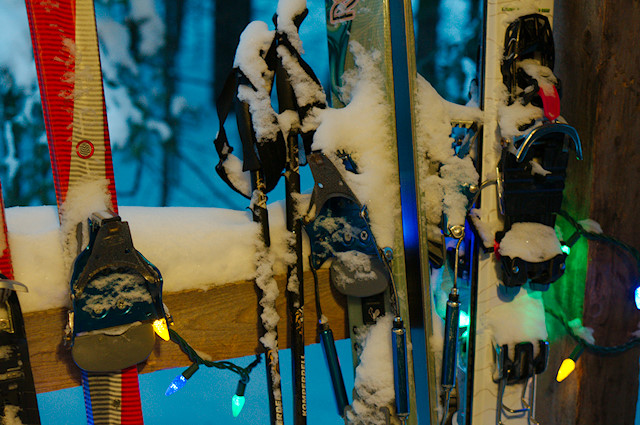 In fact, I feel really quite fabulous this winter. Perhaps I'm just too busy. Or maybe I know winter will end for me in six weeks when we start the trail. The definitive end to winter probably helps.
The more I live winter the way a child lives winter - with my whole body and all my senses - the more I enjoy it. The more I build outdoor activity into my day, the more I love life, in all seasons. It makes me want to spend more and more time outdoors.
Telemark skiing, specifically skinning up a mountain and skiing down on a regular basis has totally energized my winter. It is such good exercise and so much fun. I told Damien this year I never want to live anywhere I can't ski in winter.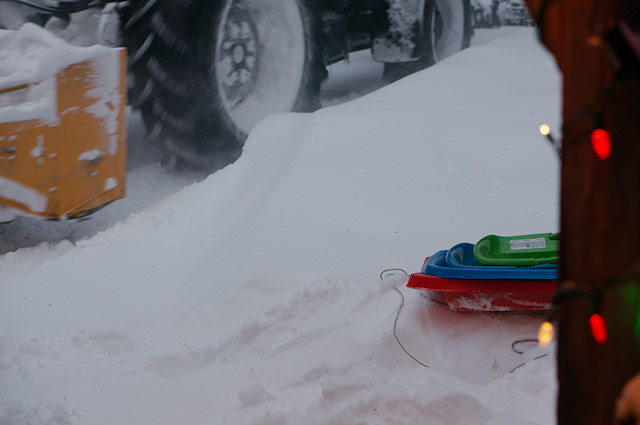 Quebeckers, or maybe it's just Gaspesians, have a winter joie de vivre I haven't experienced anywhere else. I know very few locals, in fact I can't name a one, that complain about winter.
Maybe they know life is too short to complain about where you live. Maybe I'm just hanging out with the right crowd. Maybe people here know the best way to love winter is just to live it.
This must be why Quebeckers are so well represented, and medaled at the Olympics. Go Canada!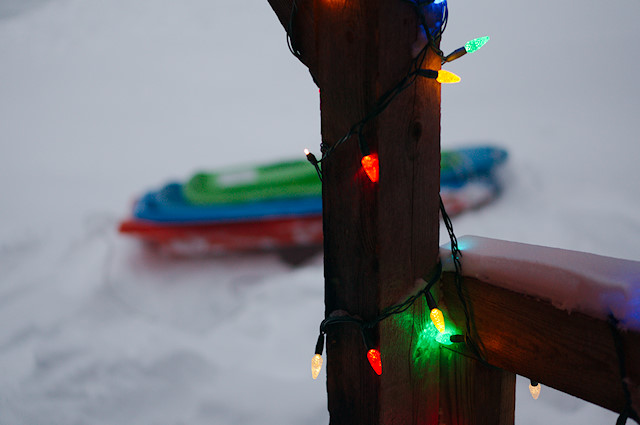 I know it's hard to prioritize outdoor winter exercise, but the same could be said for any new discipline. And when I'm not motivated the together principle helps a lot.
I can't imagine not skiing, or going through my week without the outdoors, because winter outdoors energizes me to do winter indoors.
You can subscribe to comments on this article using this form.
If you have already commented on this article, you do not need to do this, as you were automatically subscribed.