Technology is the New Literacy
June 17, 2013
It's no secret that we own and use a lot of computer technology in our home. Computer technology is our family's livelihood. My husband is a computer programmer and web developer. We write blogs and we sell digital products.
We depend on the internet for everything from putting food on the table to downloading books to read.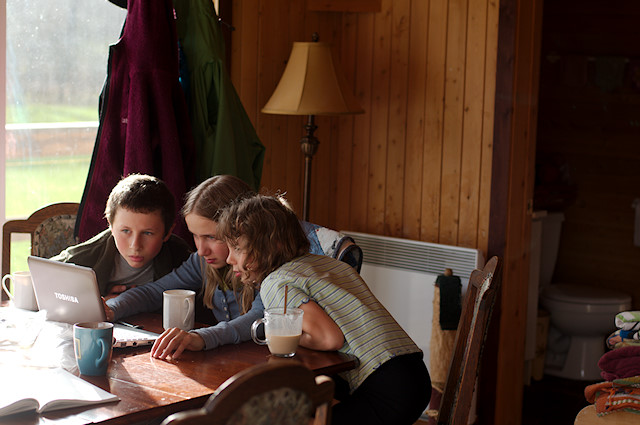 We have built a life dependent on computer technology, and so have many other people, whether they realize it or not. Computer technologies support every industry in our modern world. Some find this thrilling, others find it scary.
As a family with a bent for natural and simple living (we are creative with our hands, outdoorsy, and even minimalist in many regards) we are always striving to use technology in meaningful, not mindless, ways.
Our aim is to use the amazing resources available to support our family values and help us reach our goals.
As homeschoolers we believe technology is a fabulous tool for home education, education period.
Technology allows homeschooling parents to provide an excellent education for their children regardless of where they live. And even to some extent, regardless of income. (I say "to some extent" because you need some hardware, software and an internet connection, at minimum. But these are still cheaper and more versatile than many other education options available.)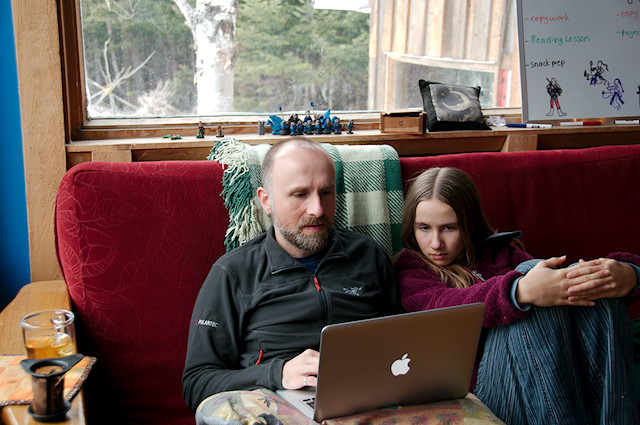 As our children grow, they are using more technology tools all the time. From the time they could reach the keyboard they've always had supervised access to our desktop computer. But that access was limited when they were younger. Limited by their reading abilities, their interests, and resource availability (the kids and I used to share one computer).
Also, when our kids were younger I was very intentional about "grounding them" in hands-on, tactile experiences; and more generally limiting their screen time. 
My how things change in just a few short years. It started with Céline getting her own Kindle at the age of eleven. And since then there have been iPods and iPads and now individual laptops.
Céline is no longer a child and her learning and interests involve a lot of technology. The younger two are still children and use technology to a lesser degree than Céline. But because Céline is leading the way, as the oldest do, our younger two are exposed to more technology at their ages than Céline was.
I've been getting questions about what devices we use and why, what technology we allow in our home and at what ages and stages.
I'm happy to share more about what works in our home and our decision-making process around screen-time.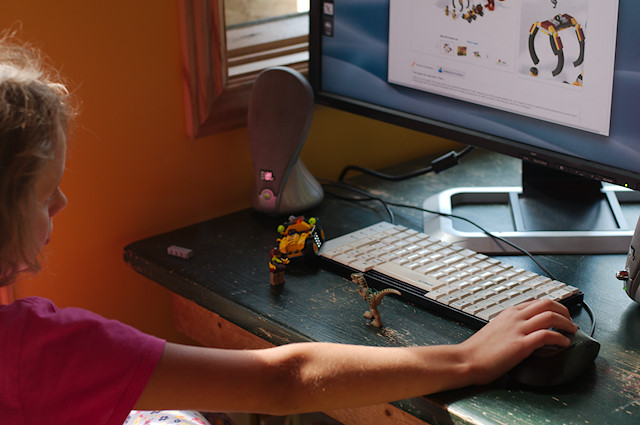 First off, I have to start with an assumption. And indeed this is the backbone, or our philosophy, as to why we want our children to have access to technology and to learn how to use it.
Technology is the new literacy.
Knowing how to read and write once separated the haves from the have-nots of this world. We believe access to technology and knowing how to use technology wisely will separate the haves and the have-nots of the future, if not so already.
This is the future we are raising and educating our children for.
Our world is getting increasingly technologically complex and our children are going to have to be comfortable in that world if they want to be successful in their adult lives. And it doesn't matter what they want to be successful in - music, art, writing, farming - all of it involves technology to some extent and we want to prepare our children for that.
Also, as homeschoolers we rely on technology to meet our needs in the here and now, not just as preparation for the future. Living in a French speaking culture and province we use technology to access English books. We use the internet to connect with other homeschoolers around the world (none in our neighborhood yet). We use computer programs and web applications to study and learn. Technology is a huge part of our homeschool.
A run down of what we use on a day-to-day basis
Our home is full of computers.
We have a Mac desktop with a large monitor. This is the all-purpose family computer. We use this for streaming video; Laurent uses this computer for his art; we use this monitor for family movie night, etc.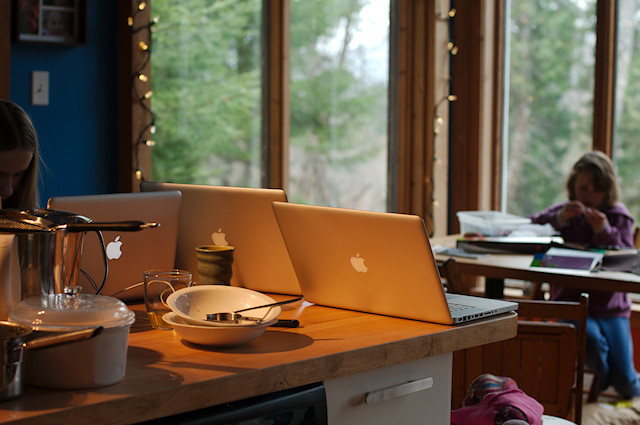 Damien and I each own a MacBook Pro for our work. I use my computer all the time for home management, recipe storage, photo editing, e-mail, as well as blogging and my paid work coaching and teaching. I'd be lost without my computer. And Damien could literally not support our family without his.
Céline owns her own MacBook Pro (13 inch) and Laurent and Brienne each own an iPad. Céline and I each also own a Kindle for reading books. Damien uses his own iPad for reading.
The point here is not that we have a collection of Apple products in our home, but that we have the tools that are best suited to our individual needs.
As a nascent high schooler Céline needs an all-around good laptop for her education and interests. She spends hours a day on her computer. Her current curriculum, which is a self-directed RPG project, is all computer based.
The computer is how she talks with her friends, does research, writes, reads, etc... It's her link to the world and is a critical component of her education.
Laurent, aged 12, still only needs a device mainly for accessing the web, audio books, and apps. His favorite apps are guide books, animal identification at his finger tips. 
An iPad serves his needs well. This is a new addition; up until this winter Laurent used an iPod for his personal technology needs.
As handy as his iPad is, Laurent is depending more and more on the desktop computer (that can run hefty programs) for creating art. 
Ten year old Brienne is a budding writer, reads ebooks, listens to audio books and music, takes photos, and uses e-mail. An iPad serves her needs sufficiently. Her favorite apps are fashion and Barbie "dress-up" games. Even paper dolls have gone digital.
Our family also owns an Android smart phone, which we don't use as a phone but as a mobile device. The current favorite app for the kids is Stop Motion Maker.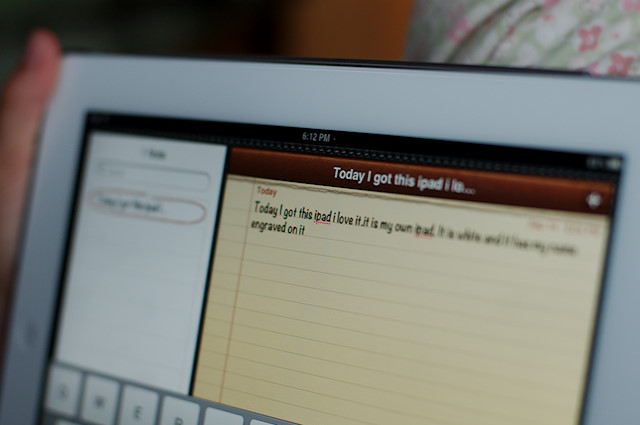 A Technology Strategy
We have a fairly thought out approach to why and how we introduce computer technologies into our home and our homeschoool. These are our guidelines.
Technology is a tool
Meeting the learner's needs & interests
Learning the hard way
Raising creators not users
1. Technology is a tool
Introducing computer technology into our home is not about "keeping up with the Joneses" nor is it about not being left behind socially. Just like buying a powerhouse blender for our kitchen, we acquire technology and learn to use it, because it's a tool in our lives.
A tool for learning, working, connecting and yes, playing. But a tool nonetheless.
This is an important distinction to make. Do we have this thing (computer, phone, blender) as a status symbol, to fit in? Or do we buy and use this as a tool in our lives. Every technology purchase we make goes through this filter. Is this a tool we need?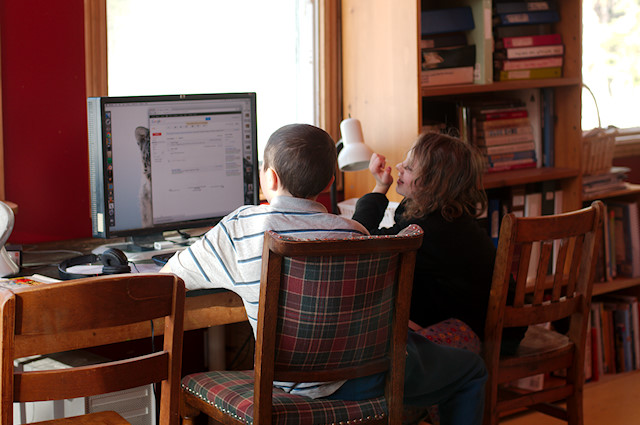 We have taken a "wait & see" approach with many technology tools and for the most part, we are not early adopters. Though Damien might be if funds permitted. (smile)
We have adopted technology tools into our home based by answering the questions: is this the right tool? and is this the right time? I feel in this way we have not rushed our children into technology acquisition just because it's popular, trendy, or whatever.
Céline spends a lot of time these days on the computer. Creating art in graphics programs, reading, researching (all her school work) and writing to friends. I had wondered when she would start writing in earnest.
Her writing has exploded now that she has a real motivating purpose - connecting with friends. The teen forum where she hangs out is like a collaborative, peer-led, and learner motivated creative writing class. (Story writing is popular with this group.) I'm delighted. Technology as the tool.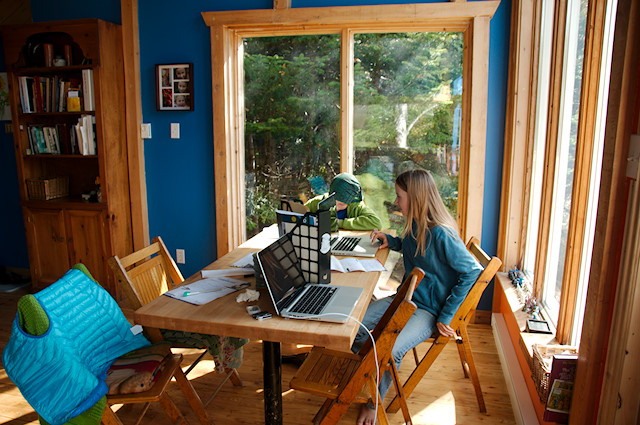 2. Meeting the learner's needs & interests
We don't have a "one size fits all" approach to raising children or homeschooling. Each of our children have unique needs, interests, and strengths.
From the time they were little they each have needed different discipline and motivation strategies and so of course as students and learners they need different tools.
Céline is a geek, Laurent is an artist, Brienne is a writer. This is not a pronouncement forever-and-ever-amen, so much as an encouragement of gifts we see in them. As individuals with different gifts they need different tools.
For example, Laurent needs tools to help him draw and make art. He also needs tools to help him learn to read, tools to access audio books, and tools to help him express his thoughts in writing. These are completely different than Céline's needs.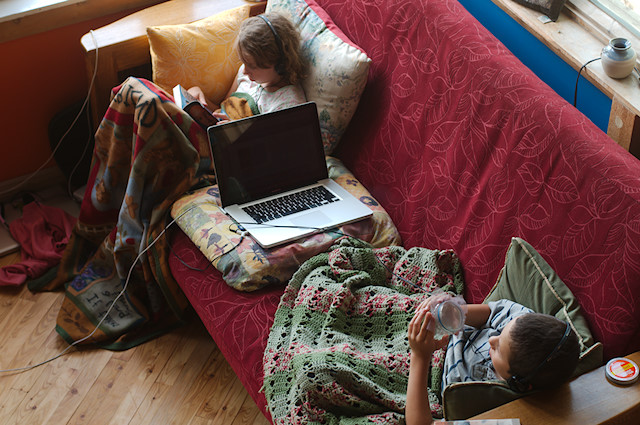 We use technology to support and meet the learner's needs and interests.
3. Learning the hard way
We don't hand our kids fancy devices and do-dads on a silver platter, i.e. they help pay. We don't make it too easy for them either. We want them to learn through the process of using technology.
When our children have a need we introduce technology that will meet that need but stretch them also. When Laurent needed a graphics program, we introduced challenging software for him to use, first 2-D and then 3-D. We don't raise the bar so high as to over-frustrate but we definitely raise the bar.
In Laurent's case, the graphic programs he uses are not the dumbed down, kid-friendly versions, they are professional. But it's amazing how much his intuitive mind can figure out in an atmosphere of no fear and lots of time.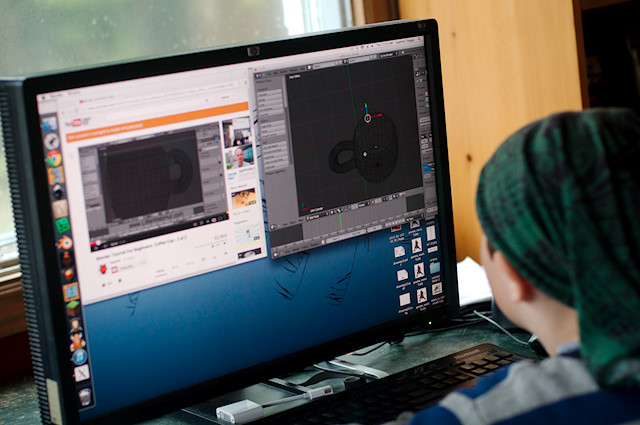 Fear of failure and fear of making mistakes hampers learning. A lot of adults have fear about technology. I don't want my kids to feel that way.
When Céline got her laptop last year she was responsible for its setup. She is responsible for all the downloading, installing, uploading, file sharing, etc. that goes on with her computer. Damien teaches her what she needs to know and she takes over from there. And then she teaches me! We are teaching her to be independent and solution-orientated with her technology use.
We don't do it all for our kids and hand them the technology "ready to use". As appropriate, we make them figure it out. And if they can't figure it out, maybe they're not ready for the tool to begin with.
4. Raising creators not users
Our goal is to raise our kids to be comfortable using the technology they need to meet their goals; and not just using but creating with the technology and designing technology themselves.
We don't want to teach our kids to be point and click users, we want to teach them to be think and create users.
We want to raise kids to become adults who make and create. Adults who solve problems, share ideas, and add meaning to the world. Computers are one of the big tools we use for creativity and problem solving.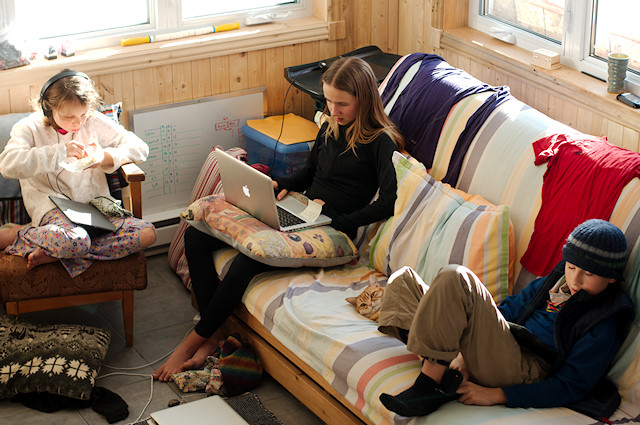 What about Social Media, Gaming & Security?
All of this we take on a case-by-case basis.
Some people are so afraid of what they don't understand, that they close themselves and their children off to learning opportunities, out of that fear. We don't want to do that; living our life in fear of the internet boogie men or whatever.
Social Media
Neither Damien nor I are huge social media users and so far our kids have no interest. Being homeschooled probably helps but we'll cross that bridge when we get there.
Céline spends a lot of her free computer time (time not set aside for her school project) on a moderated teen homeschool forum, hanging out. This is fabulous for her since she's an introvert, we live in the woods, and there are no homeschoolers within 3 hours of our home. I recommend this on-line group if you're looking for one.
Gaming
Our kids started playing computer video games just over a year ago. They were 12, 11, and 9 at the time. They only play a few. Some RPG's, a few "shooter" types, and they recently added Minecraft to the mix. 
Gaming is something we set limits on, both in terms of the amount of time and the types of games we let our kids play. (They have unlimited access to chess and other similar games on the computer.) We don't have any gaming systems or consoles, we have computers and tablets and all the games are played on these.
I am not one of those homeschool parents who thinks video games are strictly evil, robbing our children of a "simple childhood". Mind you, video games didn't enter their childhood till rather late.
Nor do I think unlimited gaming is an ok thing for our kids.
One of my favorite (edgy & controversial) homeschool writers, Penelope Trunk, lets her unschooled boys have unlimited access to screens and video games. I find this fascinating and her posts on video games are always thought provoking.
Another approach is the "generous limits" idea as detailed in this fabulous article by Lori Pickert at Project-Based Homeschooling. And if you're in the mood for more, check out parenting with scarcity vs. abundance.
Here's our approach: We limit gaming. We don't limit computer use.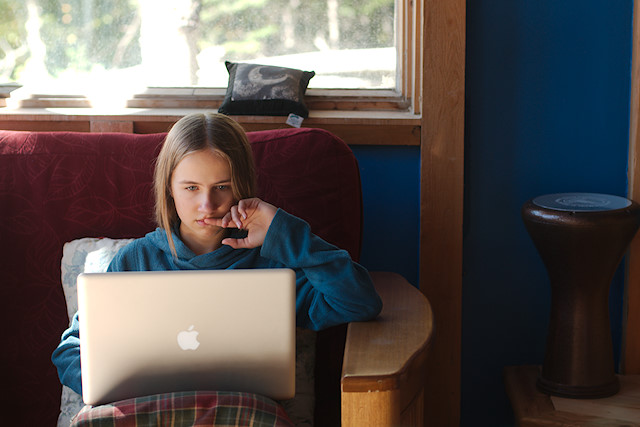 We use computers as tools; tools for creating, researching, reading, connecting, entertainment, etc...
The thing we limit is using computers simply as entertainment or mostly as a means of consuming something. We put up boundaries for ourselves around these activities and we are teaching our kids to do the same.
The gaming limits have been negotiated and re-negotiated over the past year and half. Currently, our kids can game for a long as they have been active outdoors that day. But because the day is so full with other work and play this gaming time is naturally kept in check.
I will be completely honest and say I have struggled with computer gaming limits, trying to find the best fit for our family. I've had to question and wrestle with a lot of my screen time biases.
Safety
With kids on the internet there are definite safety concerns. We have a few safety measures in place to reduce their risk of exposure to inappropriate material. The big one is all internet activity takes place in the company of other people. This is not a problem however since our kids pretty much hang out within an arm's reach of Damien or myself all day! By their choice.
We don't use any parental filters on our computers. We prefer to be physically close to each other all day and be sharing what we're doing on our computers. We use relationship with each other to monitor.
We have honest discussions with our kids about nasty stuff. We don't go into details of course but we share our concerns for their innocence and tell them what to do in the case of coming across something inappropriate (turn away, call us, we'll deal with it, and you're not in trouble).
With our younger two, because I still help them with spelling and writing, I am aware of nearly every internet search they do, "Mom, how do you spell Minecraft?" (Which they know by the way, but they ask me by default.)
As for "talking to strangers", Céline is the only one who chats on the web and we know where she's hanging out. She asks us before communicating on other sites.
So much of this comes down to relationship. Internet safety is largely about relationship with your children. This whole parenting gig comes down to relationship, computer usage is no different.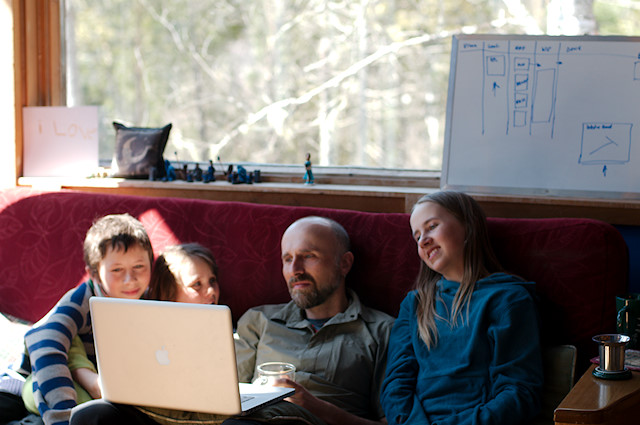 Our family is by no means a standard but this is how we manage technology and computer use in our home. Technology is tool and we use it in the context of close family relationship.
I tried to address the questions I've received but if you need further clarification I'm happy to respond in comments.
Filed Under
Resource Library
You can subscribe to comments on this article using this form.
If you have already commented on this article, you do not need to do this, as you were automatically subscribed.