Take me to Your Dungeon Master
January 28, 2013
Last Christmas (over one year ago) the kids and Damien started playing computer games together. Before this, computer video games were not a regular part of our family life.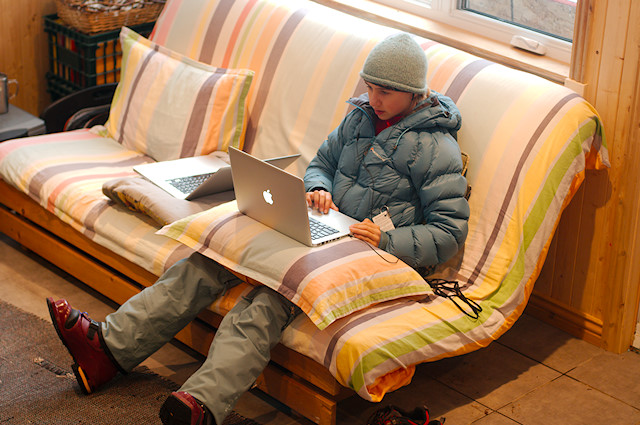 (In general, technology and computer use by our children has increased exponentially in the last year as well. But that's for another post.)
Damien has always had a bent towards computer games. But for most of our marriage these factored very little into our lives. I think he was just biding his time till our kids were old enough and he'd have a houseful of people to game with him (smile).
For a variety of reasons - our kid's growing maturity, our move and the changes to our family life, and then our month in Montreal without our usual craft bins and activities - computer games entered our lives (in a more significant way) last year. Games monitored and screened by my husband and most often played with him.
Some of these computer games are the usual type you may be thinking - car racing, shoot up the goblin type (we haven't played Minecraft, though I hear it's a hugely popular game). But other computer games they've played have been more along the lines of traditional role playing games.
A couple definitions before moving on.
Computer games are just that - games played on the computer. They span many different genres and playing scenarios.
Role playing games (hereafter referred to as RPGs) started with Dungeons and Dragons and have grown from there. Computer games are not the same as RPGs. But computer games can be RPGs.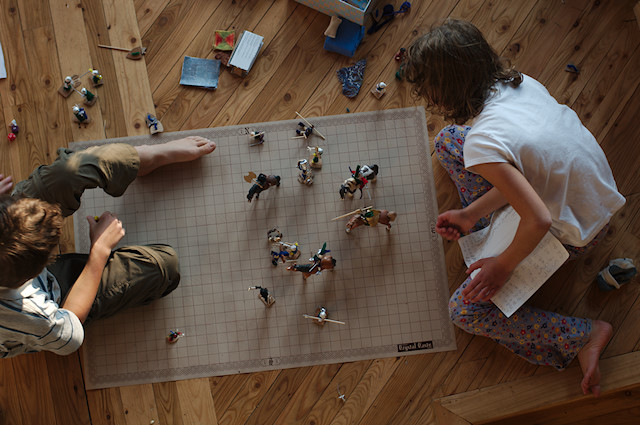 My family has played several types of games, general computer games and RPGs. The RPGs have been both computer and pen and paper play (though nowadays pen and paper includes PDF's and computer software to track your game progress because it's quite complicated).
I'm going to be straight up here. Up until this year and even during the course of this past year I have had a serious bias against computer gaming. I do that often with things I don't understand.
Computer games are bad aren't they? Hasn't this been the message of the nature-loving, simple parenthood movement? And don't we all know a few individuals (or at least heard of them) who are addicted to video games? Damien likes to point out I'm addicted to coffee. Touché.
My personality type is quite resistant to things I don't understand or have direct experience with. After a brief affair with Mario on my brother's Nintendo console in high school, I haven't played any video or computer games since. For all intents and purposes computer games have not been a part of my life. I have no interest in them either.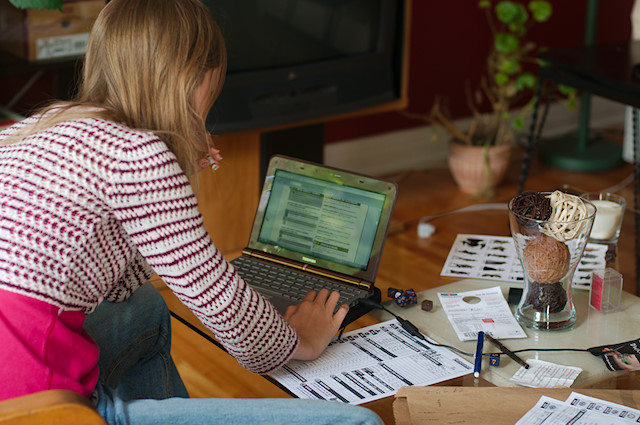 Damien's interests are quite different from my own. And as our children's parent - a very good parent at that - Damien is not only entitled, but encouraged to share his interests with our children. And this is especially true as they get older.
So I guess I can hold him responsible for introducing this totally foreign element to my ever waldorf-loving soul.
Interest-led learning is a wild, crazy and sometimes scary ride. Scary mostly for the parents I think. The kids who have trusted you all along and have only known this way of living and learning have no idea the self-doubt you face as a parent. (Well, they have some idea I'm sure. Especially in our home where I don't hide my inner-life from my family.)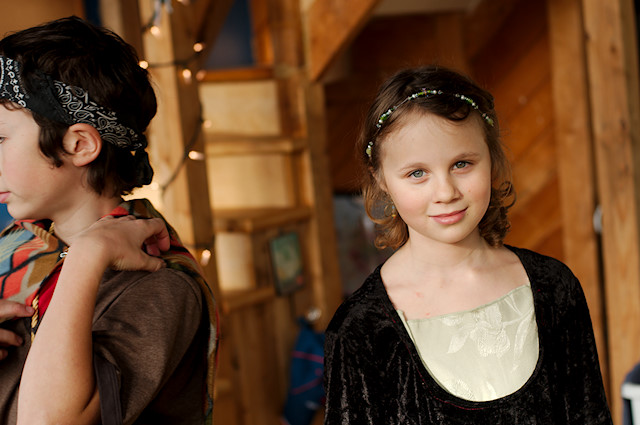 When we started our back-to-normal life routine after Christmas, I checked in with Céline before resuming her fall curriculum. I wanted her to be inspired and passionate about her learning but I had noticed by the end of our last term that Céline was not enthusiastic about certain pieces of her curriculum.
Waning enthusiasm is natural and pops up from time to time in our home schooling. In which case I may tweak the curriculum, change the learning environment, vary my approach, use different resources, etc. to fuel the fire again. Or we will plow through a bit (this can work when the kids are older) to see if that was just a rough spot.
It's my responsibility as the teacher/parent/mentor to find ways to inspire my children's learning and I tell you this is a tall order (in case some people think interest-led learning is a piece of cake). And if I can't inspire them or find someone who can then it's time to let it - it being the math, the science, the history, whatever - rest.
Letting go is the scary part. Always is.
The learning that truly does happen when you let go of what you thought should happen, that is the fabulously exciting part. It's the ultimate lightbulb a-ha moment of interest-led learning. But sometimes the process of getting there is fraught with parental doubt and worry.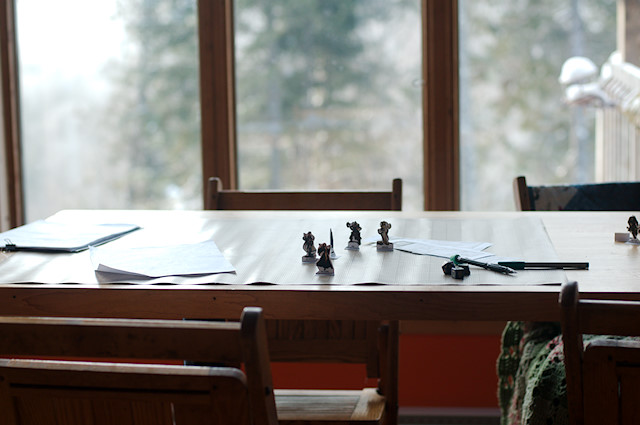 I like the metaphor of interest-led learning as a table spread with many delectable, healthy and choice foods. (And occasionally there are less-than-healthy offerings).
Damien and I get to set this table for our children. We can't put everything on the table, in our finite capacity as parents we are simply not able to do that. But we do our best.
We start with our family values, then we look at who are children are, we consider skills we think are important for them to know and learn (to one day be independent adults in a ever-changing world). Day by day, month by month, year by year, we lay this feast for our children.
Some seasons it's sparse (there are months when the food budget is tight), other seasons it's rich. But over the course of a childhood there is a lot to choose from, a lot to explore.
And then there may come a season when our child says to us - this one thing here is all I want right now. I don't need the whole spread. Just this and I'm good.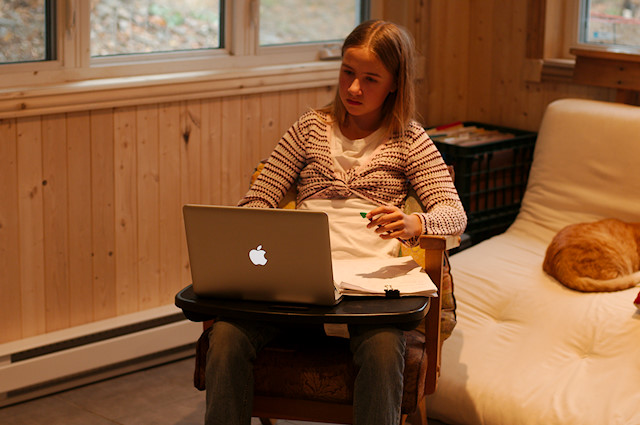 But you know they get the whole spread over the course of their childhood and it's enough. And maybe some of the stuff you put on the table no one really wants anyway.
There were a lot of things on the table last fall, some of them were sampled, others devoured and some not touched at all.
So this month when our intelligent and creative thirteen year old told us she's inspired to study RPGs and the other stuff on the table is not so interesting to her right now, we cleared the table. We are making space for this learning in her life.
Computer RPGs, pen and paper RPGs, she's fascinated by it all. RPGs light Céline's fire on so many levels. Our children have always had a keen interest in fantasy. Tolkien's Middle Earth is a real place as far as our kids are concerned. Céline's favorite reading is fantasy fiction, and she's a geek. RPGs and computer RPGs are a logical step in her interests.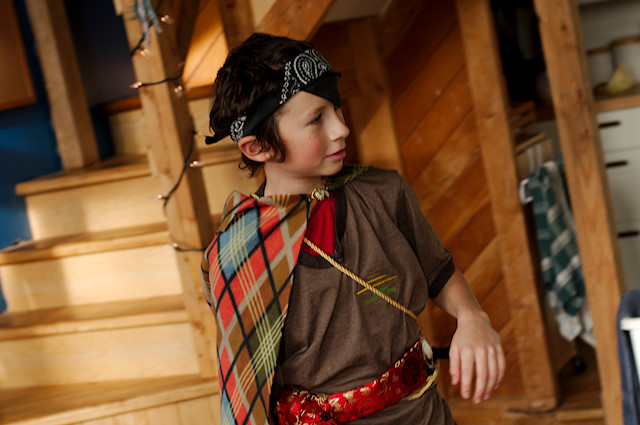 larping is a reality in our home and maybe a reality in our future?
Need I remind you at this point of my former bias against computer games? Can you hear the deep breaths I've been taking for the past six months?
Last winter I listened to a podcast by Oliver DeMille about Leadership Education. We follow a lot of the principles of Leadership Education, though not exactly (phrases like Family Executive Committee meeting and Stateswoman make me twitchy).
In that theory of education Céline is entering the scholar phase. We've had a long transition to scholar which is not surprising I feel for a first child in a sheltered home environment. I suspect our youngest will transition faster since she won't have younger siblings to engage her in core phase activities (read: lots of play). But this is not about transitioning our kids fast or slow. We let it evolve the way it must - on their time schedule.
In the scholar phase (and this is very brief) young adults take ownership for their study, under the direction of mentors. There is accountability for the student's learning and progress. But the study is still guided by the learner's interests and needs. It's their education.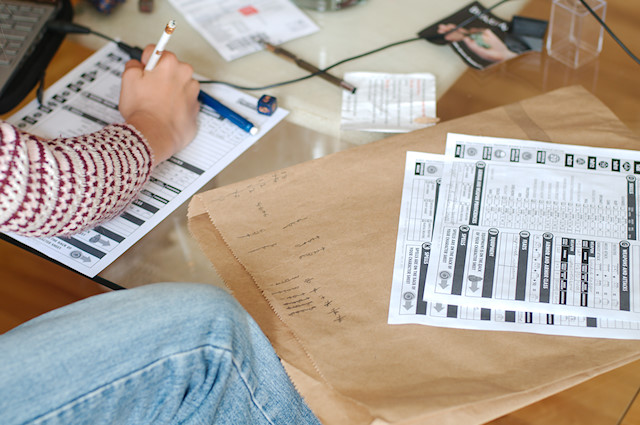 In the podcast I've already referred to, Oliver relayed the story of a mother who's scholar-aged son wanted only to study surfing. The mother was mystified about how this could be a scholar pursuit. Oliver challenged the mother herself to study the surfing classics. He then went on to name some. Which of course I don't remember because but that's not the point.
The point is his response to the mother, which amounts to this - learn about this interest your child has, study it yourself, read (or play) the classics of that genre, then build a course of study around that.
We do this all through our children's homeschooling years but when they are younger it's easier - at least for me. Volcanos, cheetahs, space - I can wrap my brain around those interests. They seem safe and acceptable. RPGs and computer games have been totally outside my grid.
Until now.
I'm doing my best to try to understand this world I have previously known so little about. I've started gaming with my family. And I like it! Role playing with my growing kids is a lot of fun. Right now we're playing Pathfinder, old school style with computer support (there is so much to keep track of in these games) for Damien who's the Dungeon Master.
Dungeon Master is a fitting role for Damien since he's the overall vision manager and technical director for Céline's curriculum and I'm project manager. Together, based on Céline's needs, interests and talents, we're building an RPG "curriculum" for this winter. (Maybe beyond?)
Do I know what this is going to look like? No.
It doesn't come in a box or textbook. It's something we build as we go. RPGs were not what I had imagined Céline studying when I first romanticized about the scholar phase of homeschooling (smile).
I had anticipated the single minded interest, the hours of study and reading, assignments and accountability, seeking mentors and resources for subjects outside my expertise. What I hadn't anticipated was that RPGs would be the subject. Hello high school.
The game playing itself is not the sum total of Céline's curriculum, in case your wondering. There's a lot of character building going on for us all (a little double entendre for any gamers in crowd).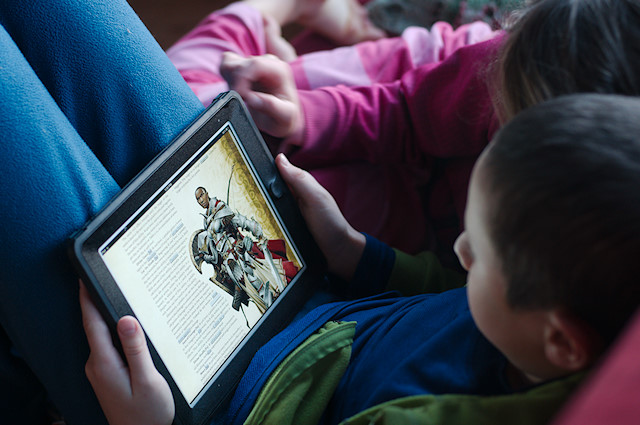 To make this learning hers, it has to also become mine. Not just the content - familiarizing myself with game play, creating a character, reading books about RPGs etc. - but the role of learner becomes mine also. And learning is hard work. Even when it's "just a game".
Curious about how Celine's RPG project proceeded? I've written follow-up in the following posts and comments:
Filed Under
Resource Library
You can subscribe to comments on this article using this form.
If you have already commented on this article, you do not need to do this, as you were automatically subscribed.