Supplies for Creativity ~ Paper Crafts
March 3, 2011
This post is about paper crafting. For creating 3D art see supply list here.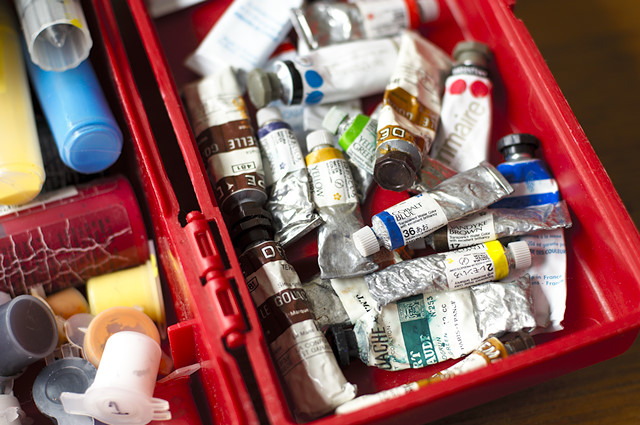 I'm so psyched to bring you this post. Don't ask me why, since it's taken me an inordinate amount of time to write. It would seem that just writing about creativity gets me jazzed!
My last post on this subject introduced my philosophy and personal background to embracing creativity in our homeschool. But the real question that inspired that post went something like this (I'm paraphrasing a bit):
What kind of art supplies, tools, materials, etc. do you consider a must-have in the home?
Each family is unique in artistic and creative interests so I feel uncertain about what to recommend for other people's homes. I am confident though to list for you the creative supplies we have stocked in our home over the years.
When I started to put together this list and realized just how long it would be I decided to divide the post into two parts. This first supplies post focuses on two dimensional paper craft - drawing, coloring, painting and the like. Anything relatively flat and done with paper.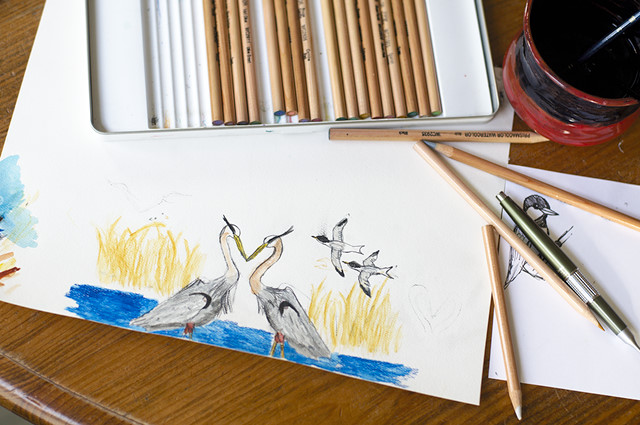 My next supplies post will detail what we stock of three dimensional sculpture type materials - fabric, clay, cardboard, wood etc.
Affordability
A few notes about how to fund art & craft purchases:
In the past our family were members at the SHARECenter - a distribution center for reuseable resources, funded by the local school board. For years this is where our family sourced many of our craft supplies for the kiddo's learning. We couldn't afford a membership this year and have decided to use up as many of our supplies as possible before moving.
Put the word out there in your community that you are looking for supplies. Places to check and post notices ("old school" and electronic) are Craigslist, bulletin boards at the local health food store or church, and homeschool group gatherings. The college where Damien works has an internal forsale e-mail list (like Craigslist) and this is how I have sourced much of our fabric and yarn over the years.
Holiday and birthday gifts are a great way to stock your craft supply and this is how our children acquired many of their supplies. Paints, journals, quality papers and fabrics have all been given as gifts. 
I view art and craft supplies as educational expenses. We spend more on these supplies than we do curriculum, books (we use the library), and other "traditional" school materials.
In the list below I've marked the most basic items with an asterix (*). The remaining items are more costly and have been added little by little over the years as our children developed skill and were ready for better quality supplies.
Paper
Basic paper * - White & colored. I encourage my children to use recycled paper but sometimes they want a clean white sheet and I'm ok with that. I try to buy 100% recycled. Most of our papers have come from the SHARECenter. We have a variety of sizes and colors. When the kids were little we used construction paper.
Patterned & fancy papers * - Gift wrap, tissue paper, old calendars, magazines, and nice scrapbooking papers. Find a "scrapper" who is wanting to downsize their collection. We've come into some really lovely papers this way.
Journals & Sketchpads * - Lined and blank pages. We've had a wide variety over the years from dollar store finds (when I used to shop there) to high quality handcrafted nature journals. Nicola shows how to make your own notebook. Acid free sketchbooks are available at any office supply store and are a step up from basic paper for your budding artist. 
Coloring Books & Pages * - My kids went through phases with coloring books but overall these were not favored in our home. What the kids do like is finding pages online to print. Brienne's favorite for the last two years has been princess coloring pages. I feel like I've seen them all. The kids got Dover Coloring books at Christmas which are the nicest coloring books I've seen.
Misc. paper - Cardstock, file folders, plastic sheets, and more have all been used in art projects. As I type this Brienne is custom making a sticker book by drawing scenes, putting them in plastic sheets and placing stickers on top.
Stickers * - My only child who still enjoys stickers is Brienne. But stickers are a must have for little ones. You can make your own with sheets of sticky paper.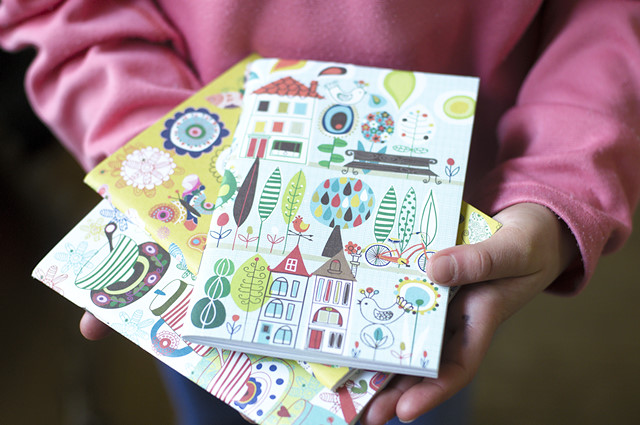 Pencils & Pens
Our family are "writing utensil" snobs. I blame my engineer husband who likes good quality design materials.
Pencils *- We prefer mechanical (clicky) pencils but any ol' yellow pencil will do. We also have a Staedtler sketch pencil set.
Black Pens * - I think it's important to have good pens to encourage drawing and penmanship (I'm old fashioned). We like the Pilot brand ink pens, with refills. For Christmas Laurent upgraded to Prismacolor Premier Assorted Black Markers. Laurent uses this set daily for drawing. We have also used the Staedtler Pigment Liner Sketch Pen Set set of 4 though don't like the flow as much with them as the Prismacolor black markers.
Misc. Pens  - Highlighters, gel pens and the like. Brienne has a collection of gel pens for when she wants to express her "Fancy Nancy". I like to organize information with a variety of highlighters. But light colored markers work just as well.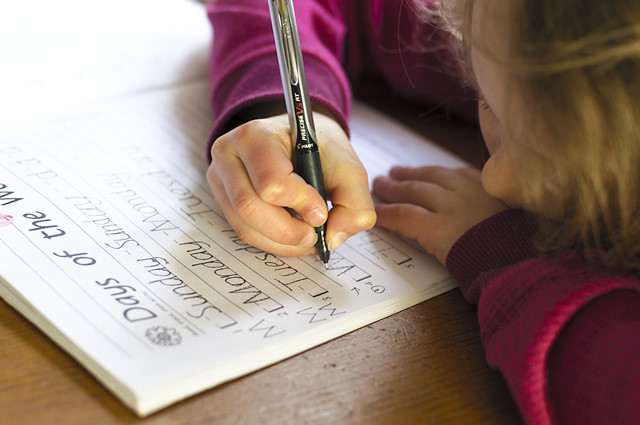 Crayons, Pencil Crayons & Markers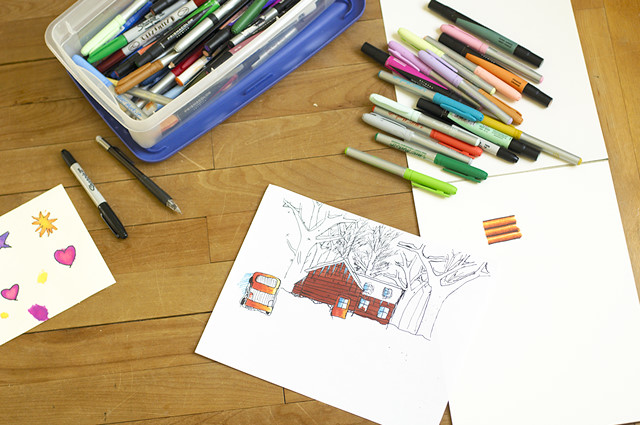 Painting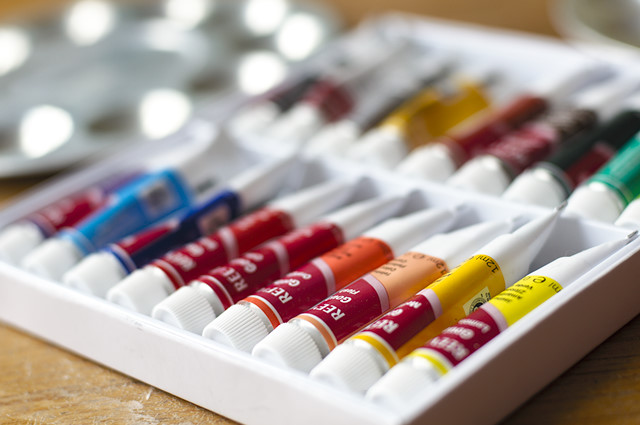 Home Office Tools
Scissors * and Cutters - Scissors are a must. We own 4 pairs of every day scissors and I still can't find a pair when I need one! We also have 2 pairs of sewing scissors (one pair belongs to Celine) and pinking sheers. I'll mention sewing scissors again in my next post on 3D craft but paper scissors are definitely required. My kiddos outgrew blunt baby scissors around the age of two or three. We just taught them how to properly use the real tool. A large paper cutter (I cringe at the word guillotine) is a luxury but one I wouldn't give up. We use that baby so much. 
Binders & clipboards - You probably already have binders, they can be used for art portfolios. Clipboards are inexpensive and handy for keeping separate everyone's paper projects.
Holepunch & ruler * - Three hole punch and single *. We like our metal ruler with the cork base the best. 
Pencil sharpener * - A small portable one * (we've had a metal one for ages that works really well) and large desk model. Variable hole sizes are useful for a variety of pencil sizes.
Tape *, glue *, & fasteners - Basic clear and masking tape are a must. As is white or stick glue. I will talk more about adhesives in my 3D post.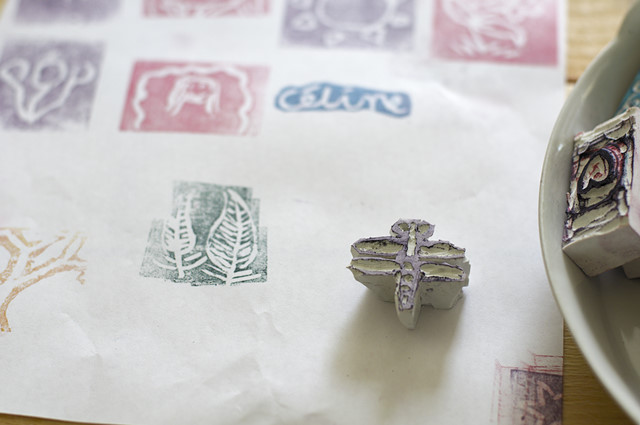 Looking to buy some basic art supplies for your own budding artists and paper crafters?
You'll want to check out the supplies at Stubby Pencil Studio. They have a nice selection of kids art supplies, many of them eco-friendly. Something, I admit we haven't given a lot of thought to when purchasing art supplies.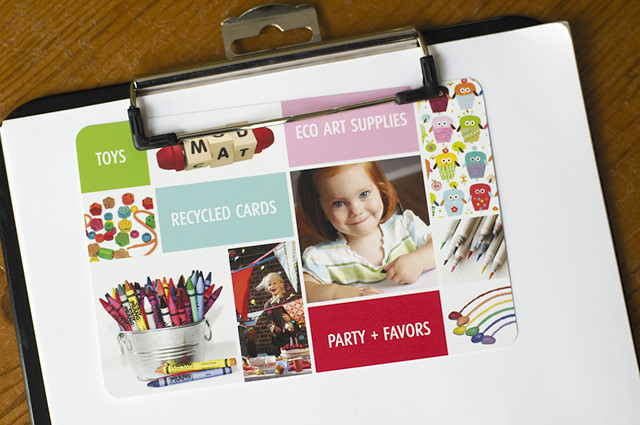 I think Stubby Pencil Studio is a great place to start especially for younger children. They carry quality crayons, a nice selection of colored pencils, misc. craft supplies and much more. 
Your turn! What basics or not-so-basics do you stock for paper craft?
Stay tuned for my post later this month on what we stock for 3D crafts - sewing, clay sculpture, cardboard and wood creations, etc. 
Filed Under
Part of Series
Resource Library
You can subscribe to comments on this article using this form.
If you have already commented on this article, you do not need to do this, as you were automatically subscribed.