Summer Stories ~ Fashion and Beauty
September 25, 2015
In this last post of my summer stories (I know summer is officially over, bear with me, I'm shifting to fall soon), I'm writing about an unfamiliar topic, fashion.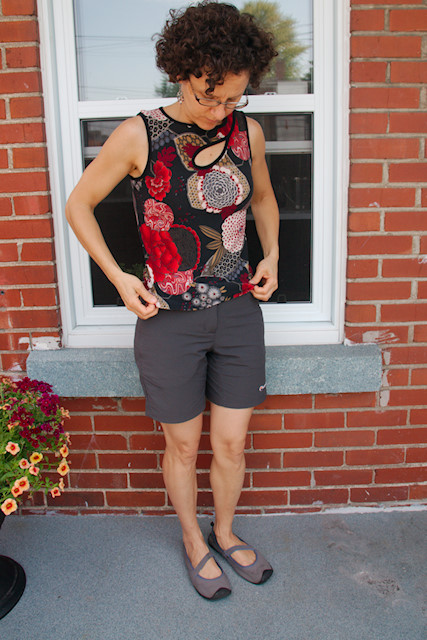 Today's Story: Fashion and Feeling Beautiful
I'm probably a clothing minimalist. I've never consciously limited my wardrobe to x number of items. But moving a whole bunch in recent years and our hike last summer, in which I wore one outfit (with extra layers in cold weather) for 6 months, tipped me over the edge into a minimalist wardrobe.
Damien and I share a four drawer clothing dresser. I get two of those drawers. Roughly speaking, one holds in-season clothing, and the other one, off-season clothing. What was off-season will soon be in-season. I also claim 23 (I just counted) all-season clothing on hangers. These include my "once-a-year" dress pants and my "once every-three-months" long sleeved white button up blouse.
I don't actively try to limit my clothing, I'm just not "into" clothes, I don't like shopping, and I don't have any patience for uncomfortable or ill-fitting clothing. These factors conspire to limit my wardrobe to well-worn favorites, with the occasional investment into a foundation piece of clothing.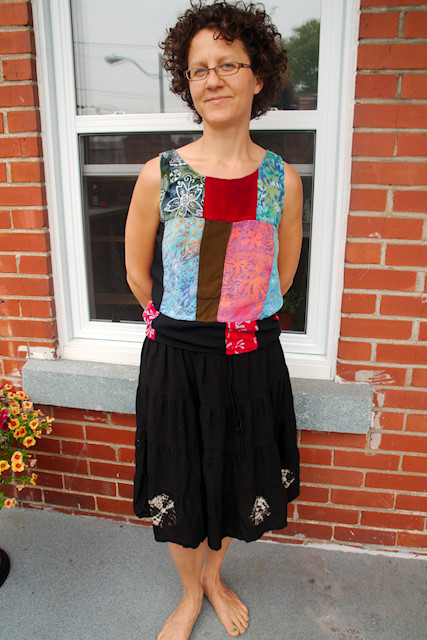 My wardrobe is cobbled together with found, functional and free items. Found mostly at thrift shops, functional because I value practicality and comfort, and free because I'm blessed with a mom (with great fashion sense and a similar body size) who passes things along.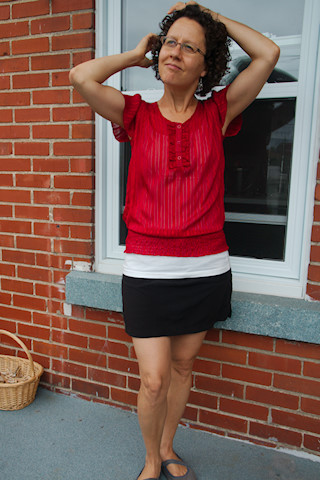 This black skirt is actually a hiking skort. These are the "shorts" I wore for the second-half of the trail, after my first pair became threadbare. These are a highly functional piece of clothing in my wardrobe.
Last winter, I noticed that my spring and summer wardrobe was in dire need of an infusion of color and "wear outside the house" worthy threads. When we came to Montreal in April to find an apartment the girls and I hit up Value Village and I scored big time.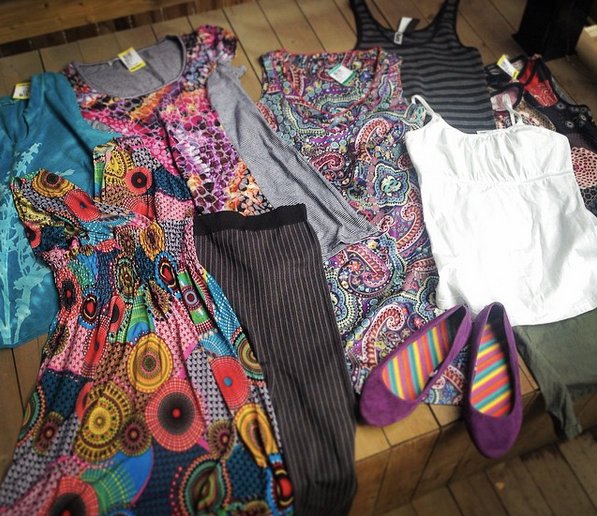 Not all of these have proven to be keepers (but when you pay $3 for an item of clothing, that doesn't sting so much). The straps on the white tank bother me. The grey pinstriped leggings were cooler in concept than reality. And the grey shirt with the purple/orange/pink animal print-ish center stripe makes me look pregnant.
But a few of these items paired with favorite staples already in my wardrobe, a local friperie find, and a hand-me-down from my mom made their way into my clothing favorites this summer. Pretty much everything I wore this summer was one of these outfits or a combination of them.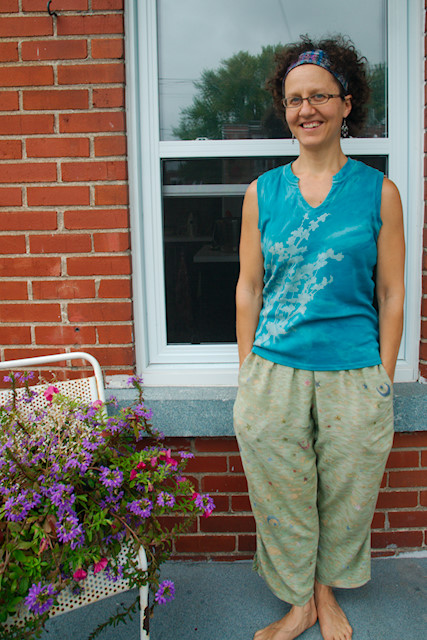 The one outfit I wore most often, sometimes for days in a row with a shower washing at night, is the psychedelic circle rayon dress.
I love this dress the most and feel beautiful wearing it. I think I never did get a full-length photo of me in it because I was afraid the picture wouldn't capture how wonderful I feel in this dress and how much I love it. I've been complimented on this dress, by strangers (blush) and friends more than any other clothing I can recall.
If you scroll through my instagram you'll see corners of this dress in almost all the photos of me.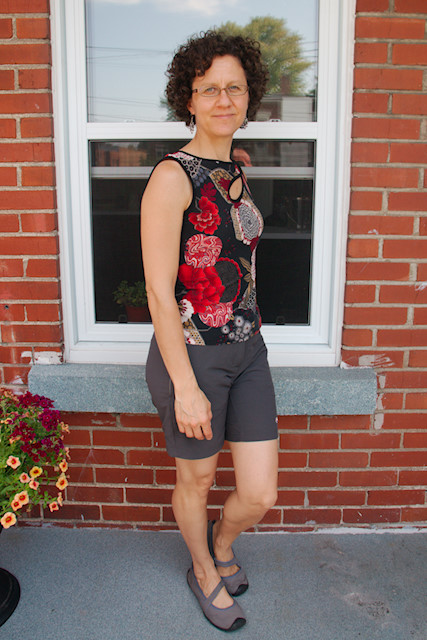 I've not had many experiences with feeling really beautiful in the clothing I'm wearing. My desire for comfort and functionality preclude a lot of showy and fussy clothing. I don't know that I've ever lucked out like this before, something that makes me feel beautiful is also completely functional (I bixi in this dress) and extremely comfortable. In fact, on humid days the light rayon of this dress was the most comfortable thing to wear from my closet.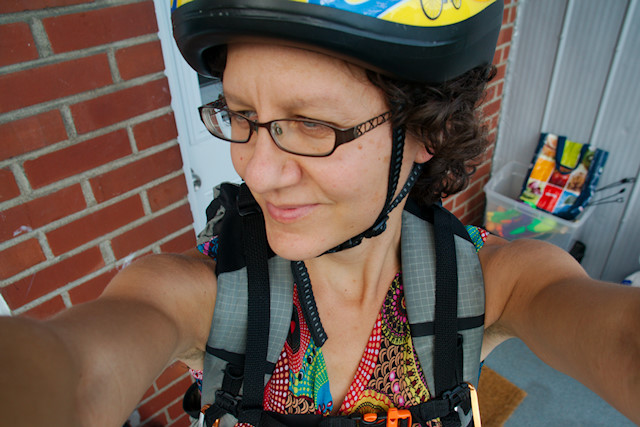 Because I haven't had a lot of "wow, I feel beautiful wearing this" everyday clothes (it's not that I feel ugly, but mostly I feel "put-together" or "cute") this dress taught me something.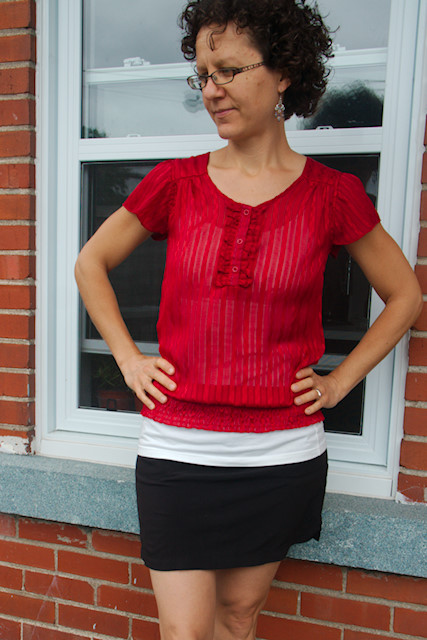 I've underestimated and undervalued the restorative, healing, and life-giving power of feeling beautiful. What you wear can be a form of art, an expression of you. And what You are is beautiful.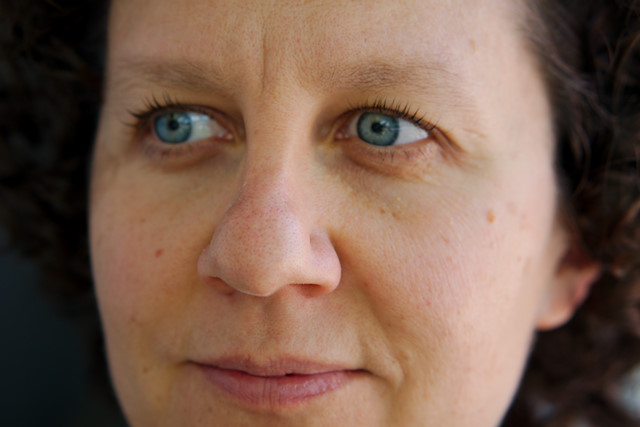 It's a vulnerable thing to believe about yourself, it's a vulnerable thing to share - I feel beautiful, I am beautiful. It's no doubt at the core of why I was insecure about getting my photo taken in the dress. Can I be so brazenly beautiful?
Filed Under
Part of Series
Resource Library
You can subscribe to comments on this article using this form.
If you have already commented on this article, you do not need to do this, as you were automatically subscribed.