summer sacrifices ~ thoughts on owning a rental
August 24, 2009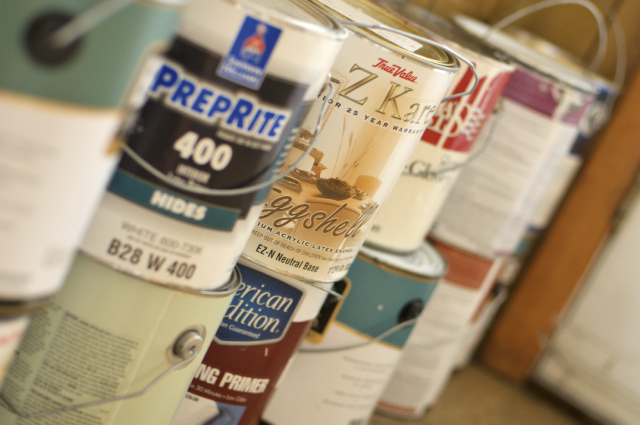 In these parts our home is called, a 2 family house. Where we are from originally this type of house is called a "house with a suite or mother-in-law apartment". Regardless of what it's called the idea is the same; part of our house is an apartment/suite/flat that we rent out.
In our case it's a finished basement with a separate entry. We've lived here for 4 years and have just finished the third and most recent upgrade. We do renovations each time tenants leave to improve and maintain our property. Eventually, our dream is to have that space available for offering extended hospitality to friends, family & strangers. But that dream is in God's hands because we need the rent to help pay our mortgage and can't foresee how we will ever not need that extra income.
Buying a house with an apartment has been just one of the many decisions we've made so we can live on one modest income, in a nice-ish house (Damien's work has improved it greatly) not in the boonies of Maine . Technically, at least according to our mortgage company, we can afford this place on our own. But if that was the case we couldn't afford a lot else, like trips to Canada to visit family and everything else we need to save money for.
But this decision is not always easy, nor does it necessarily simplify our lives. These last tenants stayed for a mere 5 months and we hadn't planned on using August's time and tapping into our savings to do more renovations. I've spent all the spare time I could squeeze out the last 3 weeks painting in the basement, preparing ads, answering phone calls, following up tenant applications. It's been a lot on top of my regular day job and I feel a little cheated out of summer. I haven't even picked any blueberries. Sigh...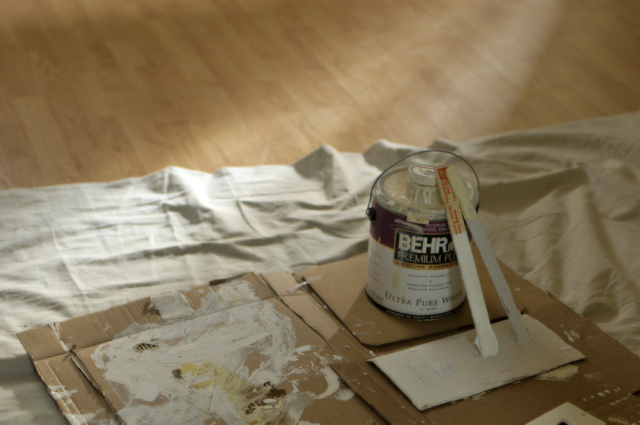 But that's sometimes the way it goes. And I can't really complain too much because although owning a home this way does add a certain complication to our lives it also allows us to save more money than the average one-income household, remain debt-free (minus the mortgage) and live 5 minutes from Damien's work. All of those things help us own one car, have more money to share and to buy local veggies.
In short, renting an apartment in our house helps us live out some of the values that really matter to us. So missing 3 weeks of summer I suppose is a small price to pay for that - or at least that's what I'm telling myself.
Of course I'm actually only able to sit down and write about this because I'm done the work now. That was something else I gave up last week, my afternoon writing time. But it's done. I finished the painting yesterday, the apartment will be tidied (from all the reno mess) this week and this weekend we're off to backpack in the mountains. I gave up summer for a couple weeks but I'm full-on summer again and because we homeschool the back-to-school scene is not looming over us, cutting our summer short. Whew.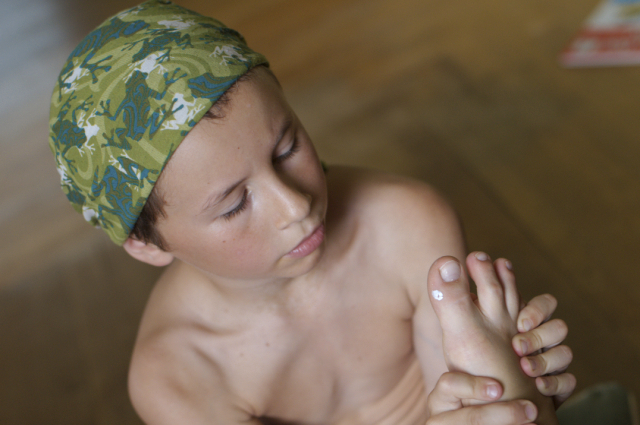 Last Saturday afternoon, after a FULL day in the basement while Damien "manned" the kitchen and starting packing for our weekend, I came up exhausted but happy to be one day away from a completed project. Damien went to a movie with a friend and I cooked an easy supper for the kids and then my sweet son offered me a massage. It was heaven! Half an hour of loving touch and muscle relaxation. That's paint on my toe from the day's work. Then we walked to the neighborhood ice cream shoppe, jumped on the trampoline, listening to the crickets and read stories. Summer... returning to me for these few remaining weeks.
Renee Tougas participates in affiliate marketing, including the Amazon Services LLC Associates Program. Whenever you buy something on Amazon from a link you clicked here, I get a (very) small percentage of that sale. See disclosure for further explanation.
You can subscribe to comments on this article using this form.
If you have already commented on this article, you do not need to do this, as you were automatically subscribed.