Stocking the Larder, Locally: Part One
July 23, 2008
Part One in a Three Part Series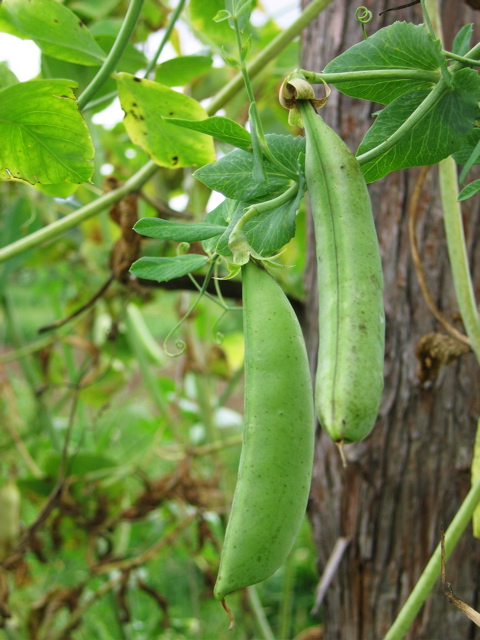 I gleaned peas from the farm this morning. No altruistic motivations here (wish I could say I donated them to less fortunate folks), just taking advantage of stocking the freezer with free, organic veggies.
This isn't the norm though. Obtaining local, organic and sustainably grown foods costs, sometimes a lot. So why do we do it? Basically, our family has made the choice to value the health of our bodies, community, planet and the farmers who grow our food. Incidentally, these are also the reasons, more or less, for us choosing a plant based diet.
But the health benefits of sustainable foods aren't just physical. Knowing your farmer is good for your whole health and well being.
Buying food from local farms is spiritually grounding and a return to our roots. I am connecting myself to a person, not a corporation, brand or store. That person is directly connected to the land - blood, sweat and tears. My connection to them connects me to the land, albeit somewhat vicariously, and returns me to the original Divine mandate to tend the garden, the task we were created to do.
Valuing everyone's health and "returning to the garden" is all fine and dandy but let's get down to the nitty-gritty, what about the cost?
I'm not even going to address the long-term environmental and health costs of eating a fossil fuel dependent diet, that's a book. But if I did the cost question would be blown out of the water.
However, I know most people think of cost in terms of next month's paycheck so I'll stick to the here and now.
Go to next post in series. 
Renee Tougas participates in affiliate marketing, including the Amazon Services LLC Associates Program. Whenever you buy something on Amazon from a link you clicked here, I get a (very) small percentage of that sale. See disclosure for further explanation.
You can subscribe to comments on this article using this form.
If you have already commented on this article, you do not need to do this, as you were automatically subscribed.