Snow Day Journal, Wednesday February 13
February 15, 2008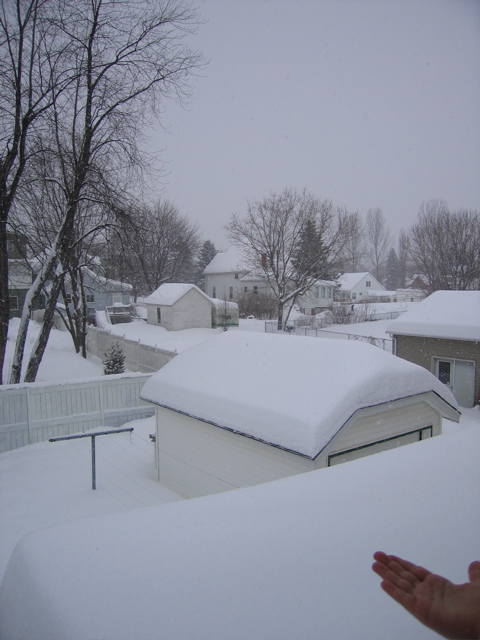 We all sleep in after returning home late from the previous night's Banff Film Festival tour. After the 6:00 am automated phone call from Bates we go back to sleep and don't get up till 8:00 am. In the meantime however I keep waking up worried that the buying club delivery truck will be delivering our co-op order any minute, the delivery is usually 7 am. I needn't have worried he doesn't arrive till the following afternoon.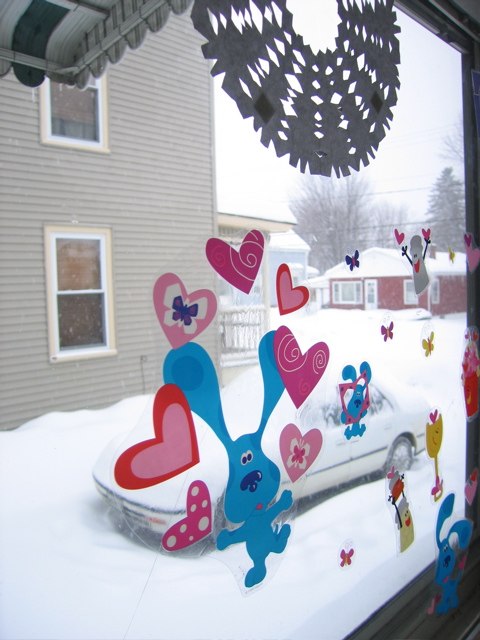 8:31 am View out our "seasonal" kitchen window. The world is white this morning and our driveway and car are buried. I put on the rice for breakfast and brew my morning coffee. I start my puttering and projects for the day.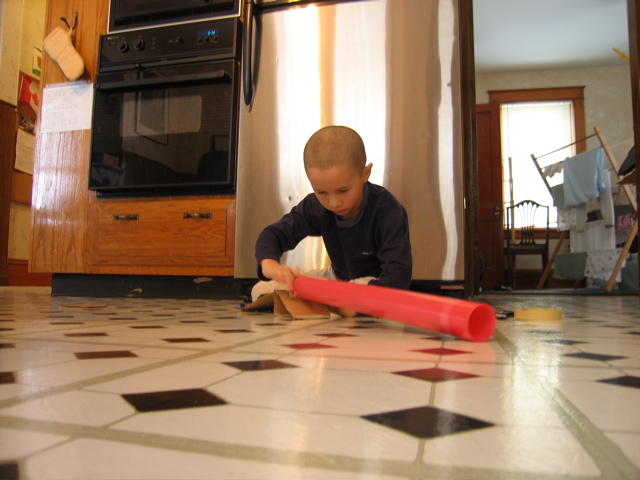 Laurent builds a ramp and tunnel for his cars. We all enjoy the relaxed pace of the morning. Chores and school work are left undone and we stay in our pjs. Brienne gives Daddy a "Mary Had a Little Lamb" concert on the handbells. Daddy plays the same but with his feet! The kids (& mommy) get a great laugh from this.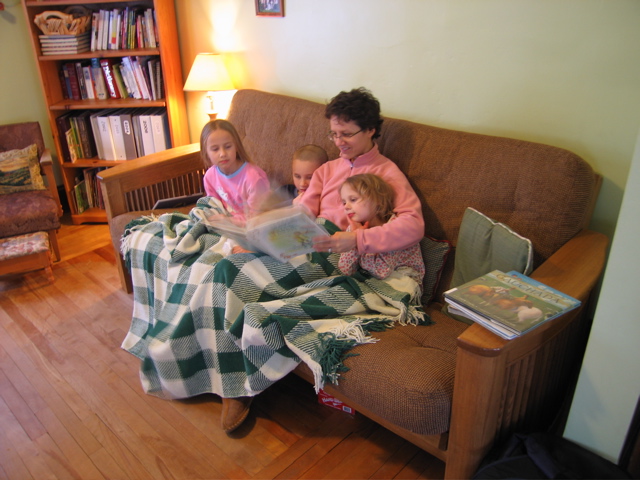 After our usual breakfast of rice, chopped fruit & nuts, dried fruits, flax, cinnamon & soymilk the kids & I snuggle on the couch and read. We usually do this after breakfast only today it's 2 hours later than usual.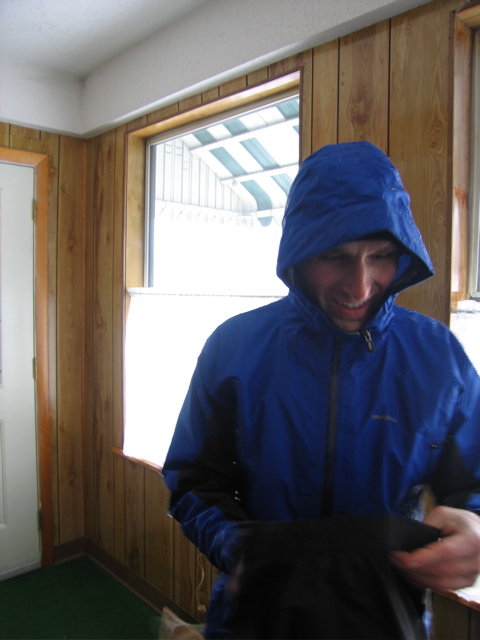 Time to shovel. After bundling the kids all up for playing in the snow Damien comes in from shoveling to report that it's raining. Kids un-bundle because playing in the cold and wet rain is well... really wet & cold. I bundle up in my winter/rain gear (go figure) and join my husband in shoveling our driveway. Brienne peeps out to ask "howar you dewing?" Nice to know our children are thinking of us as they stay warm & dry indoors.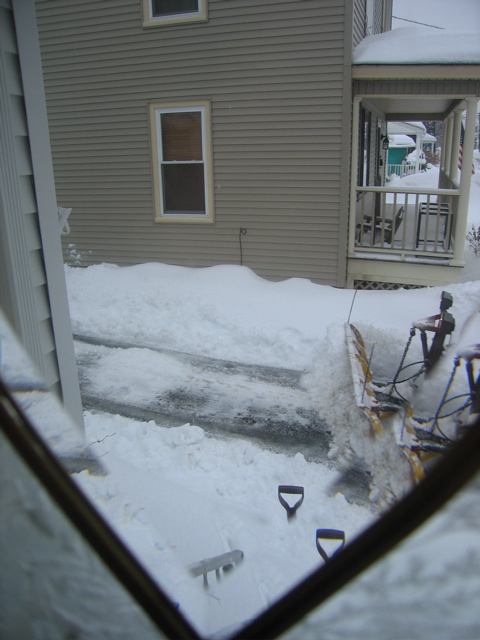 After slogging through the rain trying to clear our driveway of snow & ice we decide to save ourselves an afternoon of back straining labor (those snow piles are getting high to shovel on top of) and hire our neighbor's father who is out plowing his son's driveway. Hiring him to clear our driveway was the best 20 bucks we've spent all winter.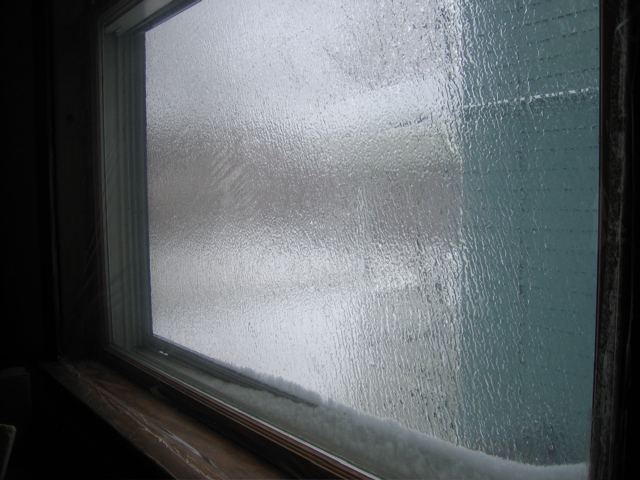 The rain is splattering and freezing against the side of the house. At least we're warm and inside now. I've hung everything to dry on the rack in the living room.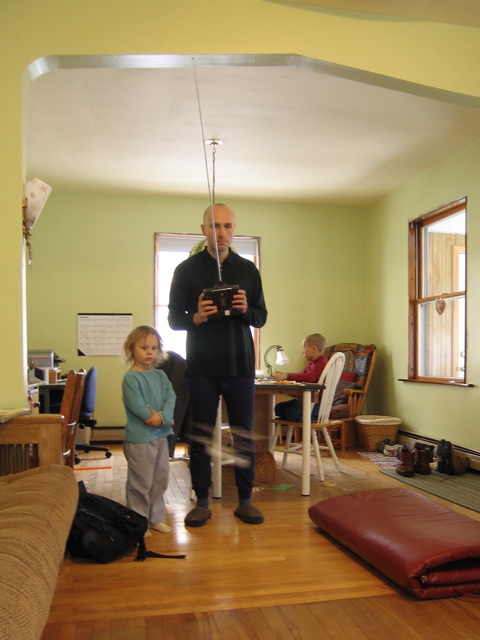 "Hey, a day off, what a great opportunity to play with my new toy". Actually the remote control helicopter (fuzzy white thing in bottom third of photo) is Damien AND Laurent's new toy and both worked on perfecting their flying skills during this day at home. After some fun Damien runs an errand to Sears to buy tools for the current work projects around the house.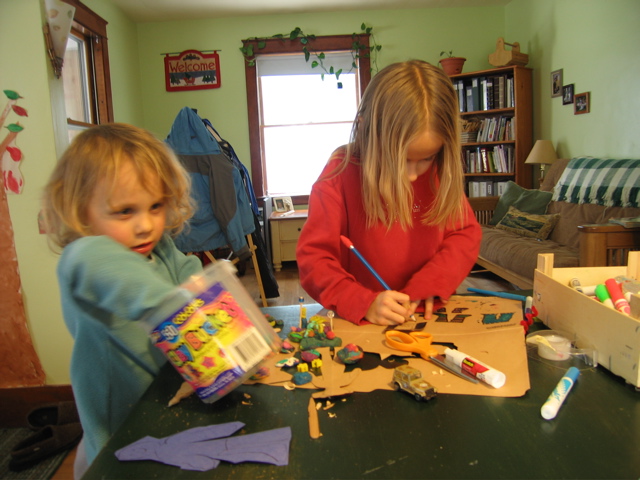 After a lunch of leftovers the kids get back to their crafting and creating. Brienne is making restaurant entrees out of clay and Celine is making paper dolls with coordinating figure skating outfits. Laurent works on carving a kayak and a paddle. After crafting for a time we indulge the kids in a mindless movie to help occupy the indoors afternoon. I have a nap and Damien does computer work.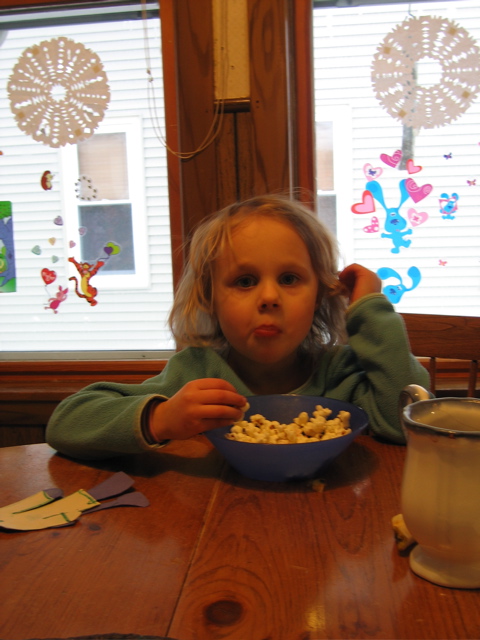 Video is over, resting is done, time for a snack. Popcorn and hot cocoa is a treat for a snowy day. Hum... time to think about supper. We have lots of potatoes and mushy apples. Potato pancakes and apple sauce are in order. I start peeling and cutting apples to make the sauce.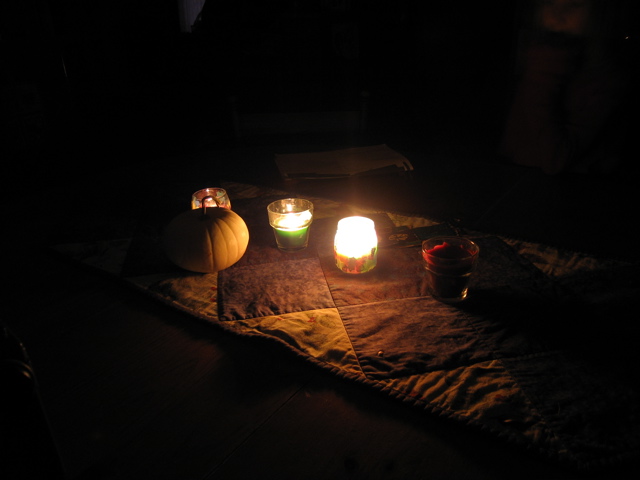 While I'm peeling and cooking apples and Damien is working on a house project the power goes out. While it's still light we find candles and flashlights and clean up the craft projects and dirty dishes from the day. Seeing as we can't cook supper, unless we dig out our campstove - which we could in a real emergency, we decide to go out.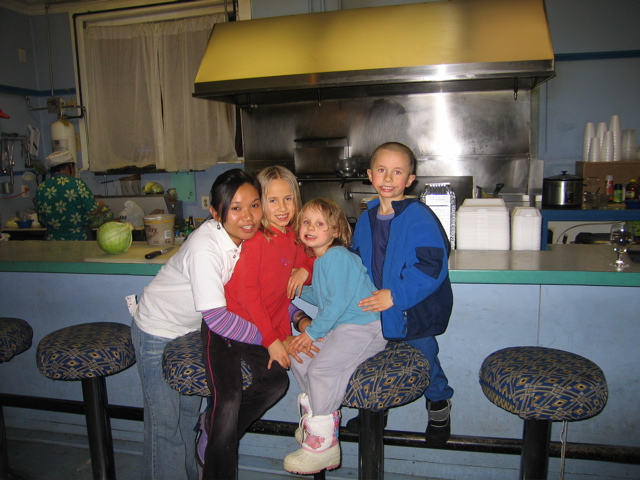 Thai Jarean, our favorite L-A restaurant. When you're trying to avoid animal products and can't eat wheat or corn you're not left with too many options. Lucky for us an affordable, tasty, healthy and very friendly Thai restaurant is in our neighborhood and we eat there fairly often as the owner & servers have become our friends. After a filling and delicious meal we return to a dark home. We gather the sleeping bags to keep us warmer at night if necessary. Around 8 pm the power returns and we snuggle on the bed (the TV is in our room) to watch a National Geographic video about Yellowstone. The next morning...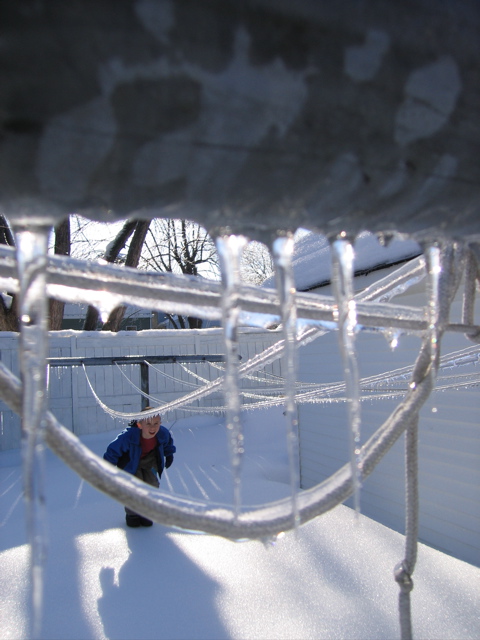 The backyard is crusty, slippery and cold. I bruise my legs on the icy snow trying to digitally capture the brilliant beauty of the morning after the ice storm. The kids play for a few minutes and I head inside to try to get life back on track after our unexpected day off.
Renee Tougas participates in affiliate marketing, including the Amazon Services LLC Associates Program. Whenever you buy something on Amazon from a link you clicked here, I get a (very) small percentage of that sale. See disclosure for further explanation.
You can subscribe to comments on this article using this form.
If you have already commented on this article, you do not need to do this, as you were automatically subscribed.