Skating in Montreal
January 28, 2017
I grew up in rural Alberta. Which is to say, I grew up skating.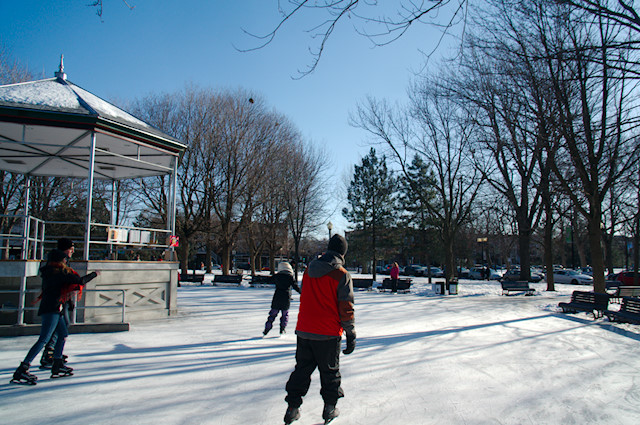 In my experience, even if you weren't enrolled in extracurricular skating programs like hockey or figure skating, every kid learned to skate in elementary school in gym class. There wasn't a reliable outdoor rink at my school but we walked the 10 minutes or so to the arena, near the high school and civic centre, and we had our skating classes there.
Damien learned to skate as a child also, growing up likewise in rural Alberta, close to the Rocky Mountains. He was in hockey for a bit and his family lived in the country and they skated on a pond. He didn't like hockey, skating was ok, but snowboarding was his real love and winter sport passion.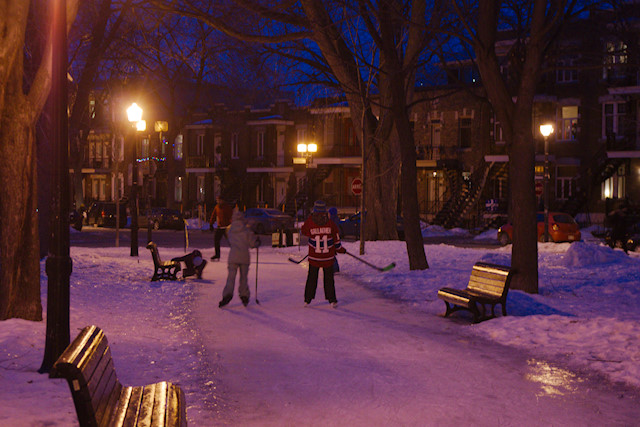 As we grew up and moved away from "home", making new homes in first New Jersey and then Maine, we grew out of skating. By the time our children were at the learn-to-skate age, skating did not factor into our lives. There were one or two winters in Maine where I took the kids skating at the indoor arena at the liberal arts college where Damien worked. Not too cold, good ice and good company; we'd go during Damien's lunch break and he'd meet us at the rink.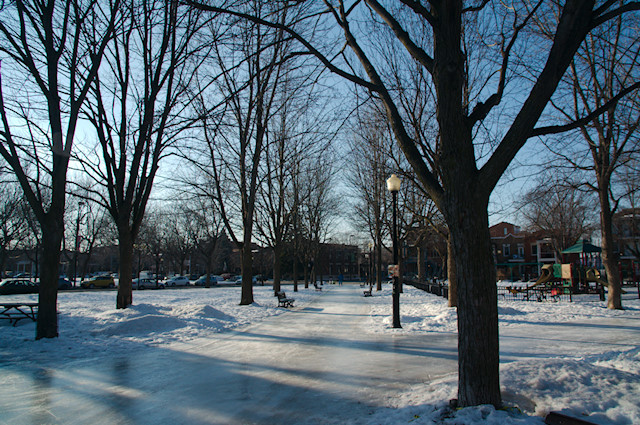 When we moved to the Gaspe Peninsula five years ago, we introduced our family to skiing and it's been our winter sport ever since.
Last year was my first winter living in Montreal and I learned that skating abounds here, in a way I haven't experienced anywhere else I've lived. The city and neighborhoods ensure that skating is an accessible winter sport to city residents. Outdoor rinks pop up all over the city. Two exist within a 10 minute walk from our apartment. One is a full size hockey rink with boards and nets. The other is a "loop" of ice in a nearby park. This one includes a trailer with skates you can borrow (for free) and a blue porty-potty in case you just gotta go. (I'll walk home thanks.)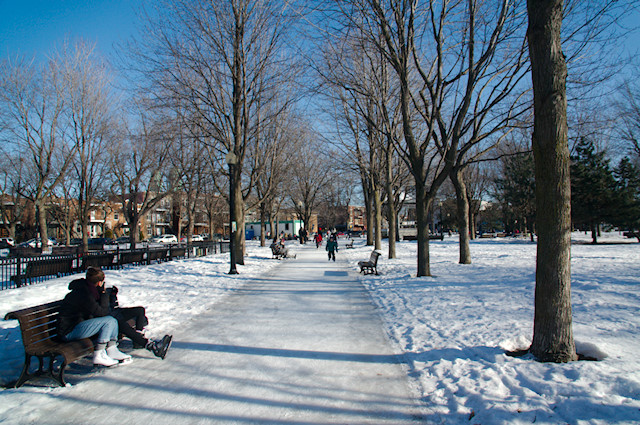 We're not hockey players and we're still newbies on our skates so we stick to the park where parents and grandparents teach the toddlers to skate with the PVC pipe frames that you can also borrow from the trailer.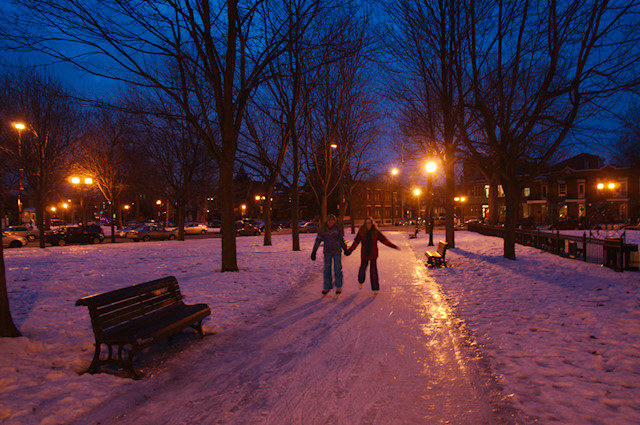 As a child I learned to skate by pushing around a folding chair. People here do that too, arriving at the park with a folding chair under their arms, a snow-suited preschooler in tow.
I never did get skates last year, but this year I vowed to make it happen. It was one of those non-negotiables on my winter to-do list. I don't know how long I'll live in Montreal, so I want to make the most of what the city has to offer.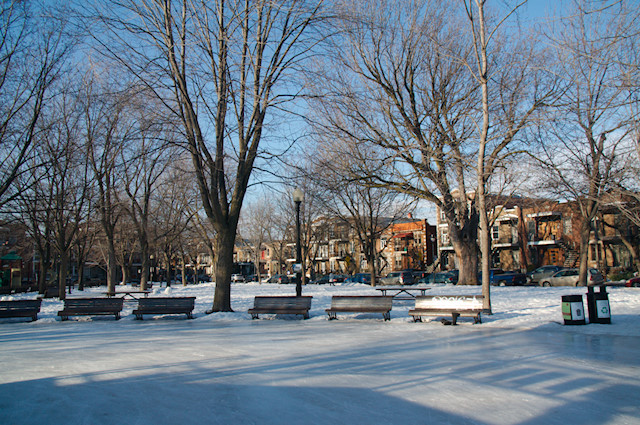 Because we don't have a lot of experience with skating and I'm not sure Brienne and Laurent's feet are done growing, and because I wanted to just go somewhere and get the right skates, for the right price, I opted to rent skates this year from Poubelle de ski on Boulevard Saint Laurent; the place where thousands of Montrealers outfit their families for winter sports by renting equipment, at reasonable prices, for the season.
If the kids, one of those kids is nearly an adult now (gulp), decide they want to continue skating we'll look at buying skates next year but this was a good way to re-introduce everyone back to the sport.
The kids have gone skating in the afternoons, as the weather permits. And for Brienne's belated birthday party I brought a gaggle of girls here also.
Lucky for me, Celine and I can share the same size (if I wear an extra thick sock) so I've been borrowing her skates. It's been about 10 years since I've been on skates but I have a childhood bank of muscle memory and experience to drawn on, it's coming back to me slowly. And I wear my ski helmet, the only adult at the park to do so, in case I lose my footing.
The weather in the city has not been conducive to skating for the last week or so. Warming temperatures, then freezing rain and slushy snow, but it looks like some cold days are coming, for which I am grateful. (After publishing this post I came across this video of someone skating on the street this past week in Montreal. I guess conditions were ok, on that one day at least, for skating after all. Just not for driving or walking!)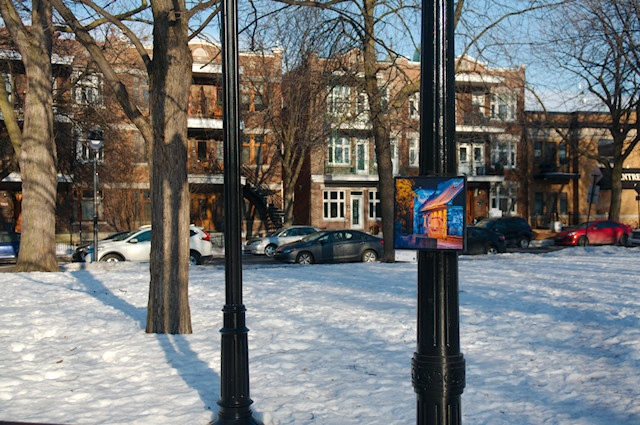 All over the country people are skating this time of year. They are skating in arenas, and on ponds, they are skating on outdoor rinks flooded and maintained by civic-minded volunteers and municipal employees.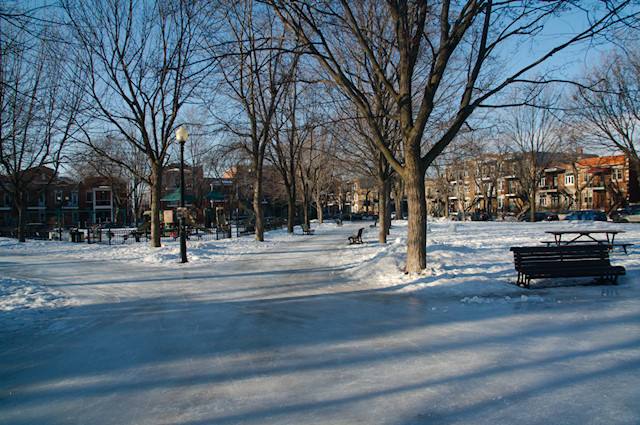 I live in a vast northern land that is often divided by politics, in a country where it is hard to find a cohesive center across great geographical and cultural distance. The gift of my experience growing up in the European immigrant settled, English-speaking rural west, and living now as I do in francophone Quebec, in the heart of Canada's most cosmopolitan city, is how intimately I understand these tensions. I often ask myself, "what ties it all together besides Tim Hortons?"
Maybe it's skating.
You can subscribe to comments on this article using this form.
If you have already commented on this article, you do not need to do this, as you were automatically subscribed.