Sharing the Season
November 21, 2008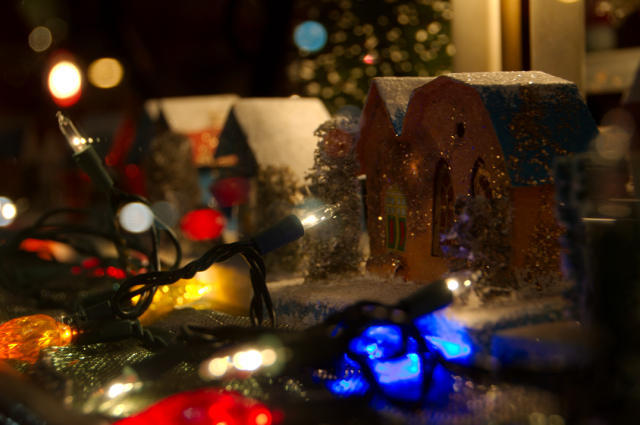 Creating the perfect Christmas and holiday season used to be a fall obsession of mine. I would print schedules (bake this weekend, shop these weekends, etc...), collect recipes, scour the local paper for activities & craft fairs, budget and plan gifts for months.
Whatever happened?
First we moved far away from family and spent many a Christmas season traveling. So much for taking in all the local sights and sounds. We had a couple more babies, one of them born the week of Thanksgiving. Preparing for and celebrating her birthday and Thanksgiving uses up my November creative juices that could be spent on Christmas plans. And somewhere along the way we became mostly gluten free, sugar free, whole food house vegans. Do you have any idea how hard it is to make a typical holiday sweet with no butter, eggs, sugar and flour? Sure you can concoct "treats" with dates, fair trade cocoa and rice flour but trust me - shortbread it ain't!
Oh, and we started to become very intentional that our spending, all through the year and Christmas especially, reflect our life values. Cheap plastic toys, planned obsolescence gadgets, itchy sweaters and one more unnecessary gift for an already well gifted person are not part of our family values. So we pulled way back on the typical hit-the-mall style gift giving as well.
What does that leave us with? Time.
Time to craft, time to play cards on a dark afternoon, time to make soap for friends and family, time to attend the local orchestra and choral rendition of Handel's Messiah, time to go sledding, time to light the advent candles, time to sip hot (soymilk) cocoa and eat popcorn, time to travel to visit family, time to hike in the winter woods, time to connect with people in our community.
Saying NO to the insanity of the North American Holiday Season has let our family say YES to the activities and traditions we find meaningful.
What are you doing to prepare for the holiday season? What activities do you find meaningful, that add richness to your life, not stress and debt?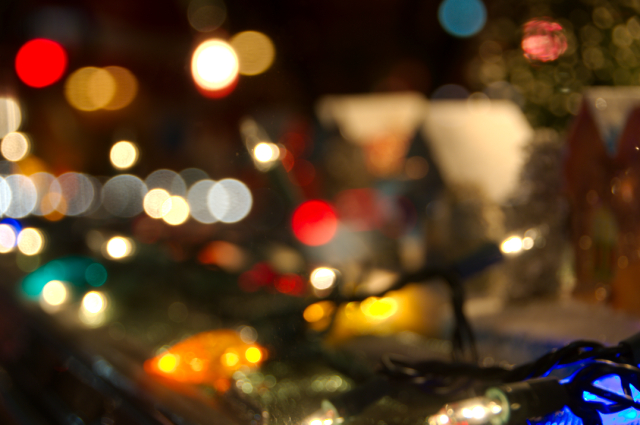 Sharing the Season Share-Fest
Get ready to share those ideas. Next Friday, the day after Thanksgiving (God help me, I hope you're not shopping that day), I'm hosting my first ever Mr. Linky thingy. You know, where you post about the related topic, in this case what you're doing to create meaningful holidays, and then you link back here and we all share and are encouraged by one another.
Some of you probably bake awesome (gluten, loaded with dairy fat) cookies that your family loves. Others of you serve at a soup kitchen, collect mittens or put together gift boxes for children. I know there are some arts and crafty sorts who read this blog. What are you creating to give or decorate your home? Do you have a special place you visit, an outdoorsy activity to share?
Let's share all of them! I don't know about you but I've felt insecure traveling the crafty mama blog world these past weeks. I don't scrapbook, knit, fold papers or have any other such decorating/gift making skills. But I do love making soap and have another green & crafty idea I'm looking forward to sharing next week.
Please join me, I think it will be fun. We'll call it Sharing the Season. There are no rules except it can't involve shopping... except maybe for supplies.
Oh, and there will be a prize bar of my latest seasonal soap (you know you want it) to one lucky contributor.
---
(probably my mom is the only one still reading this long winded post)
A recap of how this works if you are slow like me:
Write a post between now and Friday, November 28th (or maybe you have an old post to share) on something you are doing to celebrate or prepare for the holiday season. I don't care if your holiday focuses on Christmas, Hanakkah, Solstice, snowflakes & snow, whatever.
Come back next Friday ready to share that post. There will be a Mr. Linky box in my post where you can all link to posts on your own blogs.
We all visit each others blogs and are amazed, encouraged and challenged (but never insecure) by what other families and individuals do to make the season meaningful.
Shopping, unless it's buying a cow for a family in Africa, is strictly forbidden from this share-fest.
Renee Tougas participates in affiliate marketing, including the Amazon Services LLC Associates Program. Whenever you buy something on Amazon from a link you clicked here, I get a (very) small percentage of that sale. See disclosure for further explanation.
You can subscribe to comments on this article using this form.
If you have already commented on this article, you do not need to do this, as you were automatically subscribed.