Seasonal soapmaking
November 15, 2008
It's been a grey, rainy, November day. Although the sun was shining earlier this week I feel tired and worn down. Tonight I miss August's sun, wait a minute, it rained all August. I miss July's sun. The perfect time then to post this photo.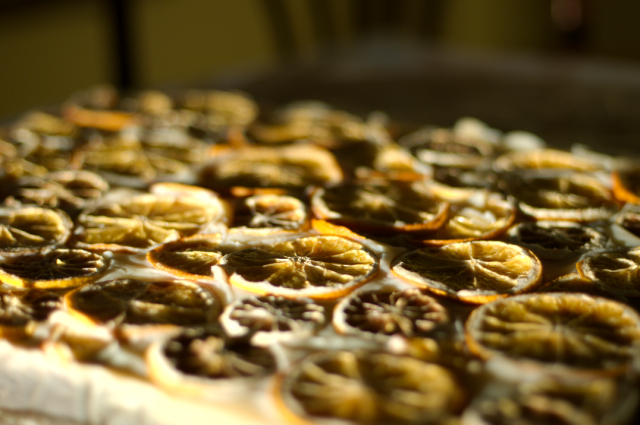 Orange Clove Pomander</span> Doesn't this soap look lovely in the morning sun?
Soapmaking is not just a utilitarian hobby for me. It's one of the ways I observe and celebrate the seasons and add beauty to my everyday life. Who doesn't love a bar of homemade soap sitting in a pretty dish in the bathroom?
Mind you, my soap dish gets kind of gunky with three kiddos washing up but when people visit, which is often, I try to at least clean up the soap tray. (But don't you dare lift up that toilet seat.)
Seasonal Soap
Once I figured out the basics of making soap I started to craft recipes based on the time of year and what might be good for our skin during that particular season. In the summer I love refreshing garden inspired bars. Peppermint essential oils to cool sun-kissed skin swirled with calendula petals for texture and color. Or this past summer's creation,
Orange Lavender Blossom
. Uhmm... I feel summery just thinking about it.
But fall and winter are the time for luxury and spice. Richer oils that moisturize and soothe dry skin. Scents and textures that remind you of gingerbread and hot cocoa.
I usually give away bars at Christmas to friends and family so I like that soap to be "Christmasy". Last year's bar was Christmas Orange. A rich soap with expensive oils, scented with orange, myrrh, frankincense & clove essential oils. Family and friends have in no uncertain terms ("hey, you know that orange soap - I really liked that one best") let me know that was one of their favorite soaps of mine. So I was inspired to do something similar this year.
Crafting a recipe
My first step for creating a new soap is to start with a familiar recipe I've made before. Or I find an idea in a book or more likely on-line. Then I seriously tweak the oils based on what I have or what is readily available to me at my local natural foods store. Kind of like cooking but with poisonous ingredients (lye is dangerous). For my latest soap I bought a few more ingredients because I'm trying to see if I can create a harder bar than I usually do with just coconut oil, olive oil and vegetable shortening.
Once I choose the oils, based on availability and the properties I want for my soap, I use a lye calculator to determine how much lye to use based on how much of each oil I'm using. I haven't wrapped my head around how these things work, chemistry was never my favorite subject. Soapmaking is art and science. I leave the science part up to a computer program and focus on the art.
The fun part of course is choosing the essential oils and trying to mix and match scents to achieve "perfect aromatherapy harmony" (that was a joke, but I do want the bars to smell nice and hold their scent). Depending on the soap I also love adding natural ingredients for texture; oatmeal, coffee, cocoa, dried herbs, flower petals.
Here is this year's Christmas recipe for Orange Clove Pomander Soap. My house smells heavenly orange and these bars make me smile every time I see them in the kitchen. Soap making is good for my soul.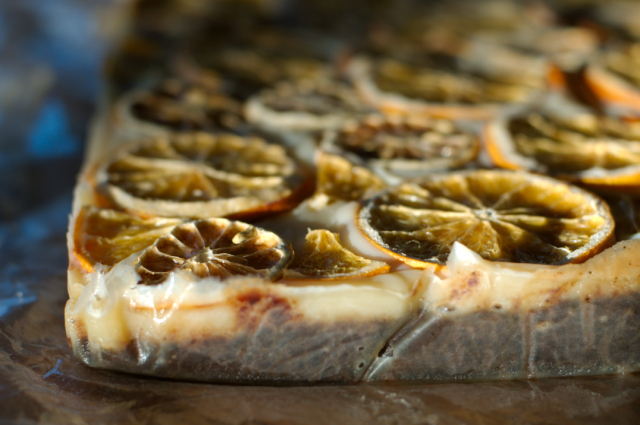 layered Orange Clove Pomander Soap</span>
Renee Tougas participates in affiliate marketing, including the Amazon Services LLC Associates Program. Whenever you buy something on Amazon from a link you clicked here, I get a (very) small percentage of that sale. See disclosure for further explanation.
You can subscribe to comments on this article using this form.
If you have already commented on this article, you do not need to do this, as you were automatically subscribed.