Saturday Morning Inspiration
January 29, 2011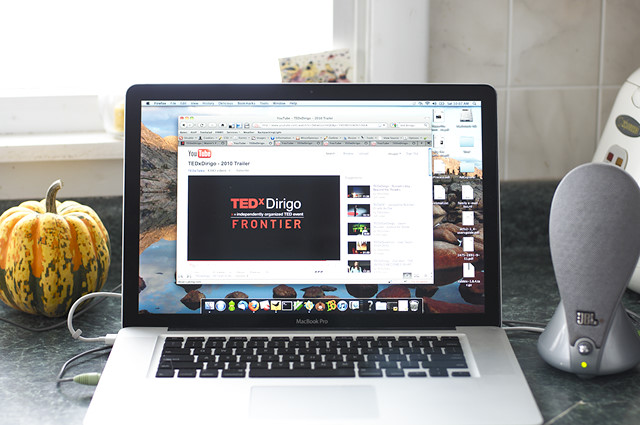 Every Saturday morning (or Sundays if we hike on Saturday) during winter and fall I prepare baked Maine apples for breakfast. Sometimes I add frozen blueberries or raspberries also. We are still eating the raspberries from our marathon picking in early July.  
Saturday mornings start slow around our home. We usually all sleep in and have a late breakfast before getting serious about the day's work. Though now with the pressure on to move in mid May there is a definite urgency to start projects earlier in the day. All our current weekend projects are house (fixing up) and move related.
Most of my day is spent in the kitchen and being support crew for the work being done. For the past couple weeks I've wanted to start the day on an inspirational note by listening to TED talks while peeling and cutting apples for breakfast. This morning I actually did so by hooking up portable speakers to Damien's computer, bringing it all in the kitchen and listening while I worked. 
Last fall there was an independent TED event here in Maine. This is not surprising to me. Maine (some might say, in spite of our last election) is quite a progressive place. There are interesting people in corners all around the state and I feel very privileged to know some amazing people who are changing their communities for the better.
These three TED talks I listened to this morning are along that line. I have to say honestly these particular talks would not merit my undivided attention. Ie: I wouldn't use my very limited time these days to sit down and watch them in the evening. The ideas presented by these speakers are not new but I do need a reminder now and again about the course we need plot for a more sustainable future. Having said that, I feel these videos were worth the listen while I was doing my kitchen work.
Russell Libby - Beyond the Roadrunner Economy. The Executive Director of Maine Organic Farmers and Gardeners Association talks about, you guessed it, the sustainable, local food movement. Nothing earth shattering but a good reminder of why I should be doing more than just serving Maine apples for breakfast on a Saturday morning. 
Zoe Weil - The World Becomes What you Teach. Like, hello homeschooling. I wish I had more faith in large scale bureaucratic change but I don't (sorry for that bit of pessimism). I plan to change the world by raising my family and educating my children along the principles Zoe talks about. Kudos to those public educators who are trying to make this difference in their classrooms. 
Paul Josephson - Why We All Need to Be Neo-Luddites. I know, I know I really do need to ride my bike more often. Only that will be tricky since it was stolen this summer. I like Josephson's humor and wit, especially regarding fructose - you'll just have to listen for yourself.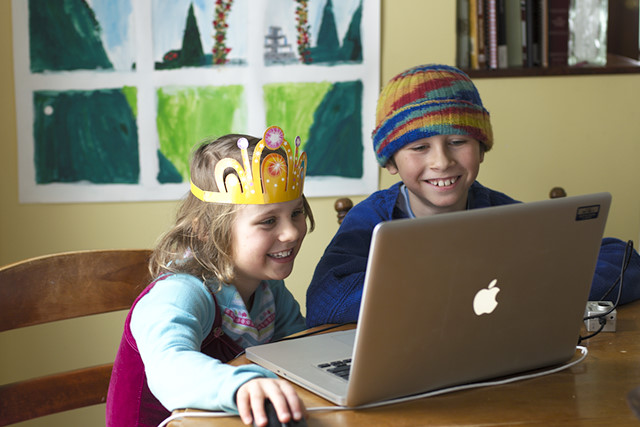 The kids enjoying a bit of their own Saturday morning creativity
watching video footage they took of the cat (no, the laughs aren't staged)
Now let's say you truly do have twenty minutes of undivided time for some inspiration. Well then I recommend you watch Brene Brown's TED talk on vulnerability. I mentioned this video in December but it's worth a second mention because it's just that good. I know it's been around the web a lot and might be old news to some of you but watching this video encouraged me, once again, to be open and vulnerable with people even when it's scary to do so. Especially when it's scary to do so. 
Like when sharing our dreams and ideals for the life we want to create for our family. Telling that story in person (bits and pieces of it have shown up here), as I have done over the past couple months, is deeply personal and leaves me feeling vulnerable and quite frankly, open to criticism. "You want what?" By the way, no one has said this out loud but I do wonder what people must think about our crazy ideals (most of which we don't even dare discuss with many people). 
In the past year I have opened myself up to dream and think big in ways I have never done before. In ways I was too scared to even consider. This has been incredibly exciting but also leaves me feeling vulnerable to rejection, failure, and disapproval. 
So when I watch a talk like Brown's I feel "yes, it's worth the vulnerability" because my openness to dream and share is one of the gifts I have to give. It's something I give myself, my husband, and my children. And it's something I offer to you also. 
Ok wow, I wasn't expecting to go so far down that path. But there you have it. I am vulnerable and want to live my life wholeheartedly (you can watch the video for more of what that means).
As a side note Brown was the keynote speaker at the Blissdom blogging conference this past week. Too bad I couldn't have been there to hear that talk. I think it would have been very inspirational. PS. If you did go, please don't rub it in. I'm vulnerable (ha, ha!!) 
Winter truly is a time for inspiration and I will be revisiting that idea in a post coming next week.
What are you inspired by these days? Any great internet audio/visual stuff you recommend for next Saturday's breakfast prep?
Renee Tougas participates in affiliate marketing, including the Amazon Services LLC Associates Program. Whenever you buy something on Amazon from a link you clicked here, I get a (very) small percentage of that sale. See disclosure for further explanation.
You can subscribe to comments on this article using this form.
If you have already commented on this article, you do not need to do this, as you were automatically subscribed.