Roasted Tomato Soup
September 14, 2011
Late summer tastes like roasted tomato soup.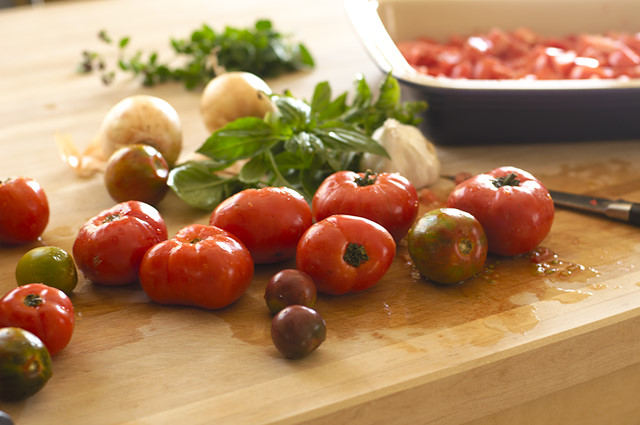 This soup is, hands-down, one of my family's favorite meals. Laurent, who doesn't even eat raw tomatoes, requested it for his birthday supper one year! 
In years past I've used the bounty of our garden tomatoes to make this soup. This year I have to buy tomatoes from the farm stand but as far as we can tell it tastes just as good. I've made this soup twice in the last two weeks, obviously a favorite as I don't usually repeat meals at that frequency.
But late summer is tomato season and so this is the time to be eating roasted tomato soup.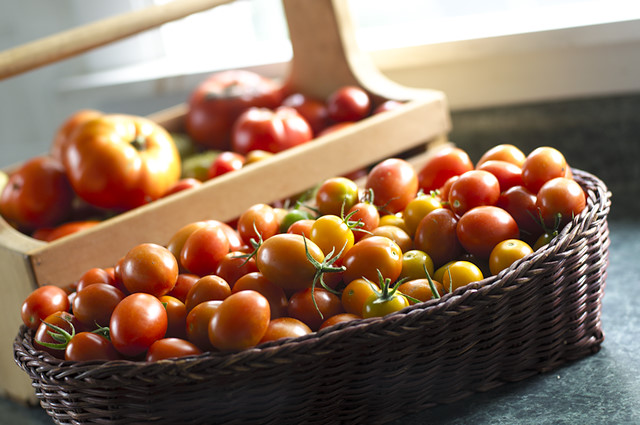 some of last year's harvest
I've blogged about this soup once before (late summer three years ago) but never shared "my secret recipe".
Here's the thing with my recipe. It's more of a suggested list of ingredients with an approximate cooking time, than it is an exact recipe. I'm never good at exact measuring or following recipes to the letter, which is why many of meals I cook are somewhat "experimental".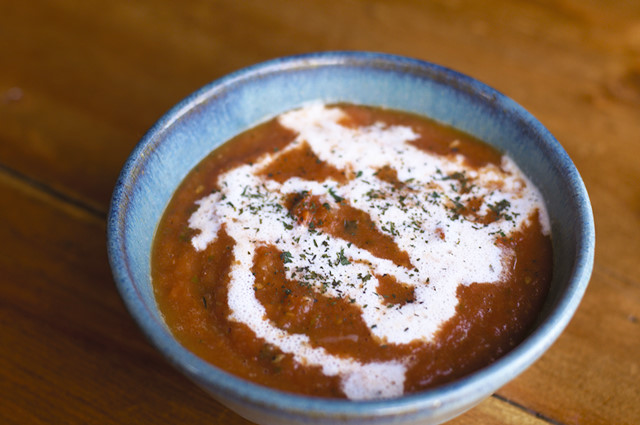 Lucky for you, in this case I've done most of the experimenting and you can tweak and refine according to your family's tastes.
Without further ado (get on with it already Renee)...
Roasted Tomato Soup
This recipe prepares a family sized pot of soup which we eat with either homemade gluten free sesame crackers or with rice. Rice is definitely for the nights I am short on time.
As you'll see in my photos, and in my directions, we also drizzle on a nut or seed cream to make it cream of roasted tomato soup. Are you drooling yet?
Ingredients & Directions
1. Roughly chop 8-10 lbs of tomatoes.  
I don't seed, strain or otherwise remove the fresh tomato juices, I keep them with the flesh. I have never used canned tomatoes, though you probably could try that if fresh tomatoes are really expensive where you are or unavailable.
2. Add more chopped veggies.
I like to add:
2 onions, chopped
6 cloves of garlic, roughly chopped (not minced)
4 celery sticks (you can use the leaves also), sliced
I don't add peppers but I think they would be good also.
3. Mix your chopped tomatoes and veggies in a large bowl.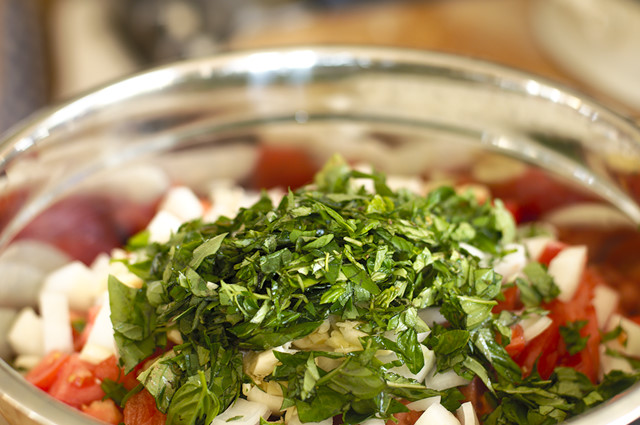 4. Add herbs and seasonings.
This is what I use:
A splash of olive oil. We don't use lots of oil, so I go light on this, lots is not necessary.
A generous handful each of fresh garden herbs - basil, oregano and parsley, roughly chopped. In the winter I have used 1 tbsp each of dried basil and oregano and 1 tsp dried rosemary.
Celery salt, about 2 tsps or to taste. My mom made celery salt earlier this summer and I used that. I would never make my own celery salt but love using it! Such a treat to live with a foodie. You could use regular celery salt.
Fresh ground pepper, to taste.
5. Stir tomatoes, veggies, herbs and seasonings all together and spread out on baking sheets or in roasting pans.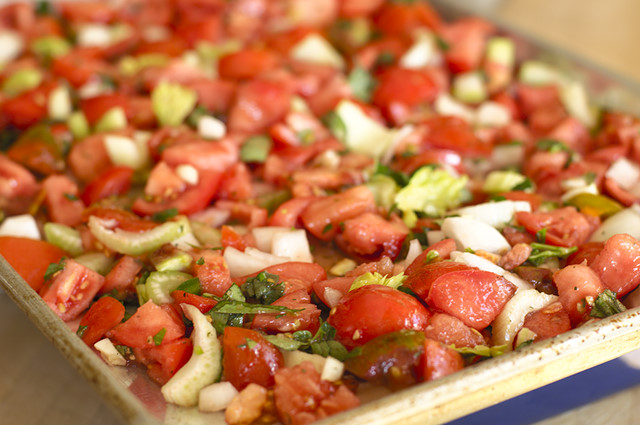 My mom has really big baking sheets and a large oven so I was able to spread out the tomatoes so they were one layer thick on the baking sheets (if you get what I mean).
In years past, with my smaller oven, I dumped the tomato mixture into two deep stoneware casserole dishes (glass would work also). In that case, the tomato mixture was at least 1-2 inches deep. That works just as well but you need to increase your baking temperature and time (350F for maybe 3-4 hours).
6. Roast tomatoes and veggies.
I have done this several ways and how long it takes to roast will depend on how deep your veggies are in the pan, as I mentioned above.
Assuming you can spread your veggies one layer deep you can roast at 350F for a couple hours, stirring once or twice. Or, if you get this started earlier in the day (my recommendation) roast at 250 for 3 to 4 hours, stirring every 45 minutes or so. The lower the roasting temperature (with a longer cooking time) the richer the tomatoes will taste. 
The smell in your house, while you are roasting tomatoes, will be absolutely divine. You'll want to leap and dance (& eat) with the joy of late summer. And no, I'm not joking. I delight in the smell of roasting tomatoes.
If you can, go out with your kids for a short time to enjoy a gorgeous afternoon walk or some other nature activity. When you come back in the door your family will rave over the smell and ask excitedly, "What's for supper?" And then you will feel like a rockin' homemaker and cook. Or maybe that's just me.... 
7. When tomatoes are done roasting, add broth.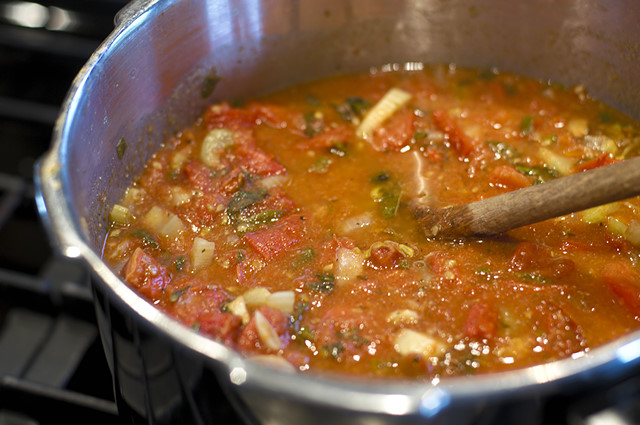 Scrape those gorgeous roasted tomatoes out of the pans and into a soup pot. You will be licking your fingers.
I add 4 cups of water and 1-2 tbsp of my homemade broth powder (recipe found in this cream of potato broccoli soup post). You can add 4 cups of whatever broth you usually use.
Depending on my mood I might add a bit of miso, nutritional yeast, or Herbamare. Herbamare is my new favorite, since cooking in my mom's kitchen this summer.
Add salt or pepper to taste and heat it all up to mix all the flavors. If the soup tastes too tart at this point I will add a small amount of sweetener.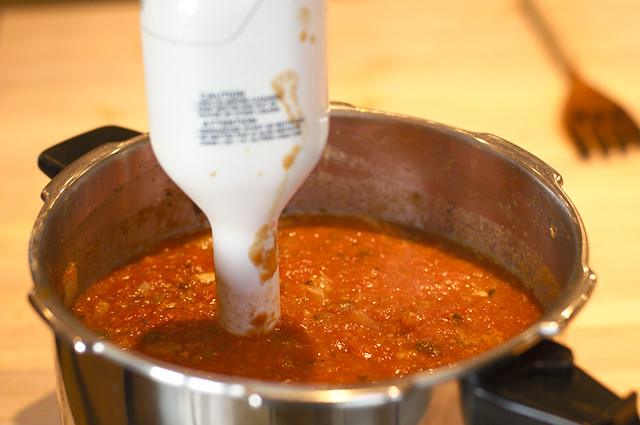 8. Blend with hand blender or masher.
You could use a blender also but I have a hand blender for creaming my soups.
I like to leave some chunks but not too many or Laurent doesn't like it. He's so funny about those big tomato chunks.
9. (Optional) Make a seed or nut cream.
I usually make a cashew cream by blending 1/2 cup of raw cashews with 1-2 cups of water (I've honestly never measured this part). If you don't have a powerful blender you will need to soak your cashews for 6-8 hours to do this. 
Or... (and this I just discovered out of necessity when I was low on cashews) you could make hemp milk really easily. Here's how - in your blender add six parts water to one part hemp seeds. Whiz on high for a couple minutes till well blended. Straining is not necessary.
Making hemp milk does not require a special blender. The seeds are very soft. This is a great option for those allergic to cashews or without a powerful blender.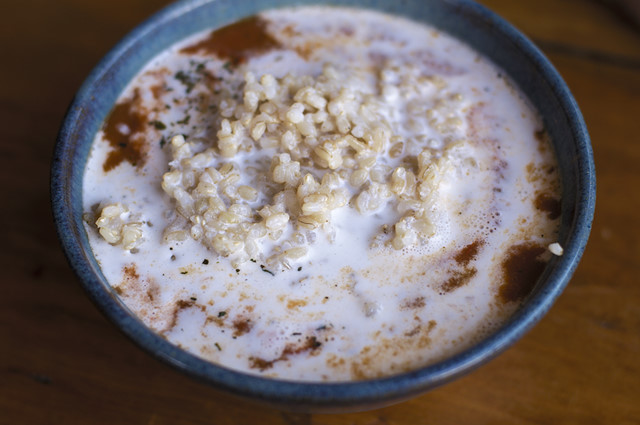 10. Serve soup.
Pour a generous swirl of milk on top (Damien prefers soup without the cream) and mix. Top with brown rice, whole grain crackers or bread to make it a full meal.
---
Make sure to cook some soup this season while you're busy getting organized and living in the magic and melancholy of this season.
And now as I hit publish on this post I'm out the door to experience another sunkissed taste of late summer. The peanut butter cookies and crunchy orchard apples are packed and the kids and I are off for an afternoon at the beach. Making the most of these last swimming days of the season. You'll never get these days back... so enjoy them! 
Renee Tougas participates in affiliate marketing, including the Amazon Services LLC Associates Program. Whenever you buy something on Amazon from a link you clicked here, I get a (very) small percentage of that sale. See disclosure for further explanation.
Filed Under
Resource Library
You can subscribe to comments on this article using this form.
If you have already commented on this article, you do not need to do this, as you were automatically subscribed.