The rewards of parenting in young adulthood (a birthday in the woods)
March 14, 2019
Our family's first weekend winter outdoors experience was a short backpacking trip to a cabin Maine. Ten years later and this little hiking dude has grown up into a legal adult. Gulp.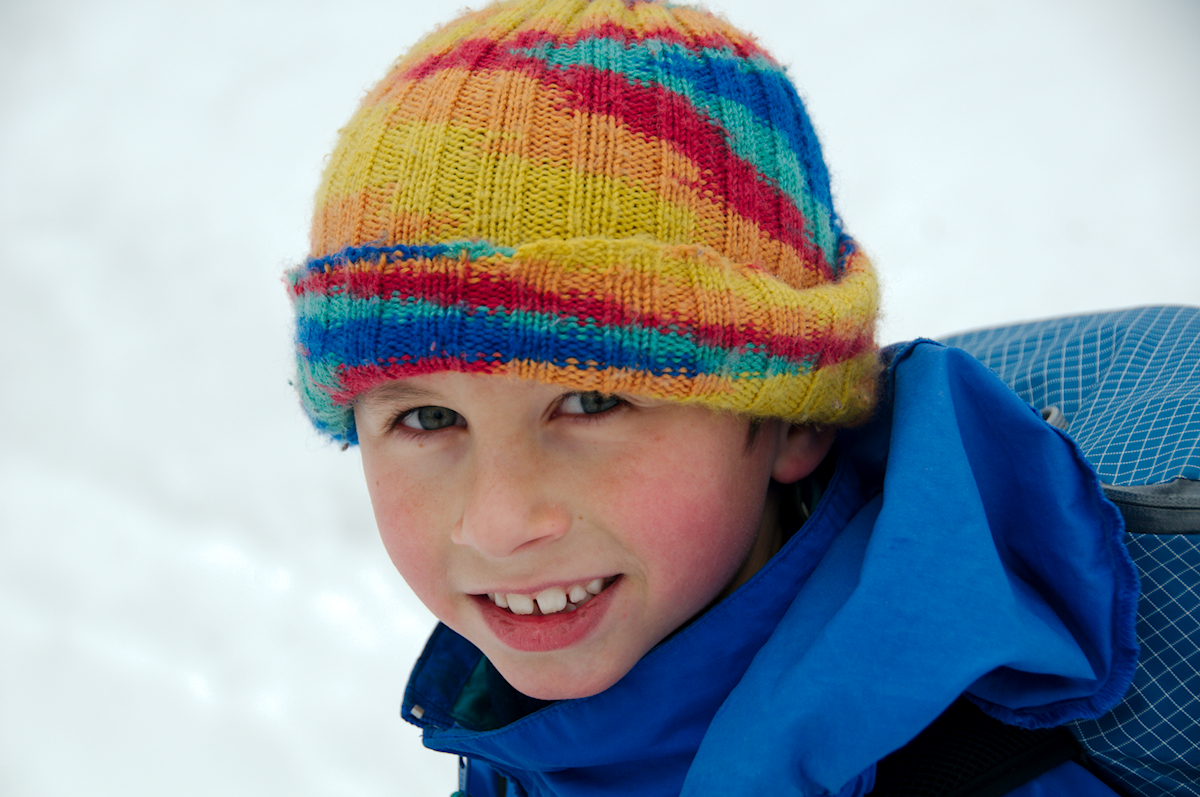 winter 2009, Laurent 8 yrs old
After that first winter cabin experience we were hooked and we took similar trips each time with more friends, the following two years; always right around Laurent's birthday in late February. And then we left Maine, moved to Quebec, had new adventures and except for one Christmas backcountry ski trip with friends in late 2013, we didn't take any more winter trips to cabins. Until last month.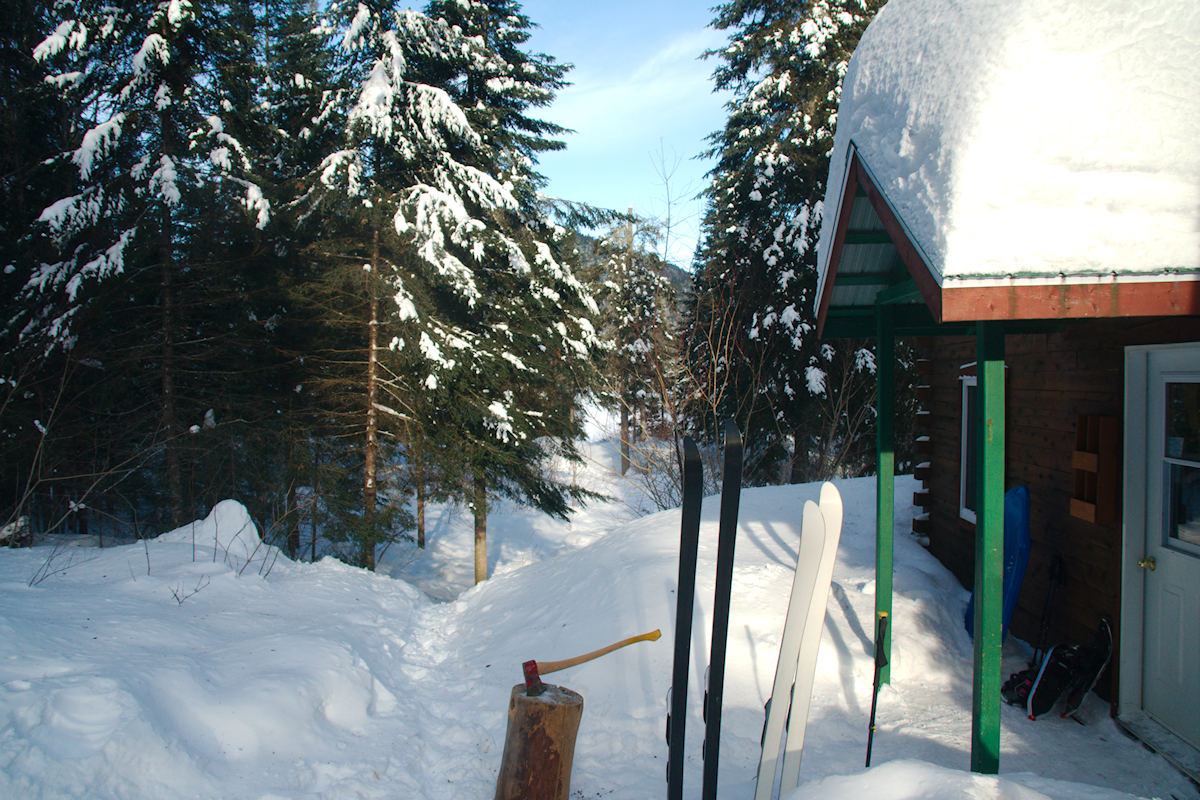 Between that first winter cabin trip in Maine a decade ago, and last month's trip to the Laurentians, while Laurent has grown into a young adult, so much has happened and changed in family life.
I'm feeling a little nostalgic about it all, the kids growing up; our family moving from a small city in Maine, to rural Quebec, to Montreal; all the shifts and changes in myself, our family, and my marriage.
I see us coming to the end of one season of life - raising and homeschooling our kids - and I feel uncertain about the future. Will I ever do anything else as meaningful as raising children? How will I find that thing?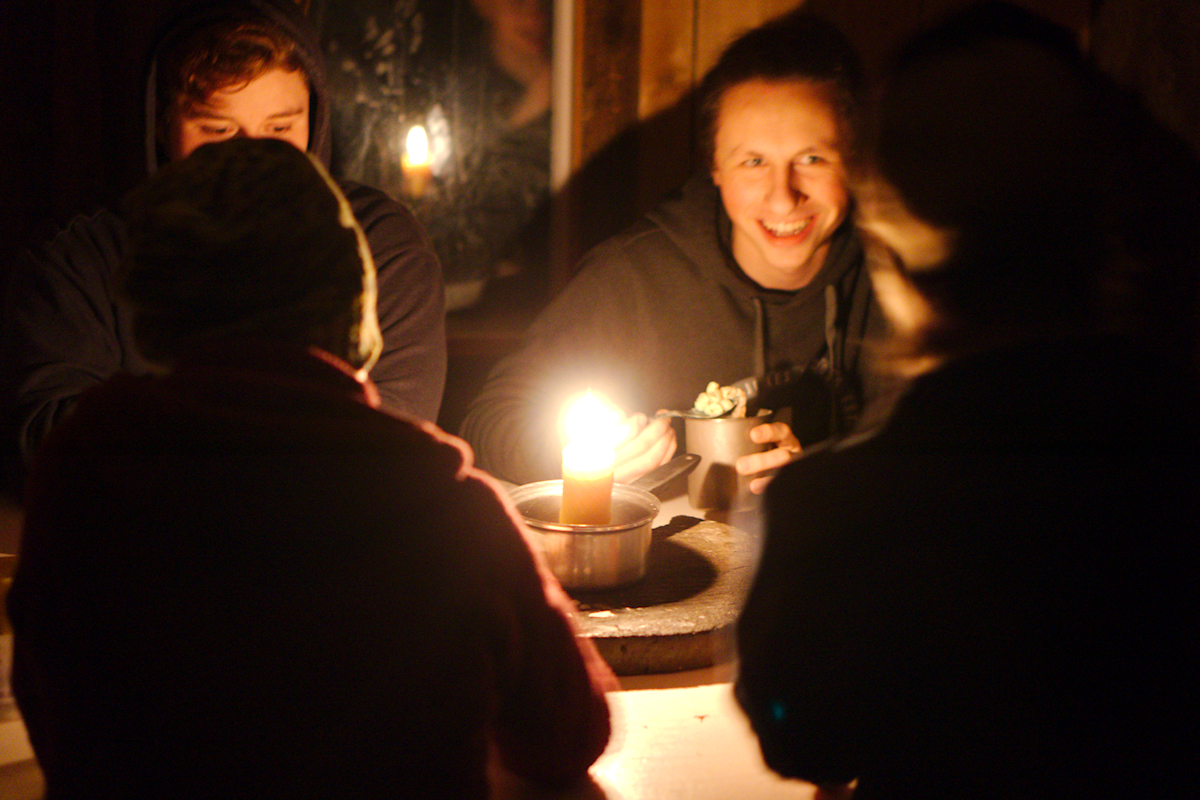 I feel grief about these years being nearly over, all that time spent together, the beautiful mundane punctuated by exciting adventures, the whole thing steeped in love.
At the same time I'm ready for it to be over because the intensity, the deadlines, the feeling of running a gauntlet during the teen years is not my favorite part of parenting.
I feel so busy trying to keep up with it all that I'm afraid I'm missing it, even while living it, even while I'm wishing it was done!
So yes, it's an emotionally conflicted time for me. With one young adult applying to competitive post-secondary programs, another graduating this summer (and then my work of preparing a transcript and academic portfolio), and a teen with two years left of high school, I feel I'll be riding this wave for a couple more years. God help me.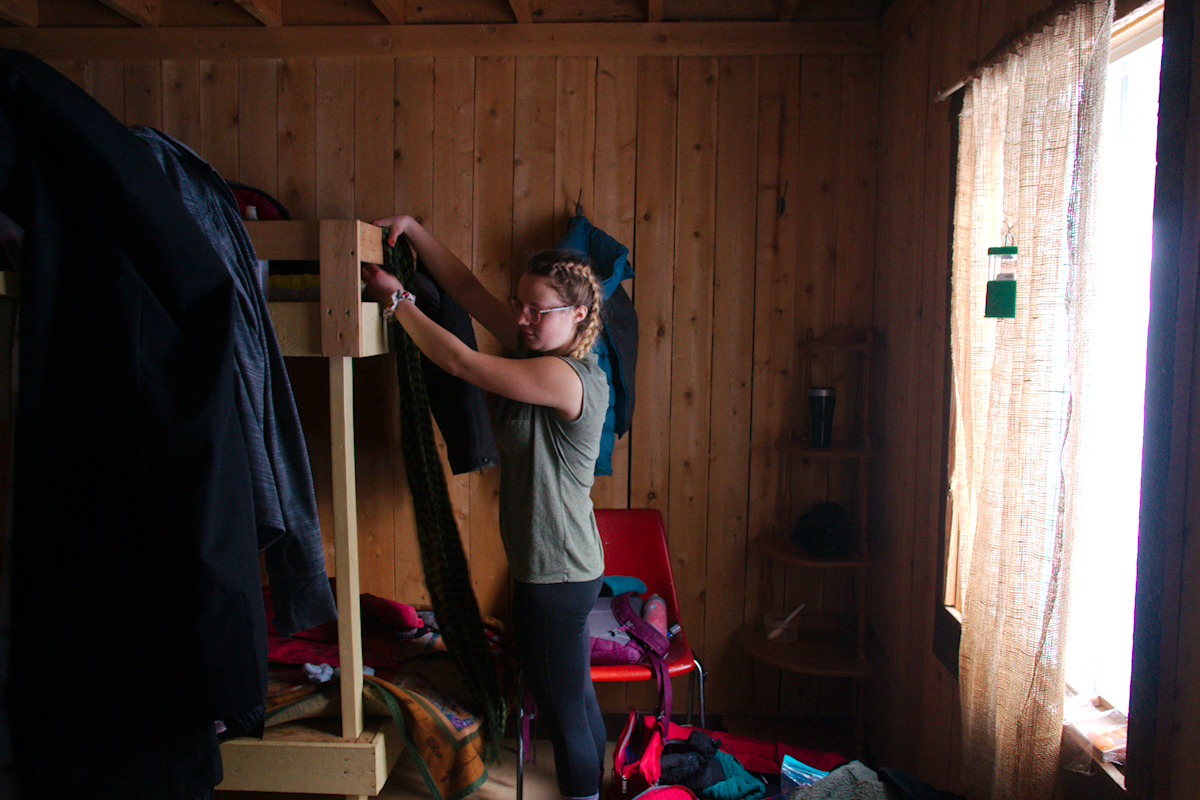 To host a party in the woods, at a cabin, was like slowing it all down for a few days. With no electricity or cell service life literally slows down. I wish we never had to leave.
In some ways it was a return to Laurent's childhood, to an environment and context that is familiar and deep. It was a celebration and expression of our family culture, our family history, while opening the door and writing the first lines of the new book of Laurent's adulthood.
An adulthood with friends and social networks, finding a significant other, more schooling, jobs and establishing a career/vocation, and starting a family of his own one day; not necessarily in that order.
One of the key transitions we've observed during the teen and young adult years is the importance of friends in our children's lives. Everyone reading this is thinking, of course, peers are super important to kids. But as a tightly-knit homeschool family who were living in the woods, in a culture dominated by a language our kids didn't speak, for the collective "middle years" of our children's upbringing, friends were not a big part of our children's younger years.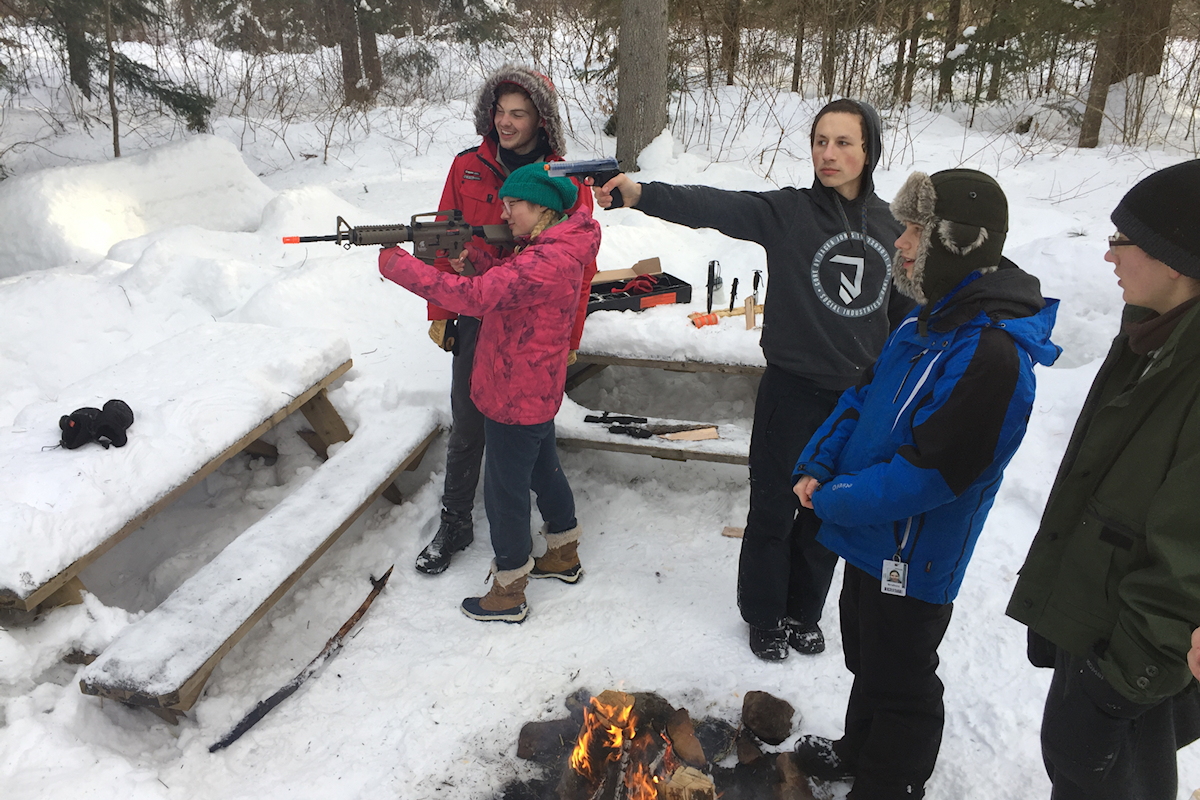 because this is what happens when you invite a bunch of boys to the woods
Which was a big reason we moved to Montreal. Our kids needed the opportunity to find their community during these years. We couldn't be everything for them, nor did we want to be.
We are succeeding in that goal. After nearly 4 years at homeschool co-op (all of Laurent's high school years) the younger two are well established in their gang. And Celine, arriving late in her own education to the homeschool co-op scene, and graduating nearly 2 years ago has found her own community in an ecumenical university ministry and local meet-ups, in addition to her online communities, which she has belonged to since early teen years.
The homeschool co-op gang is a group of friends that all three of our kids share, having experienced a lot together - co-op classes and weekly communal suppers, musical theatre productions, youth rallys, mission trips, birthday parties and social events. These were the kids who came to the woods with us for Laurent's birthday.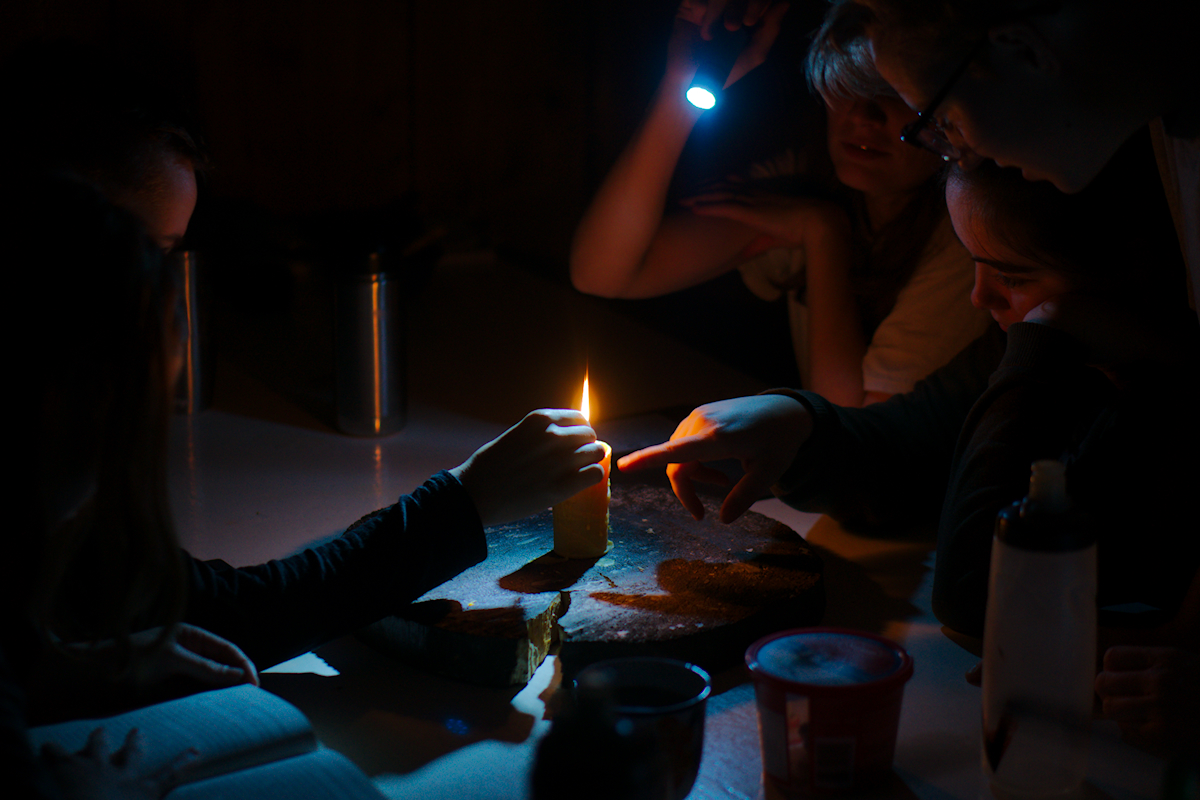 The "kids" had a wonderful time. The youngest kid was Brienne, who is sixteen, and a good number of Laurent's friends are bonafide adults, so kids is a relative term. It seems as you get older, the upper age limit of "kid" increases. Maybe "kid" is defined by your own children's ages?
We converted these kids to winter cabining. It was an easy sell. Hanging out in the woods for 2 days with your best friends, goofing off, having fun, having all the details taken care of (that was my job as party host).
There was plenty of talk about making this an annual event.
Just to be sure we were all on the same page, I made it clear that I would not be organizing a birthday party for a dozen-plus people in the woods every year, paying for a cabin, securing cars and drivers, preparing a gear list, making the menu, doing the grocery shopping and camp cooking. But we all agreed these tasks could be shared in the future.
This is how you raise kids anyway. You show them what's possible and they grow into the responsibilities.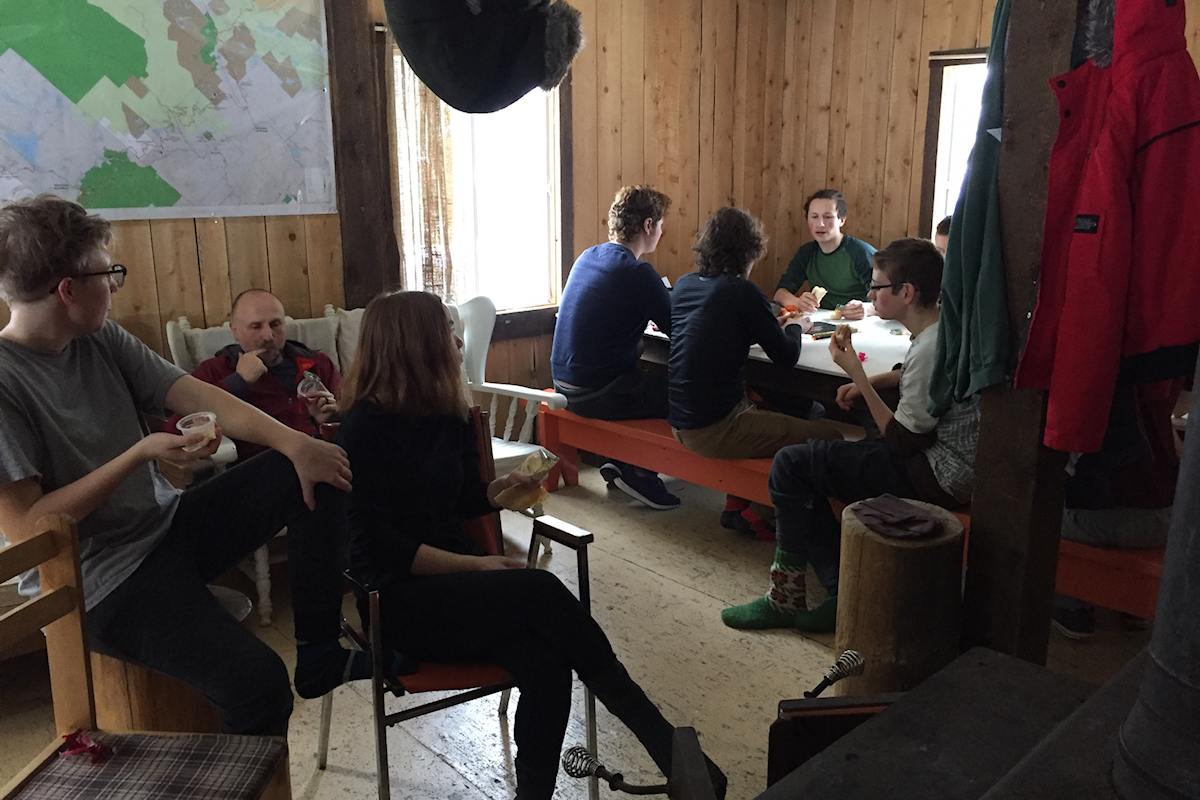 The kids had a blast and my "running the teenaged years gauntlet" mother-heart was revived, refreshed, and also rewarded.
I am nearing the end of our homeschool journey and I'm tired.
A long season of my life is coming to an end, and as it ends the next season is starting. The overlap of working and career building, home management, homeschooling through high school and homeschool community involvement requires a lot of me right now.
I have been extra cranky this winter season with all this responsibility. It hasn't been pleasant. I haven't been pleasant. Apologies to my family.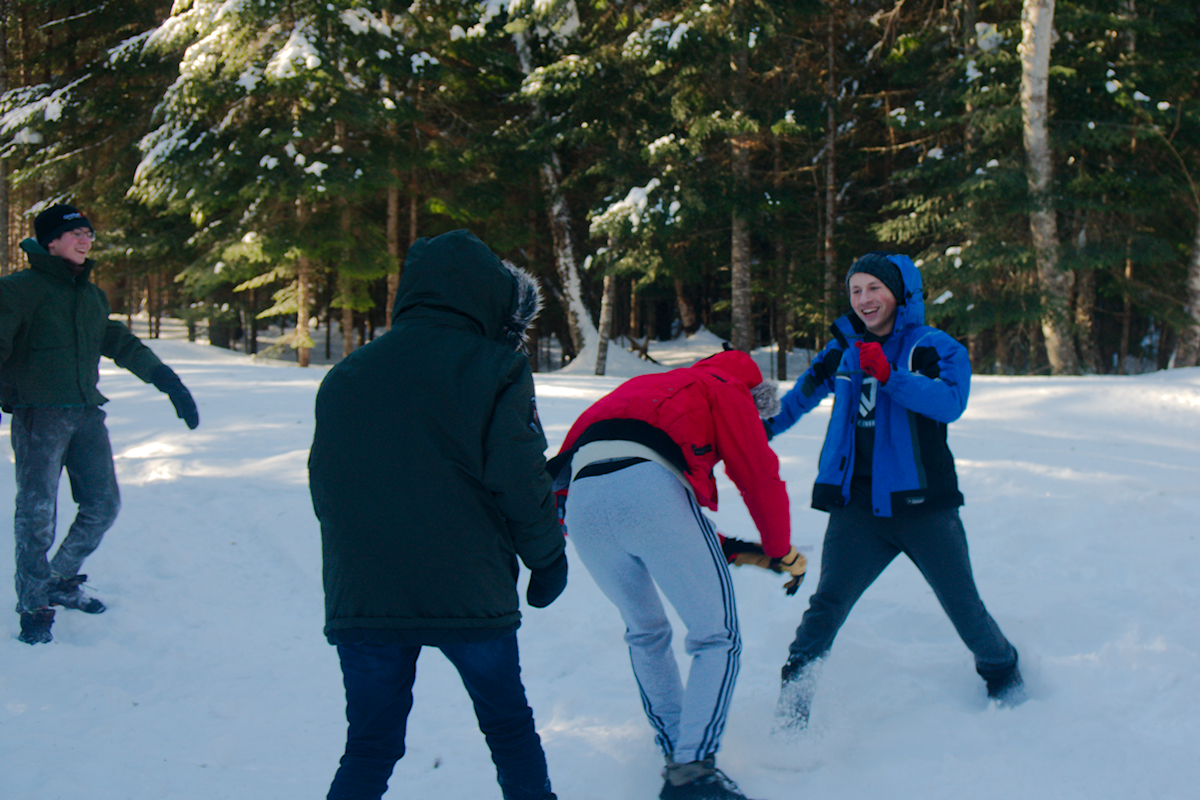 Karate sparring
In the intensity of the work it's easy to lose focus of the prize, the goal, and the reason we're doing all this.
And then I spent some days with my kids and their friends in the woods and I experienced the joy of healthy teen and young adult culture. The joy of relationship with my kids and my kids' friends.
Such great people, all of them. And as I stood around the campfire with my son and his friends, it hit me, I played a significant part in this, my role has been crucial.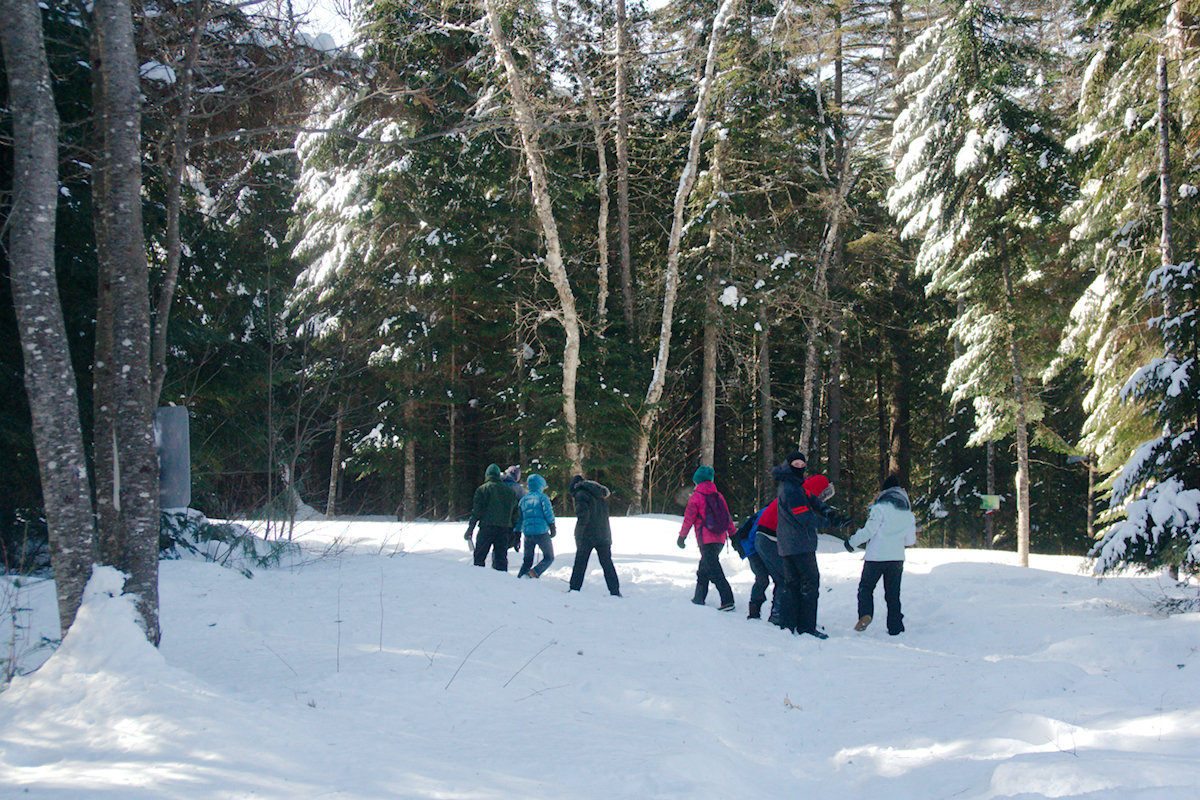 This happened (my close relationship with my young adult children, their relationships in community, a birthday in the woods) because of my work through this long season of child raising and homeschooling; because of my mothering, managing, relationship and community building.
Parenting is a journey fraught with so many potential pitfalls and ways in which things can go off the rails. Parents are not responsible for all those potential failures anymore than they can claim responsibility for all the successes.
So many good people have invested in our children, it does take a village. And divine grace covers the whole endeavour. But during this intense season, where I sometimes grieve the loss of their early childhood, the simplicity and innocence of those years, I forget that we've accomplished the big thing we set out to do all those years ago when we held these sweet babies in our arms.
We built something. We built a family where our kids feel loved and safe, where they are challenged to grow and are supported in the journey.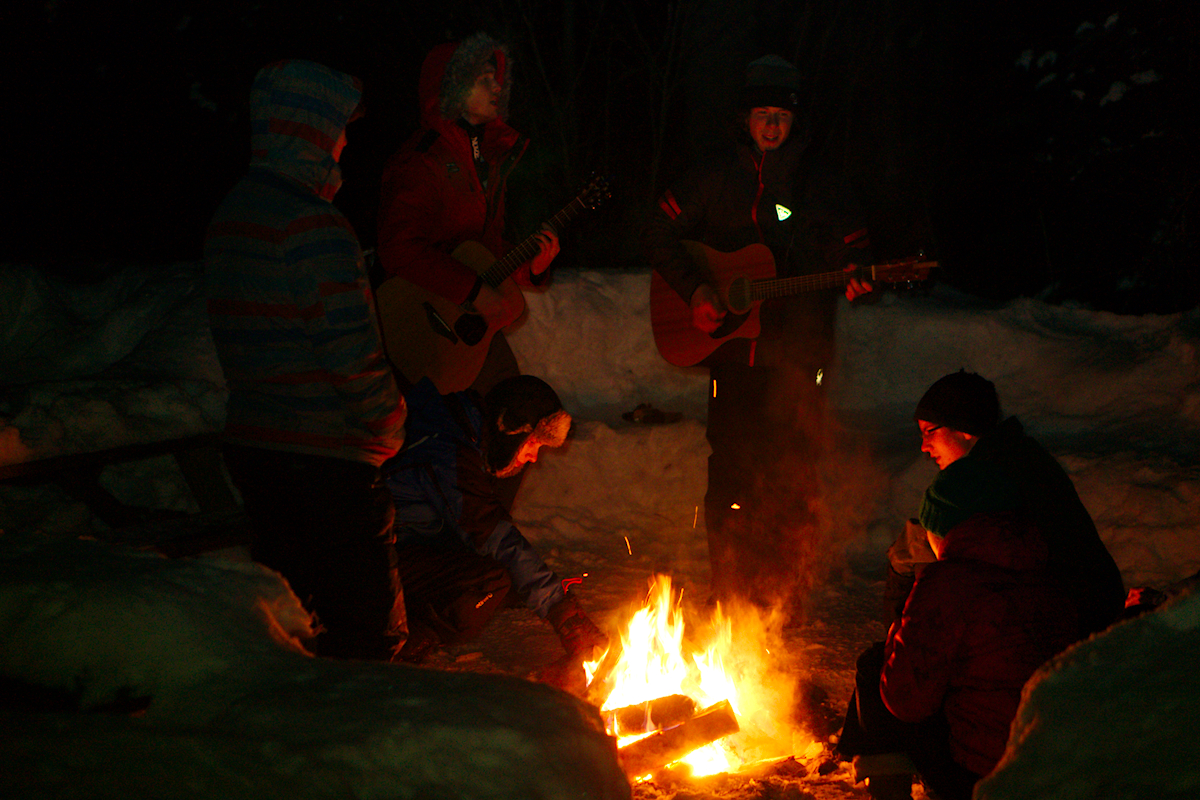 These children of ours have a lifetime yet to live as adults, for which I am not responsible. But the part for which I was responsible, raising them to adulthood, I've mostly accomplished. Not perfectly. Not without fault or failure. Not without pain or loss (for both the kids and myself), but with purpose and love.
Laurent's birthday in the woods was a sweet reminder of the reward for doing the work; it was a reward for doing the work.
---
We created a journal of Laurent's birthday at Outsideways where you can see a collection of photos and thoughts, from multiple people, of our trip.
Filed Under
Resource Library
You can subscribe to comments on this article using this form.
If you have already commented on this article, you do not need to do this, as you were automatically subscribed.