Photography Flutters
July 29, 2008
This may sound pathetic but I seriously got the excited "I can do this, I can do this..." flutters in my stomach when I read these Top Ten Photography Tips from Me Ra Koh Photography. I found the article from one of my favorite photography blogs, Shutter Sisters.
To all my loved ones, or really devoted readers who want to see better photos on this blog, I truly want this DVD teaching set for my birthday or Christmas. Hint, Hint....
I don't know how to explain it except that I want to be a really good photographer. I love looking at photos, taking tons of my own photos (yikes, need more hard drive space soon) and learning from other people. Just thinking about taking rockin' photos gets my heart pumping and my stomach fluttering.
What is with that? Am I weird? I'm not used to having a passion about something other than my family's well being and homemaking. I wonder, am I even allowed to... (Oh, I'm probably supposed to mention my best friend when talking passion, you know I'm hot for you babe.)
Anyway, if you're interested in photography read the tips. And if you really love me check out the DVD series and buy me a copy.
Oh, and because a photography post isn't a photography post without a picture here's the way expensive native Maine peaches I bought today. Not cheap but man, they were good.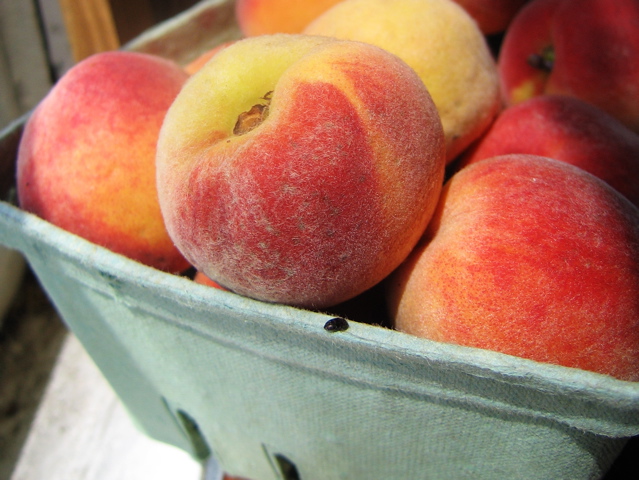 You can subscribe to comments on this article using this form.
If you have already commented on this article, you do not need to do this, as you were automatically subscribed.