Our apartment living and dining room
April 26, 2016
This is the fourth post in the Montreal apartment tour series.
The living and dining room are truly all-purpose, functional living spaces. We eat, relax, visit, study, create, read, wax skis, watch TV, play video games, and do schoolwork in this space. You could call it our great room because we use it for a great many purposes, including bike storage over winter.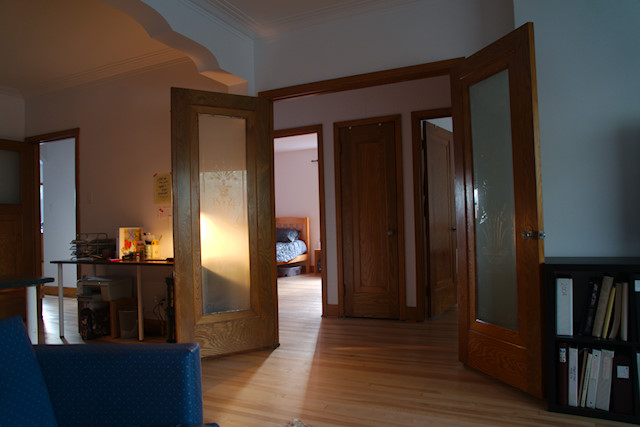 Our living and dining room is a long rectangular room with French doors opening to the hallway near the main apartment entrance and a single door at the other end, closer to the kitchen and bathroom.
The other long wall in the room is shared with another apartment on the other side so there are no windows along that wall. The lack of natural light in the dining room is my main complaint about our apartment.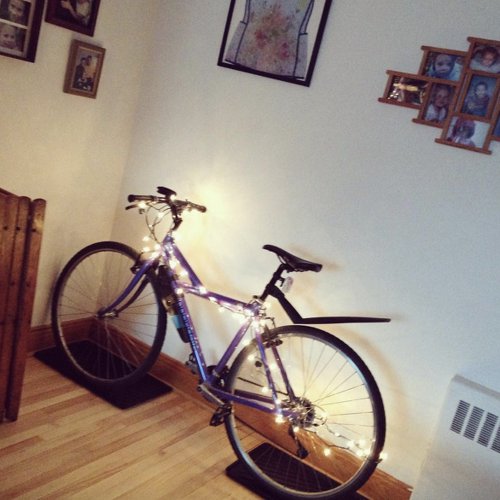 These rooms are furnished with a hodge-podge of old furniture, roadside rescues, and recent IKEA purchases.
Small Space Living Hack: Folding Chairs
Our dining chairs were an amazing gift from one of Damien's old bosses when we lived in Maine. His church was getting rid of these folding chairs and either we got them for free or we paid a pittance for them. I don't remember any more.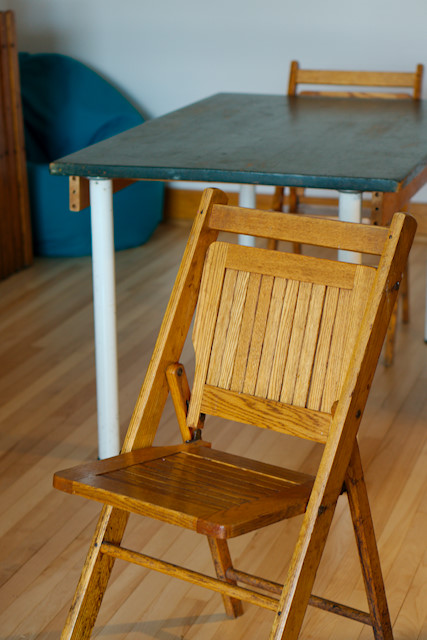 They are not fancy but they are very functional for smaller space living, have been a breeze to move (which is one of the reasons we've held onto them this long), and are quality-made.
We have ten of these chairs. They are used around the house - at the kids' desks, my desk - as well as at the dining room table.
We only open up and use as many chairs as we need in a given circumstance. Five at supper, two or three during the day, six or more when hosting friends for meals.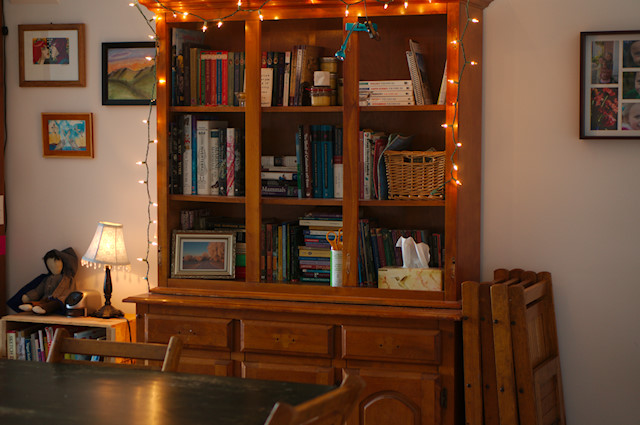 The rest of the time we fold the chairs we aren't using and this makes the room more spacious, less cluttered.
These chairs were made by the Paris Mfg. Co. in South Paris, Maine when mills and manufacturing powered the state. They served the first part of their life in a Lewiston church, and now they serve us. These chairs remind me of the years our family lived in Maine, a place I dearly love.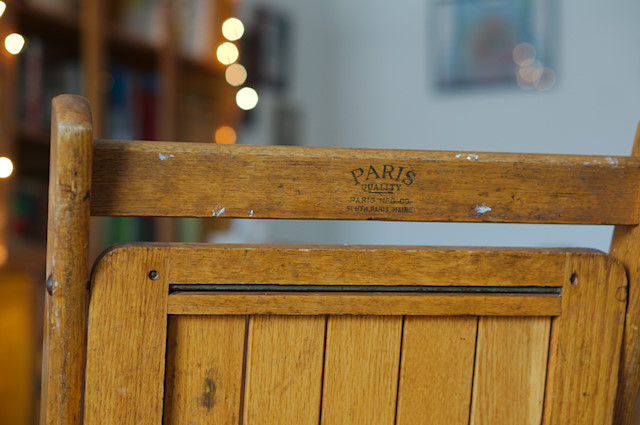 Our dining room table also has a history (and is in need of love). We bought it used when we were first married and it was originally a coffee table. Eventually, we added longer legs and used it as a craft table for years. It's now a small dining room table with heavy evidence of its previous life as craft/work table.
The table just fits six, and with that many people you have to dish up food in the kitchen. It desperately needs to be refinished, it's solid pine and I think it will clean up really nice.
Ideally, I want a longer drop leaf, or leaf insert, rectangular table. Something that can be made larger to accommodate food and guests more easily.
For now we accommodate guests by bringing the kitchen bistro table into the dining room. We also make space for buffet food service by adding two patio furniture tables we found in the garbage last summer.
These are square plastic tables that are ugly and old but otherwise in good condition, not broken, not wobbly, etc. We keep them in our garage and bring them out for parties and group gatherings. Covered with a large tablecloth you can't tell how hideous they are and they serve our purposes very well.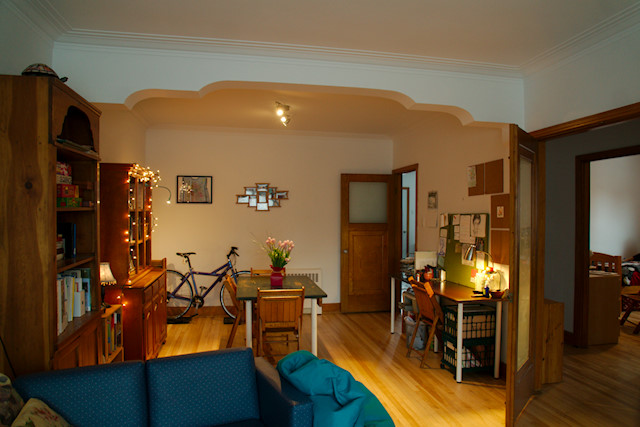 Small Space Living Hack: Multi-Purpose Furniture
To make more space when hosting a gathering the top of my desk gets cleared (contents stored in bin in our bedroom) to make room for beverages and glasses, napkins, dishes, cutlery, etc.
Frugal Living Hack: Roadside Rescues
As the photos show the dining room is home to my desk. It also holds our library/craft supply cupboard. Both of these pieces of furniture were roadside rescues that we picked up last July, right after we moved.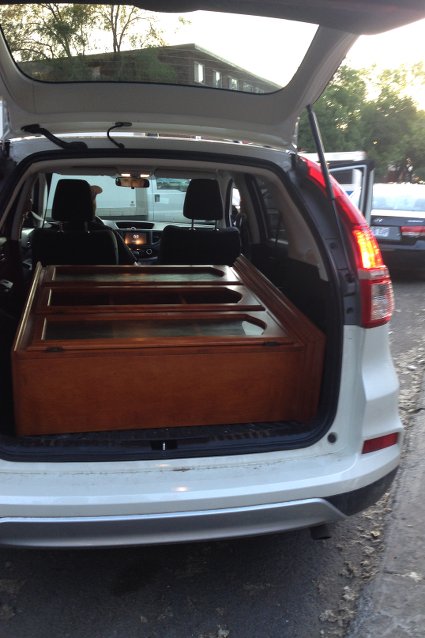 Roadside rescues are when someone else's trash is your treasure. Spring cleaning and summer moving are great times of year to find these treasures that people put out with their trash.
We didn't find my desk, as a desk. We found the top on its own and we made it into desk by adding five legs from IKEA. It's not too wide which is perfect for sharing the room with the dining room table.
I don't actually sit at my desk much to work. It's a dark and rather uninspiring spot, even with my new inspiration board. But my desk is command central and where I keep all my desk "stuff". It's the clearinghouse for homeschool and household management.
We keep books and craft supplies in a hutch we've converted to a bookshelf/craft cupboard. I'm assuming people put such fine furniture in the trash, not to garbage it, but to pass it on to other people.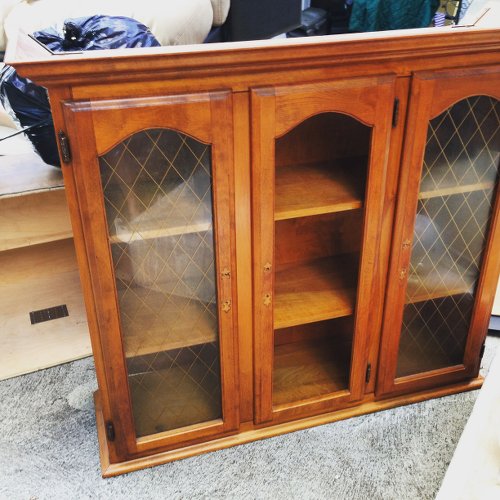 We don't have a big library, it fits in one bookshelf. We use the public library, for both digital and paper books. The books we buy are mostly digital, which the kids read on their iPads. We don't use a lot of homeschool "curriculum" and because we don't have younger children I give away the resources we are finished using.
Before our last move from the Peninsula to Montreal I downsized our book collection, once again, getting rid of the picture books, easy-readers, easy chapter books and dated or no longer used reference materials. I plan to cull our library this May to donate at the Homeschool Convention in Laval in June. I've saved my absolute favorites - Little House on the Prairie, Chronicles of Narnia, and a few Maine author and illustrated picture books to read to my grandchildren someday.
Over the years I've written about our library/book philosophy and you can find those posts here:
With the exception of one bookshelf and our rug (both hand-me-downs from my parents) we had no living room furniture when we moved to Montreal. My vision for the living room is to have a large, comfy leather couch, that seats all of us, as the dominant piece of furniture in this room. I also want that couch to have a double bed so we can more easily accommodate guests. We can't afford that yet so we're making due with roadside rescues, an IKEA Prang chair, and three beanbags.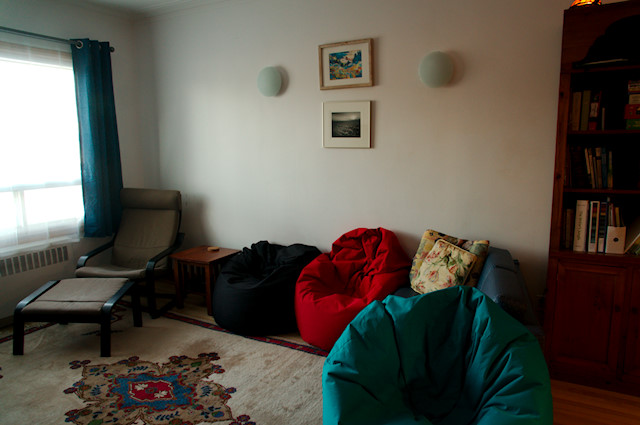 The beanbags were a stroke of genius, they were Damien's idea. These beanbags are made locally, in our neighborhood actually.
Our goal was to have comfortable, transportable chairs for the kids to "hang-out". They chose their own colors and they each have their own chair. We weren't sure if the kids would want to sit in their rooms or the living room. Turns out they mostly like sitting in the living room. So the beanbags spend most of their time in this space.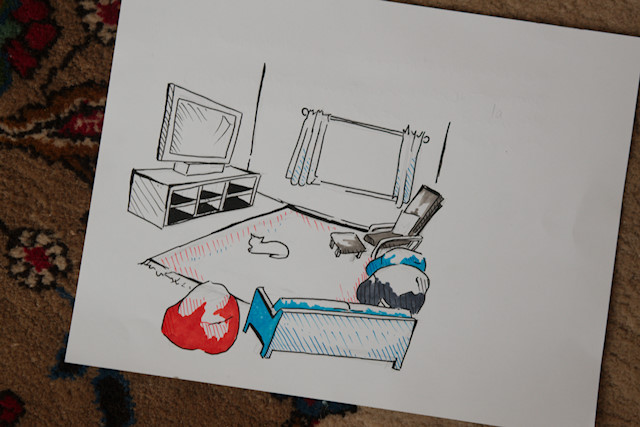 I love these beanbag "chairs". They give a real teenager vibe to our house. My number one goal in homemaking is to create a welcoming space, first and foremost for my family and then to others.
As our children get older it is especially important to me that our kids feel at-ease at home. That they enjoy being here. This is their home. Which means they can eat where they like and use the space how they please (within reason), and they also clean and contribute to the household chores.
After moving last summer we purchased our first TV in over a decade and the kids and Damien pooled their resources to buy a PS4 just before Christmas. These have a prominent place in our living room. The ubiquitous IKEA KALLAX shelving adds more storage space to the living room and holds some media hardware and our photo and memory albums that no one looks at.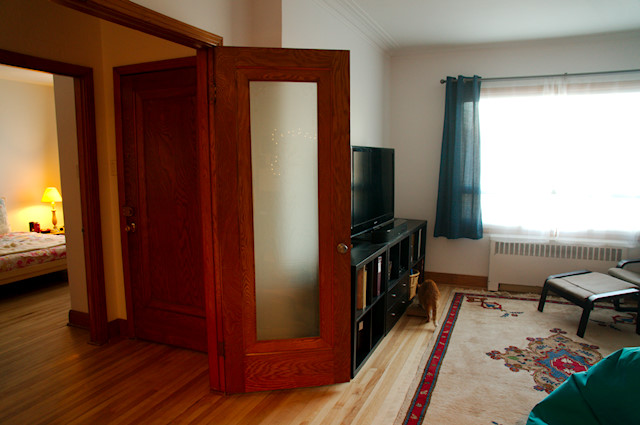 As I've been writing these apartment tour posts it's given me an opportunity to think, once again, about the kind of home I am wanting to create for my family and to share with others. Both my parents have commented (or emailed me) on my posts and their words are exactly what I value in our home: bright spaces that are warm and efficient.
My homemaking goal is to create a welcoming home that helps us nurture relationship, within our family and with others, and provides a well-managed and organized space for us to work and learn together.
It gives me joy when the dining room becomes a workshop for sewing or artist projects, when all three kids enjoy playing a video game together, when a kid drags a beanbag chair to the kitchen to sit and study while I cook or clean, or when we all sit around the table for supper.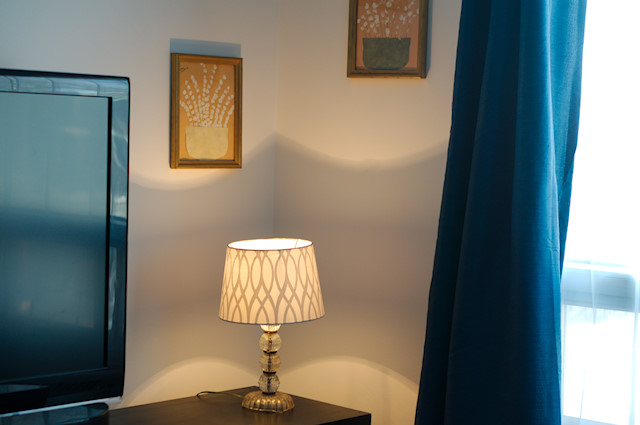 These days are fleeting. Our oldest is seventeen next month. The baby will be an "adult" in five years. We are in the home stretch years of the five of us sharing a home. I want to make it good. And you don't need a ton of space to make it "good"; you need love, respect, kindness and maybe a few beanbags.
Filed Under
Part of Series
Resource Library
You can subscribe to comments on this article using this form.
If you have already commented on this article, you do not need to do this, as you were automatically subscribed.