Nurturing Creativity ~ The Artwork
April 15, 2012
Like I've shared with you before I didn't have any grand vision or plan for writing my e-book. After the door closed on a different creative project I grabbed the e-book idea and ran with it. I learned how to do it by simply putting one foot in front of the other, dealing with the next step as it arose.
Once I had got most of the writing done I started to turn my thoughts towards the cover. I knew that for a book about creativity I wanted a work of art on the cover. I wanted something that communicated visually (as well as emotionally and spiritually) what I was trying to communicate in words in the book's contents.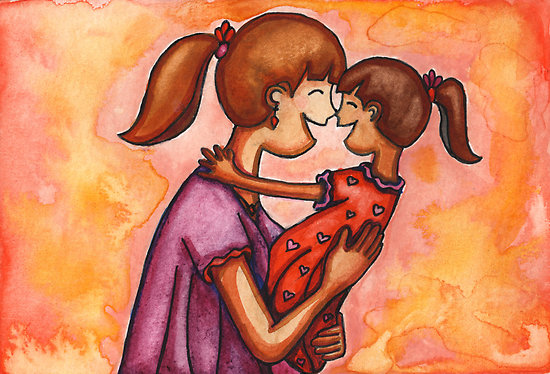 I wanted to show a mother creating and a photo of mine didn't feel right. I briefly considered asking Laurent to do something for me but I realized I wanted a mother's artwork on a book about mothering and creativity.
When I came to this realization I knew exactly who to ask to make the cover for Nurturing Creativity.
I "met" Erika almost two years ago when she e-mailed me with some homeschooling questions. That was the start of a casual internet friendship and some correspondence back and forth over the months. I was drawn towards Erika's beautiful artwork and thoughtful writing about motherhood and started following her blog.
I love the way Erika's art communicates joy and nurturing in the context of family life. I also love her use of vibrant colors, as I tend to be a bright color person myself. Erika is a gifted and talented artist. She's a mother and a homeschooler. All this wrapped up into one and I knew her art was exactly what I wanted on the cover of my first e-book.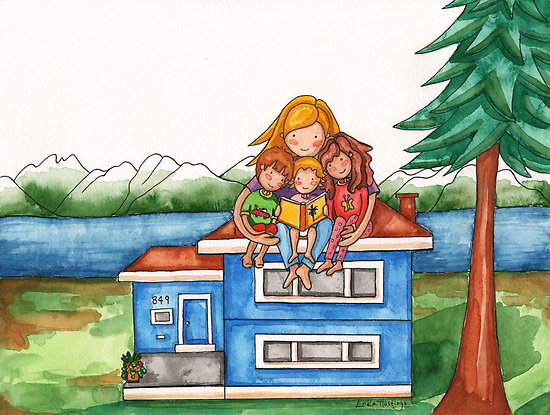 When she agreed to do the painting I was thrilled.
I gave her a few ideas of what I wanted the cover artwork to communicate:
a mother creating
nurturing our own creativity
vibrancy, color and beauty
using our hands
creativity like a prayer or offering
Those were just some of the ideas we started with and from there she created a beautiful piece of art.
When it arrived in my inbox I was blown away.
Erika's contribution to my book happened to coincide with launching her own creative project - an online art gallery with prints for sale.
I am so happy today to promote that project of Erika's and encourage you all to go there, check it out and buy a print.
Perhaps you've read my e-book and would like a gorgeous visual reminder of the importance of creativity in your life as a busy mom? You can buy the cover artwork for Nurturing Creativity right here.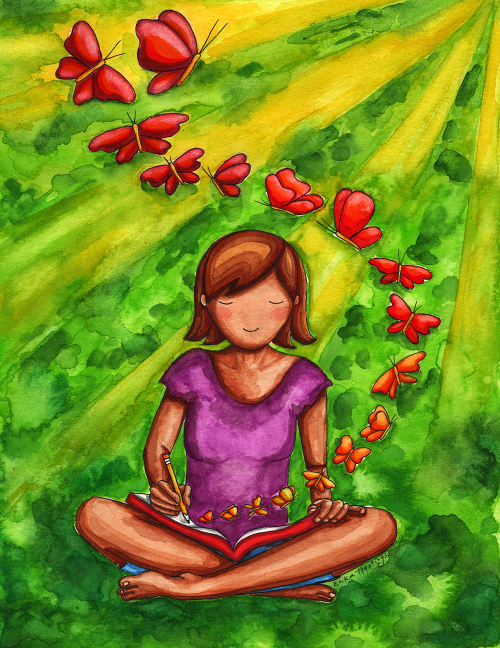 Redbubble, where Erika hosts her work, allows you to buy small prints like greeting cards or postcards for under $3.00. You can also buy larger prints and posters to hang on your wall.
Is someone in your life expecting a baby? I just love this painting.
I know it's really early to be thinking of next year's Christmas cards but isn't this just adorable?
Erika is also a photographer and has gallery of photo prints available for sale.
I just want to publicly thank Erika for working with me on this project and offering her creativity to the world. Thank you Erika.
You can read Erika's account of our meeting and her review of my e-book on her blog Mud Spice.
Renee Tougas participates in affiliate marketing, including the Amazon Services LLC Associates Program. Whenever you buy something on Amazon from a link you clicked here, I get a (very) small percentage of that sale. See disclosure for further explanation.
You can subscribe to comments on this article using this form.
If you have already commented on this article, you do not need to do this, as you were automatically subscribed.