Moving right along then
February 8, 2013
This post is somewhat self-serving. I make no apologies for that. I used my blog writing time this week to work my way through January's emotional low points. Read at your own risk.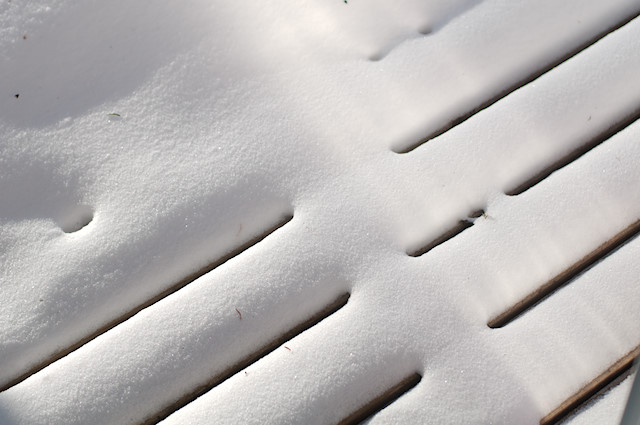 Next week I'll be back to FIMBY's regular programming, you know, the Fun part of Fun in My Back Yard.
~~~
Historically, winter has been a hard time of year for me. This can be rough considering winter is a big part of yearly life in a northern climate. Each year I learn ways to deal with winter better. To really enjoy it and not dread it.
I practice gratitude (journaling, prayer). I seek and capture the stark, yet bright beauty of the season. I do my best to be active outdoors. I follow health and lifestyle recommendations for beating the winter blues.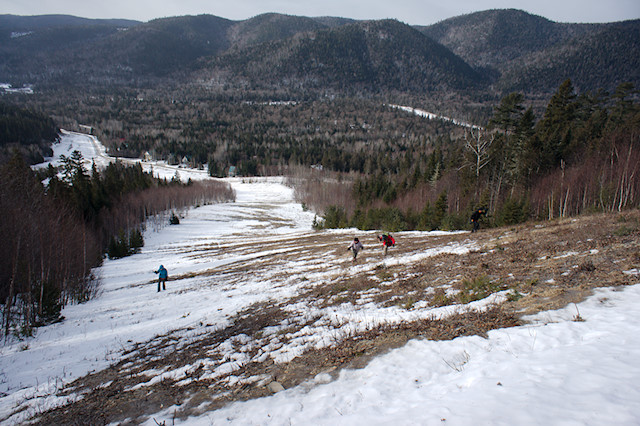 I do believe that each winter is a little better than the last. Especially now that the kids are older and getting outside is less difficult.
For many winters our family has looked for a fun and keep-warm-enough winter activity to do outdoors together. I've chronicled our winter activity journey at Outsideways. We know this about ourselves and our family - we feel the best about life when we have a whole day outdoors together each week, plus our individual exercise on top of that during the week.
This has not been an "easy" practice to maintain in a culture like ours, where families tend to go every which way and organized sports reign supreme. But this is our way of connecting with each other and staying healthy. Two of our core values.
This winter we had an outdoor activity in the bag. We live at a ski hill. For the past couple years (even before we left Maine two years ago) we saved, scoured sales, and sold other things to purchase ski or snowboard gear for our whole family. Last fall we bought our early bird discount ski passes.
Skiing is on the schedule, but the weather does not always cooperate.
The snow this winter has been pathetic. We are at nature's mercy in this regard. As outdoor enthusiasts we realize we do not control nature, nor should we.
Two weeks ago Damien hurt his knee. Things happen. He is resting and is slowly recovering. We are making due with little snow and a not-so-active daddy, but making due was not what I wanted for this winter. It was not part of my plan. (Insert minor temper tantrum here.)
I invested a lot in the plan for this winter. A lot of emotional energy and financial resources. Financial resources that are tight to begin with.
(Confession: I have a really difficult time exercising if it's not fun. I don't feel bad about this. Some people love to push themselves physically. I am not one of those people. I exercise for the beauty of the outdoors, you will not find me on a treadmill. I exercise to be with my family. I exercise to get somewhere, like the top of a mountain. I exercise if it's fun or if there is an immediate purpose to be achieved.
I know what motivates me to exercise and we build our schedule around that. (You know you can do that.) Instead of trying to fit into what someone else says exercise should look like I do what works for me.
Skiing in the winter really works for me. At the beginning of January I was thrilled about how this winter was shaping up because I care about my health. I care about my physical, spiritual, emotional, and creative wellbeing. Vigorous outdoor physical activity really makes me more resilient and vibrant in all these areas. I was going to rock this winter.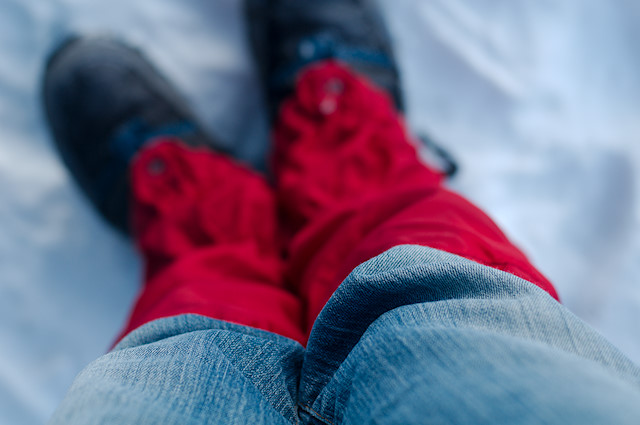 Ahem.
I haven't had a full day in the mountains for three weeks. My usual physical and spiritual weekly recharge hasn't happened. Not to mention the low my husband experiences when he can't be as active as he likes. 
I wanted to thrive this winter, not just make it through! I think I'll stomp my feet here for emphasis.
I wasn't lying when I published this and this. Those were the plans. I wrote those posts when that was the reality. I'd like it to be the current reality also.
~~~
My kids are growing. Not just the kind of physical growth we expect from children (that surprises us anyway and shoots the grocery budget through the roof - again). My kids are separating from me. In little ways and bigger ways.
They always were separate from me. Obviously. But as littles they were also an extension of me. I haven't given myself the label of attachment parent, because I'm more authoritative in my parenting than most AP's I know, but attached I am! Big time.
I knew all along that my kids would detach themselves from me, and me from them, when the time was right. A childhood attached to mama's apron strings feels right. An adulthood attached to mama's apron (or purse) strings doesn't. Somewhere in between the child must start to walk her own journey. But when that starts, oh it is hard for the mama. It's hard for me.
I used to lead the show. Not so much any more. Damien plays a very active role now in day-to-day parenting and homeschooling. This is fabulous, it's what we've worked towards, but it's also hard for me to let go.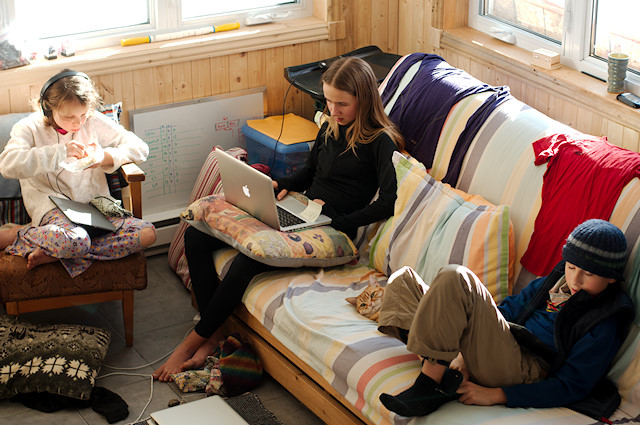 I used to invite my children to join me in my interests. Now they invite me to join in theirs. And these interests are leading me into new and unfamiliar territory. Oh, how I love the unfamiliar. (That's sarcasm in case you're a new reader and don't know already how much I struggle with the unknown).
This present journey reminds me actually of Damien leading our family years ago into regular hiking and outdoor activity. And now look where I am. Kind of scares me to think where my children's interests could take me. Larping my way across the continent.
Early this week I read this post on Katrina Kenison's blog. She was sharing guideposts in her mothering journey. It's a beautiful post, as all Katrina's writing is.
I am copying this quote from there:
"To look deep into your child's eyes and see in him both yourself and something utterly strange, and then to develop a zealous attachment to every aspect of him, is to achieve parenthood's self-regarding, yet unselfish, abandon."

"We must love (our children) for themselves, and not for the best of ourselves in them, and that is a great deal harder to do. Loving our own children is an exercise in imagination." – Andrew Solomon, Far from the Tree
Loving our own children is an exercise in imagination. I cannot picture a better phrase for what I'm going through right now.
There are wonderful things happening in our family life as I pull back and let my children come into their own while still being very attached to me, when needed. (The need is less and less.) My roles and responsibilities are changing.
~~~
January was the first month in the history of our family life that my work contributed significantly to our household income. This was a pleasant surprise and not something I worked for directly last month but was the fruit of previous labors. Basically I sold a lot of ebooks both from our store and in ebook bundles.
The timing could not have been better as Damien's work was slower than normal last month. January's income earning distribution was an anomaly, it's not like this every month. We're still very much in the building phase of earning a location independent, family integrated livelihood. 
For months and months (the last couple years?) I have been wrestling with the kind of work I want to do. I have watched other women write books, teach courses, and sell products and wondered what my path will look like. I have experimented with different ideas.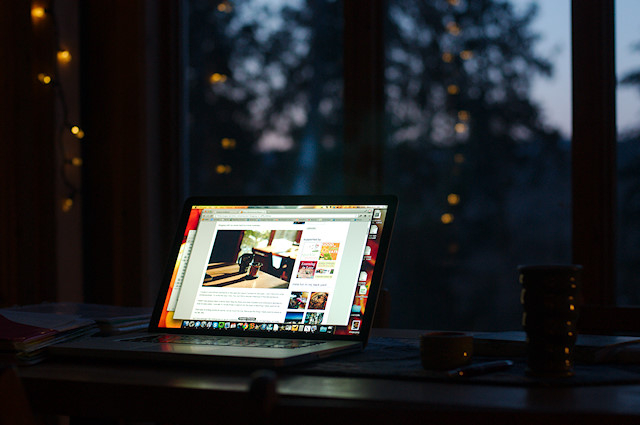 My mission is to nourish, encourage and teach; build relationship and create beauty. Investing first in my family and then others.
I know (generally) the work I want to do. I know (mostly) who I am. Figuring out how to bring those two together, in the context of my family life, has been tricky.
My desire is to teach and encourage families to live in freedom. This is a hard fought truth in my own life (as you will see if you ever get to the end of this post). Freedom is foundational for creative, adventurous and joy-filled family life.
This message burns in me as I struggle through it myself.
I want to share these ideas in a very personal, but more affordable way than individual coaching. Relationship is not just a theoretical part of my mission statement, it's the basis for all the work I do.
I started working on my first ecourse in January. The ideas that have been brewing in me, that I have been writing about for the past couple years on the blog, and that I have been living through myself are pressing on me to be shared. Not just in random blog posts or one-on-one coaching calls but in a coherent fashion with practical application for families. This is what I want to teach!
These ideas feel like a seed just below the surface. The seed has germinated and is struggling to break free into the light. It's been struggling for a way to be expressed for many months now.
The problem is that my relationship based approach makes my work feel vulnerable and "unprofessional". And I start to doubt that I can do this.
When I am struggling emotionally or otherwise (like last month) I pull the plug on the things not absolutely necessary in my life. I do this so I can still (try to) be a present mom, wife, homemaker and homeschooler - those things I am called to first in my life. And right now my work is the first to go because it draws right from the core of me. I don't "put in time", I give my heart.
And yet when I am feeling good (and taking care of my physical, emotional, spiritual and creative needs), which is most of the time, I have the energy for this work. I have lots of energy.
This was my state at the beginning of January - high energy - and I thought, "oh, this is how it will come together. I will finally be able to share this message, in my strength." Ugh. You know where this is going.
Last weekend I was sharing this sentiment with Damien - my high hopes at the beginning of January and the weakness I felt at the end of January. He pointed out that it's not my perfection that qualifies me to teach (in which case we'd all be disqualified), it's my struggle. It's not my veneer but my vulnerability.
I still don't know how and when this seed will break through. If it will happen in the coming months, as I originally planned, or if it will wait for better growing conditions. Because my health, my home and my family always comes first.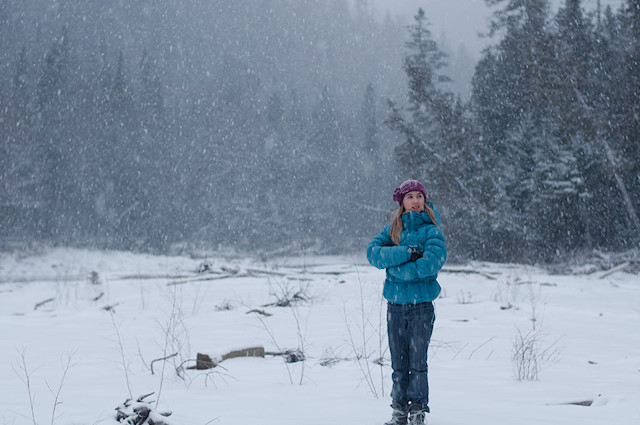 If I have only so much energy to give, because I'm actually struggling through winter (see first section) and through family change (see second section), the limited energies I have will be directed to my family and self. Taking care of them, taking care of me. I just can't do it any other way.
I fear this disqualifies me from being the writer, teacher, and encourager I want to be. It feels like the reality of who I am (wholehearted and vulnerable) makes it hard to be like the work-at-home moms I admire. Those women who seem to "rise above" or are better at compartmentalizing their lives to steam forward.
~~~
I'm not done yet. (Don't even get me started about how I wish I could write more succinctly.) I feel a breakthrough coming and I'm going to write my way to that light.
Change
Change is the constant in life. I like to box everything up, tuck in the loose ends and stand back to look at the "beauty" of this. Order. Nature does not work this way and our modern world certainly doesn't work this way either.
We live in a time of constant change. Big changes are always happening in the world outside our homes (economy, climate, governments) on top of the changes everyone simply goes through in normal life - birth, death, marriage, divorce, children, teenagers, empty nest, etc. I must learn to flex with the change and also raise my children for the reality of a world always in flux.
Some people say the pace of change is overwhelming for us humans. I agree, which is why I think creating sanctuaries of peace and stability (ie: homes) is so important.
Creating a strong home environment strengthens our resiliency to handle the change without and the change within. This is what I've worked for all these years as a homemaker. I am more resilient than I think I am. I am loved. I have the tools, and I have the freedom.
Two years ago we completely restructured our lives so we could better handle coming changes. Changes in the economy, changes in our children, changes in ourselves (to name just a few). We've built our lives to handle this change. So why do I fight it so much?
I'm living an old mindset (change is bad) in my new life. A life that can accommodate change - day to day, week to week. We are accountable only to ourselves, so why do I keep acting like we are stuck in a certain pattern? Good question.
I choose to live the freedom right in front of me. The freedom of our family life - to love, live and learn together through the changes.
Fear
There are many things I fear. I do not need to list them all here. January, with its plans gone awry reminded me again of a fear lesson that I would rather not learn.
I like to know, anticipate, and plan in order to avoid discomfort and pain - emotional, physical and otherwise. In the case of this winter I had carefully constructed a plan because I don't like feeling the winter blahs or winter blues. I fear a downward emotional spiral (and there is a family history of this for me to add to my anxiety) if I don't carefully construct my life to avoid that.
This is how I manage my fear of the unknown (or known) - I carefully construct my life to avoid the pitfalls. This works in some regards. I have saved myself a lot of heartache by making some good choices. But taken to the extreme this is a false belief. I cannot plan and organize my life to avoid hardship.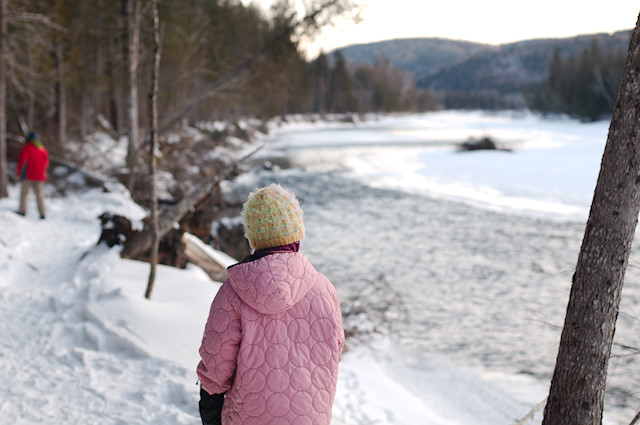 I want to avoid struggle, avoid low points, avoid conflict. I eat healthy to do my best to prevent disease. I parent with respect and kindness so as to build and grow friendship with my children. I set up boundaries and routines in my life to create peace and order in our home.
But there are no guarantees in any of this.
I've made some decisions along the way that have contributed to having a wonderful life. But these decisions did not guarantee anything. And that's scary. I can't control the outcome.
And so I need to let go. Again and again. Make plans, trust, live, let go. Repeat.
I choose to live the freedom right in front of me. The freedom to let go and not be in control. The freedom to trust Someone else with that responsibility.
Insecurity
I am insecure about my work in the world, some days and months more than others. I fear (there it is again) that I can't be the writer, teacher, and encourager I want to. I fear my heart is too open, my writing too vulnerable, my emotions too volatile. But I can't do this any other way. This how I live. This is who I am.
The road is not clearly marked. And so I look to other online creative mompreneurs to see how they do it. I look to them too much.
This journey reminds me of being a new mother. It took me a lot of trial and error before I found my mother confidence. Before I knew my mothering style.
To help me find my way I ended up turning off as many outside voices as possible (it was easier then since there were no blogs, only books, magazines and web "pages"). I stopped reading parenting books and instead listened to close friends, my children and husband and figured out what worked for me.
In trying to figure out how to mother and homeschool there was (and is) a lot of trial and error. I've grown used to this. I accept it as part of the journey. None of these efforts are wasted. Even the parenting or homeschooling ideas I've tried that didn't stick or didn't work were not in vain. They've helped me find the path that did work.
I know I must do the same in this next stage of my life's work. I just wish I had the confidence already. The confidence that only comes from experience.
Comparing myself to other creative working moms just gives me a bad case of "not enough-itis". I don't have enough time, enough resources, enough connections, enough readers, enough marketing prowess, enough emotional reservation, enough, enough, enough!
Whatever it is, I don't have enough of it.
What a lie.
You want to know who's work I should emulate? No one's.
Who's schedule I should copy? No one's.
Who's definition of success I should seek? No one's.
Who's goals I should pursue? No one's.
I rail against a herd mentality in homeschooling and family living. I fight society's measures of success. They don't represent who I am or our family values. And yet I apply a "comparison" mentality to my work. Measuring myself against the work of others. Wishing I had more resolve or more reserve. More something...
I want to build a livelihood, as I have a family life, on relationship and connection, not numbers or demographics. This requires a certain vulnerability.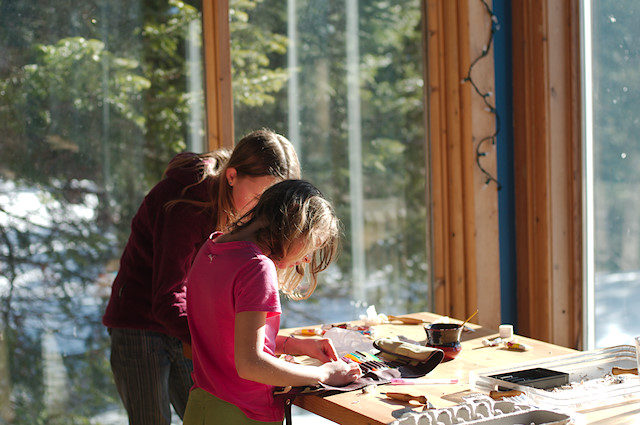 Years ago, I grew my mother confidence when I stopped comparing my success, my schedule, and my productivity to other moms. I nurtured what I wanted to grow - relationships and a healthy home life.
I trust the same will happen with my work. That I will grow in confidence as I nurture the things that matter most to me in my work, and that these choices will be financially viable. (That's the real kicker.) It's happening already. If I could just step out of my insecurity to see it and appreciate it.
I choose to live the freedom right in front of me. The freedom to be exactly who I am and to work from this reality.
~~~
Mary Oliver asks:
"Tell me, what is it you plan to do with your one wild and precious life?"
Doesn't wild and precious give you butterflies in your stomach?
I plan to live in freedom. I plan to share that freedom. I plan to hold plans lightly.
Renee Tougas participates in affiliate marketing, including the Amazon Services LLC Associates Program. Whenever you buy something on Amazon from a link you clicked here, I get a (very) small percentage of that sale. See disclosure for further explanation.
You can subscribe to comments on this article using this form.
If you have already commented on this article, you do not need to do this, as you were automatically subscribed.