Making an Uneasy Peace with Process
July 9, 2012
When we made the arrangements to rent our chalet we knew a July 1st finish date would be pushing it. Our friend built this "cabin" himself fifteen years ago. It was a rustic, basic affair. There was electricity but no sewer, no running water.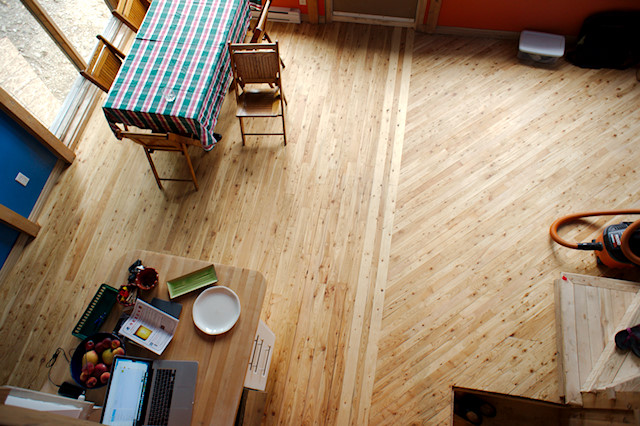 This winter when we met our friend (he was our telemark ski instructor) and found out he owned a chalet near the the ski hill and that he was renovating it with the intention to rent it, we were very interested.
We had been looking for a place to live and the search was proving difficult. We were invited to our friend's chalet, while skiing one day, and loved it the first time we saw it, sans running water. It has good bones, as they say, and it's located in a fabulously beautiful location - on the side of one mountain over looking another mountain with a fast flowing river running between. (Eastern mountains, you'll keep in mind.)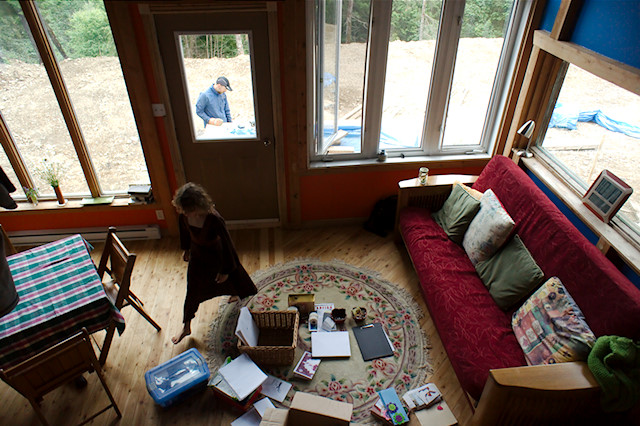 Like a crush, we wanted it from the first time we saw it, but there was no internet service available out this far. No internet is a deal breaker for a family who depends on the internet to work (& play). Damien investigated satellite internet options. The findings were disappointing.
Undeterred, Damien dug deeper and discovered that there was a new satellite in space, literally. And that this satellite was newly available to Canadian customers in our neck of the woods. We were able to find internet access at the level we need for work and homeschool.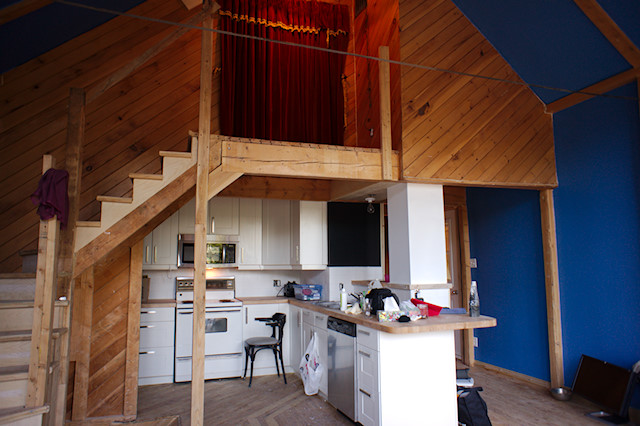 We took a leap of faith, again. Trusted that the satellite internet coverage would be sufficient (we have heard horror stories about satellite internet) and we committed to our friend to rent the chalet. Having steady renters gave our friend the deadline he needed to get the work done he had intended to do all along. It was a good arrangement for everyone.
And with those arrangements in place we moved to Montréal for the month of June, crossing our fingers that the details would work out in the end. Late last Saturday we arrived to our new chalet. (I think I'll call it the ski chalet to differentiate from our first chalet rental.)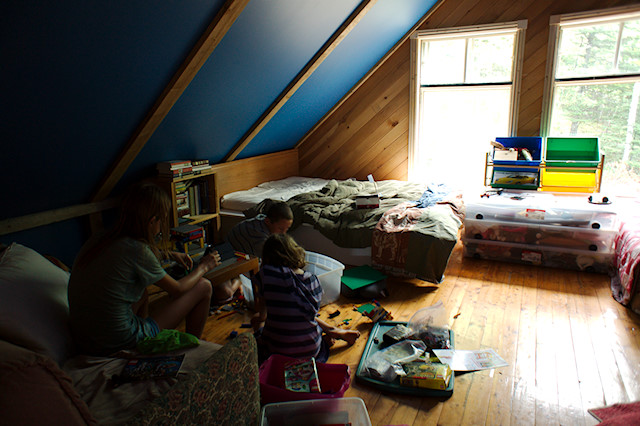 It's a gorgeous home. Our friend has the amazing ability to make creative ideas happen. He's done beautiful work in this space. There is so much we love about the home itself, never mind the fabulous location.
Do you hear a but coming?
It's not finished yet. And we're living here. An unfinished house isn't really that big of deal in the grand scheme of life. Our home in Maine wasn't really ever "finished" either until just before we moved out, but it also wasn't a construction zone. 
As a builder's daughter I grew up living in renovations. The smell of sawdust and new wood is in my blood. But it's funny how my childhood memories don't include dirty floors, mice, construction dust that settles on everything, and boxes that can't be unpacked because whole rooms are taken over with saws and two by fours.
I'm so thankful for the work that our friend has done and is doing to finish our living space. And really, I have running water, electricity and a great kitchen space - what more do I need?
(Honestly, what I need right now is living stability. No more moving!)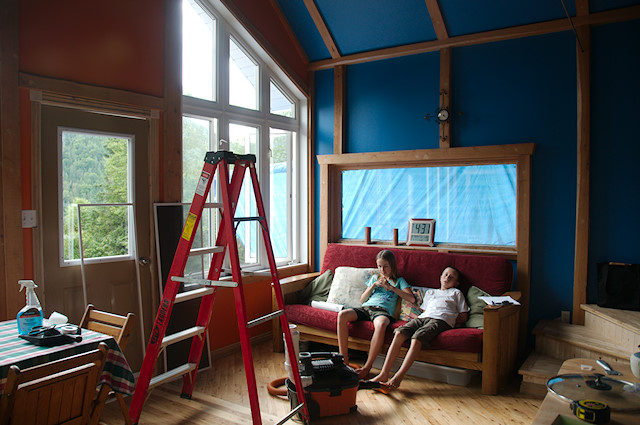 Living in construction is hard for "a place for everything and everything in it's place" person like myself. I like putting my life in neat. tidy. boxes. I like to organize my time and my belongings. 
In fact, the more my overall life gets unpredictable - like all our moving this past year - the more I like to box and organize the little things, to still feel I have some sense of control in my life.
This past week I have struggled with my control issues - big time. My poor family. Truly, I'm tired of moving and just want to settle in. Mess and disorganization in my physical environment is creatively and mentally draining for me.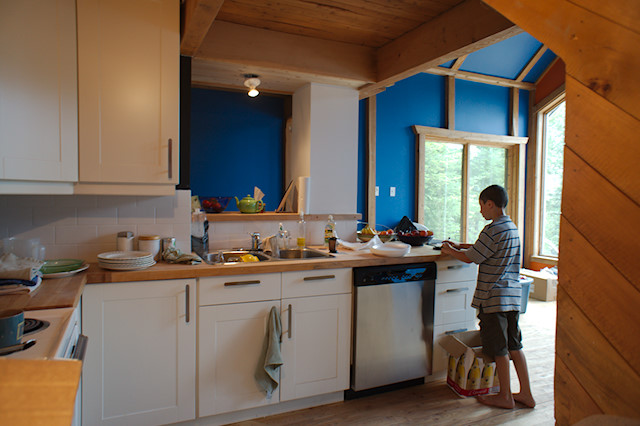 I know what I've said about mess and creativity. You can't nurture creativity without opening your life to mess. But I like the mess to be put away at the end of the day. I have more peace going through the natural mess of family living knowing that at some point, soon, it will all be cleaned up. The crafting mess, the sewing mess, the kitchen mess, the construction mess.
I'm currently living in a state where the mess will be cleaned up… eventually. I will be able to unpack the soap making, school and craft supplies… eventually. I will be able to hang my children's art (that has been packed up for over a year) on the walls … eventually. We will be be able to host friends and family… eventually.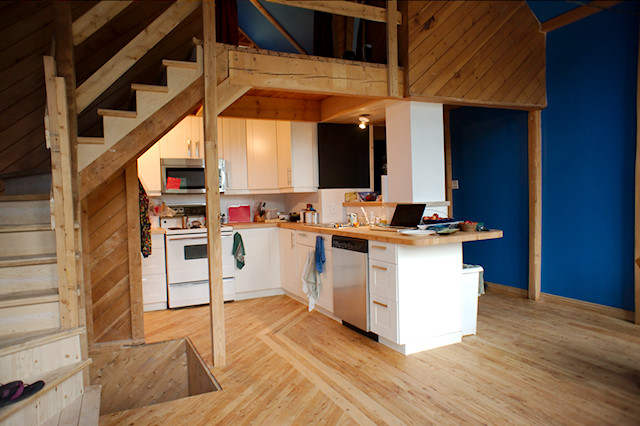 I bide my time and wash the floors, and count my many blessings. Seriously. This isn't a trite practice but a way of focusing my attention on all I have to be thankful for. Friends who are renting their beautiful ski chalet to us, a mountain home where we can hear the river rushing night and day, and a view that many people get to appreciate only on vacation.
It's all good. Even if it's not all done.
You can subscribe to comments on this article using this form.
If you have already commented on this article, you do not need to do this, as you were automatically subscribed.